These printable math dice games are great for adding a little fun to math practice! Fun games for the entire family or for playing with the kids to use their math skills in a really fun way!
This post contains affiliate links. If you purchase via these links, I may receive a small commission at no additional cost to you.
If you've read my blog before, you probably know that I'm a big fan of dice games! From this viral dice gift exchange to this roll a rainbow game, I love coming up with creative ways to use dice!
After putting together a whole bunch of fun math games last week, I thought it could be fun to combine dice and math in these fun printable math dice games!
I played both the addition and subtraction version with my kiddo today and had a blast. He forgot it was even math – just thought he was having fun!
Math Dice Games: Addition
The first of the two games is meant to help work on addition. Roll dice, add them up, and see who can add up to all of the numbers first!
Supplies:
All you'll need to play is two dice per person, a pen or pencil, and the printable dice game PDF at the bottom of this post. Make sure you have each of those for every individual playing.
I love these Tenzi dice specifically for times like this when you need lots of dice! Plus they come in all sorts of fun colors – let kids choose their dice colors and make it even more fun!
How to Play:
You can play this in a couple of different ways. Play everyone has to race to be the first to fill out their board if you want to make it a little more competitive. Play race against the clock and see if they can complete the entire board before the timer runs out.
Or get rid of the competitive nature and just let younger kids roll, fill it out, and play until they finish. Decide based on who is playing but one side note – this may not be good if you're looking for adult game night ideas, but it does make a great family game! Older kids and adults may not need to practice their addition skills, but it's still run to try and roll each number. Kind of like playing bunko or this lucky roller game!
When you say go, players roll the two dice and add them together. Find the answer on the playing board and write the addition problem (e.g., 2 + 6) in the corresponding line.
Roll again. If you roll a number you already rolled, roll again. If you rolled one that is blank, repeat the same step as above.
How to Win:
Keep rolling until you've filled in all of the addition problems! Make it even more fun if you're playing with the entire family by offering up something like 30 minutes extra screen time, something out a prize bucket, choose dinner, etc. for the winner!
Math Dice Games: Subtraction
The subtraction version of the game is a little trickier, especially as you're going fast. It's meant to be trickier and better for kids that are a little older, but you judge based on your kid's math skills.
Supplies:
You'll need the same supplies for this one – two dice and a writing utensil per person plus the printable rolling subtraction printable game available at the bottom of this post.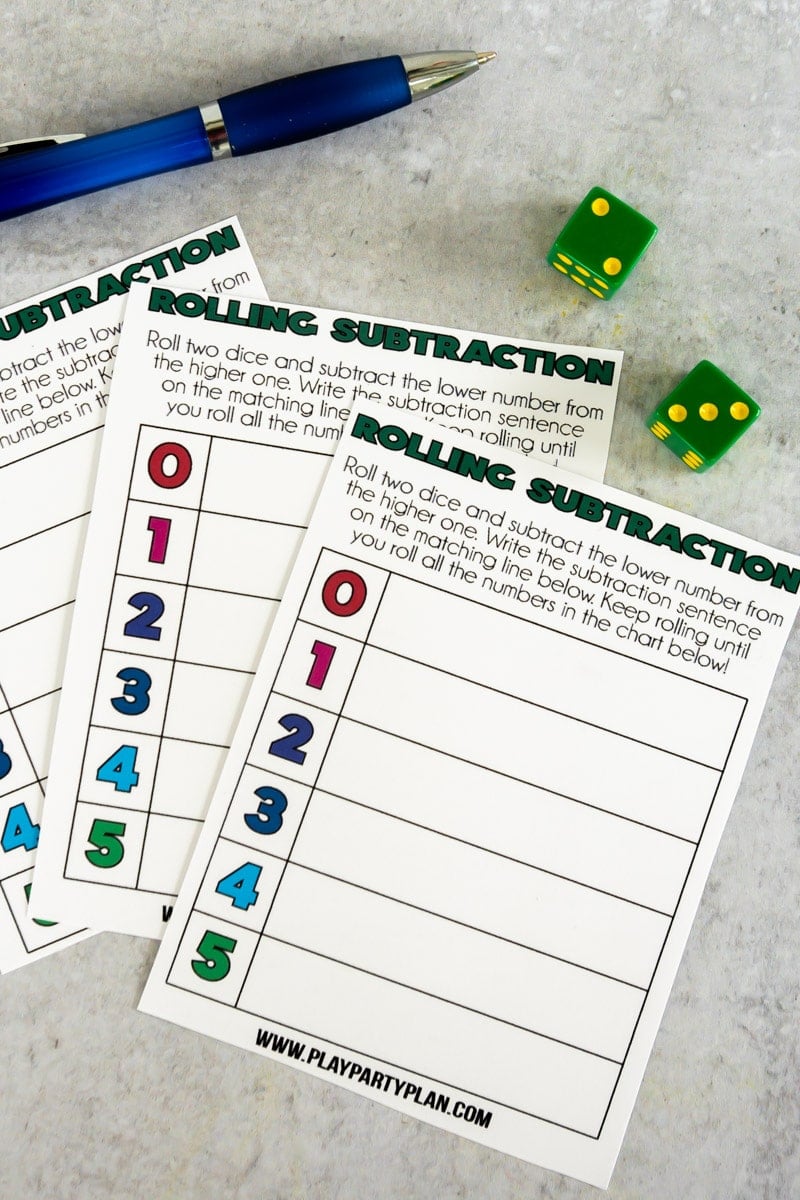 How to Play:
Play the same way I mentioned above in regards to racing each other, racing the clock, or just finishing the board.
The difference in this way is that instead of adding up the two dice you roll, you subtract them. So if you roll a 6 and a 4, you'd subtract 6 – 4 to equal two. Put that on the corresponding space on the board then move onto the next roll.
There are definitely more repeats with the subtraction making it more challenging to roll the entire board, even though there are less of them!
How to Win:
Keep rolling until you've rolled a subtraction problem equaling each of the numbers on the board! And don't forget a fun prize for the winner – my son loves to pick out the family movie, get a little more Nintendo Switch time, etc.
Get the Math Dice Games
Enter your first name and email address below to get a PDF with both of the math dice games. There is one PDF for the addition game and one for the subtraction game.
If you think you'll be playing this more than once during the next few months, I recommend laminating the game and using a dry erase marker so you can play over and over again!
Since it's all based on the luck of the dice, you never know who's going to win!
If you don't see the form below, click here to get to it!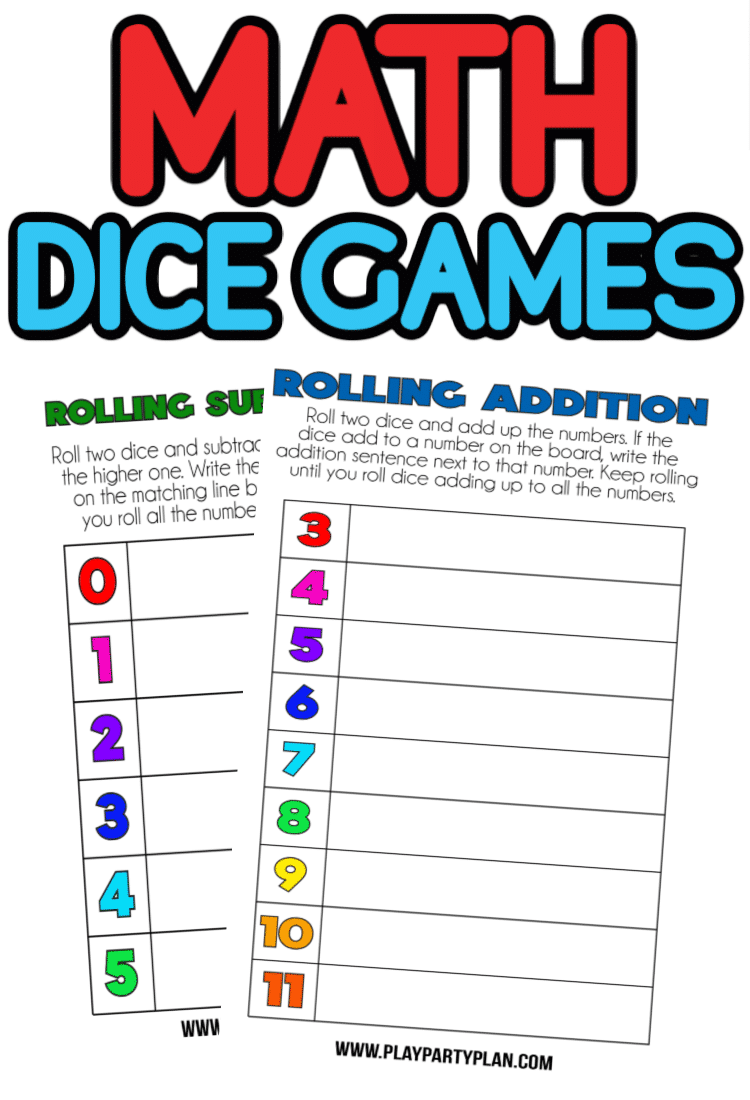 More Fun Dice Games
Don't forget to pin these math dice games for later!