This is a sponsored post written by me on behalf of Walmart for IZEA. All opinions are 100% mine.
With friends announcing their pregnancies left and right, I wanted to share my list of baby registry must haves to help people create a useful registry.
I swear almost every day another one of my friends announces that she's pregnant. I guess it's just bound to happen at my age, probably for the next ten years or so. Each time I find out another friend is pregnant, it makes me think about being a new mom and how things will be different the next time around. I'll obviously have K to take care of while I'm pregnant, but I don't think I'll be nearly as nervous going in as I was. I'll probably be more excited. Because honestly, being a new mom is exciting.
I still remember how amazing those first few days were in the hospital with K when all I had to worry about was getting better and taking care of my sweet snuggly little boy. I was supposed to sleep, someone brought me meals every few hours, and I loved every moment of it. Then I got home and realized how much I didn't know about being a mom. Like for instance, no matter how many diapers you have with you when you go out, you'll always need more. And taking care of a baby is exhausting mentally and physically. And it's the best feeling in the entire world.
There isn't much I can really do to prepare you for that feeling or for the emotional connection you feel with this little human being, but I can help you prepare you physically by sharing the things that I would include on my baby registry if I was doing this all over again. These are the things I actually used once I got home and settled into daily life, not the things that I used once to make my nursery cute for our home tour (hello diaper organizer) and then stuffed into a drawer to never be seen again. No, these are the things I used and still use daily. I swear K's dressers were this organized once upon a time.
Instead of just posting them here, I thought it would be fun (and it was!) to actually setup a new baby registry on Walmart.com that you can look it. It was so simple and Walmart actually has a great checklist of items to help you get started if you have no idea where to start.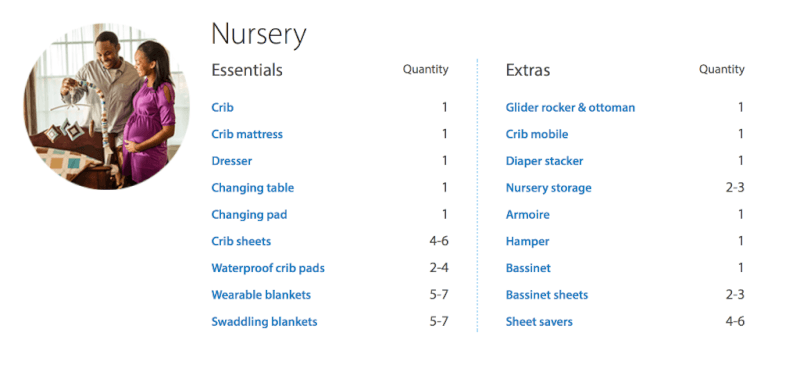 Tips to Create a Baby Registry
1 – Start with the Basics When I say basics, I mean the things you will use all day, every day – diapers, wipes, washcloths, and burp cloths. We've used Pampers Swaddlers since the day K was born. I've tried various other brands and every single time, I end up going back to Swaddlers. We all want the best for our kids and if you compare even just the feel of Pampers to other diapers, they just feel better. And they hold things in better, which is essential. And they now go up to size 6, so if you fall in love like we have, you don't even have to consider changing diapers as your child gets older. I'm hoping K fits into Swaddlers until he's potty trained. Definitely go for the Pampers Swaddlers Super Pack.
2 – If your baby is going to sit, sleep, crawl on, or touch it, you'll need more than one. Just trust me on this one. You always want a backup for the important things like sheets, changing pad covers, carseat covers, etc. so that when your baby has an accident, you'll have a clean one to replace the messy one.
3 – Let other people buy the big stuff. There are a number of big ticket items that you're going to need – video monitor, carseat, stroller, play gym, swing, crib, etc. Put them on your registry. Groups of people love to pool their money together to buy more valuable items, so it's a great way to get some of those bigger things.
4 – Skip the clothes and toys. At every single baby shower I've ever been to, the guest of honor received a ton of clothes. And books for that matter. There's no need to put clothes, toys (other than big stuff), or books on your registry because it's just a given that you're going to get them. People love to give those things and are going to whether you ask for them or not.
5 – Don't be afraid to ask for something for you. There are two things I think every mom should have because I would've been lost without them – my glider and a nursing pillow. My glider was a huge investment for us, and I absolutely love it. And when I was getting up three times a night to feed K, I couldn't have cared less about the money I spent on it. We still use it for story time, nighttime snuggles, and even just to play on (K likes to spin on it). Out of everything in K's nursery, the glider was our best spent money by far.
Other than those key things, I think creating a baby registry is up to you. I've included the things on mine that we used most and K liked best, but it's different for every mom and for every baby honestly. Some babies like to be swaddled, others don't. Some babies like to swing, others don't. Register for the things that you know you'll need as well as a few fun items and then just buy the rest once you've gotten a handle on life . Or even better, send your significant other out with the baby to buy the rest while you take a nice long nap. And just for fun, here's my baby registry must-haves list if you're just dying to know what makes my list.
10 Baby Registry Must-Haves
Pampers Swaddlers and Pampers Wipes
Video baby monitor
Baby linens – Sheets, changing pad covers, sheet protectors, etc.
Glider or somewhere comfortable for mom to sit
Carseat and stroller that hook together and are easy to manage and fold up
Baby bath stuff – wash cloths, towels, soap, bath, etc.
Nursing pillow – even if you're not nursing, this is a lifesaver when you travel
Baby medicine cabinet – butt cream, gas relief drops, infant's tylenol, etc. – these are the things that you won't know you need until you need them. Make sure to check with your doctor before using any medication but I recommend having it on hand so you have it when you do need it. Not all pharmacies are open 24/7.
Snot sucker
Some sort of large toy – swing, play mat, etc.
You can see the rest of my registry and create your own registry on Walmart.com. Learn more about Pampers Baby Basics for Any Mom on Walmart.com's Parent & Baby Center.