Make this easy DIY Hawkeye Marvel shirt with a free SVG cut file for the perfect Hawkeye look or costume. Great for Disneybounding or just wearing around the house to support your favorite superhero!
This post contains affiliate links to products I've used and recommend. I may receive a small commission at no additional cost to you if you purchase these links.
This past weekend I had the chance to go to the Permission to Hustle retreat at Walt Disney World. As part of that retreat, we were given free tickets to the Mickey's Not So Scary Halloween party.
Being the influencers we were, we decided we wanted to do a big group costume. Someone suggested tutus, and it totally just spiraled from there.
Eventually that spiral stopped on me being Hawkeye in a tutu. I don't really know how it happened, but it happened. MaryBeth was Captain America, other girls were princesses, and well I really just wanted to wear a purple tutu (if I had to wear a tutu at all) and Rapunzel was taken.
And of course to go with the tutu, I had to make my very own Hawkeye shirt because that's what I do – make Disney family shirts!
Hawkeye Marvel Shirt Design
I'll be the first to admit – I totally copied this shirt from ShopDisney. I didn't have time to buy it and honestly, I like the fit of shirts from Target better, and knew I could recreate it in minutes. But if you don't have a way to make it, you can totally just buy it here.
The design is a Hawkeye Marvel logo from somewhere and super easy to create.
I used Illustrator to create an SVG file (download it below!) of Hawkeye's logo then uploaded it to Cricut Design Studio to make the shirt.
To create the design in Illustrator, I simply made a circle, a couple of rectangles (for the H part), arrows, and a couple of parallelograms for the tail of the arrow.
And p.s., if you ever need help figuring out how to make something on Illustrator, there are a million tutorials and questions answered on Google. I almost always Google things like "how to make an arrow in Illustrator," when I'm designing SVG files. Totally did that for this Disney baby onesie!
If you need to know how to turn a design in Illustrator into an SVG file, this tutorial from my friend Cori is fantastic. As is her course, Hey Let's Cut Stuff!
Hawkeye Shirt Supplies
Since I already made the SVG file for you, making this Hawkeye shirt is a piece of cake.
All you'll need is:
How to Make a Hawkeye Marvel Shirt
Decide where and how large you want the logo on your shirt. Measure how big you want it to be.
I typically put the shirt on for this part so I can see where the design will fall. Use tape to mark the area and figure out the sizing.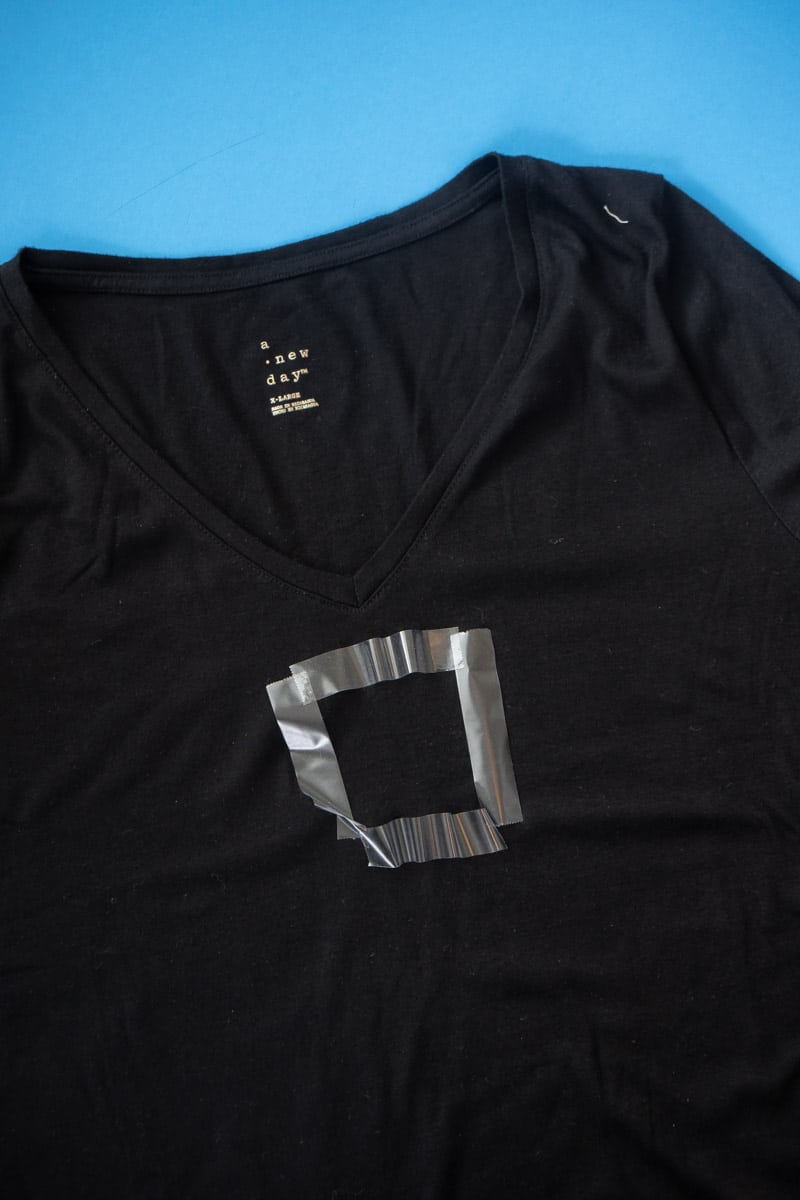 Once you've decided how large you want the shirt, open the SVG file in Cricut Design Space or your other software and resize the image to be the correct size.
Cut Out Your Hawkeye Shirt Design
Click "Make It," to get to the cut screen.
On the cut screen, make sure to check the mirror image box to cut a mirror image of the file. You'll need the mirror image for the heat transfer process.
If you're using this logo for something other than an iron-on project, you can leave the mirror image off.
Select your machine (either Cricut Explore Air 2 or Cricut Maker) and type of material then put your material shiny side down (if using iron-on vinyl, if regular vinyl put it right side up) onto the mat.
Load the mat into your machine and click "Cut" in Cricut Design Space to cut the vinyl.
Using either your fingers or a Cricut weeder, remove the not cut part of the iron-on vinyl so you are left with just the cut design. If you have extra iron-on vinyl around your design that is not cut, I recommend cutting around it first before removing the extra vinyl so you can use that later.
Iron On the Hawkeye Shirt Design
Before you are going to actually iron on the vinyl onto your shirt, check out these EasyPress settings from Cricut to make sure you are doing it at the right temperature and for the right time.
Mine was set at 315 degrees for 30 seconds because my shirt was 100% cotton and I used an EasyPress mat underneath. If you have a different shirt material or are not using an EasyPress mat, yours might be slightly different. And if you don't have a mat, you should get one. They're not too expensive and make it so much easier to get great results.
The EasyPress settings guide also tells you whether or not you should use a warm or cool peel. If it's a warm peel, that means for best results you should peel the vinyl off while still warm. If cool peel, wait until the vinyl cools before peeling off. This makes a HUGE difference in the results.
Okay, now it's time to iron the vinyl onto your shirt.
I use a Cricut EasyPress and would never go back. Any time someone asks me how I get the vinyl to stay on my Lion King shirts so well, I tell them it's because I use the Cricut EasyPress. Seriously – it's a game-changer. It's the heat of a regular heat press and the size of an iron.
Anyway. Put your vinyl on the shirt sticky side down then place the EasyPress on top. Press the button, apply firm pressure, and let the countdown begin. Once the timer is done, you can also flip it over and do it on the back again but honestly, I've never found it necessary, especially not with chunky designs like this one.
Let the vinyl cool slightly but not all the way. While still warm, peel the plastic part off and the vinyl should remain.
And voila, you have your very own Hawkeye Marvel t-shirt!
Create Your Own Marvel Hawkeye Look
If you want to keep it simple, here's the Hawkeye look I wore for D23 Expo and for the Mickey's Not So Scary Halloween party this year!
You might love these other t-shirt ideas!
And these great Marvel ideas!
Don't forget to pin this DIY Hawkeye shirt for later!