These free printable baby shower favor tags are perfect for pretty much any type of baby shower no matter which of these baby shower themes for girls (or boys) you pick!
Print out one of the various colors available, put with something sweet, and you have one of the cutest baby shower party favors ever!
They're simple, affordable, and work with any baby shower theme! These baby shower favor tags make any baby shower just a little sweeter!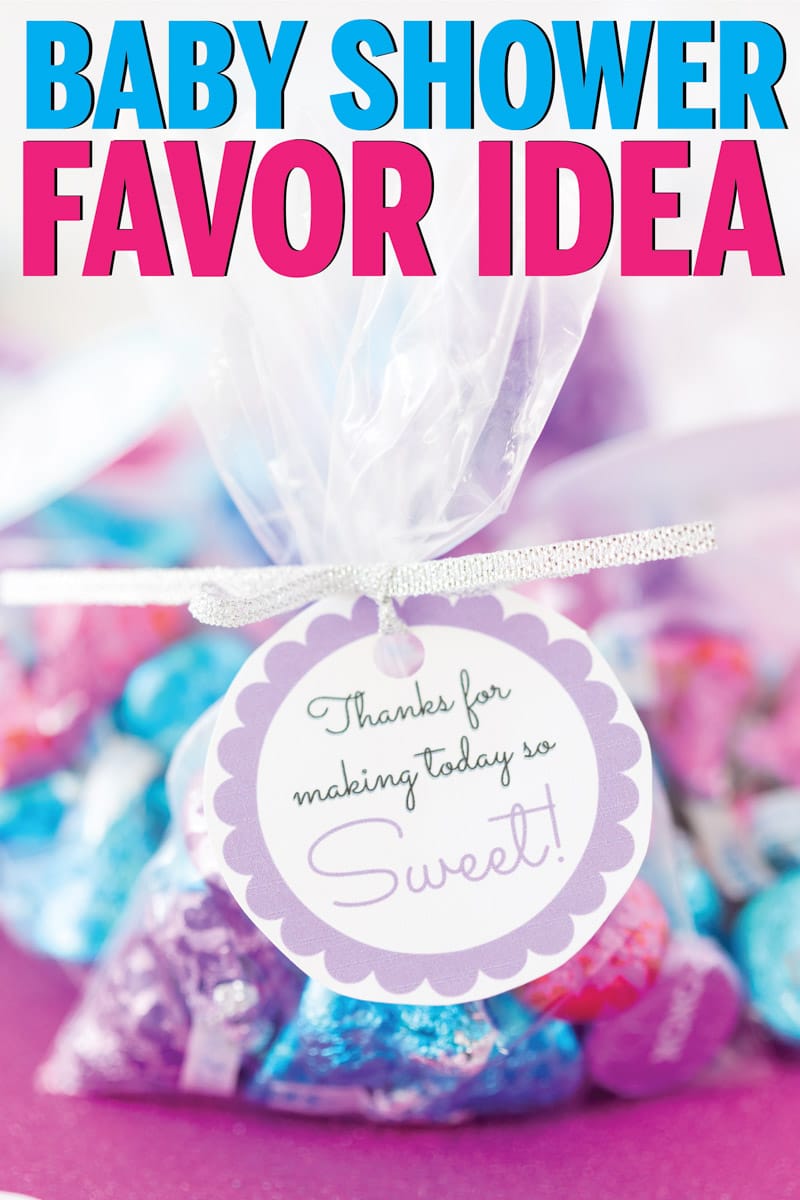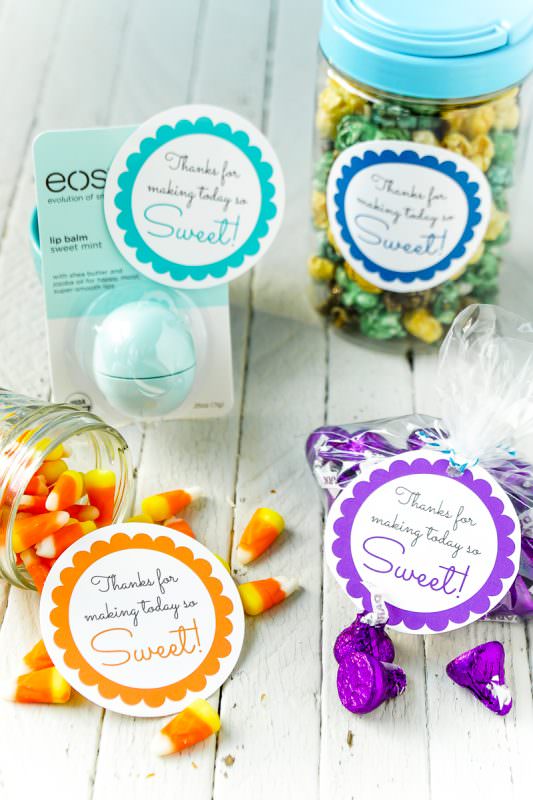 This post contains affiliate links to products for your convenience. If you purchase via my links, I may receive a small commission at no additional cost to you.
Sweet Baby Shower Favor Tags
I'm a huge fan of putting together party favors for whatever party I'm hosting, whether it be basketball party favors, bridal shower favors, or even just a game night. Just a little something to help people remember how much fun they had!
As someone who just had a baby and has hosted so many baby showers in the past few years, I've come across some pretty cute baby shower favors. These are still my favorite because they can be so personalized.
These free printable baby shower tags really could work for any kind of shower – baby shower, bridal shower, wedding shower, or really even a 1st birthday party!
I just personally used them recently for a baby shower, so I'm calling them baby shower favor tags!
These are one of my favorite baby shower favors because they really can work with any theme, any item, and any color scheme! Even if you're doing something as unique as a baby shower with these minute to win it baby shower games.
They'd be perfect in this spring baby shower. Having a book themed shower (here's a great list of books for baby shower!), put the tags with some sort of sweet book.
And best of all – depending on what you put with baby shower favor tags, these could make great cheap baby shower favors or very unique baby shower favors. You could even play this baby shower emoji game then do some sort of emoji candies inside!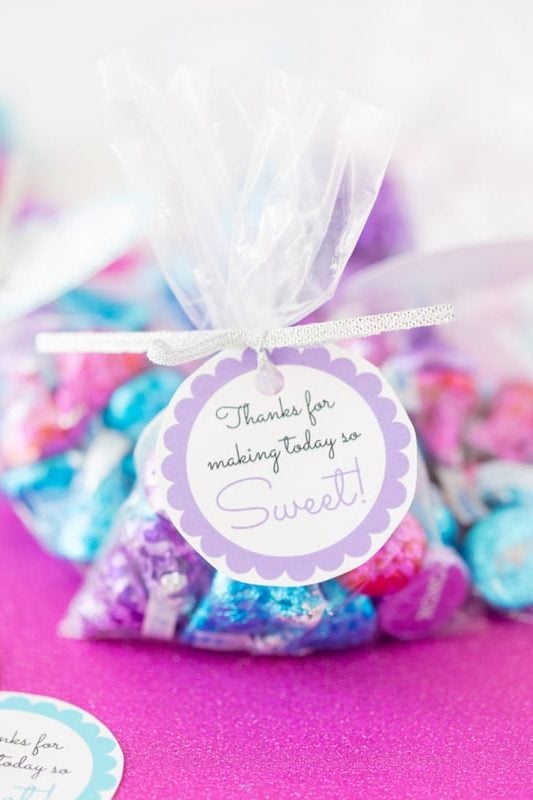 How to Print these Baby Shower Tags
As I mentioned above, all you have to do for these baby shower favors is to print out the tags and put them with some sort of sweet item (an entire list of ideas below to get you started).
First, pick the color of tags you want.
I have an entire set of tags in over 20 colors that you can download below. Pick one color or various colors that match your theme.
I've done both. And I've also used them as prizes for the winner of this baby shower song game. Or this candy matching baby shower game.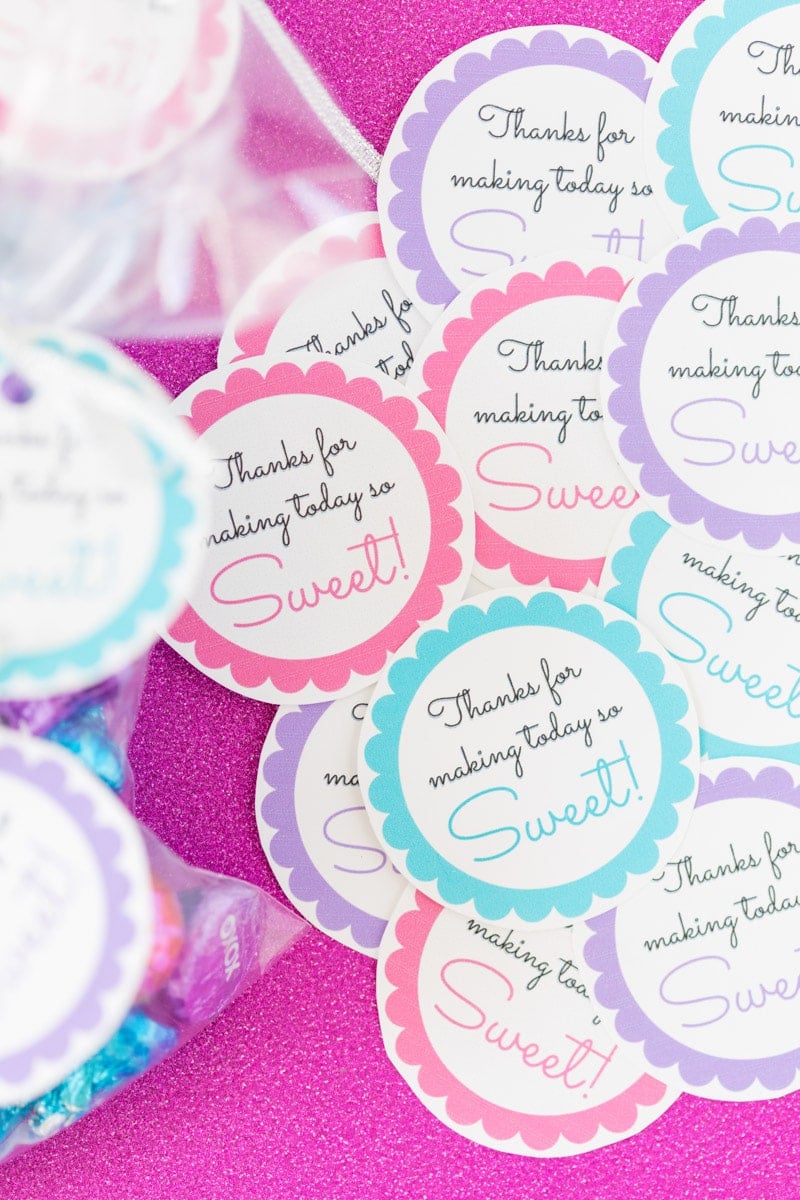 I recommend always printing on white card stock so they hold up better. Same with any of these printable baby shower games.
Once you've printed them, use a 2 1/2″ circle punch (or just use scissors to cut around them) to punch them out.
Attach to your sweet item with ribbon, washi tape, baking twine, or really anything else that makes sense for your party theme. You could just tape them to the top of a jar if you're doing jars or even put them inside of bags if you have cute bags you don't want to ruin.
Here are a few ways I've used them in the past.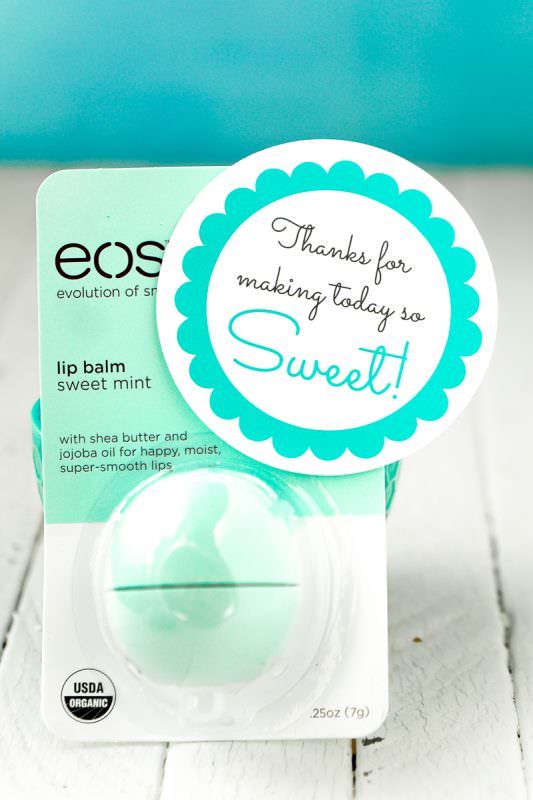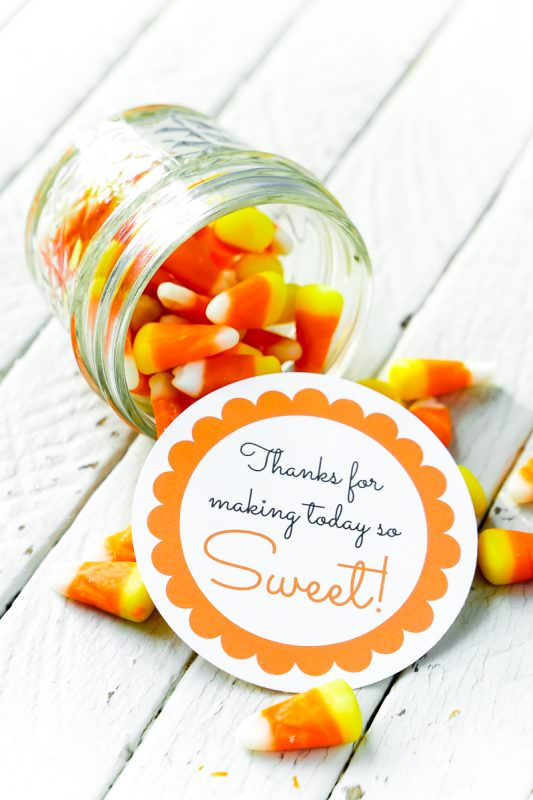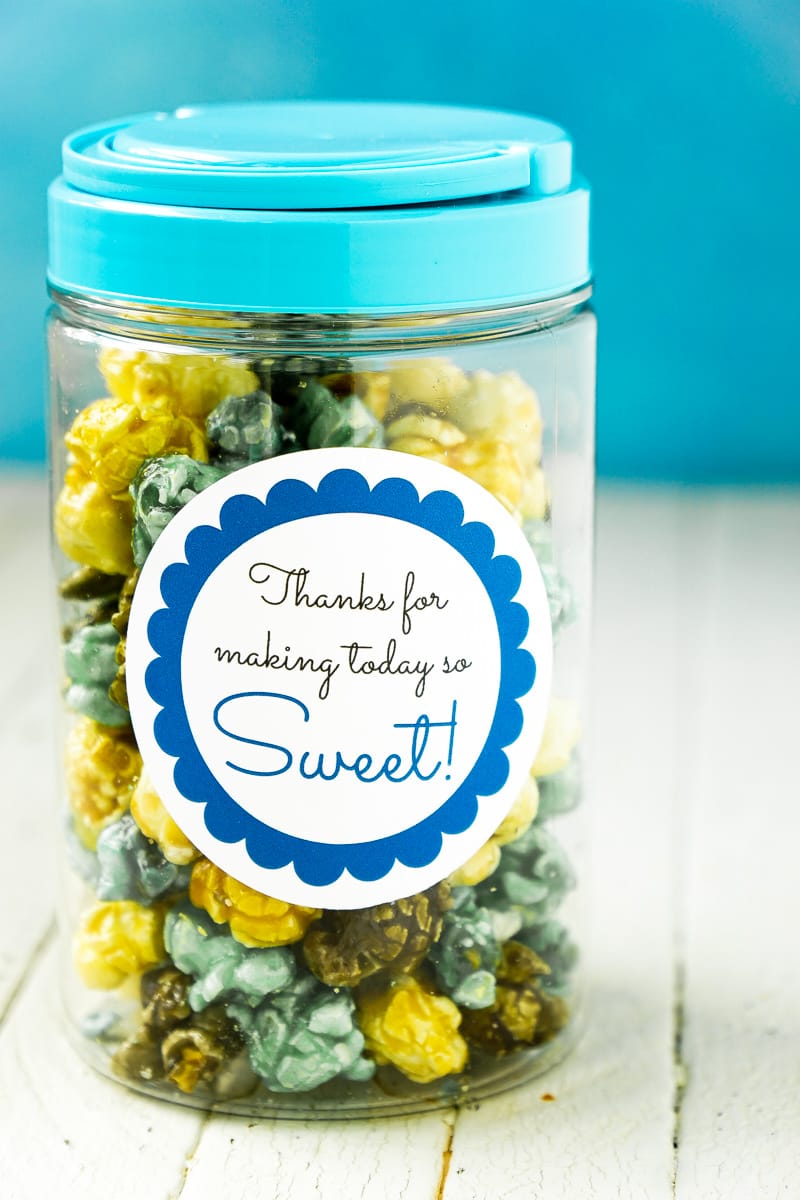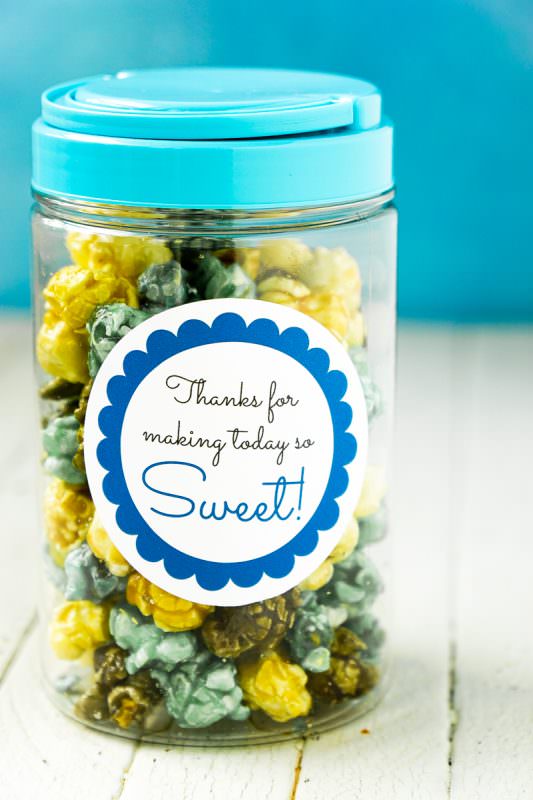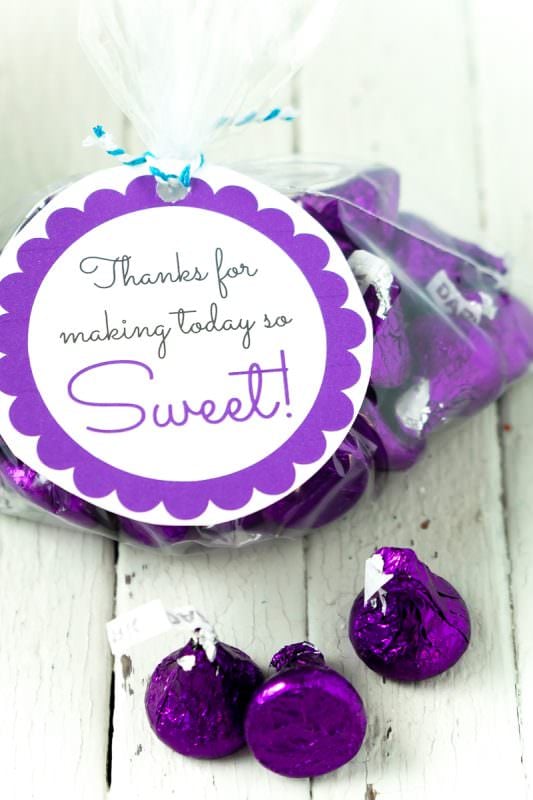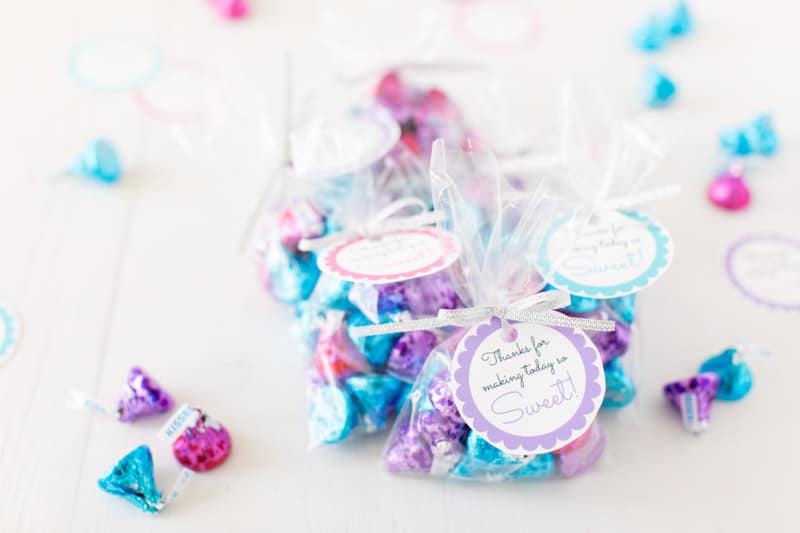 Sweet Baby Shower Favor Ideas
I've put together a list of items below that would work well with the "sweet" aspect of these tags. I've used them with everything from candy to local popcorn and even some less edible items.
The cheapest route is definitely the candy or sweet foods but if you want something more long-lasting, go for different items on the list!
Honestly, you could even do something a little bigger and use as baby shower gifts for your hosts!
For the fall, they'd be really good with these molasses cookies!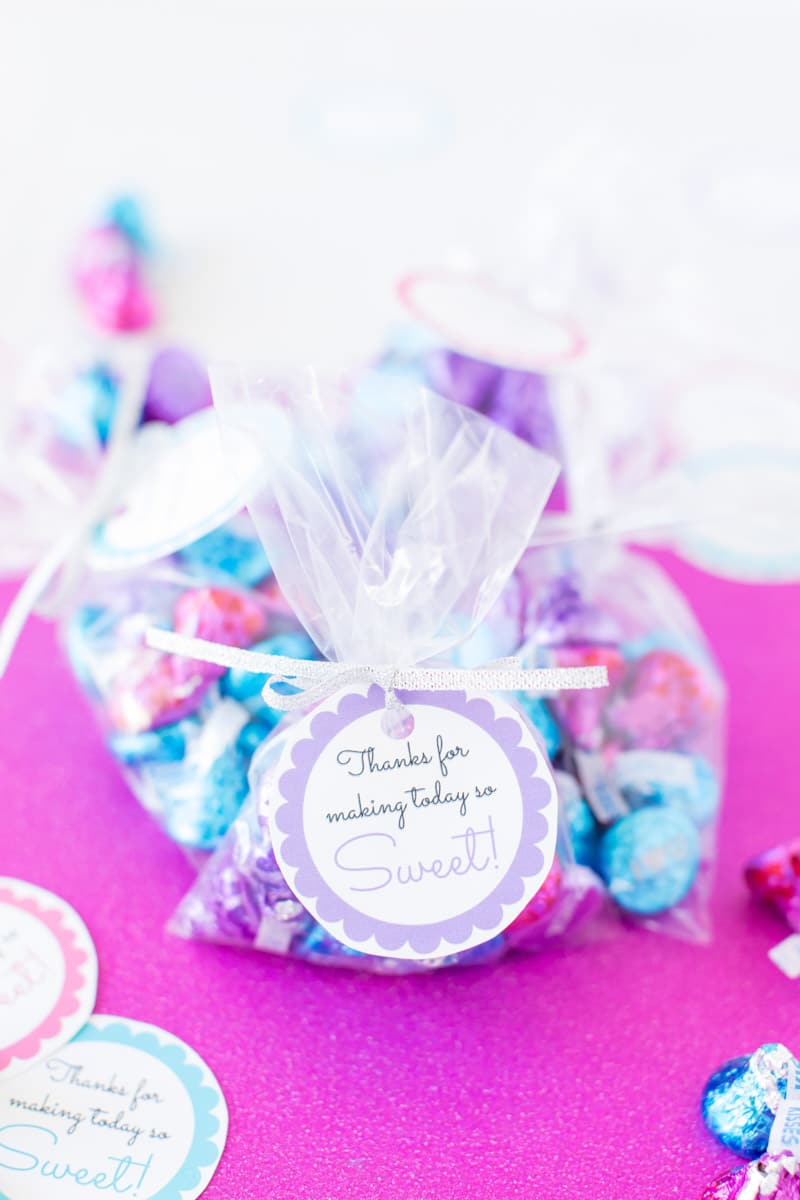 Free Printable Baby Shower Favor Tags
I've created free printables for you in a ton of different colors so hopefully no matter what your shower theme, you can find one that works for you.
If the form isn't coming up, click this link to get it.
When you download, it'll a PDF with all of the baby shower favor tags – just choose the page you want to print and print enough for your baby shower!
Don't forget to pin these free printable baby shower favor tags for later!