This fun beach scavenger hunt is perfect for an activity at the beach or a beach themed activity at home! This fun treasure hunt will have kids of all ages searching the beach bag, the sand, and all over the house for all of these typical beach items!
While I could hang out at the beach every day all day (my bag is always packed with the items on my beach vacation packing list just in case), I know not everyone is like that! I created this printable beach scavenger hunt for younger kids who maybe get bored of digging in the sand all day. It's similar to my summer scavenger hunt but beach item specific.
And if you're not headed to the beach, this is also great for parents who want to do a beach themed day or activity at home because they can't actually get to the beach on a family vacation this year.
This beach themed hunt is a great option for either – at home or on family vacations! Just print it out and search for all of the beach items you can find on the list!
It's simple, fun, and good for the whole family! Plus, right now is the perfect time of year for this since it's a great time to visit the beach!
Two Beach Scavenger Hunt Printables
I've created two different scavenger hunt options – a picture scavenger hunt for younger kids who can't read yet and a text only scavenger hunt (less ink) for older kids who can read the words.
They're both the exact same other than one has images and one doesn't. If you have younger and older kids doing this together (it's great for team building), I still recommend using the picture based one so the little kids can picture what they're looking for!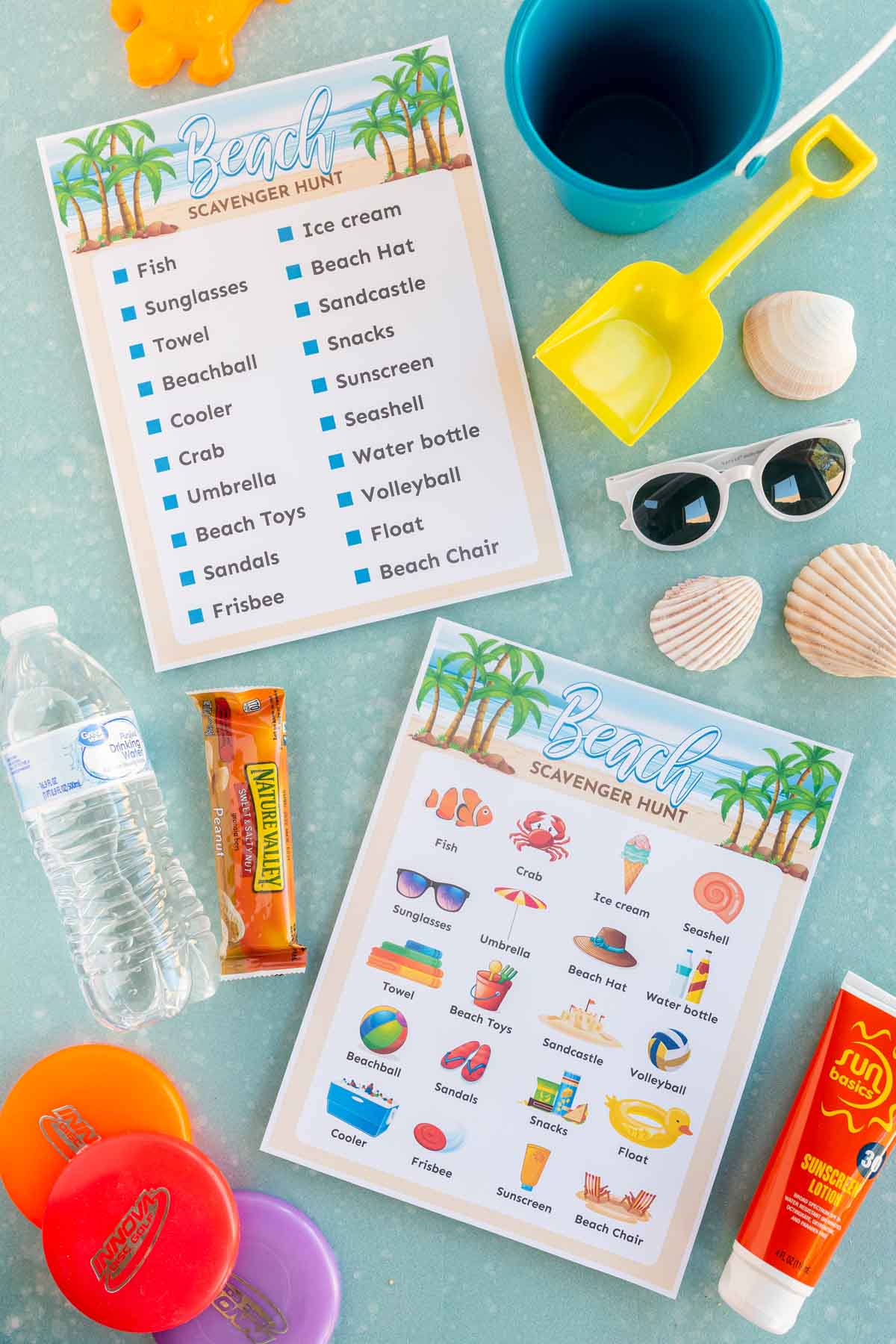 How to Do a beach scavenger hunt
If you're doing this on your actual beach vacation, just pull out the scavenger hunt and send kids (or whoever) off to find the items on the list. You can even turn it into a photo scavenger hunt by simply requiring them to take a photo of the item.
Once an item is found, you can cross it off the list and move onto the next one and the next location if necessary! And if all items can't be found, that's okay – it's just a fun activity anyway!
Upgrade!
For older kids and teens, turn this into an interactive scavenger hunt where kids have to interact with the item on the list in some way. So instead of just seeing sand toys, they have to take a photo of themselves building sandcastles. Or for the beach ball one, they have to take a picture of their group playing volleyball with a beach ball or a team member holding it.
Turn them into photo challenges to do this scavenger hunt in a whole new way! Teams must complete challenges before marking off the items!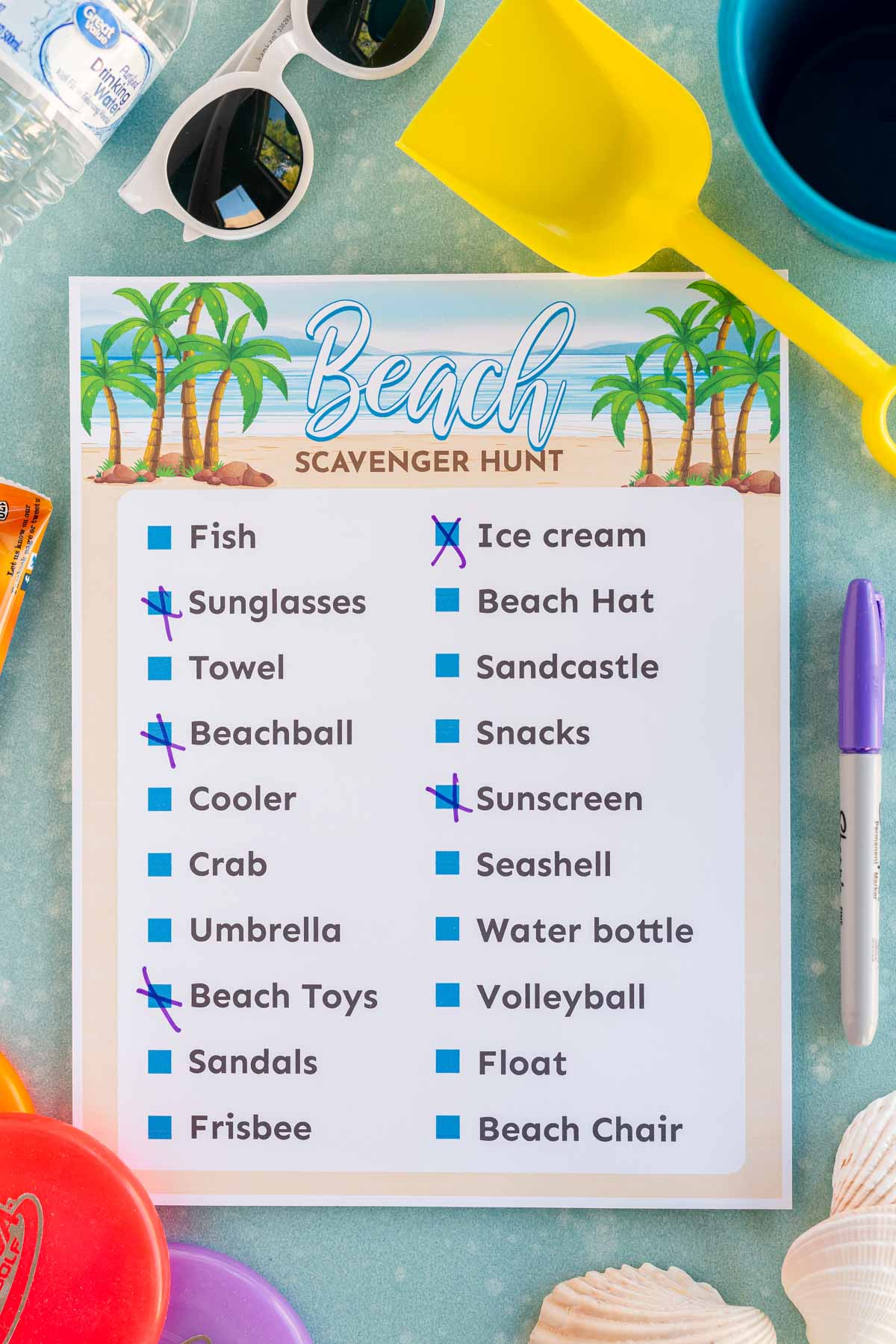 If you're doing this at home, you'll do the same thing but kids will likely have to search all over the house to find some of these items that might be packed away until your next epic adventure!
This would be the perfect way to finish off a beach themed day after doing a beach craft or two and making this ocean sensory bin!
Another good way to turn it into a full beach themed day? Serve this shark attack drink and pieces of this beach cake to the teams after finishing the scavenger hunt!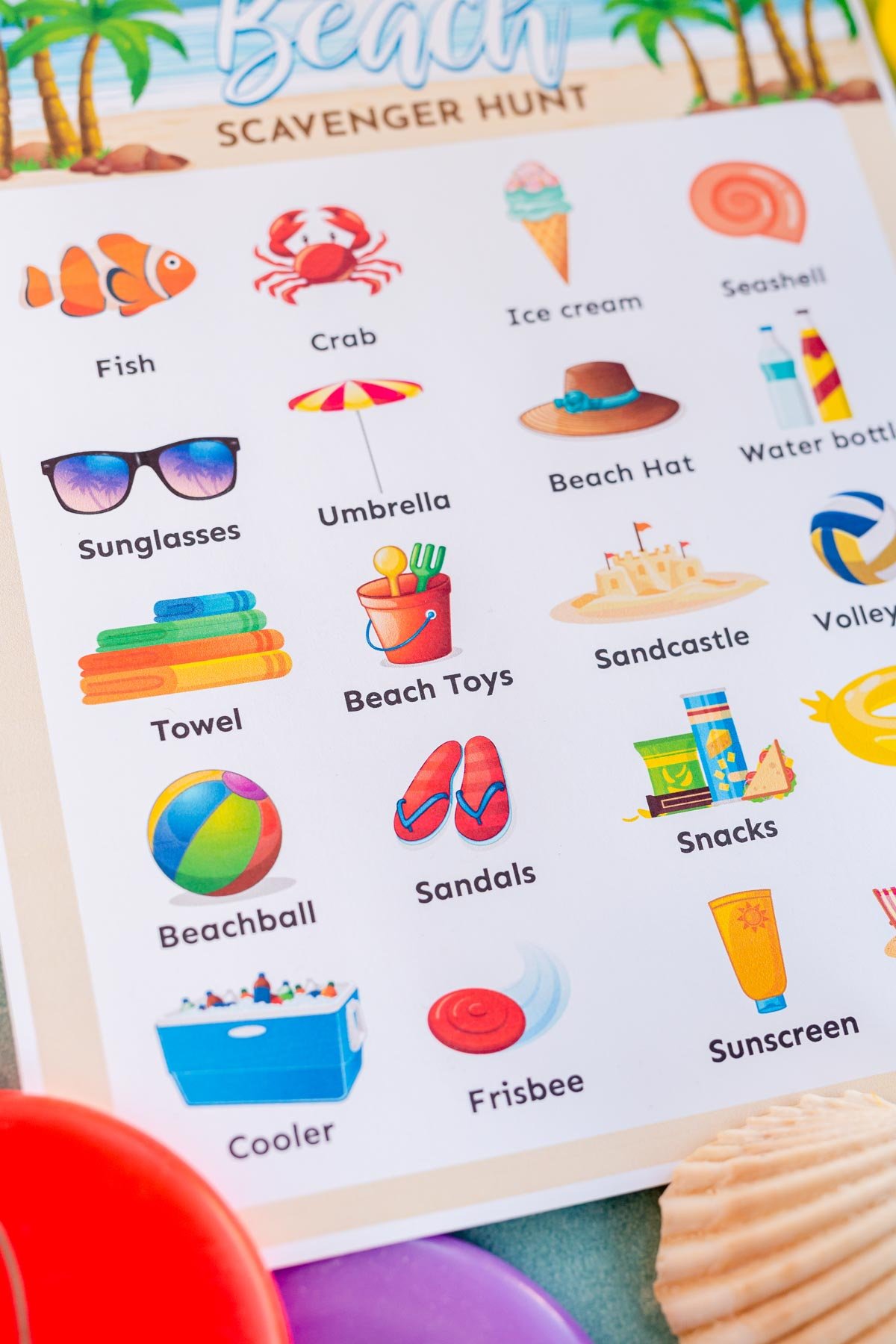 More Printable Scavenger Hunts
If you love scavenger hunts, you need to check out these ones next! These are some of our favorite outdoor scavenger hunts and ones to do around the house!
You can get even more scavenger hunt ideas here! There are tons of find a list of item type as well as ones with scavenger hunt clues (riddles) that lead to a treasure at the end!
Expert Tips
Laminate the scavenger hunt and mark off the items with dry erase markers! It's a good idea to also provide a piece of paper towel or a dry eraser marker eraser in case teams make a mistake while looking for the items!
Make it a competition and have the whole team take photos of the items they find to prove that they found them! First person or team to find all of the items on the printable scavenger hunt wins!
Make sure all items are around if doing this as a competition. You may need to plant some items if necessary, especially if doing this at the actual beach, just in case there isn't something like insect repellent in plain sight.
Game FAQs
How many copies do I need to print?
If you're doing this scavenger hunt in a group and working together, you'll just need to print one copy of the hunt. If you're doing a competition, you'll need one copy per team. I highly recommend laminating!
What if I can't find some of the items?
I recommend making sure that all of the items are available in the area that you'll be in whether you have to plant them at the beach! It's a lot more fun if you can actually finish the entire thing.
Download the Printable
Enter your first name and email address in the form below to get the printable PDF. You will receive a link to download the PDF to your email within minutes.
The PDF will include:
A beach scavenger hunt with images and words
A beach scavenger hunt with a word based checklist
If you do not immediately receive the email, make sure to check your promotions, spam, and junk folders!
If you do not see the form below, click here to get to it.