This free printable alphabet scavenger hunt is a great indoor activity for kids! Search for things around the house that start with different letters of the alphabet, write them down (or cross them out), and celebrate when you find every item from A to Z!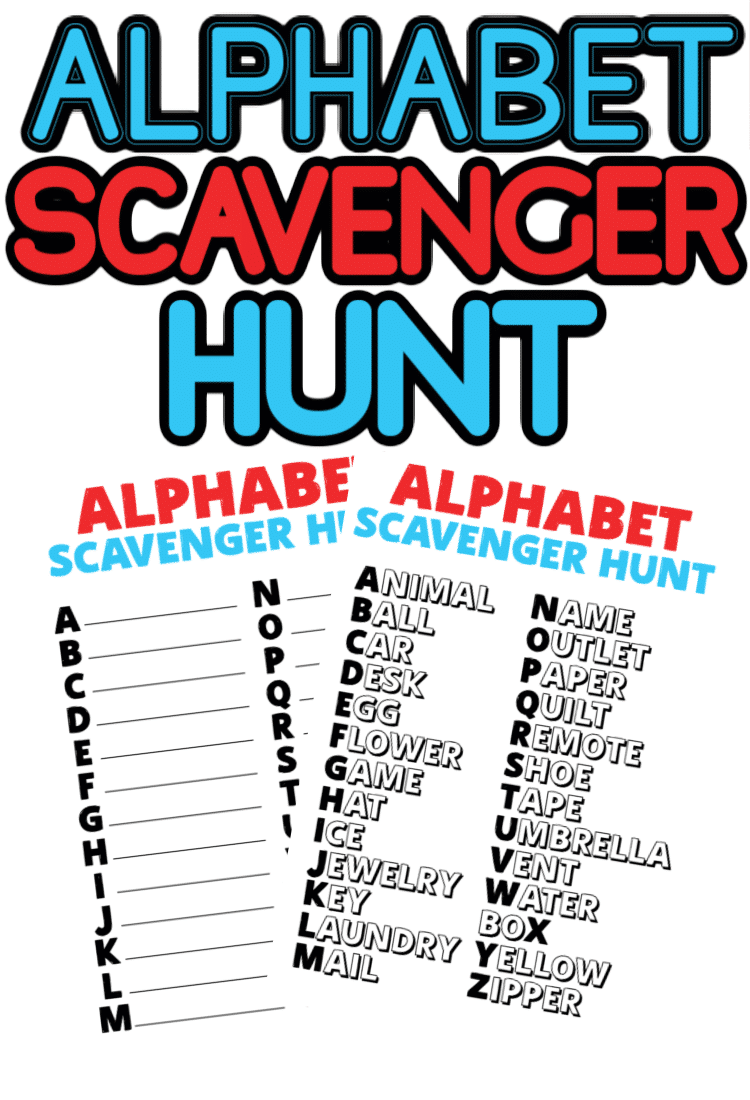 There are a lot of things that I've learned how to make fun. I've come up with fun reading activities, fun math games, and of course all sorts of indoor scavenger hunt ideas. I even made a virtual scavenger hunt – yeah indoor activities for kids I have covered!
But one thing I've struggled with is how to make writing fun for my kiddo.
I'll be sharing some silly journal prompts next week to work on creative writing but for right now, this alphabet scavenger hunt will have to do!
I also love that it gets them up and moving! You can't always do a workout cards so this is a good way to move around the house and add a little activity into the day!
Printable Alphabet Scavenger Hunt
I've created two different versions of this alphabet scavenger hunt – an advanced version for kids who can write and think a little more creatively and a beginner version for kids who just want to find things.
Honestly, we'll probably do both sometime in the next month or two but you can totally print out whichever one you want!
Alphabet Scavenger Hunt – Advanced Version
The idea behind this alphabet scavenger hunt is to have kids go around the house (or you could do it outside) and find things that start with the different letters of the alphabet.
I've included the letters and a line for each letter where they can write down the item they find, instead of crossing it out.
It's writing practice, thinking practice (coming up with things that start with a particular letter), and it's a scavenger hunt! And what kid doesn't love a scavenger hunt?
I've also included two different sizes of each version of the hunt in the printable PDF – a full-size sheet for beginning writers who might need a little more space for each word, and a two-per-page sheet for anyone who can write things a little smaller.
Want to do this more than once? Laminate the page and have them write with a dry-erase marker. Then you could easily do this once a week or once a month and just encourage them to find and use different words!
Alphabet Scavenger Hunt – Beginner Version
The beginner version of this scavenger hunt is pretty much what you would expect – finding items around the house that start with a particular letter. Instead of having to come up with them on their own, I've created the list of A to Z items they can use.
I tried my best to come up with words for each letter of the alphabet that most people would have around the house. If there's something on this list that you don't have in your house, encourage your kids to find something else or come up with their own replacement!
Once they've found an item around the house, cross it out or add a checkmark.
More Printable Scavenger Hunts
Get the File
Enter your first name and email address below to get the alphabet scavenger hunt.
The PDF will include five pages:
Full sheet blank scavenger hunt
Half sheet blank scavenger hunt
Full sheet filled in scavenger hunt
Half sheet filled in scavenger hunt
Half sheet combo – filled in and blank scavenger hunt (in case you want both).
If you do not see the form below, click here to get to it.
Don't forget to pin this alphabet scavenger hunt for later!