This indoor scavenger hunt for kids will have kids laughing as they search all over the house to find things on the list! See who can find something that sparkles, something that's unique, and more with this free printable indoor scavenger hunt!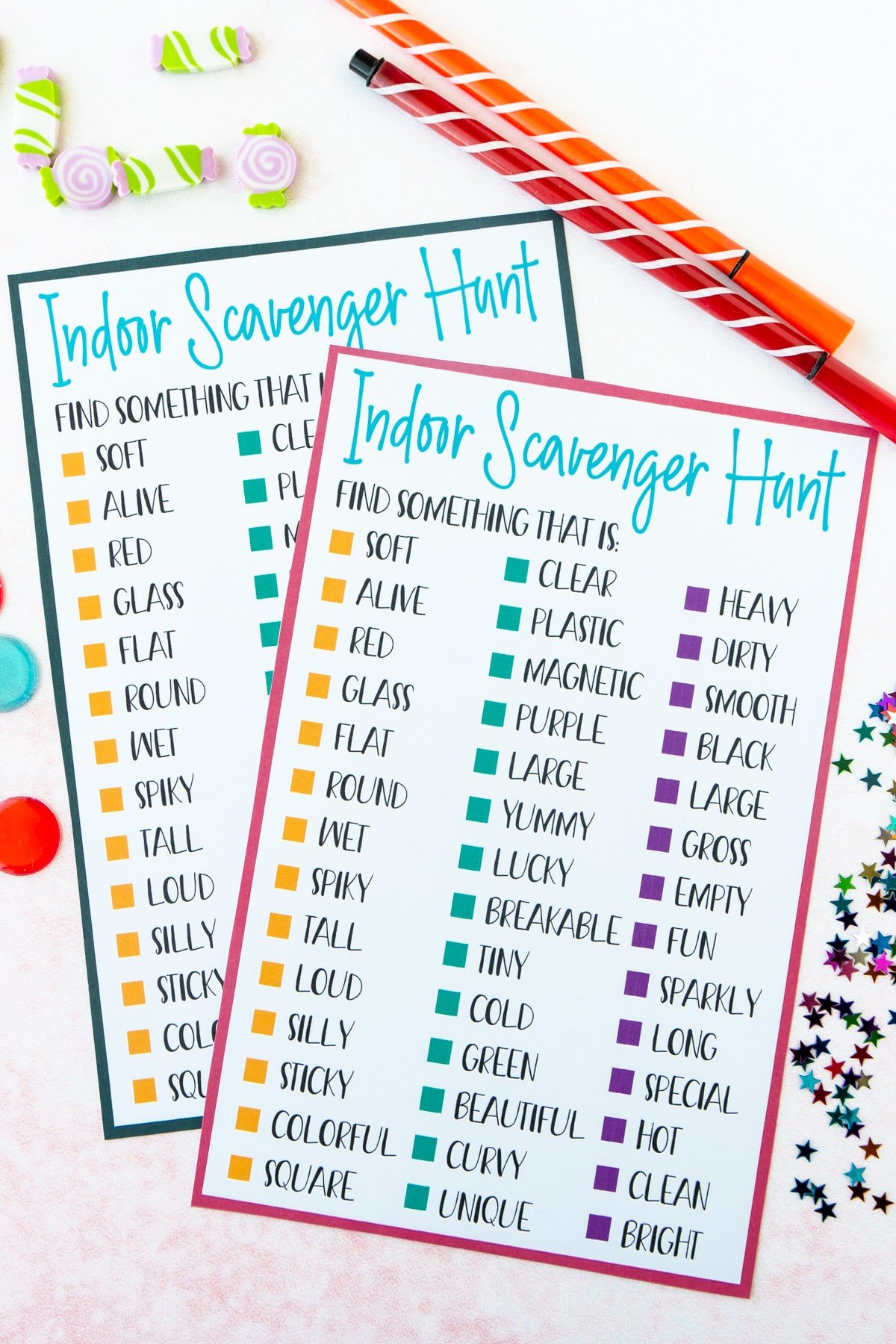 In the past four months, we have done more scavenger hunts in our house than I can even count. It all started with this alphabet scavenger hunt and then this neighborhood scavenger hunt.
Now my son just assumes I'll have a new scavenger hunt for us to try out each week.
This indoor scavenger hunt for kids is one of my favorite additions to our scavenger hunt collection for two reasons.
First, it makes kids think a bit. Instead of looking for a specific object (like a ball), they have to look for something that is soft, bright, sparkly, etc.
It takes some actually thinking and creativity, not just knowing where an item is.
Second, it's one you can do over and over again because it is about finding something that… rather than a specific object. Tell kids to find different things each time!
Also, while this is technically an indoor scavenger hunt, you could easily do this as an outdoor scavenger hunt as well. It may just be a bit more challenging to find things like something yummy.
And if you're looking for a virtual scavenger hunt, this would be a great one. Read out the descriptor words and have people bring something back that fits the bill!
How to Make an Indoor Scavenger Hunt
All you need to do to make this scavenger hunt is print out the what to look for list!
That's it!
Oh and if you want to laminate it to use again later, that's always a good plan as well.
So print the indoor scavenger hunt for kids, give them a pen (or dry erase marker) and let them go on a hunt.
If you want them to prove that they found something, you could send a camera or a phone with a camera along on the way to snap photos, kind of like we did with this photo scavenger hunt, of the objects they find!
But if your kids are anything like mine, they likely will be so excited about finding all of the items on the scavenger hunt, you won't need to incentivize or encourage them to do it with the photos.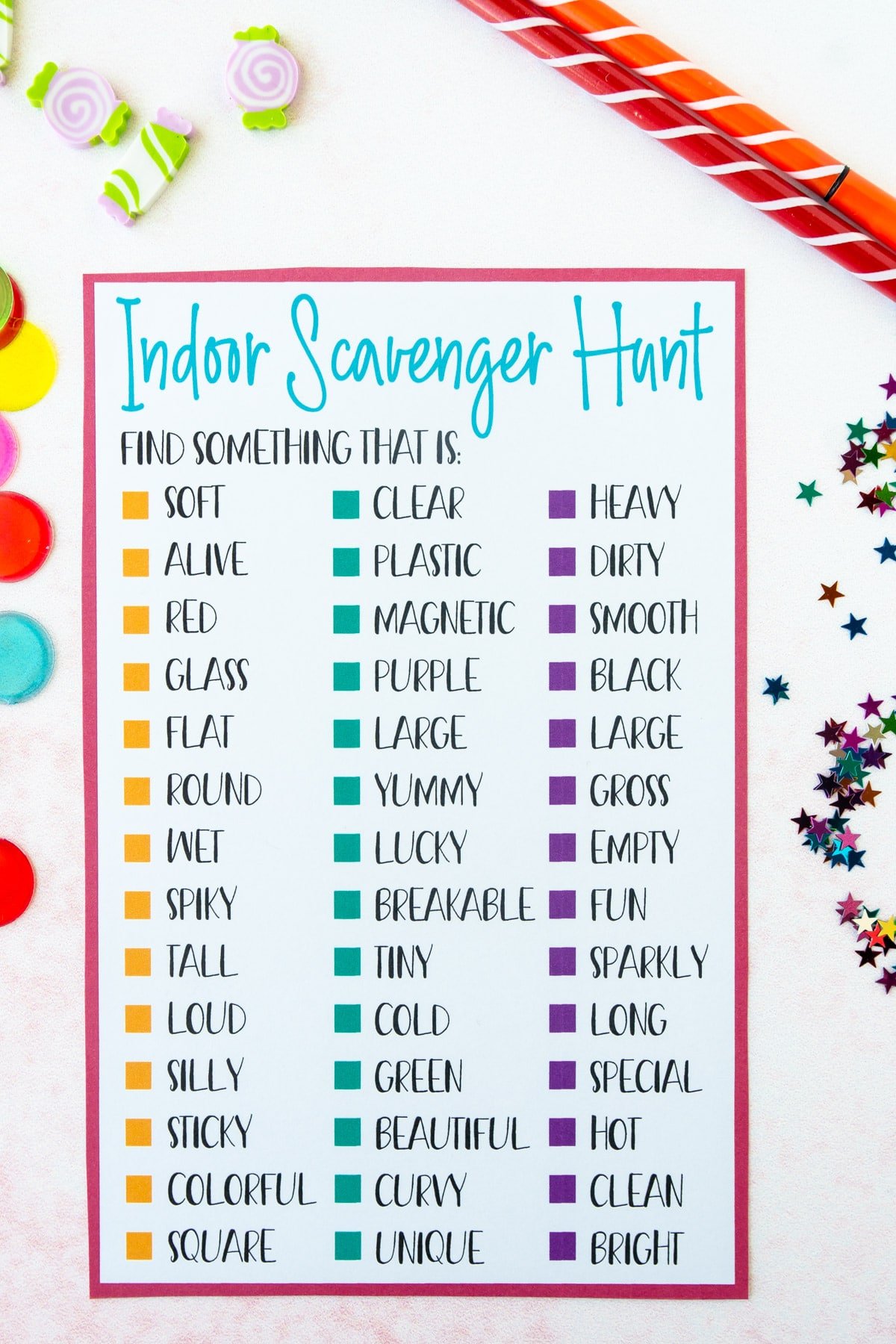 How to Do an Indoor Scavenger Hunt
Okay now that you have the scavenger hunt printed out, what now?
This scavenger hunt is a bit different than others on my site because it doesn't give you specifics with what to find.
Instead, it gives you ideas to find something that. For instance, something that is green, something that is flat, something that is fun.
Kids can use their own creativity to find items that fit the description – that's one of the most fun parts of this scavenger hunt anyway!
Have more than one kid playing? They can either do it together or print out two different scavenger hunt cards and let them find things and mark them off on their own!
Older kids who like competitions? See who can finish the card first!
One other rule – each item can only work for one thing on the list. So even if something is red, flat, and shiny – it can only count for one of those things, not all three.
Unless of course you want this scavenger hunt to go quickly, but I'm guessing that's not the point of doing this indoor scavenger hunt.
Download the Indoor Scavenger Hunt for Kids
Enter your first name and email address in the form below to download the scavenger hunt. You'll be sent an email with a link to a PDF that includes three pages:
Pink background scavenger hunt
Dark background sacvenger hunt
Page with one pink and one dark scavenger hunt
All three pages are the same exact scavenger hunt, just different designs. I know some people like to use these for particular themes or as birthday party games, so I made two colors to hopefully fit more themes.
If you do not see the form below, click here to get to it.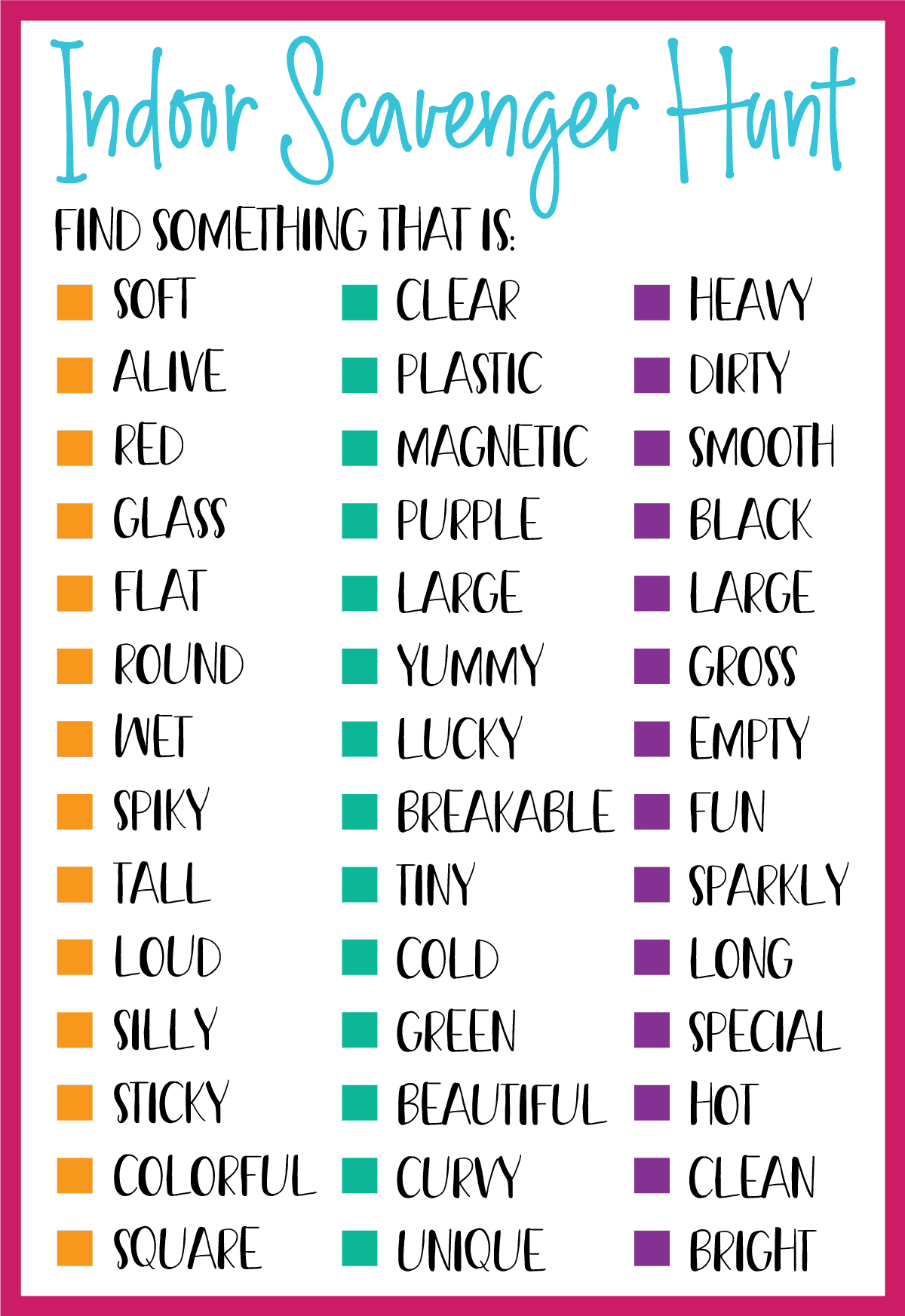 More Scavenger Hunts for Kids
Don't forget to pin this indoor scavenger hunt for kids for later!