From pumpkin muffins to Oogie Boogie cupcakes, these Disneyland Halloween treats are spooktacularly delicious and fun to eat! This Disneyland Halloween food guide will tell you everything you need to know about which treats to eat and which treats are more tricks than treats!
This past week I challenged myself to try ALLLLLL the seasonal food available at Disneyland Resort this year, including the loaded fries at Oogie Boogie Bash, and the treats at Grand Californian Hotel. The only things I did not try were a few things that had onions they couldn't take out (e.g., onion rings) and the coffees. disneyland
It took me just over three days and a lot of walking, but I did it. And I'm here to tell you which Disneyland Halloween treats you have to try and which ones you can skip.
It's the ultimate Disneyland Halloween foodie guide with my opinions on all of it. Mind you, these are opinions so if someone else disagrees, that's their right. We don't all agree on food so if you think something sounds good, feel free to try it anyway even if it's on my skip list.
Don't be fooled, food is only one of the things you can do for Halloween this year! Make sure to check out my full Disneyland Halloween guide too!
Disneyland Halloween Treats – The Best of the Best
I'm going to start with my must-try list because that's really what you want to know right – if you're going to spend your money on Disneyland Halloween food, where should you spend it. These were my personal favorites for each type of treat I tried!
Best Macaron – Oogie Boogie Macaron from Fidler Fife and Practical Café
Disneyland currently is offering four different Halloween macarons – a cookies and cream Mickey macaron from Jolly Holiday Bakery, a cone macaron from Cozy Cone, an alien macaron from Alien Pizza Planet, and this Oogie Boogie Macaron. They're all good but the Oogie Boogie one is my personal favorite.
It's pretty. The cookie part of the macaron is soft and flavorful, and the chocolate and caramel filling inside complements the cookie well. The only real hangup I have is that there are also gummy worms inside the macaron, which is a fun idea, but they're hard to eat. I took mine out and ate them alone instead of with the macaron. The macaron itself is delicious.
Best Drink – Green Apple Lemonade from Smokejumper's Grill
There are a number of Halloween specific drinks available across the parks and this was my personal favorite by far. The green apple flavoring adds a little tartness to a typically sweet lemonade and well the combo is a winner. Plus, it's topped with little jelly balls that are just fun to look at (even if you don't actually eat them).
It's a great way to cool down on a hot fall day and even better when enjoyed with the half monte cristo from my best Disneyland food list!
Best Funnel Cake – Pumpkin Cheesecake Funnel Cake at Hungry Bear Restaurant
If you like pumpkin, you'll love this funnel cake that's topped with ice cream, pumpkin cheesecake sauce, and fresh whipped cream. It's a great combination for pumpkin lovers and if you don't love pumpkin, you still can't go wrong with funnel cake and ice cream!
Best Churro – Horchata Churro at the Churro Cart by Goofy's Sky School
Okay so this was probably the hardest choice for me because there are some pretty good Halloween churros at Disneyland, but the horchata was my personal favorite. Unlike some of the others that felt too coated or too sweet or not enough flavor, the horchata flavoring actually changed the flavor of the churro and in a good way. It was one of the only churros that I actually ate the entire thing.
You can get a sweetened condensed milk dipping sauce to go with it for an extra dollar. It's good but not necessary to still thoroughly enjoy the churro.
Honorable mentions: Maleficent Churro in the Town Square Churro Cart (near the castle), the White Chocolate Bride Churro at the New Orleans churro cart near Haunted Mansion, and the chocolate marshmallow churro in Hollywood Land.
Best Ice Cream – Trick or Treat Sundae from Gibson Girl Ice Cream Parlor
Two sundaes in one – one is chocolate and one is sour gummy and the combination of the two together is something I could've eaten all day long. The sour side isn't nearly as sour (or sweet) as I was thinking and so good when you eat a spoonful of sour with the creamy chocolate.
This one is definitely shareable so grab a friend you don't mind sharing germs with it and share away. Oh and try to avoid the Skittles on top of the sour side, they get hard when cold and best to be avoided.
This also comes in a cute Mickey sink sundae bowl that you can take home as a fun souvenir. I know my boys are going to love it!
Best Cupcake – Halloween Grey Stuff at Red Rose Tavern
I've always been a big fan of grey stuff (you can get a copycat grey stuff recipe here!), but I didn't realize they could make it even better by putting a red velvet cake in the middle. It turned this into something like an inside out cupcake.
This Halloween grey stuff is not only so cute, but it was delicious. The combo of the grey stuff and the moist red velvet cake in the middle made me think that grey stuff should've just been cake frosting all along. I don't remember much about the cookie on the bottom, but I think it was decent.
Best Cake – Wedding Cake at French Market
If you like cherries, you'll love this chocolate cherry wedding cake. Layers of chocolate cake with actual bursts of cherry made it taste kind of like a black forest cherry cake to me. It's moist, flavorful, and pretty. I don't typically eat all of my sweets because I'm trying so many of them, but I finished every bite of this.
This was one of the few things I did not see on mobile order but when I asked about it, they said it should've been there so definitely check!
Best Rice Krispy Treat – Pumpkin Pie from various bakeries around the park
Okay so I'll be the first to admit that I don't love chocolate covered rice krispy treats so while cute, Disney rice krispy treats aren't my favorite. The pumpkin pie one is great because it's cute without being covered in chocolate. It's clever and tastes more like homemade rice krispy treats than mass-produced ones.
It also actually smells like pumpkin pie and has a hint of pumpkin pie spices to the treat. I thought it was unique and yummy. If you don't like pumpkin, you may want to skip this one!
I made a copycat version at home of these fun Thanksgiving rice krispie treats!
All of the other rice krispy treats are good, this one was just my personal favorite. My second favorite? The Oogie Boogie crispy from the Halloween Treat Cart at the Grand California Hotel, mostly because there are sour gummy worms in the back of the treat, and I thought that was pretty clever!
Best Pumpkin Treat – Pumpkin Muffin from Jolly Holiday Bakery
Out of all of the pumpkin treats I tried, this was the one that I would've ordered again. The muffin itself had a slight, not super strong, pumpkin flavor and a sugary crumb topping. The muffin was also filled with and topped with what tasted like a pumpkin cream cheese frosting!
Honorable Mentions: Pumpkin monkey bread from River Belle Terrace and pumpkin fudge from various bakeries around the park!
Best Cookie – Halloween Shortbread Cookie from Num-Num Cookies
There may be people out there who want to fight me on this one because let's be honest, Disney makes really good sugar cookies and there are some cute Halloween ones. I picked the Halloween shortbread cookie because well it's not just a typical sugar cookie. It was soft, flavorful, and pretty.
Can you tell I like my food to be pretty? The other cookies in the parks are also good of course, this was just my personal favorite.
Best Caramel Apple – Apple Pie Caramel Apple from Various Bakeries
This caramel apple is not only cute, it's actually really yummy and sometimes the just straight candy coated ones aren't that tasty.
The apple pie caramel apple is covered in caramel (obviously), with what seems like a white chocolate layer that's sprinkled with cinnamon sugar. It's topped with two marshmallow ears and the bottom half is covered in graham cracker crumbs.
I brought this one home to my family and wish I'd gotten more because they devoured it. The white chocolate layer was really thin and the sprinkled cinnamon sugar on top really gave it a nice flavor. It was so much better than the other options I tried (Jack Skellington and Poison Apple) and one I would actually buy again!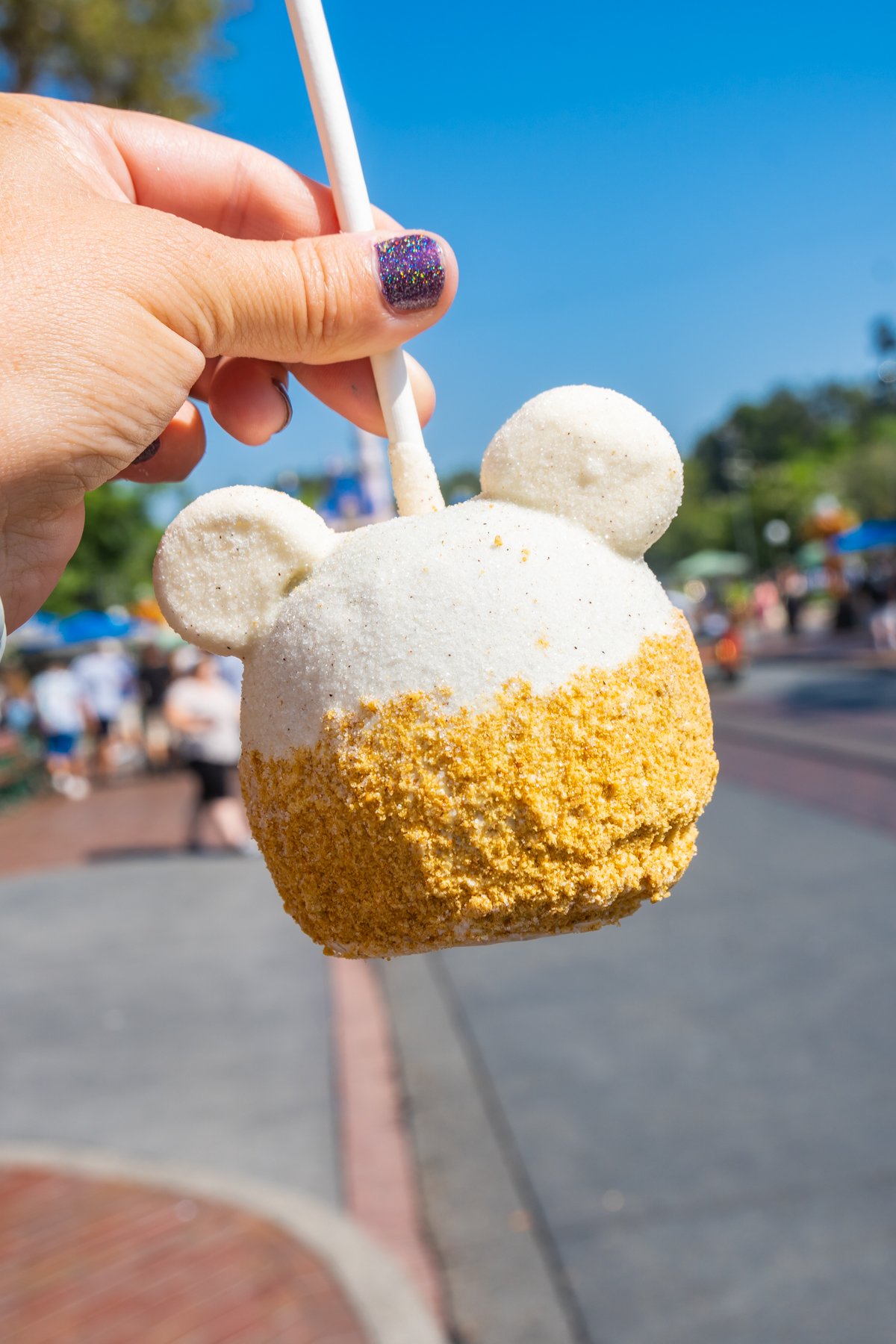 Other Good Disneyland Halloween Treats
If you're only going to get a few things, get something from the list above. If you want more things to try, these are also good enough to spend your money on if you're in Disneyland Park!
Blood Orange Slush from Galactic Grill
Unlike many of the slushes in the parks, this one wasn't too sweet. The blood orange flavoring helped balance out of the sweetness with its tart flavor. It was a good way to cool down on a hot day without being totally overloaded on sugar.
Alien Macaron from Alien Pizza Planet
This may be the cutest of all of the macarons and that's saying something because there are a lot of them! I like this one because of the lemon curd and blackberry filling. It's a nice change from the typical chocolate or vanilla filling.
None of the macarons from the party are anywhere near as good as the raspberry rose macaron, another one on my best Disneyland food list!
Dark and White Chocolate Brownie from Jolly Holiday Bakery
This Cruella themed treat is fun to look at and fun to eat. The brownie inside the little cup is just a normal brownie – good but nothing special. It's the topping that I enjoyed the most. One side is white chocolate frosting and one side is dark chocolate frosting.
The two combined with the brownie inside was a delicious treat, especially when you get a little bit of each all in one bite!
And if you want to find more Cruella, make sure to grab a ticket to Oogie Boogie Bash where she makes her first appearance!
Bat Cookie at Jolly Holiday Bakery or Market House
I liked how cute this cookie was but that it also tasted a little different than the big thick Mickey ear sugar cookies. It was soft and flavorful and something I'd eat again. I did have problems with the chocolate decorations getting all over my hands but nothing a little hand washing didn't fix.
My Bugs, My Bugs Drink from Hollywood Lounge
This was easily my second favorite drink I tried (outside of the fall punch from the parade dining package at Wine Country Trattoria and the green apple lemonade mentioned above). For a kid-friendly drink, it was packed with actual flavor and gummy worms, always a win.
Halloween Ice Cream Bar and Cookies & Candy Sundae at Clarabelle's Ice Cream Parlor
Both of these were good, they just weren't anything special or unique. If you're in DCA and want ice cream, these are both a safe bet. But if you want the most unique Halloween ice cream, I still recommend the trick or treat sundae from Gibson Girl instead.
Pumpkin Spice Monkey Bread from River Belle Terrace
I like the regular monkey bread from River Belle Terrace, and this seasonal one just gave it a nice fall flavor. It comes in a smaller portion than I would've liked, especially if you want to share, but the monkey bread was fresh and the pumpkin sauce it comes with was yummy.
Definitely one to try if you're sitting down at River Belle Terrace to eat!
Churro with Pumpkin Dipping Sauce at Casey Jr Churro Cart
This isn't really a speciality churro, it's just a dipping sauce to go with a regular churro. I always like a good normal churro and the pumpkin dipping sauce tasted similar to a pumpkin dip I make during the fall, so it was a winner for me.
Plus, you can never go wrong with a regular churro!
Chocolate Cookie Churro (aka Maleficent Churro) from the Town Square Churro Cart
I'm really not sure what this churro was coated in – some sort of chocolate plus sugary sprinkles of some sort that gave it a green and purple shimmer – but it was really good. The coating actually changed the flavor of the churro without being too thick and well it's definitely one to try!
Loaded French Fries (or Onion Rings) from Hungry Bear Restaurant
If you want something salty among all of these sweets, the loaded french fries were good enough. They would've been better with crispy or hot fries, but they were still a nice break from all the sweet.
The fries are topped with a flavorful cheese sauce, bacon bits, and green onions (or not, if you're me). A no frills, good enough to get, snack that goes well with the pumpkin cheesecake funnel cake.
Strawberry Chocolate Mickey Beignets from Mint Julep Bar
These were good but not better than the regular Mickey beignets, already one of my must-try Disneyland food items! I'd still probably get the regular ones unless you're sick of those and then these are a good second choice!
Also, make sure to eat them warm. Beignets are always best warm!
Pumpkin Fudge from Various Bakeries
If you like pumpkin and you like fudge, you'll love this pumpkin fudge. It was soft, creamy, and had a really good not overwhelming pumpkin flavor. I didn't put it on my top Disneyland Halloween treats list simply because it's not something you HAVE TO try but if you want to, it's good enough!
Mummy Marshmallow Wand from Various Bakeries
If you like marshmallows and caramel, you'll like this. It's two marshmallows coated in caramel then topped with white chocolate. It's not as good as the Tigger tail but still yummy assuming you like white all of those things! Plus, it's cute!
Rice Krispy Treats from Various Bakeries
There are three other fall rice krispy treats that I haven't talked about already – an Oogie Boogie one at Bing Bong's, an orange spider web one, and a Minnie witch crispy treat.
Out of the three, I personally prefer the orange spider web one because it's covered in colored sugar and sprinkles rather than the thick chocolate layer, but I know some people love the traditional chocolate dipped rice krispy treats! They're all a decent treat, and my boys all enjoyed them when I brought them home!
Sugar Cookies from Various Bakeries
There are like six different varieties of Halloween sugar cookies that you can find at bakeries throughout the parks. They all have a sugar cookie base decorated with frosting, sprinkles, and various Halloween decorations. They're soft, fluffy, and delicious!
Pick the one you think is cutest and enjoy!
Other Good Halloween Treats at DCA
If you want to hop over to Disney's California Adventure for more yummy treats, these are the other things I'd recommend from the Disneyland Halloween food guide!
Coco Cake from Paradise Garden Grill
This was a pretty standard layer cake but that's not a bad thing because I like layer cake. The frosting in between the layers tasted like an actual filling rather than the super sweet frosting of the Halloween Cake at Plaza Inn. It's a safe bet if you like cake.
Cone Macaron from Cozy Cone Motel (Cone 5, Popcone)
If this macaron had just been a standard macaron with standard filling, it probably would've been on my skip list because the actual macaron cookie part was a little dry and not great. The filling is what sold me on this one – inside has a pretty standard chocolate filling but inside of that is pretzels and peanut butter.
It's totally unique and definitely worth trying as long as you are okay with peanut butter.
Spicy Mac & Cheese Cone from Cozy Cone 3
If you like a little heat and already a fan of the mac and cheese cone from Cozy Cone Motel, then you'll likely enjoy this one as well. I'm not a huge spicy person and it was too spicy for me but still probably only spice level mild or medium. The flavors are good if you want spicy. If not, just stick with the regular mac and cheese cone.
Halloween Candy Funnel Cake Fries from Award Weiners
Okay so these are on my good list but beware, all funnel cake fries can also be really not good if they're not fresh. I mobile ordered when there wasn't much of a line, so mine were fresh and pretty good.
The Oogie Boogie frosting on top is a nice dip for the fries and the candy sprinkled around was fun to eat apart from the funnel cake – the candy didn't really stay on the fries when I ate them.
Chocolate Marshmallow Churro from Hollywood Churro
If you like marshmallow, you'll probably like this churro. It tasted kind of like what I would imagine a s'mores churro would taste like, so I personally really enjoyed it. It also comes with two churros, kind of like the Fluffernutter Churro did when it was available, so it's a good one to share!
Chocolate Matcha Churro from Willie's Churros
I'll be the first to admit, this churro was a mess. The promotional picture of it looked like this super pretty chocolate churro with raspberry and matcha sauce topped with gummy worms.
The real thing I got wasn't pretty. But I thought the chocolate with raspberry sauce had a decent flavor combination. I couldn't really taste the matcha or the raspberry was just overpowering enough that it blended in. And the gummy worms were fun to eat on their own!
Green Apple Churro from Grizzly Churro Cart
After loving the green apple lemonade so much, I had high hopes for this churro and it just wasn't meet my expectations. I wanted the churro part to have the tartness of the lemonade because I thought that would be great with the caramel sauce on top.
Unfortunately the green apple coating really didn't seem to add much flavor to the churro so it was really just a churro topped with caramel sauce. It was okay, just didn't live up to the potential!
Jack Skellington Cake Pop from Trolley Treats
I'm sure they had this at other places, but I could only find it at Trolley Treats. It's a chocolate cake pop covered in white chocolate with a Jack Skellington face. The cake inside of the cake pop was moist and flavorful, so I thought it was a winner!
Tasty Halloween Treats at Disney's Grand Californian Hotel
The yummy treats don't stop in the parks! Once you're done in the parks, these Halloween eats are worth a quick stop into Grand Californian Hotel!
Chocolate Chip Cookie Shot Glass from Halloween Treat Cart in Grand Californian
This dessert is more of an experience than just a dessert. They serve you a chocolate chip cookie shot glass and you choose what you want to fill it with – everything from white milk to cotton candy milk (they said it's super sweet) to well other options.
This made my list simply because the actual cookie glass itself is really yummy, and it's one of the only chocolate chip options in all of the Halloween food. I did want to be able to eat the cookie and then drink the milk, but I had to do it opposite since the cookie was holding the milk.
I wish it had a little plastic shot glass or something with the cookie wrapped around it, so the milk could remain even as I at the cookie down (kind of like the Trick or Treat Sundae with the Mickey Sink). It was a little awkward, but still fun and a yummy choice.
Oogie Boogie Treat Cupcake from Halloween Treat Cart in Grand Californian
There are two different cupcake options at the Halloween Treat Cart – an Oogie Boogie treat cupcake and an Oogie Boogie trick cupcake. The treat cupcake is a chocolate cupcake filled with caramel and tasty.
The trick cupcake is either a cookies and cream cupcake that's not filled OR a cookies and cream cupcake that's filled with something that looked almost like pop rocks but was kind of tasteless. You can get one randomly or if you really want the filling, you can ask them for one that is filled – just not as fun that way.
The trick cupcake wasn't my favorite even though the idea itself is fun, and I may use it for future Halloween treats for kids!
Halloween Donuts from Craftsman Bar and Grill in Grand Californian Hotel
These are mostly on my list of good treats because they're cute and taste good enough. The donuts are just regular vanilla donuts covered in chocolate that's designed to look like a Mickey pumpkin and Mickey mummy. That alone was enough for me to try them and likely enough for you to try them as well.
The vanilla donut inside was good, nothing amazing, but something I'm sure my kids would enjoy. My boys aren't quite the donut snobs I am.
The donuts are better than the Mickey cupcake also available at Craftsman Grill so if you want a dessert while there, grab the donuts!
Various Sugar Cookies from Grand Californian Halloween Treat Cart
There are four different sugar cookie options at the treat cart – Oogie Boogie, Minnie, Mickey, and a Poison apple cookie. The cookies themselves are all the same sugar cookie base, they're just topped with different decorations.
All of the cookies are decent but not as good as the Halloween shortbread cookie or the large Mickey shaped sugar cookies you get in the parks. The cookie is just not quite as melt in your mouth soft and instead is a bit harder, still good, but just not the super soft Mickey cookies you might be used to.
Out of the three that I tried, the Jack Skellington one was my personal favorite – it tasted almost like a black and white cookie with its white and black chocolate.
Oh and one other thing to note, these are individually wrapped up nicely so they're great for taking back to friends and family at home! Mine still tasted good after three days.
Disneyland Halloween Treats to Skip
I go to Disneyland for the food. There is so much good food to eat that there's no reason to spend your money on things that aren't worth the cost – unless you're like me and want to try everything and write about it.
So in total authenticity, these are the Halloween foods I tried that I personally would skip if spending money on a round two.
Pumpkin Spice Churro from Tomorrowland Churro Cart
There really wasn't a lot of pumpkin flavor to this at all to me. It tasted more just like a regular churro but with orange coloring. It comes with a buttercream dipping sauce that was also just okay.
There are better churros out there so I wouldn't pay the extra to get this speciality one. If you really want a churro in Tomorrowland, just get a regular one.
Chocolate Hazelnut Funnel Cake at Stage Door Cafe
This was just a regular Disneyland funnel cake topped with a chocolate and hazelnut sauce (aka Nutella) and some whipped cream. The sauce was thick and rice, and I wish it would've come with ice cream to cut down on the richness. The whipped cream didn't quite do the trick.
If you want a regular funnel cake with a little chocolate, this is fine. But I'd go a few blocks further into the park and grab the pumpkin cheesecake funnel cake at Hungry Bear instead.
Dr. Facilier Cake at Cafe Orleans
This fun looking cake is designed to look like Dr. Facilier's hat and filled with different layers of colored cake inside. It looks better than it tastes. I found it somewhat dry and a little hard to eat. The vanilla creme anglaise that came with it helped but still wasn't my favorite.
Cookies and Cream Mummy Macaron from Jolly Holiday Bakery
Okay so hear me out on this one. This macaron is fine. The cookies and cream flavored cookie on the outside was okay, the chocolate filling inside was better than the outside but still nothing special.
The problem is that – it's just fine. When you have the choice of this or the raspberry rose macaron at the Jolly Holiday, there's no contest. And out of the four Halloween specific macarons, this was my least favorite.
All of the other macarons available in the park have a multi-faceted filling (chocolate + caramel in Oogie Boogie, pretzel and peanut butter in the cone macaron, blackberry + lemon in the alien) and maybe that's what was missing in this one for me.
Pumpkin Cheesecake from from Jolly Holiday Bakery
I've said it before, I'm not the biggest pumpkin fan. I like pumpkin in things like this pumpkin crunch cake or even these pumpkin cheesecake bars. I did not, however love this pumpkin cheesecake.
The crust was too thin (barely there), the texture of the cheesecake mixture wasn't as smooth as I would've liked, and I just didn't love the flavor. I'd skip this one and grab pretty much any of the other Disneyland Halloween treats at Jolly Holiday instead.
Halloween Cake from Plaza Inn
This cake was the perfect example of something looking much better than it tasted. This chocolate cake was layered with brightly colored frosting that tasted like it was brightly colored frosting. The frosting quickly began to melt in the heat and just tasted processed and artificial.
If you want a picture, this cake is great. If you want a cake that actually tastes good, I recommend the wedding cake!
Chocolate Dusted Churro (aka Groom's Churro) from the Critter Country Churro Cart
I almost missed this churro cart because it's tucked hidden away near the Winnie the Pooh Ride but when I found it, I was excited to try the counterpart to the delicious white chocolate bride churro I'd tried earlier. Unfortunately this was one of the few churros I actually couldn't finish.
I don't know what it was about the coating but it tasted more like a chocolate coated churro (which sounds good, but this wasn't) than a chocolate dusted churro. The coating was so thick that it coated my mouth. Out of all the churros I tried, this was my least favorite.
Jack, Poison Apple, Mickey, and Minnie Candy Apples from Various Bakeries
If you're going to get a cute caramel apple, get the apple pie one. It's cute and tastes great. All of the other ones I tried tasted like they were coated in more of a melted candy wafer coating, and I just didn't love the flavor at all! It coated the top of my mouth and didn't give me the caramel + chocolate flavor I was hoping for.
DCA Halloween Treats to Skip
Hopping back over to Disney's California Adventure, I'd spend my money somewhere other than on these treats!
My Orange Cream Fanta-Sy from Hollywood Lounge
There really wasn't much wrong with this, it just didn't taste like an actual cream drink to me, it just tasted like a regular Fanta. I saw them put some sort of cream in it, so I know it was there – it just wasn't prevalent enough. I was hoping for something more like a Fanta float. I wouldn't get this one again.
Mint Chocolate Cookie Shake and Chocolate Chip Shake from Schmoozies
I know people that love Schmoozies' shakes. I'm not one of those people, but I like my shakes to be more ice cream than milk and Schmoozies' shakes tend to be thinner and more liquid and less of the actual ice cream flavor than I like.
The good is that they're both very cute, the whipped cream on top adds a nice flavor to the drink, and they're refreshing on a hot day.
Mickey Bat Sourdough Bread from Pacific Wharf Cafe
There's nothing wrong with sourdough bread (it's actually normally really good), but I'm putting it on this list because unless you want to bring it home to someone, I don't see any reason to buy a entire Mickey Bat's worth of sourdough bread just to snack on at the park. It is cute, but there are other Halloween treats to be enjoyed!
Go look at it, take a picture, and leave it for someone else to enjoy with their soup. I wish they had a smaller version that was actually good for a quick snack instead!

Pepper Jack Cheese Stick from Corn Dog Castle
This was one of those things that when I read the description, it was one of those things that could either be amazing or just not good. It was the latter for me. All of the flavors were fine – the pineapple was good, the raspberry sauce was good, and even the actual cheese stick itself was good.
It was everything combined that just didn't work well for me. Plus, I like to pick up my cheese sticks and eat them and that was pretty much impossible with it topped with all of these things.
Mexican Hot Chocolate From Paradise Garden Grill
Two words – hot chocolate. California is hot even in the fall and on a hot day, I couldn't get mytself to drink more than a sip or two of this. The sips I did have were okay, not super flavorful, but okay. If you get a chilly day at Disneyland this fall, this might be worth trying.
Fruity Sugar Churro from Cozy Cone 1
This churro was pretty with all sorts of what seemed to be crushed Fruity Pebbles on top. The problem was that the sugar on top really added no flavor at all, just color. I'd skip it and just get the regular churro (or one of the other speciality ones if you can wait for your churro fix).
Treats to Skip at Grand Californian Hotel
Most of the Halloween treats at Grand Californian are worth the cost but a couple aren't! These are the ones I personally would recommend skipping.
Mickey Cupcake at Craftsman Grill at Grand Californian Hotel
If you want a basic chocolate cupcake, then get this. But if you want something better, walk a few steps down the hall to the Grand Californian Halloween Treat Cart and get the Oogie Boogie treat cupcake that at least has a caramel filling.
Mickey Whoopie Pie from Grand Californian Halloween Treat Cart
This whoopie pie looked so pretty with its green coloring and fun decorations but the taste just didn't do it for me, and I like whoopie pies. The sandwich parts of the cookies were a little too dense and the filling was just too sweet. I'll stick with my traditional chocolate whoopie pies instead.
Disneyland Halloween Foods I Did Not Try
I mentioned above that I did not try everything during my trip. There were a few things that I personally could not try for dietary reasons or because they were not available yet, and I've included those below. It's mostly things with onions or ones that aren't available yet.
Let me know if you do try them how they are!
Alien Pizza Planet Deconstructed lasagna and supernova special pizza – both have onions. My friend did try the pizza and enjoyed it!
Candy Palace Pumpkin Brittle – not available until October 1st
Carnation Cafe Spicy Fried Chicken Sandwich – not available until Sept 16
Haunted Mansion Holiday Wreath Cookie at French Market – not available yet, they said hopefully sometime this month!
Galactic Grill Loaded BBQ Pork Fries and Chocolate Parfait – pork fries have onions and honestly I didn't notice that the parfait was a Halloween item so just skipped it!
Hungry Bear Honey Cream Cold Brew – has coffee and I don't do coffee
Hungry Bear Loaded onion rings – onions!
Jolly Holiday Toasted Salsa Roja Chicken Sandwich – onions
Rancho del Zocalo Milk Mamey and Creamy Horchata – I already know I don't like horchata and honestly the milk mamey sounded like more than my milk hating stomach could handle. I didn't want to give a review on something I knew I wouldn't like going into it!
Refreshment Corner BBQ Bacon Dog – fried onions on top
River Belle Terrace Chicken & Brisket Grilled Cheese – pickled pepper relish kept me away from this one.
Stage Door Cafe Spicy Corn Dog – skipped this one after not being able to handle the spicy cheese stick earlier in the day!
Spiked Hard Apple Float – wasn't going to do the hard apple cider
Flo's V-8 Cafe Loaded Fries – most of these included onions. I did try the loaded buffalo chicken fries and wrote about that in my Oogie Boogie Bash post.
Hollywood Lounge's Fanta Spooky Spirit; Worms, Dice, and Everything Nice; PBJ&W; Howl-O-Ween Concotion – I only do kid-friendly drinks on my site!
Lamplight Lounge Ghost Pepper Nachos – onions
Plaza de La Familia Eats at Paradise Garden Grill – pretty much everything other than the sweets have onions!
Smokejumper's Grill Jalapeno Bacon Cheeseburger – onion rings
Studio Catering Truck Hawaiian BBQ chicken, potato bites, and nachos – onions and jalapeños