From alien macarons to pumpkin donuts, these Disneyland Halloween treats are spooktacularly delicious and fun to eat! This Disneyland Halloween food guide will tell you everything you need to know about which treats to eat and which treats are more tricks than treats!
Last year I challenged myself to try ALLLLLL the seasonal treats available at Disneyland Resort this year for Halloween Time, including the loaded fries at Oogie Boogie Bash (the Disney Halloween party), and the treats at Grand Californian Hotel. The only things I did not try were a few things that had onions they couldn't take out (e.g., onion rings) and the coffees.
It took me just over two days and a lot of walking, but I did it. And I'm here to tell you which Disneyland Halloween food items – both Disneyland Halloween treats and drinks you have to try and which ones you can skip.
It's the ultimate Disneyland Halloween foodie guide with my opinions on all of it. Mind you, these are opinions so if someone else disagrees, that's their right. We don't all agree on food so if you think something sounds good, feel free to try it anyway even if it's on my skip list.
Don't be fooled, food is only one of the things you can do for Halloween this year! Make sure to check out my full Disneyland Halloween guide too!
Top 10 Disneyland Halloween treats
Everyone always asks me what are the foods that I have to try during the Halloween season at Disneyland (and Disney California Adventure) so I'm going to start with that quick list of what I consider the best of the best and my must-try list!
And if you don't agree, be kind. Everyone has their own opinions and taste buds!
Read the entire post for details on each of these items plus my reviews on all of the food available in both Disney parks in California!
Darth by Chocolate at Galactic Grill
Toffee Pretzel at Tomorrowland Churro Cart
Oogie Boogie Cookie at Grand Californian Hotel Holiday Cart
The Grave Stuff at Red Rose Taverne
Gingerbread Zombie at Grand Californian Holiday Cart
Apple Pie Caramel Apple from various bakeries
Sour Churro – either the Sour Cherry or the Sour Candy churro
Mint Shake from Smokejumpers Grill
Halloween Cake from French Market Restaurant
Blood Orange Lemonade from Fairfax Fruit Market
Best Halloween Food at Disneyland Park
Okay now that we've gotten the top list out of the way, let's get into all the goodies! This is a full list of all the Halloween food available at Disneyland Park and my thoughts on it all!
There's no real rhyme or reason to how these are ordered, just what happened to come out first!
Pumpkin Funnel Cake at Hungry Bear Restaurant
If you like pumpkin, you'll love this funnel cake that's topped with ice cream and fresh whipped cream. It's a great combination for pumpkin lovers and if you don't love pumpkin, you still can't go wrong with funnel cake and ice cream!
The Grave Stuff at Red Rose Taverne
I've always been a big fan of grey stuff (you can get a copycat grey stuff recipe here!), but I didn't realize they could make it even better by putting a red velvet cake in the middle. It turned this into something like an inside out cupcake.
This Halloween grey stuff is not only so cute, but it was delicious. The combo of the grey stuff and the moist red velvet cake in the middle made me think that grey stuff should've just been cake frosting all along. The chocolate cookie on the bottom is soft and a good combination with everything else.
Also, these pictures are from 2021 but the only difference is that the gravestone is chocolate this year instead of gray!
Halloween Cake at French Market Restaurant
If you like tart raspberries, you'll love this cake. It's a purpose color vanilla sponge cake with fresh raspberries, a raspberry mousse, and candied cocoa nibs. I loved the tart flavor combined with the sweet vanilla sponge. The only thing I personally could've done without were the candied cocoa nibs. They just didn't add anything for me.
This is still one that I recommend trying!
Pumpkin Muffin from Jolly Holiday Bakery Cafe
Out of all of the pumpkin treats I tried, this was the one that I would've ordered again. The muffin itself had a slight, not super strong, pumpkin flavor and a sugary crumb topping. The muffin was also filled with and topped with what tasted like a pumpkin cream cheese frosting!
Apple Pie Caramel Apple from Various Bakeries
This caramel apple is not only cute, it's actually really yummy and sometimes the just straight candy coated ones aren't that tasty.
The apple pie caramel apple is covered in caramel (obviously), with what seems like a white chocolate layer that's sprinkled with cinnamon sugar. It's topped with two marshmallow ears and the bottom half is covered in graham cracker crumbs.
I brought this one home to my family and wish I'd gotten more because they devoured it. The white chocolate layer was really thin and the sprinkled cinnamon sugar on top really gave it a nice flavor. It was so much better than the other options I tried (Jack Skellington and Poison Apple) and one I would actually buy again!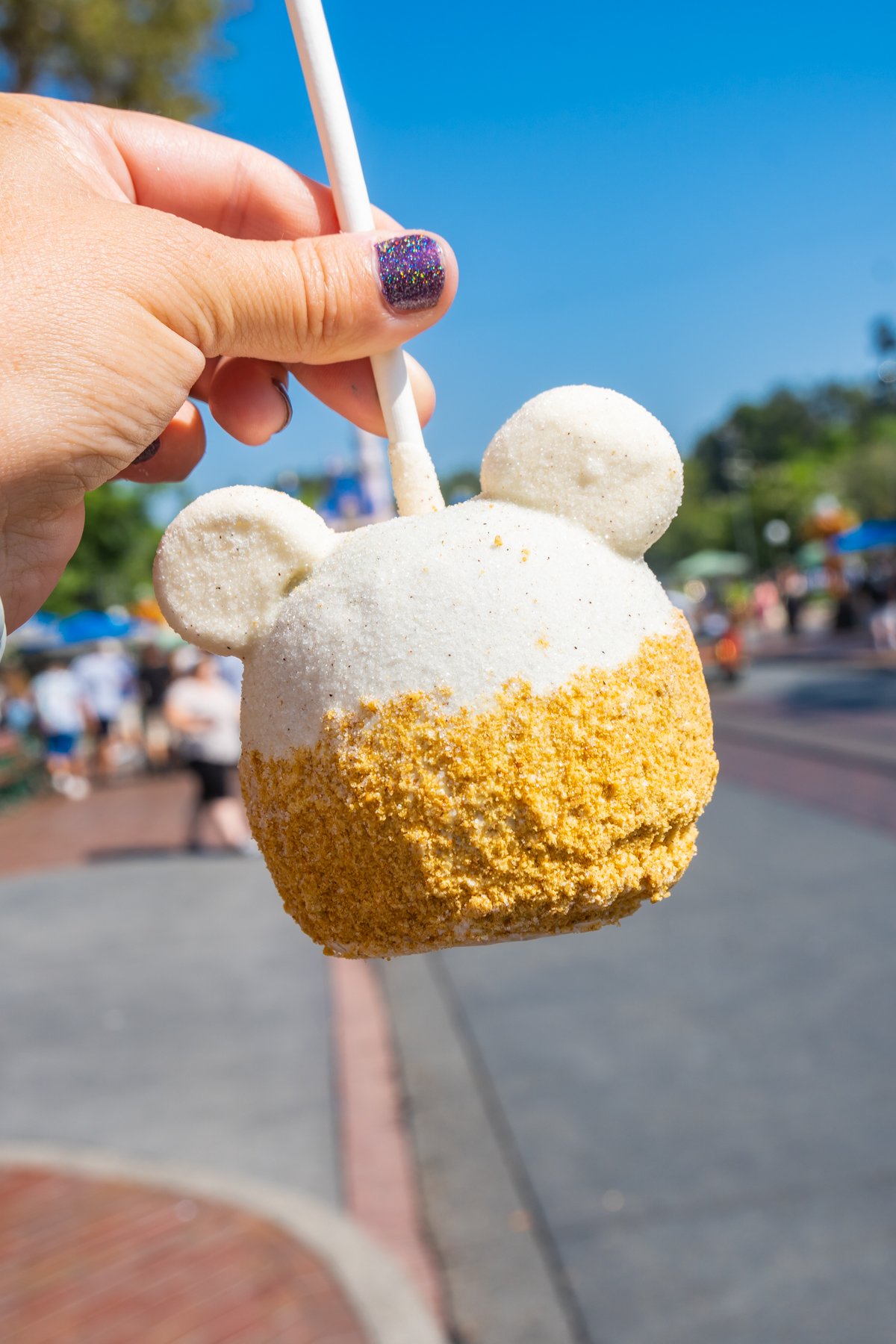 Blood Orange Slush from Galactic Grill
Unlike many of the slushes in the parks, this one wasn't too sweet. The blood orange flavoring helped balance out of the sweetness with its tart flavor. It was a good way to cool down on a hot day without being totally overloaded on sugar.
Darth by Chocolate at Galactic Grill
Galactic Grill can be hit and miss with their parfaits, but I thought this one was a hit! A Star Wars inspired parfait full of layers of chocolate pudding, red velvet sponge cake, chocolate mousse, and crushed Oreos – everything worked well together plus it was cute!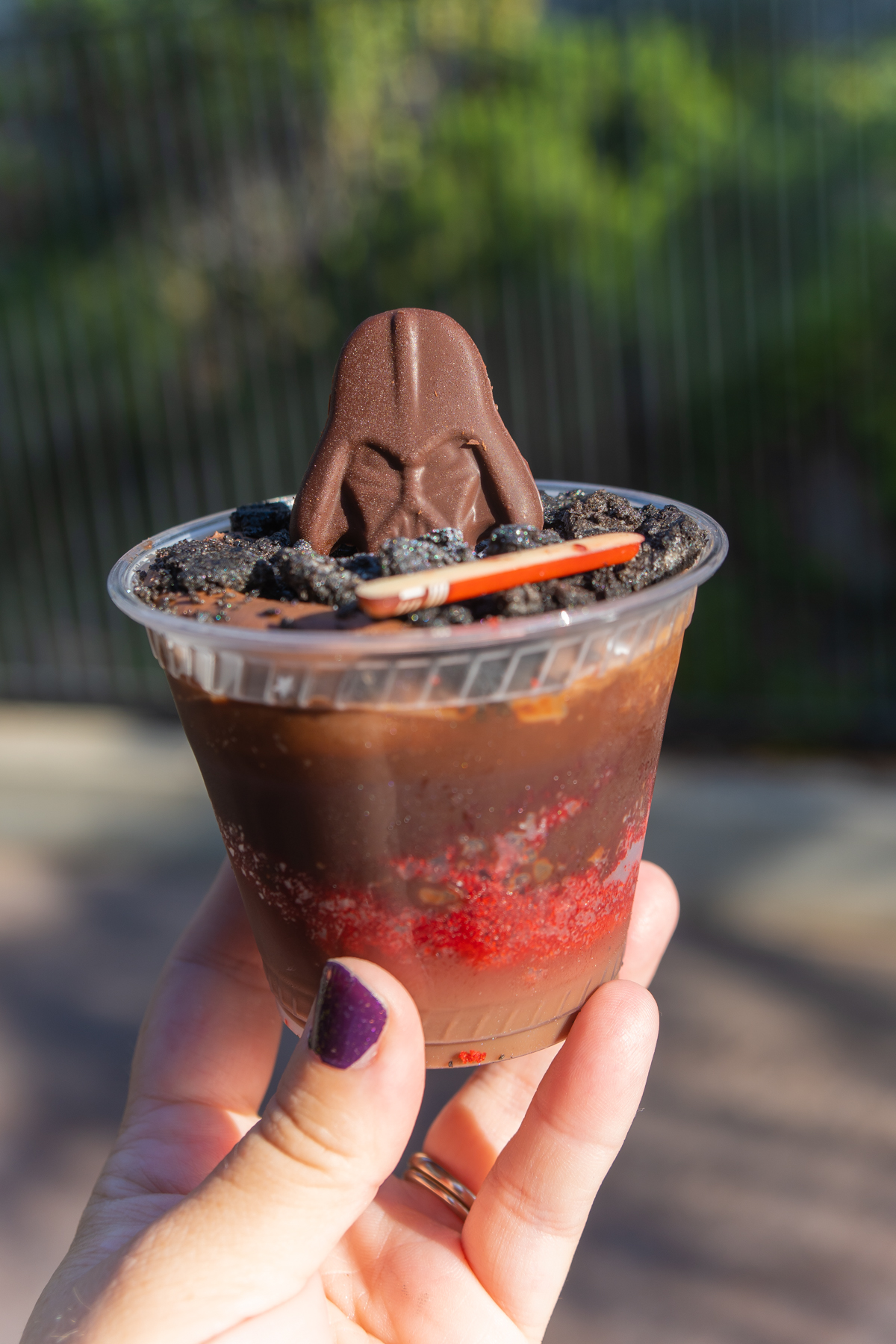 Vampire Alien Macaron from Alien Pizza Planet
This may be the cutest of all of the macarons and that's saying something because there are a lot of them! I like this one because of the lemon curd and blackberry filling. It's a nice change from the typical chocolate or vanilla filling.
None of the macarons from the party are anywhere near as good as the raspberry rose macaron, another one on my best Disneyland food list!
Bat Cookie at Jolly Holiday Bakery, Market House, or Red Rose Taverne
I liked how cute this cookie was but that it also tasted a little different than the big thick Mickey ear sugar cookies. It was soft and flavorful and something I'd eat again. I did have problems with the chocolate decorations getting all over my hands but nothing a little hand washing didn't fix.
Churro with Pumpkin Dipping Sauce at Fantasyland Churro Cart
This isn't really a speciality churro, it's just a dipping sauce to go with a regular churro. I always like a good normal churro and the pumpkin dipping sauce tasted similar to a pumpkin dip I make during the fall, so it was a winner for me.
Plus, you can never go wrong with a regular churro!
Chocolate Cookie Crumble Churro from the Town Square Churro Cart
I didn't get the chance to try the chocolate cookie crumble churro with peanut butter dipping sauce but if it's anything like the chocolate cookie churro from last year (photo below), it's a must-try and one of my favorite churros I've had that aren't doused in sauce.
This is at the Town Square and Sleeping Beauty Castle churro carts.
Spicy Chocolate Churro from Frontierland Churro Cart
If you like spicy, you'll like this one. This cinnamon dusted chocolate churro came with a spicy chocolate dipping sauce that packed a punch. I don't love spicy flavors but still enjoyed this one – just beware, there is definitely some heat to the spice!
Pistachio Cherry Churro from New Orleans Square Churro Cart
Okay so let me be clear – this is actually two separate churros with different flavors that are served together with a ghost pepper grape sauce (also a little spicy). They basically break one long churro in half (or have them already cut in half) and one is covered in a pistachio coating that was just okay and the other is coated in a sour cherry sugar that my son and I both thought was delicious if you like sour candy!
The combination together was a little odd, but I liked that you got to try a little bit of both! And if you like heat, the ghost pepper grape sauce had a nice lingering heat at the end of each bite.
Toffee Pretzel from Tomorrowland Pretzel cart
I've tried the warm cream cheese filled pretzels before but adding a layer of toffee sugar on top took this one to a whole new level! A delicious sweet alternative to a traditional Mickey pretzel!
Pumpkin Spice Beignets from Mint Julep Bar
These were okay but not better than the regular Mickey beignets, already one of my must-try Disneyland food items! I'd still probably get the regular ones unless you're sick of those and then these are a good second choice! Just be forewarned, they didn't have a ton of pumpkin flavor to me.
Also, make sure to eat them warm. Beignets are always best warm!
Halloween Marshmallow Wand from Various Bakeries
If you like marshmallows and caramel, you'll like this. It's two marshmallows coated in caramel then covered in chocolate and Halloween colored chocolate.
Rice Krispy Treats from Various Bakeries
There are two fall rice krispy treats that I haven't talked about already – an Oogie Boogie one at Bing Bong's, an orange spider web one, and a Minnie witch crispy treat.
Out of the three, I personally prefer the orange spider web one because it's covered in colored sugar and sprinkles rather than the thick chocolate layer, but I know some people love the traditional chocolate dipped rice krispy treats! They're all a decent treat, and my boys all enjoyed them when I brought them home!
Halloween Cake Pops from Various Bakeries
There are two fun chocolate cake pop options for Halloween – a Minnie with a bow option and a dirt and worms option. They pretty much taste the exact same other than the dirt and worms option has well Oreo crumbles and worms on top.
They're pretty standard cake pops but so if you like cake pops, these are a good choice. We got ours at Candy Palace but saw them in various locations throughout both parks and at Marceline's confectionery in the Downtown Disney district.
Best Disney Halloween Food at California Adventure
Okay, enough about Disneyland Park! Some of my absolute favorite treats were actually only available in Disney's California Adventure so make sure to take some time to eat there too!
We spent a few hours in DCA before Oogie Boogie Bash, and I wish we'd had more time to actually enjoy all the fun Halloween decorations, shows, and more!
Spicy Mac & Cheese Cone from Cozy Cone 3
If you like a little heat and already a fan of the mac and cheese cone from Cozy Cone Motel, then you'll likely enjoy this one as well. I'm not a huge spicy person and it was too spicy for me but still probably only spice level mild or medium. The flavors are good if you want spicy. If not, just stick with the regular mac and cheese cone.
Oogie Boogie Cake Fries from Award Weiners
Okay so these are on my good list but beware, all funnel cake fries can also be really not good if they're not fresh. I mobile ordered when there wasn't much of a line, so mine were fresh and pretty good.
The Oogie Boogie frosting on top is a nice dip for the fries and the candy sprinkled around was fun to eat apart from the funnel cake – the candy didn't really stay on the fries when I ate them.
Bloood Orange Lemonade from Fairfax Fruit Market
This nondescript drink from Fairfax Fruit Market is actually one of my favorite things I had all day. It's a blood orange agua fresca mixed with lemonade, and it creates a slightly tart, slightly sweet drink that's extremely refreshing on a hot day.
When I went in the early afternoon, they only had a few left out, but they said they restock throughout the day. But if it's something you definitely want to try, I recommend grabbing one early just in case because I did see an empty cooler the next time I walked by.
Pumpkin Bundt Cake from Pacific Wharf Cappuccino Cart
I heard mixed reviews on this one, but I personally enjoyed it. I thought it tasted similar to one that you might get at Nothing Bundt Cake. The bundt cake was soft and flavorful and the filling was creamy and a good complement to the cake. This may not have made my must-try list, but it's good enough I'd eat it again.
Also if you're not sure where the cart is, it's nowhere near Pacific Wharf Cafe. It's actually up in the little connector circle area where Pixar Pier meets Pacific Wharf.
Blood Orange Shake from Schmoozies
I'm not normally a Schmoozies shake fan, but I actually really enjoyed the blood orange one. I liked the slightly sour flavor that reminded me a bit of a sour creamsicle. I liked that it was smooth and creamy – similar to drinking down a smoothie. And it just tasted refreshing on a hot day instead of drowned in milk like so many Schmoozies shakes.
I'm a big of fan of blood orange and citrus though so keep that in mind. If you're not, you may want to skip this one.
Mint Shake from Smokejumpers Grill
Speaking of shakes, the other one I actually liked was the mint shake from Smokejumpers Grill, and it wasn't just because it was topped with gummy body parts! I liked the creamy mint flavor, the chocolate covered snack cake on top, and just the overall Halloween feel of it!
Cranberry-Grape Punch from Smokejumpers Grill
Let me start by saying that I love cranberry juice and most punches that have cranberry juice. This isn't a must-try, but I found it to be a nice refreshing drink option. It wasn't overly sweet, wasn't loaded down with candy or whipped cream, and just had a nice combination of tart and sweet flavor.
I easily could've drank another one of these if I wasn't already eating a bunch of other things in the parks.
Peanut Candy Churro from Grizzly Peak Churro Cart
This is another one of those messy churros – rolled in powdered sugar and topped with peanut butter sauce and chopped peanuts. It's also a really tasty one assuming you like peanuts.
Sour Candy Churro from Hollywood Churro Cart
I don't know if Disneyland has done a sour candy churro yet, but this was definitely a sour candy churro. Imagine eating a churro covered with just the sour part of Sour Patch Kids. My son loved it. I enjoyed it topped with the sweet watermelon icing but thought the churro by itself was a little bit too sour to eat the entire thing.
This is a must-try in my book just because it's so different but you've been warned – it'll make your lips pucker for sure!
Tasty Halloween Treats at Disney's Grand Californian Hotel
The yummy treats don't stop in the parks! Once you're done in the parks, these Halloween eats are worth a quick stop into Grand Californian Hotel!
Halloween Donuts from Craftsman Bar and Grill in Grand Californian Hotel
These are mostly on my list of good treats because they're cute and taste good enough. The donuts are just regular vanilla donuts covered in chocolate that's designed to look like a Mickey pumpkin and mummy. That alone was enough for me to try them and likely enough for you to try them as well.
The vanilla donut inside was good, nothing amazing, but something I'm sure my kids would enjoy. My boys aren't quite the donut snobs I am.
Oogie Boogie Cookie from Grand Californian Holiday Cart
This was easily my favorite sugar cookie that I tried from the GCH holiday cart and one of my favorite Disneyland Halloween treats overall. It's a soft and fluffy green apple sugar cookie that's filled with caramel filling.
It smells like and tastes like a caramel apple, and it's a must-try in my book. Oh and did I mention it's filled with ooey gooey (not to be confused with oogie boogie) caramel?
Gingerbread Zombie Cookie from Grand Californian Holiday Cart
If you've had Disneyland gingerbread cookies before, you've had one of these. The only difference is that they decorate it to look like the zombie gingerbread man in Nightmare Before Christmas. They're cute, yummy, and hard to get. The holiday cart options at 3PM on weekdays, and were in line both times around 3PM and still barely got our hands on these.
Various Sugar Cookies from Grand Californian Holiday Cart
There are a bunch of different sugar cookie options at the treat cart – Poison Apple cookie, Jack Skellington Cookie, and a Hocus Pocus cookie. The cookies themselves are all the same sugar cookie base, they're just topped with different decorations.
All of the cookies are decent but not as good as the large Mickey shaped sugar cookies you get in the parks. The cookie is just not quite as melt in your mouth soft and instead is a bit harder, still good, but just not the super soft Mickey cookies you might be used to.
Out of the three that I tried, the Jack Skellington one was my personal favorite – it tasted almost like a black and white cookie with its white and black chocolate.
Oh and one other thing to note, these are individually wrapped up nicely so they're great for taking back to friends and family at home! Mine still tasted good after three days.
Waffle Cone and Milk from Holiday Treat Cart in Grand Californian
This dessert is more of an experience than just a dessert. They serve you a coated waffle cone glass and you choose what you want to fill it with – everything from white to chocolate milk to well other options.
I actually thought this was kind of fun and the pistachio coated cone I chose was yummy with some chocolate milk inside. But I enjoyed eating the waffle cone and drinking the chocolate milk as I go. Probably something you can skip but still fun to know about!
Disneyland Park Halloween Treats to Skip
I go to Disneyland for the food. There is so much good food to eat that there's no reason to spend your money on things that aren't worth the cost – unless you're like me and want to try everything and write about it.
So in total authenticity, these are the Halloween foods I tried that I personally would skip if spending money on a round two.
Pumpkin Spice Churro from Tomorrowland Churro Cart
There really wasn't a lot of pumpkin flavor to this at all to me. It tasted more just like a regular churro but with orange coloring.
There are better churros out there so I wouldn't pay the extra to get this speciality one. If you really want a churro in Tomorrowland, just get a regular one.
Cookies and Cream Mummy Macaron from Jolly Holiday Bakery
Okay so hear me out on this one. This macaron is fine. The cookies and cream flavored cookie on the outside was okay, the chocolate filling inside was better than the outside but still nothing special.
The problem is that – it's just fine. When you have the choice of this or the raspberry rose macaron at the Jolly Holiday, there's no contest.
All of the other macarons available in the park have a multi-faceted filling and maybe that's what was missing in this one for me.
Halloween Brownie from Jolly Holiday Bakery
I really like the idea of this brownie – it's topped with a sour gummy spider (with six legs) and a cute spiderweb. It looks great, and my really liked the spider.
And even better, it's filled with a surprise of little mini M&Ms inside. But it was dense and just not what I wanted in a brownie. It was a bit more of a cake, but a dense chocolate cake at that. It was okay but not great.
Mickey Mummy Marshmallow from Various Bakeries
This is another treat that's really cute but not necessarily my favorite. The entire thing is just one big marshmallow – too much for me. If you like marshmallows, you might love this. But I'd personally prefer something with a bit more flavor like the Halloween marshmallow wand or the caramel apple with just marshmallow ears!
Pumpkin Cheesecake from from Jolly Holiday Bakery
I've said it before, I'm not the biggest pumpkin fan. I like pumpkin in things like this pumpkin crunch cake or even these pumpkin cheesecake bars. I did not, however love this pumpkin cheesecake.
The crust was too thin (barely there), the texture of the cheesecake mixture wasn't as smooth as I would've liked, and I just didn't love the flavor. I'd skip this one and grab pretty much any of the other Disneyland Halloween treats at Jolly Holiday instead.
This picture is from 2021 but I tried this year's version as well, and it was the same as last year's with just different decorations on top.
Halloween Cake from Plaza Inn
This cake was the perfect example of something looking much better than it tasted. This chocolate cake was layered with brightly colored frosting that tasted like it was brightly colored frosting. The frosting quickly began to melt in the heat and just tasted processed and artificial.
If you want a picture, this cake is great. If you want a cake that actually tastes good, I recommend the wedding cake!
Decorated Candy Apples from Various Bakeries
If you're going to get a cute caramel apple, get the apple pie one. It's cute and tastes great. All of the other ones I tried tasted like they were coated in more of a melted candy wafer coating, and I just didn't love the flavor at all! It coated the top of my mouth and didn't give me the caramel + chocolate flavor I was hoping for.
I've tried the poison apple one, the Minnie witch one, and the new Mickey pumpkin one – cute but not fun to eat.
California Adventure Halloween Treats to Skip
Hopping back over to Disney's California Adventure, I'd spend my money somewhere other than on these treats!
Mint Chocolate Cookie Shake and Chocolate Chip Shake from Schmoozies
I know people that love Schmoozies' shakes. I'm not one of those people, but I like my shakes to be more ice cream than milk and Schmoozies' shakes tend to be thinner and more liquid and less of the actual ice cream flavor than I like.
The good is that they're both very cute, the whipped cream on top adds a nice flavor to the drink, and they're refreshing on a hot day.
Funny enough I actually really enjoyed this year's Halloween blood orange shake from Schmoozies although I know that's an unpopular opinion. I think it's because it tasted kind of like a sour creamsicle!
Mickey Bat Sourdough Bread from Pacific Wharf Cafe
There's nothing wrong with sourdough bread (it's actually normally really good), but I'm putting it on this list because unless you want to bring it home to someone, I don't see any reason to buy a entire Mickey Bat's worth of sourdough bread just to snack on at the park. It is cute, but there are other Halloween treats to be enjoyed!
Go look at it, take a picture, and leave it for someone else to enjoy with their soup. I wish they had a smaller version that was actually good for a quick snack instead!

Fruity Sugar Churro from Cozy Cone 1
This churro was pretty with all sorts of what seemed to be crushed Fruity Pebbles on top. The problem was that the sugar on top really added no flavor at all, just color. I'd skip it and just get the regular churro (or one of the other speciality ones if you can wait for your churro fix).
Snack Molecules at Pym Tasting Lab
I've tried both the regular snack molecules and this Halloween version and neither are good. They're almost always a little stale and just a waste of money when there are so many other things you can eat instead.
Treats to Skip at Grand Californian Hotel
Most of the Halloween treats at Grand Californian are worth the cost but a couple aren't! These are the ones I personally would recommend skipping.
Jack Skellington Cupcake at Craftsman Grill at Grand Californian Hotel
If you want a basic chocolate cupcake, then get this. It was just okay and not worth spending your money on in my opinion. It's also very messy and crumbly!
Spooky Pretzel Sticks from Grand Californian Holiday Cart
These are just white chocolate dipped pretzels with Halloween decorations, nothing special about them. They're cute and taste fine, but you could make them in minutes at home. Skip these and try something a little more Disney instead!
Crispie Rice Treats at Grand Californian Holiday Cart
There are two different rice krispy treats at the holiday cart – a Sanderson sisters one and a Oogie Boogie one. They're pretty much the same thing but with a different picture on the front – a white chocolate dipped rice krispy treats with a chocolate back.
Neither were my favorite, and I missed the sour gummy worms in the old oogie boogie treats from the 2021 spooky season!
Disneyland Halloween Food Items Not Reviewed
I unfortunately wasn't able to try a handful of items just because I personally don't eat them for some reason – onions, coffee, no mobile order and line was crazy, etc. These are those additional items that are not already reviewed above. If you've tried these, let me know what you thought!
Alien Pizza Planet supernova special pizza – onions
Carnation Cafe Spicy Fried Chicken Sandwich – onions
Galactic Grill Oktoberfest Burger- onions
Gibson Girl Ice Cream Parlor Rocky Road Halloween Sundae
Plaza Inn Classic Pumpkin Pie
Refreshment Corner Spicy Firefly Chips – onions
Award Wieners Spicy Pulled Pork Dog – onions
Jack-Jack Cookie Num Nums Halloween shortbread cookie – wasn't available
Clarabelle's Hand-Scooped Ice Cream Cereal Sundae and Chocolate Brownie Sundae
Fiddler, Fifer, & Practical Cafe Oogie Boogie Worms and Dirt Cake
Lamplight Lounge Boardwalk Dining (walk-up) Ghost Pepper Nachos and Pork Belly Sliders- onions
Lamplight Lounge Pumpkin Spice Donuts – couldn't get a reservation
Pacific Wharf Cafe Pastrami Sandwich and Chocolate-Espresso Bread Pudding – onions and coffee
Smokejumpers Green Chile Double Burger – onions
Studio Catering Co Ghost Pepper Potato Bites – onions
Disneyland Hotel Coffee House Seasonal Cupcake – we didn't make it to Disneyland Hotel unfortunately.
GCH Holiday Cart Halloween cookie box and Halloween hot chocolate – the cookie box was never available when we were there and well hot chocolate on a 100 degree day wasn't happening.
Ballast Point Brewing Pumpkin Down Float (available starting Oct 1)
California Churro Spooky Churro (available Oct 24 to 31)
Kayla's Cake mummy macaron and pumpkin cheesecake macaron
La Brea Bakery Cafe Kids Monster Pancakes (only Oct 31)
Ralph Brennan's Jazz Kitchen Candy Corn cream soda (available September 26 to Oct 31)
Sprinkles Peanut Butter Cup cupcake (Oct 17 to Oct 31)
Insider Tips for Eating all the things
If there's one thing I've learned as I've tried out all of the food items at Disneyland, it's some tips and tricks to save time and money! These are my favorite tips to make it easier, especially as all the Halloween festivities bring the crowds!
Mobile order to save time. I mobile ordered nine out of ten of the places that we went, and it saved me time nine out of ten times. There were a few misses (looking at you Flo's) but in general mobile ordering can save you tons of time – giving you time back to spend doing other things!
Order inside if something isn't available on mobile order. 95% of the Halloween food items were available via mobile order but a few weren't. For those, you can still typically get them – just go order at the regular counter.
Share. Many of these items come in large portions or are rich enough you're not going to want to eat the entire thing yourself (or maybe you are). I love to take my family or friends and share a little bit of everything with everyone so you can enjoy as many different things as possible!
Get your seasonal treats early. While they may not sell out fast, they do sell out. There were definitely a couple of items that we couldn't get because they were already gone!
Get in line at the GCH holiday cart before 3PM and don't have your hopes up to try everything. We were there two different days right at 3PM, and they only had about half of the items either day. One day they had a few Halloween cookie boxes, one day none. One day rice krispy treats, one day none. It's hit and miss so just be happy with what you can get!