From alien macarons to pumpkin cake pops, these Disneyland Halloween treats are spooktacularly delicious and fun to eat! This Disneyland Halloween food guide will tell you everything you need to know about which treats to eat and which treats are more tricks than treats!
I challenged myself (and my sister) to try ALLLLLL the seasonal treats available at Disneyland Resort this year for Halloween Time, including the special churros only available at Oogie Boogie Bash (the Disney Halloween party), and the treats at Grand Californian Hotel.
The only things we didn't try were a few things not available until after our trip to Disneyland!
It took me just over two days and a lot of walking, but I did it. And I'm here to tell you which Disneyland Halloween food items – both Disneyland Halloween treats and drinks you have to try and which ones you can skip.
It's the ultimate Disneyland Halloween foodie guide with my opinions on all of it. Mind you, these are opinions so if someone else disagrees, that's their right. We don't all agree on food so if you think something sounds good, feel free to try it anyway even if it's on my skip list.
Don't be fooled, food is only one of the things you can do for Halloween this year! Make sure to check out my full Disneyland Halloween guide too!
Top 10 Disneyland Halloween Treats & Eats
Everyone always asks me what are the foods that I have to try during the Halloween season at Disneyland (and Disney California Adventure) so I'm going to start with that quick list of what I consider the best of the best and my must-try list!
And if you don't agree, be kind. Everyone has their own opinions and taste buds!
Read the entire post for details on each of these items plus my reviews on all of the food available in both Disney parks in California!
Oh and also, this does not include the speciality items only available during Oogie Boogie Bash – you'll have to read my Oogie Boogie Bash guide to see those!
Darth by Chocolate at Galactic Grill
Huckleberry Lemonade at The Hungry Bear Restaurant
Halloween Macaroon from Jolly Holiday Bakery
Pecan Pie Sundae at Golden Horseshoe
The Grave Stuff at Red Rose Taverne
Apple Pie Caramel Apple from various bakeries
Made in the Lab Sundae from Clarabelle's Ice Cream
Oogie Boogie Apple Lemonade from Smokejumpers
Oogie Boogie Donut from Craftsman Bar & Grill in GCH
BBQ bacon burger from Hungry Bear Restaurant
Tip!
While technically not Halloween, the gingerbread calavera cookie at the holiday treat cart in Grand Californian Hotel is always a winner as well! They're just not technically Halloween themed but definitely worth getting!
Best Halloween Food at Disneyland Park
Okay now that we've gotten the top list out of the way, let's get into all the goodies! This is a full list of all the Halloween food available at Disneyland Park and my thoughts on it all – starting with the good stuff.
There's no real rhyme or reason to how these are ordered, just what happened to come out first!
If you're looking for things to skip, make sure to read all the way to the bottom!
Pumpkin Churro Funnel Cake at Hungry Bear Restaurant
If you like pumpkin, you'll love this funnel cake that's topped with ice cream and fresh whipped cream. It's a great combination for pumpkin lovers and if you don't love pumpkin, you still can't go wrong with funnel cake and ice cream!
BBQ Bacon Cheeseburger from Hungry Bear
I didn't personally try this but my friends who did said that this was a really good theme park burger. Don't go expecting a perfectly cooked burger, but they said the burger and bacon and red pepper sauce combined for a really good theme park burger.
If you're looking for an actual savory Halloween meal, this is a good option.
Red Pepper Cheese Onion Rings from Hungry Bear
If you've ever read my site before, you know I don't eat onions. Luckily, my friends tried these onion rings for me and said they were good! The red pepper sauce had a little spice but it was more spice than heat, and they both enjoyed them a lot. They would've been even better if they were cooked fresh!
They also offer red pepper cheese fries, which are likely similar but with fries instead!
Huckleberry Lemonade from Hungry Bear
If you need something to wash down all of those items, the huckleberry lemonade was one of my favorite drinks that I tried during our entire trip. Disneyland has a lot of great kid-friendly drinks, and this is a great addition the Halloween food menus!
It's sweet but not overly sweet (like a lot of Disneyland drinks) and has a unique and delicious flavor. It also came with actual blueberries in it, which was a little weird, but still a good drink!
Oogie Boogie Apple Lemonade at Smokejumpers
If you like kid-friendly drinks like flavored lemonades, Disneyland really knocked it out of the park this year. This Oogie Boogie apple lemonade reminds me of one I've tried before during some other event (can't remember exactly when), and I'm really glad they brought it back.
It's a little sweet, a little tart, and perfectly refreshing. Oh and of course, it comes with fun floating bobas – drink those through one of the large straws for not only a great drink, but a fun experience.
Rest in Chocolate Sundae at Gibson Girl Ice Cream Parlor
If you're wanting ice cream, this is a great option during Disneyland Halloween time. It's rocky road ice cream (or your choice of flavors – we got mint chocolate chip) topped with Oreo cookie crumbles, gummy worms, and a chocolate tombstone. All of that is served in a chocolate coated waffle bowl.
It's simple, straightforward, and very tasty. But what basic bowl of ice cream bowl is not? It's not particularly unique, but if you want ice cream, this gives you everything you want without some weird add-ons. Just watch out – the chocolate bowl melts quickly in the heat.
The Grave Stuff at Red Rose Taverne
I've always been a big fan of grey stuff (you can get a copycat grey stuff recipe here!), but I didn't realize they could make it even better by putting a red velvet cake in the middle. It turned this into something like an inside out cupcake.
This Halloween grey stuff is not only so cute, but it was delicious. The combo of the grey stuff and the moist red velvet cake in the middle made me think that grey stuff should've just been cake frosting all along. The chocolate cookie on the bottom is soft and a good combination with everything else.
Blood Orange Slush from Galactic Grill
This is one of my favorite slushes that Disneyland makes. If you like citrus, this is definitely one to try. You can get it at Galactic Grill as well as part of the meals available at Tomorrowland Skyline Terrace.
Unlike many of the slushes in the parks, this one wasn't too sweet. The blood orange flavoring helped balance out of the sweetness with its tart flavor. It was a good way to cool down on a hot day without being totally overloaded on sugar.
Darth by Chocolate at Galactic Grill
Galactic Grill can be hit and miss with their parfaits, but I thought this one was a hit! A Star Wars inspired parfait full of layers of chocolate pudding, red velvet sponge cake, chocolate mousse, and crushed Oreos – everything worked well together plus it was cute!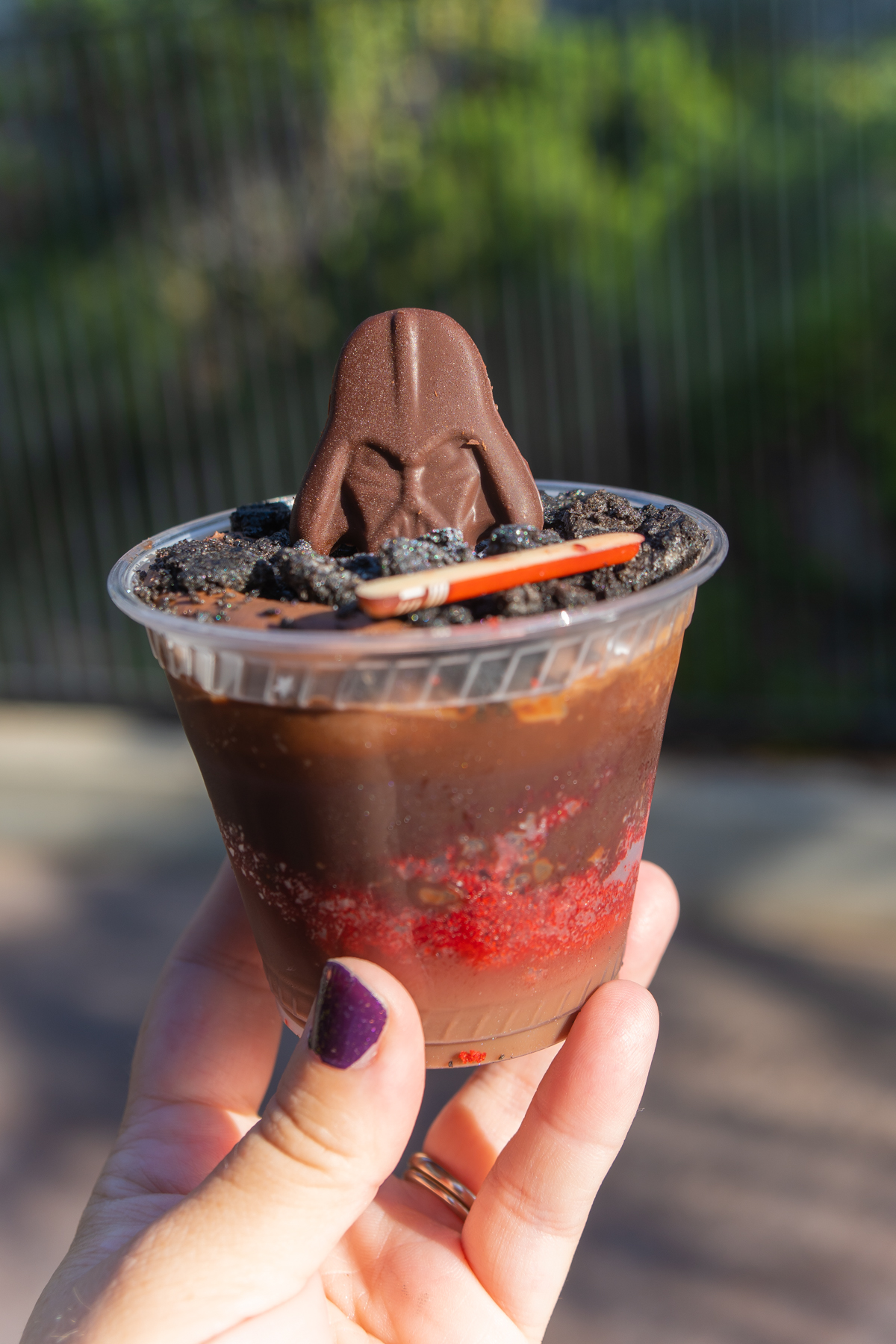 Vampire Alien Macaron from Alien Pizza Planet
This may be the cutest of all of the macarons and that's saying something because there are a lot of them! Last year this had a delicious lemon and blackberry filling but this year they switched to salted caramel buttercream, chocolate ganache, and brownie bits!
I wish they'd stuck with the lemon and blackberry filling because I personally like that better. The salted caramel, chocolate, and brownie bits were just a little rich and kind of tough to eat. It was a good idea, the execution just wasn't great.
None of the macarons from the party are anywhere near as good as the raspberry rose macaron, another one on my best Disneyland food list!
Bat Cookie at Jolly Holiday Bakery, Market House, or Red Rose Taverne
I liked how cute this cookie was but that it also tasted a little different than the big thick Mickey ear sugar cookies. It was soft and flavorful and something I'd eat again.
I did have problems with the chocolate decorations getting all over my hands but nothing a little hand washing didn't fix. It didn't make my top ten list simply because it's not that unique, just another Disney sugar cookie.
Sweet Potato Cheesecake Dipping Sauce at Fantasyland Churro Cart
This isn't really a speciality churro, it's just a sweet potato cheesecake dipping sauce to go with a regular churro. I always like a good normal churro but I'd skip the sweet potato dipping sauce. It was not our favorite.
I miss the pumpkin dipping sauce. It reminded me of my favorite pumpkin dip, which is a fall favorite!
Chocolate Cookie Crumble Churro from Sleeping Beauty & Town Square Churro Carts
The Malificient churro aka chocolate cookie crumble churro is one of my personal favorite churros because it tastes different than just a normal churro. Add it to the peanut butter dipping sauce that's available here as well and this one's a winner!
You can find it at either the Sleeping Beauty (near the castle) or Town Square churro carts.
If you like peanut butter and chocolate together, make sure to try out these Disney Butterfinger cupcakes too!
Trick or Treats Sweet Churro from Haunted Mansion or Critter Country Churro Carts
This is the churro I was most excited to try. It's a churro coated in shortbread sugar (instead of regular sugar) and then topped with caramel, chocolate, and pieces of Twix bars. Since I love Twix, this was a favorite for me, but beware it was a little sweet.
And if you don't like Twix, you likely won't like this one. It's not a must-try for me (like the fluffernutter), but it was a solid option if you want a unique churro!
Sweet Citrus Churro & Dipping Sauce from Churro Cart Near Buzz
This was another one I was excited about because I love citrus. It's a citrus flavored churro that comes with an orange cream dipping sauce. I haven't had an orange churro before and I actually really liked this one, maybe because it's one I could actually eat again and again.
The citrus flavor was strong enough it tasted different than a standard churro, the orange cream dipping sauce was delicious, and it wasn't overly sweet or spicy.
Poison Apple Macaron at Jolly Holiday Bakery
I was really excited about this one because it's so cute and Jolly Holiday normally makes really good macarons. Also, it seemed like a similar actual macaron to the one they use for the raspberry macaron.
Unfortunately it was kind of a mess, just trying to do too much all in one cute cookie. That's really what it is – cute but not great. The macaron itself was decent and the salted caramel inside also would've been fine, but then they added in some sort of candy apple compote (tasted similar to the one on the funnel cake fries) that was too much and just overpowered the entire thing.
If you want to try this, it's not a bad option because it is cute and decent. But it's definitely not on my must-try list.
Pecan Pie Trifle from Jolly Holiday Bakery
Pecan pie flavors were a big part of the Disneyland Halloween menu this year and the trifle at Jolly Holiday Bakery is a decent option if you like pecan pie, are already at Jolly Holiday, and want something smallish. The flavor combination of vanilla cream, brown sugar cake, and pecans on top gave me very fall vibes and went well together.
However, if you're going to do just one pecan pie dish – I recommend the pecan pie sundae instead!
Halloween Macaroon from Jolly Holiday Bakery
Another sold option at Jolly Holiday Bakery is the Halloween macaroon. While it looks like they just added sprinkles on top, it's actually a chocolate chip coconut macaroon rather than the traditional Matterhorn macaroon that's just coconut (and on my best Disneyland food list).
I actually really liked this version with the added chocolate chips. It's not necessarily a must-try if you've tried the regular Matterhorn macaroon before, but if you like that one, this is a good variation. And if you haven't tried that one, I'd say this is definitely one to try!
It was my personal favorite Halloween offering from Jolly Holiday bakery!
Pecan Pie Sundae from Golden Horseshoe
This sundae combines pecan praline ice cream, butterscotch topping, candied pecans, and whipped cream in a sundae. I was a little hesitant at first because some of the pecan things I've had at Disneyland were not great.
But this pecan pie sundae was fantastic, if you like nuts of course. The combination of the ice cream, sauce, whipped cream, and crunchy nuts on top gave it great flavor, texture, and variety!
Tip!
Golden Horseshoe has a unique mobile order system that's more like a lot of restaurants use for pickup. Instead of having to wait for the cast member to give you your food, there's actually a shelf where you can pick up your food on the far side of the counter.
Unfortunately, this doesn't really work for ice cream sundaes. I went to pick up my food and there was a card that I had to in turn take over to the other side of the ordering bar to have them make my sundae. So just know that when it says your mobile order is ready, it's not actually ready – you still have another step to go!
Black Forest Bundt Cake from Plaza Inn
Plaza Inn has two Halloween cakes this year – a monster cake (on my do not try this) and a black forest bundt cake. If you've had black forest cake before, this is like a little mini bundt cake version. It's chocolate cake with tart red cherries inside.
I thought it was a good option if you want dessert at Plaza Inn, but not necessarily something worth seeking out. But definitely good enough to get and enjoy.
Halloween Marshmallow Wand from Various Bakeries
If you like marshmallows and caramel, you'll like this. It's two marshmallows coated in caramel then covered in chocolate and Halloween colored chocolate.
Rice Krispy Treats from Various Bakeries
There are three fall rice krispy treats this year – a Minnie Bat cereal treat, an Oogie Boogie cereal treat, and a ghost cereal treat.
The Oogie Boogie cereal treat makes my things to skip list but the other two were pretty yummy, albeit just normal rice krispy treats. If I had to choose one rice krispy treat to get, it would be the Minnie bat one though because the dark chocolate is something newer for Disney, and it was delicious!
The ghost one was decent as well for a chocolate dipped rice krispy treat, but it wasn't unique – just cute. If your kids prefer white chocolate (or don't like chocolate and you want to pretend it's not chocolate), they'd probably like the ghost.
Halloween Cake Pops from Various Bakeries
There are three fun Halloween cake pop options this year – a Minnie with a bow option, a candy corn cake pop, and a Mickey pumpkin cake pop.
They're pretty standard cake pops but so if you like cake pops, these are a good choice. My personal preference was the Micky pumpkin cake pop but only because it was chocolate cake versus vanilla.
I saw all of these cake pops in most of the bakeries across both parks – Trolley Treats, Candy Palace, Pooh Corner, and even Bing Bong's. The only caveat to this is that they were only available to mobile order in random places, so you may have to skip mobile ordering on these unless you really want to go to a bunch of locations.
Apple Pie Caramel Apple from Various Bakeries
This caramel apple is not only cute, it's actually really yummy and sometimes the just straight candy coated ones aren't that tasty.
The apple pie caramel apple is covered in caramel (obviously), with a white chocolate layer that's sprinkled with cinnamon sugar. It's topped with two marshmallow ears and the bottom half is covered in graham cracker crumbs.
It was so good I decided I had to make a copycat apple pie caramel apple recipe so I could enjoy it at home!
I brought this one home to my family and wish I'd gotten more because they devoured it. The white chocolate layer was really thin and the sprinkled cinnamon sugar on top really gave it a nice flavor. It was so much better than the other options I tried (Jack Skellington and Poison Apple) and one I would actually buy again!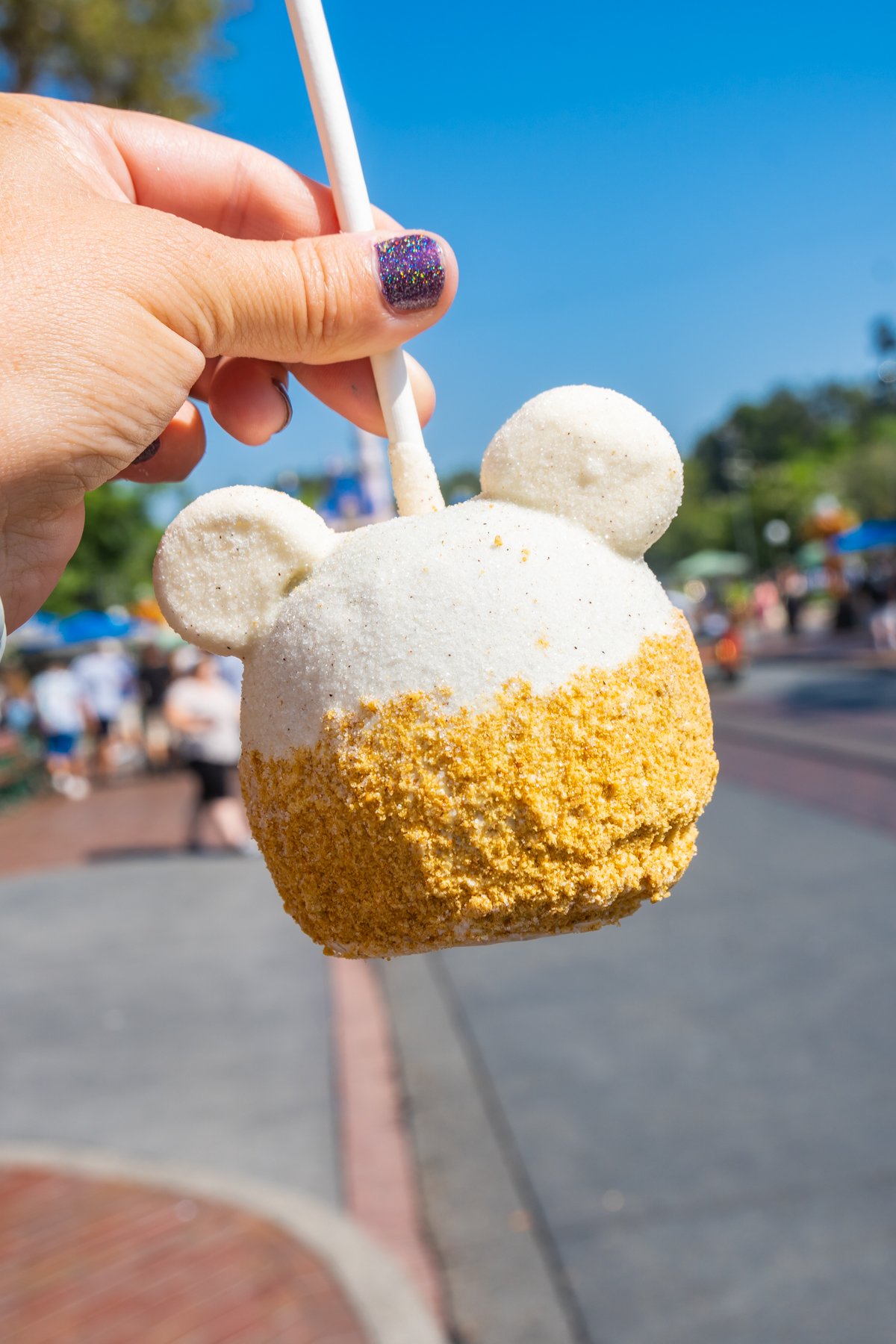 Halloween Cookies at Various Bakeries
Disneyland sugar cookies are always a safe bet, and I saw a variety of Halloween options available this year. The purple spiderweb cookie is always one of my favorites, but I'm sure the candy corn option is good too!
Best Disney Halloween Food at California Adventure
Okay, enough about Disneyland Park! Some of my absolute favorite treats were actually only available in Disney's California Adventure so make sure to take some time to eat there too!
We spent a few hours in DCA before Oogie Boogie Bash, and I wish we'd had more time to actually enjoy all the fun Halloween decorations, shows, and more!
Spicy Mac & Cheese Cone from Cozy Cone 3
If you like a little heat and already a fan of the mac and cheese cone from Cozy Cone Motel, then you'll likely enjoy this one as well. I'm not a huge spicy person and it was too spicy for me but still probably only spice level mild or medium.
The flavors are good if you want spicy. If not, just stick with the regular mac and cheese cone.
Pumpkin Bundt Cake from Pacific Wharf Cappuccino Cart
I heard mixed reviews on this one, but I personally enjoyed it. I thought it tasted similar to one that you might get at Nothing Bundt Cake. The bundt cake was soft and flavorful and the filling was creamy and a good complement to the cake. This may not have made my must-try list, but it's good enough I'd eat it again.
Also if you're not sure where the cart is, it's nowhere near Pacific Wharf Cafe. It's actually up in the little connector circle area where Pixar Pier meets Pacific Wharf.
Made in the Lab Sundae from Clarabelle's
Sundaes are pretty hard to screw up, but this actually a really fun one! There are thing threes I really loved about this sundae – it's cute, the ice cream and strawberry sauce had a great flavor, and there were really fun licorice rope pieces, which was different than the typical gummies that get thrown into every ice cream dish Disney makes.
If you want to get some ice cream during Halloween Time in DCA, this is your best bet.
Te Ka Dog from Award Wieners
This hot dog is one of those throw it all in there and hope it works kind of snack. And according to the people I was with who tried this for me, it worked. It does have some heat but if you like spice, the consensus was that this was a pretty tasty dog.
The only weird thing was that the hot dog itself was a foot-long hot dog and the bun was way too small so you ended up with most of the hot dog covered with the sweet and spicy pork and fiery tropical chutney but about 1/3 fo the dog just on its own.
Oh and the entire group agreed – the filmstrip fries you can get with this are delicious!
Oogie Boogie Churro from Churros near Hollywood Land
Out of all of the new churros this year, this was probably our favorite, well maybe a tie between this one and the trick or treat one. But I still didn't personally think it was a knock out. I know the other girls with me tasting really liked it, but I thought it was just okay and if you want a chocolate churro, I'd probably get the Maleficient one in Disneyland instead.
That being said, it's a really fun themed treat with the Oreo coated churro, Oogie Boogie colored sauce on top, and the gummy worms. And I could see kids really loving this one.
Tasty Halloween Treats at Disney's Grand Californian Hotel
The yummy treats don't stop in the parks! Once you're done in the parks, these Halloween eats are worth a quick stop into Grand Californian Hotel!
Oogie Boogie Donut from Craftsman Bar and Grill in Grand Californian Hotel
There's just one donut this year (compared to two last year) at Craftsman Bar and Grill this year, but that's okay because it's a good one.
If you like donuts and marshmallows, you'll love this cute Oogie Boogie donut. It combines a chocolate donut, green coating, and marshmallows in a very cute and very yummy treat. It's not super unique, but it's tasty enough that it's worth getting.
Oh and it comes with gummy worms because well, it's Oogie Boogie!
Halloween Treats at the Treat Cart in GCH
While technically there aren't any Halloween treats at the treat cart in Grand Californian Hotel, there are some day of the dead Plaza de La Familia type treats that could easily be enjoyed as Halloween treats! It's definitely worth making a trip to get some of these goodies!
I have pictures and reviews of the things we tried below. There were a handful of things that were just different designs on things I've tried in past years, so I've added the old photos and my reviews for your reference.
Horchata Cookie – this was a new one this year and reminded me of my favorite Oogie Boogie Cookie last year. It's an horchata flavored cookie filled with dulce de leche and definitely one I recommend trying!
Gingerbread Calavera cookie – this is the traditional Disneyland gingerbread cookie but designed to look like a calavera (e.g., a skeleton). It's delicious just like the gingerbread cookies always are.
Cinnamon chocolate loaf cake – as my sister put it, this was better than we were expecting. The chocolate loaf cake paired with the cinnamon frosting was actually light and flavorful. I still don't add this to my must-try this, but if you want to try it, it's not a bad choice.
Tip!
The treat cart opens at 3PM on weekdays and there's typically a line lined up at least 15 minutes ahead of time. They don't make all of the items (especially things like the cookie box and macaron box) in abundance so if there's something you must have, I recommend lining up early so you don't miss out.
Also, I've seen days where you get there at 3PM and they don't have things (like the Mexican wedding cookie) but they might get them later. If you have multiple days in the parks, you can always try to check back another day.
Macarons at Kayla's Cake in Downtown Disney
If you don't have enough treats, we also tried the salted caramel eyeball macaron and pumpkin spice macaron from Kayla's Cake, and they're great options if you're wandering around the Downtown Disney district, want a Halloween treat, and want something small and simple.
The flavors were good, simple, and tasty. I'd definitely get these again.
Disneyland Park Halloween Treats to Skip
I go to Disneyland for the food. There is so much good food to eat that there's no reason to spend your money on things that aren't worth the cost – unless you're like me and want to try everything and write about it.
So in total authenticity, these are the Halloween foods I tried that I personally would skip if spending money on a round two.
Mickey Mummy Marshmallow from Various Bakeries
This is another treat that's really cute but not necessarily my favorite. The entire thing is just one big marshmallow – too much for me. If you like marshmallows, you might love this. But I'd personally prefer something with a bit more flavor like the Halloween marshmallow wand or the caramel apple with just marshmallow ears!
Halloween Cake from Plaza Inn
This cake was the perfect example of something looking much better than it tasted. This chocolate cake was layered with brightly colored frosting that tasted like it was brightly colored frosting. The frosting quickly began to melt in the heat and just tasted processed and artificial.
If you want a picture, this cake is great. If you want a cake that actually tastes good, I recommend the wedding cake!
Pumpkin Chai Cream Puff
This just tasted soggy to me. I know a lot of times cream puffs are more of a soggy dessert, but this was just kind of flavorless, soggy, and forgettable. There are better things to get at Jolly Holiday, although their Halloween offerings this year are not my favorite.
Decorated Candy Apples from Various Bakeries
If you're going to get a cute caramel apple, get the apple pie one. It's cute and tastes great.
If you don't like white chocolate, the brand new Minnie bat candy apple is a good option as well with its dark chocolate coating and sugary sprinkles. I enjoyed it a lot more than traditional Disneyland caramel apples.
Tip!
One day hopefully Disney will start cutting up caramel apples for people but today is not that day. Save your caramel apple ordering for the end of the day when you're leaving the parks. Then you can take it home, slice it up, and really enjoy the apple for all its worth!
I've also tried the poison apple one, the Minnie witch one, and the new candy corn one – cute but not fun to eat. I'm just not the biggest fan of caramel coated with just colored chocolate.
Candy Apple Cotton Candy from Vending Carts
There wasn't anything bad about the candy apple cotton candy. There just wasn't anything special about it. If I'm going to get cotton candy, it needs to be special like the pineapple cotton candy they had a few years back. That was worth getting.
Halloween Cupcakes from Pooh Corner
I didn't even see these on the Disneyland Halloween treats menus anywhere but when I saw them in Pooh Corner, I knew I had to try them. Unfortunately they were all just basic cupcakes. One is vanilla, one is chocolate, and one is pumpkin spice.
There's nothing special about them – they're just cute. I only recommend Disneyland (and Disney World) cupcakes if there is something special to them like the Butterfinger cupcakes at Disney World!
California Adventure Halloween Treats to Skip
Hopping back over to Disney's California Adventure, I'd spend my money somewhere other than on these treats!
Candy Corn Churro from Cozy Cone 1
This churro was pretty with fun orange and yellow sugars on top. The problem was that the sugar on top really added no flavor at all, just color. I'd skip it and just get the regular churro (or one of the other speciality ones if you can wait for your churro fix).
Jack Jack Shortbread Cookie from Num Num Cookies
If you're going to get a cookie at Num Num cookies, get the actual Num Num cookie. The Jack Jack shortbread Halloween one isn't bad, it's just messy, and not nearly as good at the Num Num cookie.
And when I say messy, I mean messy. The decorations on the outside melt and get all over the place if you don't get it very fast and sometimes even when you do!
Poison Apple Funnel Cake Fries from Award Weiners
I have a love hate relationship with funnel cake fries from Award Weiners. They can be so good when done well and just not good at all when they're not done well. Or when Disney tries to do too much with them like they did with these apple funnel cake fries.
These funnel cake fries are topped with cinnamon sugar, an apple compote (with big chunks of apples), whipped cream, and a green apple glaze. The only part of this that I really enjoy were the funnel cake fries themselves and the whipped cream.
The apple chunks were too big, the apple glaze too thick, and it was just overly sweet and over the top. I hope they tone this one down again next year.
Haunted Forest Ice Cream Parfait from Smokejumpers Grill
We went from eating the Created in the Lab Sundae to this ice cream parfait and comparing the two of them, I highly recommend the sundae over this. I'm not actually sure what they were trying to do with an ice cream parfait, but it didn't work.
It was kind of like a milkshake, kind of a sundae, and kind of just a giant mess. I actually was really excited because the cherry and brownie flavor sounded good but in execution, it was anything but.
If you do get it, see if you can get it without the cherry topping. It was a really strong flavor that I didn't even want to finish.
Spicy Chicken and Fries from Flo's V-8 Motel
I tried these and they were underwhelming. I wished the chicken was cut into smaller pieces and wish the fries were fresher. Flo's keeps trying to do these spicy chicken and fries, and I just don't love it.
Oogie Boogie Cereal Treat at Various Bakeries
This cereal treat is pretty a white chocolate dipped rice krispy treats with a chocolate back. This one just makes me I miss the sour gummy worms in the old oogie boogie treats from the 2021 spooky season!
There's also a Coco version of this at the Grand Californian Hotel Treat cart. I'd skip that one too.
Treats to Skip at Grand Californian Hotel
Most of the Halloween treats at Grand Californian are worth the cost but a couple aren't! These are the ones I personally would recommend skipping.
Jack Skellington Cupcake at Craftsman Grill at Grand Californian Hotel
If you want a basic chocolate cupcake, then get this. It was just okay and not worth spending your money on in my opinion. It's also very messy and crumbly!
Disneyland Halloween Food Items Not Reviewed
I unfortunately wasn't able to try a handful of items just because I personally don't eat them for some reason – coffee, etc. There were also a handful of things that weren't available yet when I was there because they're only available for a short period of time!
Ursula and mummy shakes from Schmoozies
Blood orange aqua float from Tropical Hideaway
Chai-spiced pumpkin iced tea from Hungry Bear
Pumpkin cheesecake cold brew from Red Rose Taverne
Spicy chili dog from Refreshment Corner
Potato Leek Soup from Royal Street Verandah
Graveyard Banana Funnel Cake from Stage Door Cafe (only available Oct 16 to Nov 9)
Ghostly double cheeseburger from Smokejumpers
Pumpkin creme brulee (plant-based) from Wine Country Trattoria
Coffee and donut churro from Churro near Redwood Challenge
Bacon wrapped hot dog and BBQ chipotle turkey leg from various vendor carts
Insider Tips for Eating all the things
If there's one thing I've learned as I've tried out all of the food items at Disneyland, it's some tips and tricks to save time and money! These are my favorite tips to make it easier, especially as all the Halloween festivities bring the crowds!
Mobile order to save time. I mobile ordered nine out of ten of the places that we went, and it saved me time nine out of ten times. There were a few misses (looking at you Flo's) but in general mobile ordering can save you tons of time – giving you time back to spend doing other things!
Order inside if something isn't available on mobile order. 95% of the Halloween food items were available via mobile order but a few weren't. For those, you can still typically get them – just go order at the regular counter.
Share. Many of these items come in large portions or are rich enough you're not going to want to eat the entire thing yourself (or maybe you are). I love to take my family or friends and share a little bit of everything with everyone so you can enjoy as many different things as possible!
Get your seasonal treats early. While they may not sell out fast, they do sell out. There were definitely a couple of items that we couldn't get because they were already gone!