Looking for the best Disney World snacks? These are must-try Disney World food items to try across all four theme parks in Disney World! This list of Disney snacks has everything from Dole Whip to the infamous corn dog nuggets and the Nutella waffle sandwich!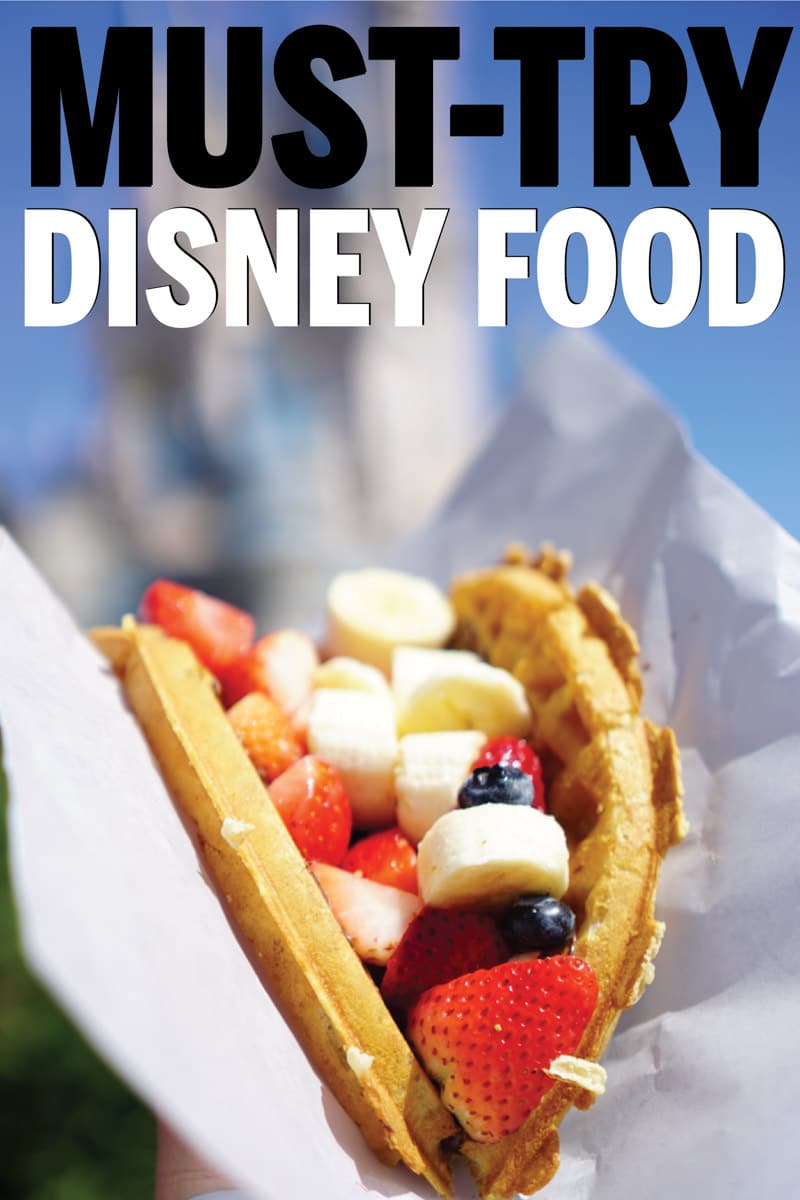 The Best Disney Snacks at Disney World
If you didn't know already, I'm a bit obsessed with Disney. I live nowhere near either land or world but have annual passes to both.
Walt Disney World Resort, Disney Cruise Line, Disney movies, and Disneyland. Anything Disney, I'm in.
One of my favorite things about Disney is the food. Give me all the Mickey shaped food. And all the Dole Whips.
I already put together a list of the best Disneyland food (so many amazing things to try!!) and figured it was time to put together my Disney World food favorites.
And not just my favorite Disney character dining or the best Disney World restaurants but my actual in park favorites.
These are the ones that if you're going to Disney World, you really should try. You can bring in all of your own food that you want but don't miss these ones!
And stay tuned because I'm working on a post about each of the individual parks and a review of all of the things you get there! My sister and I just spent four days in the parks eating all the things, it's going to be good!
So here you go, as promised – these are my top Disney snacks across all four Disney World parks. This doesn't include all the resorts or Disney Springs restaurant simply because their menus change too often to keep up!
But if you're headed to the parks, this is a great place to start!
Best Disney Snacks at Animal Kingdom
Let's start with Animal Kingdom, the newest of the four parks. Animal Kingdom has a more unique variety of food items, which is good in some cases and not so good in others.
I can't wait to share my review of all the best Animal Kingdom food but for now, here are the top must-try Disney snacks at Animal Kingdom!
Grilled Corn at the Harambe Fruit Market
I'm sure you've all had grilled corn before. Heck, if you've been to Disneyland, you've probably had their grilled corn with the chili lime powder on it.
This is even better than that. You can get it either plain (delicious) or dipped in their super secret seasoning, and it's probably the best grilled corn I've ever had.
It's right around the corner from the Safari entrance at the little kiosk that sells snacks like chips, fruit, and drinks. If you don't know it's there, you'll miss it.
And you don't want to miss this!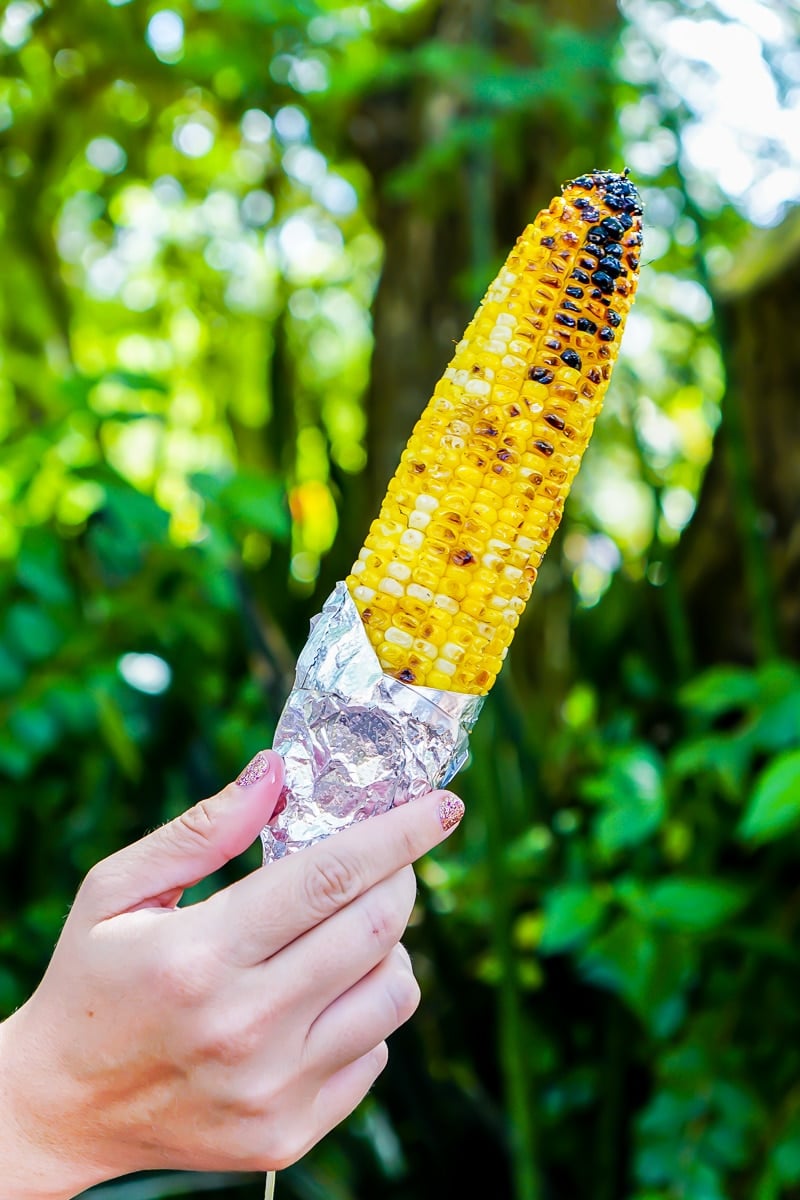 Seasoned Fries at Mr. Kamal's
Any time there's a restaurant dedicated to one thing, you can assume it's going to be good.
In the case of the seasoned fries at Mr. Kamal's, you'd be right. I don't honestly even know what else they serve but the seasoned fries with their accompanying dipping sauces are what all seasoned fries should be. Hot, crispy, and absolutely delicious.
Blueberry Mousse from Satu'li Canteen
The blueberry mousse from Satu'li makes my best Disney snacks list honestly for uniqueness alone. Yes, it's yummy, but it's the uniqueness that really stands out.
It's not a traditional mousse by any sense of the imagination, which you can probably tell from the photo below. But the flavor combinations are great, and it's definitely a must-try, at least once.
And it's way better than the alternative dessert – the chocolate "cake." I've also heard good things about the cheeseburger steam pods at the same restaurant but the blueberry mousse is the only thing on my must-try list here.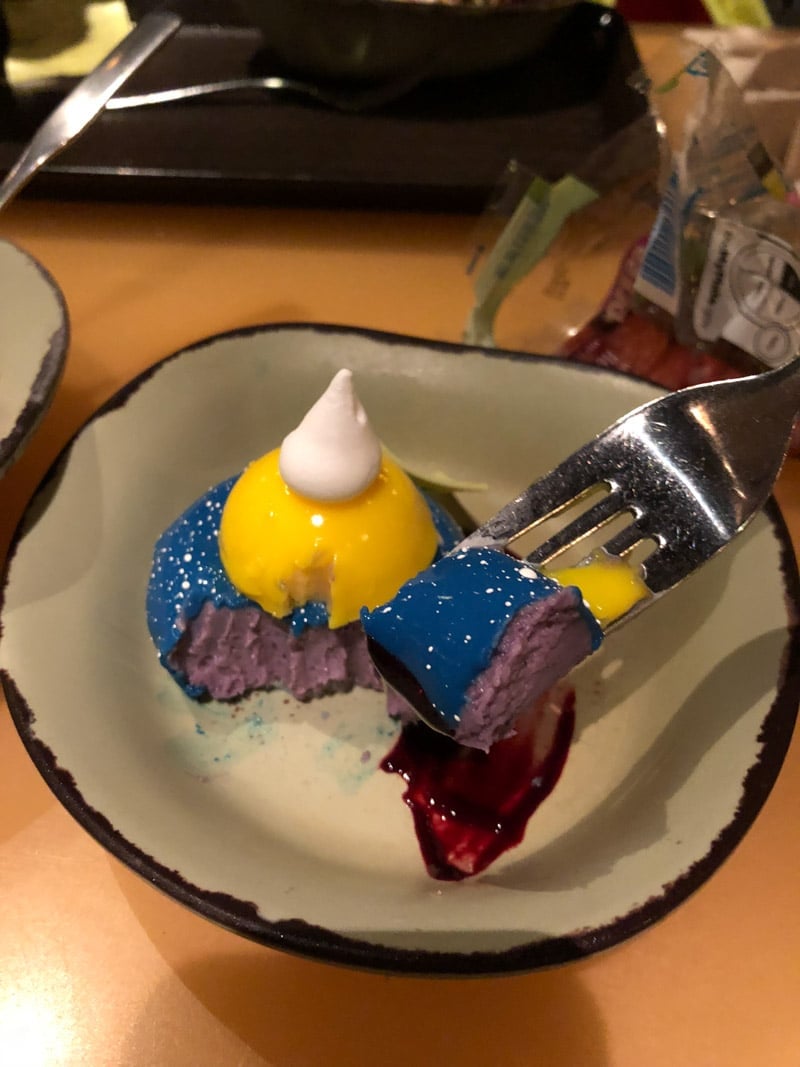 While you're in Pandora, the pongo lumpia is also good but not good enough to make my top Disney World snacks list. But it's definitely worth trying if you're spending the day in Animal Kingdom!
Pulled Pork Mac & Cheese or Pulled Pork Fries from Flame Tree BBQ
Okay so there are two different options here, but the concept is the same. Pulled pork on top of delicious comfort food.
The baked mac and cheese is my personal favorite but if you want to go with more of a snack, the french fries with pulled pork and cheese is a bit lighter snack.
A bit. Because are there really any Disney snacks that are light?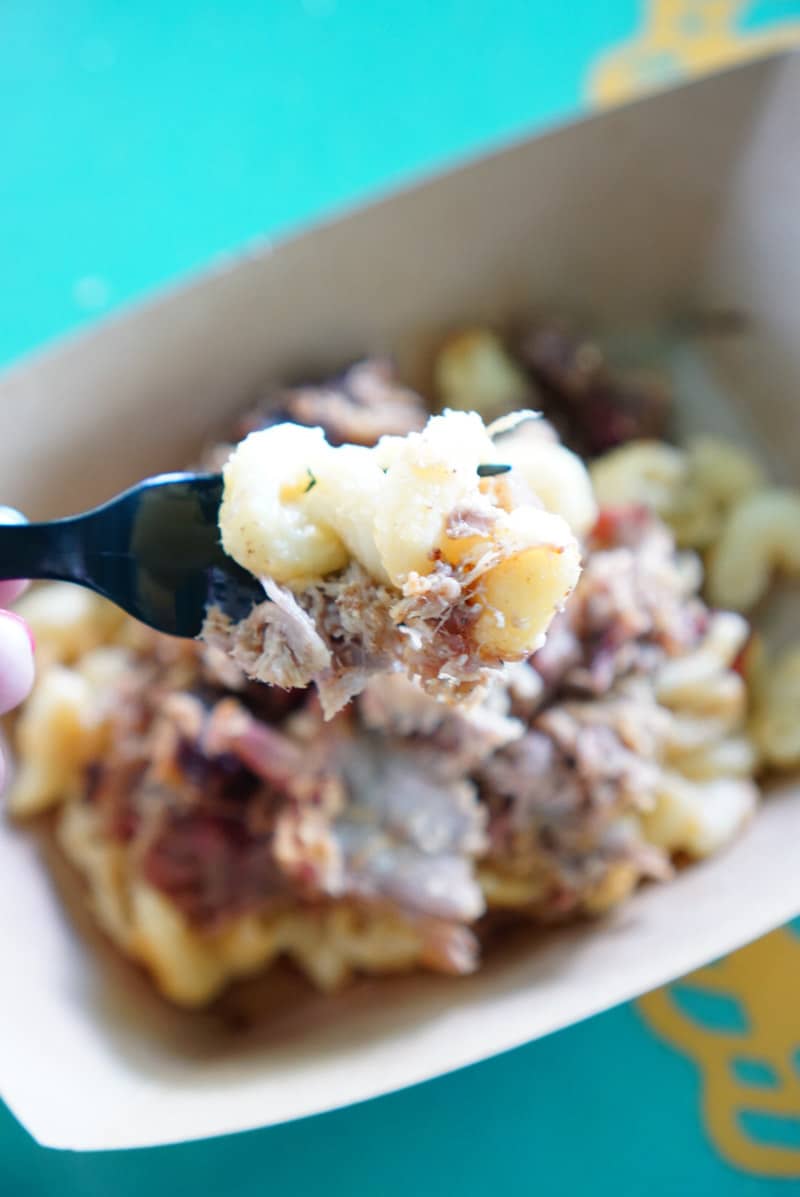 Pizza Slice at Terra Terra Treats
We were not expecting the pizza here to be so good. It's like the epitome of a pizza slice – cheesy, messy, and full of amazing flavor. Out of all of the snacks that we had at Animal Kingdom, this is the one that we were craving for the rest of the day.
So while the pecan cinnamon roll may look interesting at Terra Terra, skip it and go for the pizza instead!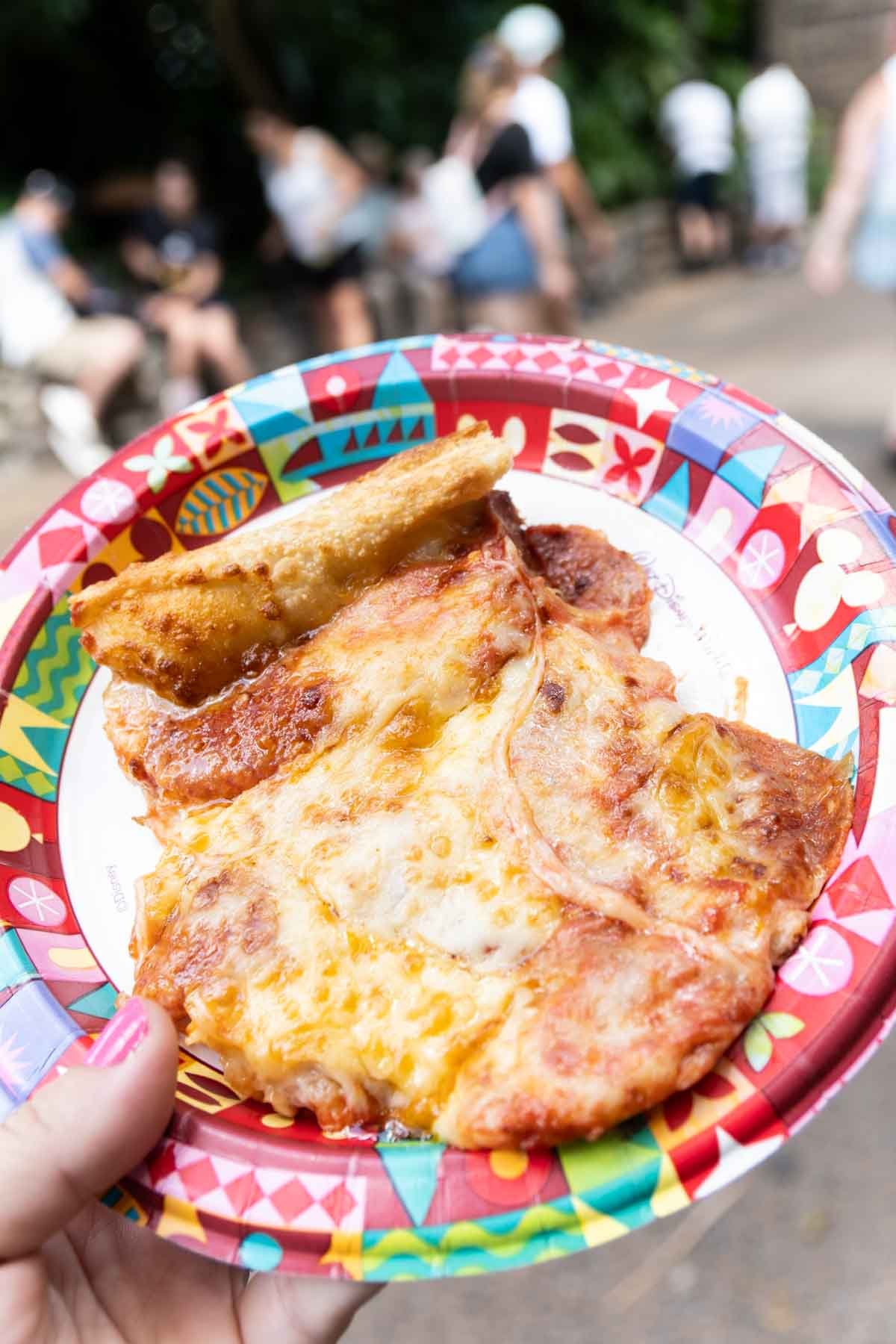 Ice Cream at Andapura Ice Cream Truck
You can get pretty good ice cream throughout Disney World but there's something about ice cream from the ice cream truck that makes it my favorite. It may be because it comes right in one of the hottest portions of Animal Kingdom or maybe it's really that good.
It's rare that I can pass the truck without getting a cone. They also often offer different types of ice cream sundaes, parfaits, and more. The yeti sundae there right now is good but not great, and I wish I'd just gotten a cone instead.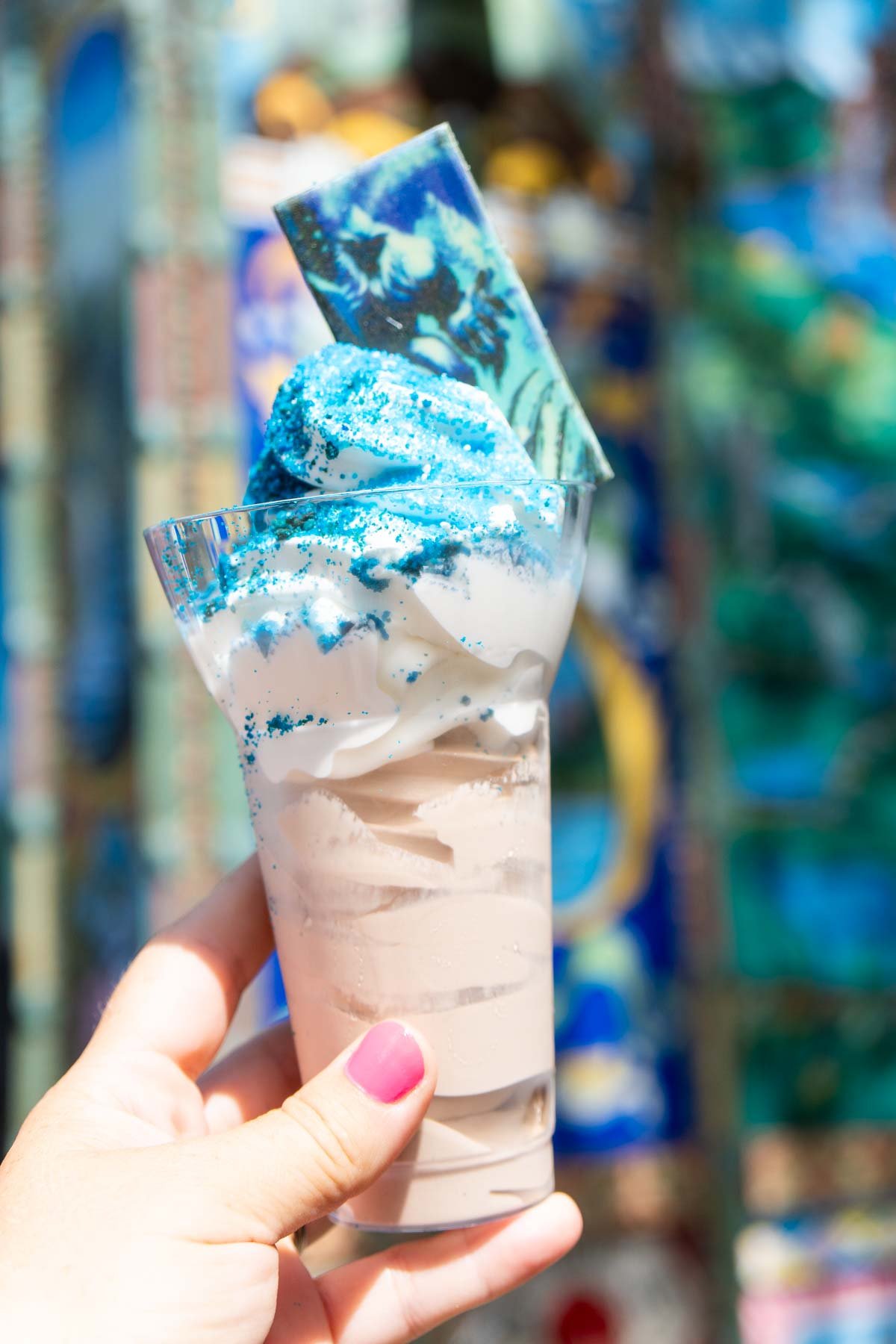 Best Disney Snacks at Hollywood Studios
I'll be honest – I'm not in love with the food options at Hollywood Studios. You'll find that out more in my Hollywood Studios food post. It's all just kind of so-so, well except Woody's Lunch Box in Toy Story Land, which I actually really like.
I'm really hoping that the food at Star Wars Galaxy Edge changes that completely. Hoping for some foods that are out of this galaxy good.
Lunch Box Tarts at Woody's Lunch Box
I wrote all about these lunch box tarts in my post with tips for visiting Toy Story Land. They are colorful, sweet, and delicious. Kind of like the ones you grew up on but much better.
They used to have a raspberry option but now they offer as a seasonal pop-tart as well as the standard chocolate-hazelnut tart. If the seasonal one is anywhere near as good as the hazelnut one, you should just try both.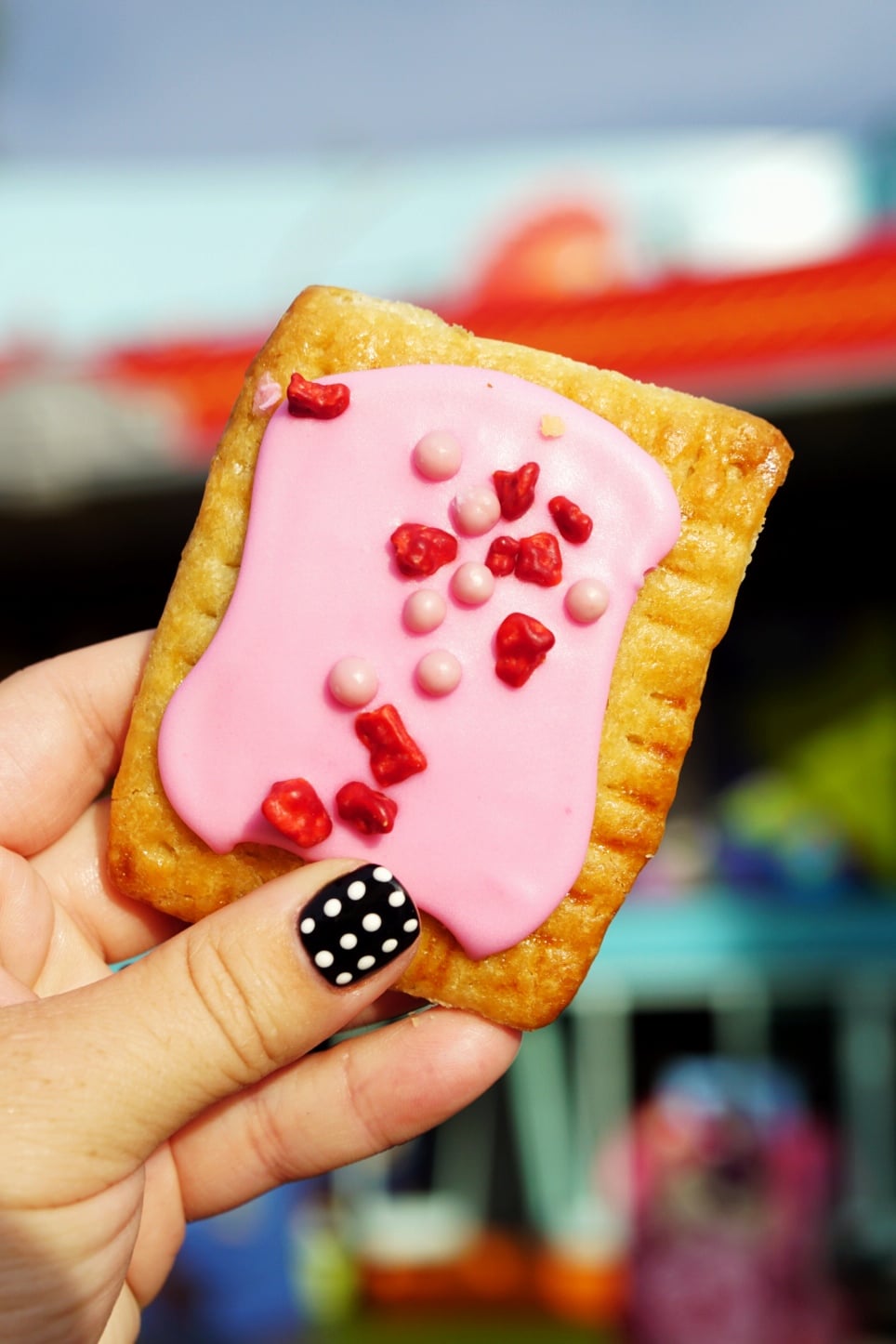 Totchos at Woody's Lunch Box or Friar's Nook
I am not nearly as big of a fan of totchos as my friend Tania (and her husband) are, but I do love tater tots and anything to do with tater tots.
If you've never had totchos, they're basically tater tot nachos – totchos. Get it? The ones at Woody's Lunch Box are topped with a beef and bean chili, cheese, and corn chips.
They also have a breakfast option available that's more like a biscuits and gravy totchos! Oh and while you're there, the grilled cheese sandwich is fantastic too!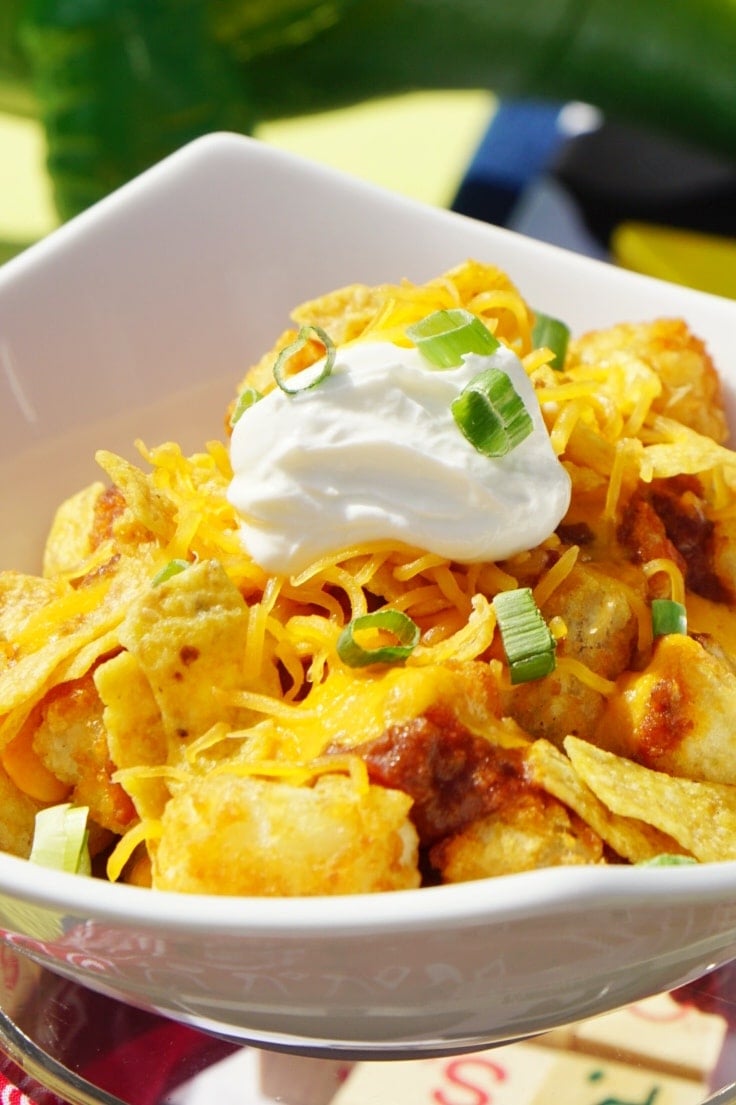 Oh and if you really like Totchos, I personally actually prefer the ones from Friar's Nook in Fantasyland in Magic Kingdom. They have a buffalo chicken option and a bacon mac and cheese totcho that is maybe my favorite Disney World snack ever. Maybe.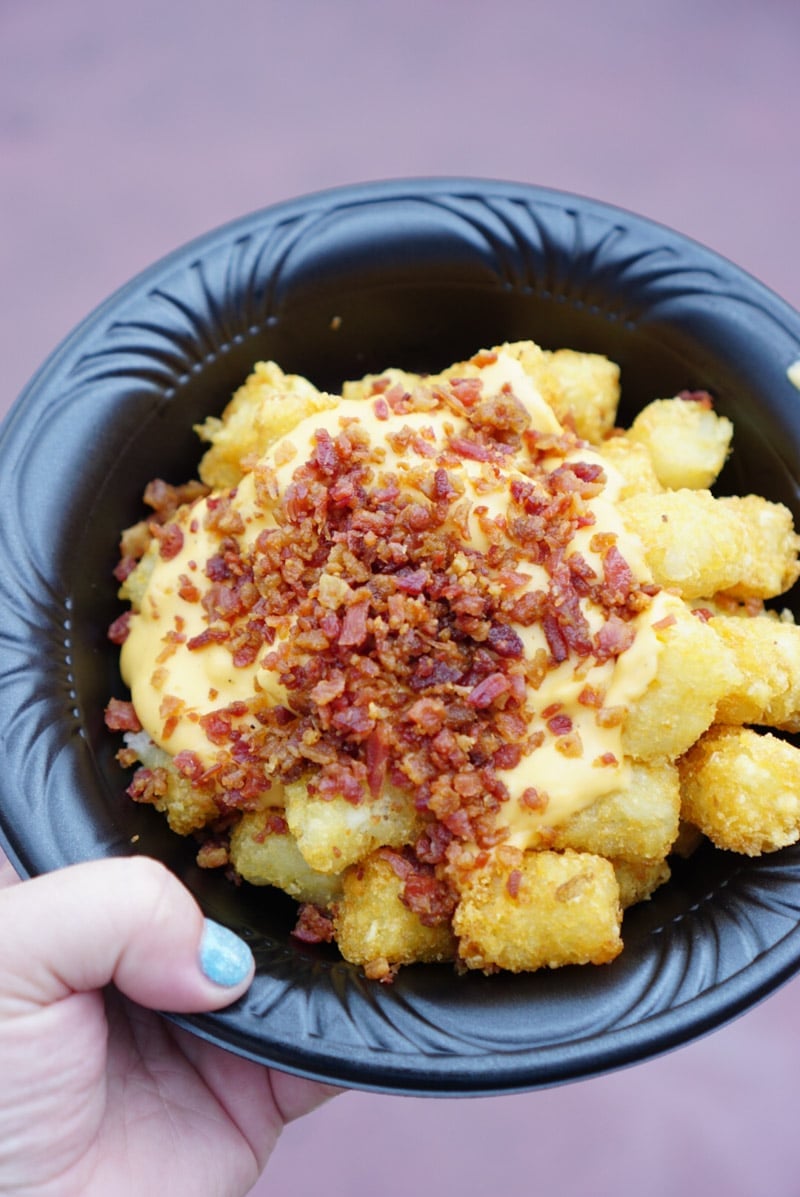 Num Num Cookie from The Neighborhood Bakery
Okay, so I have to be honest here – the num num cookie at Disney World is not as good as the Disneyland num num cookie. I don't know why but the one at Disneyland is magical.
But if you can't get to Disneyland, the one at Disney World is still a good option. And if you can't get to either park, you can make my copycat num num cookies at home!
Outpost Popcorn Mix from Milk Stand
Out of all of the food at Galaxy's Edge, the outpost popcorn mix is the only one I regularly get again and again. My other favorites are the drinks but that's not what this post is about.
This delicious popcorn snack mix is sweet and salty and spicy all at once somehow. Even if you don't like popcorn, this one is worth trying.
Wookie Cookie at Backlot Express
Another one for all of you Star Wars fans is the Wookie Cookie. It's just like it sounds, a cookie inspired by everyone's favorite wookie Chewbacca. The old version tasted a lot like a giant oatmeal cream pie. The new version is less soft, a little more crunchy, but still a great flavor.
It's definitely a must-try, whether you're as Star Wars obsessed as my family!
Pizza Cookie at PizzeRizzo
The pizza cookie was one of the biggest surprises for me at Hollywood Studios. It's a sugar cookie that's decorated to look like a pizza and delicious.
The combination of the soft and chewy sugar cookie with the strawberry jam (I think) on top and the cute little decorations made this one a total winner for me.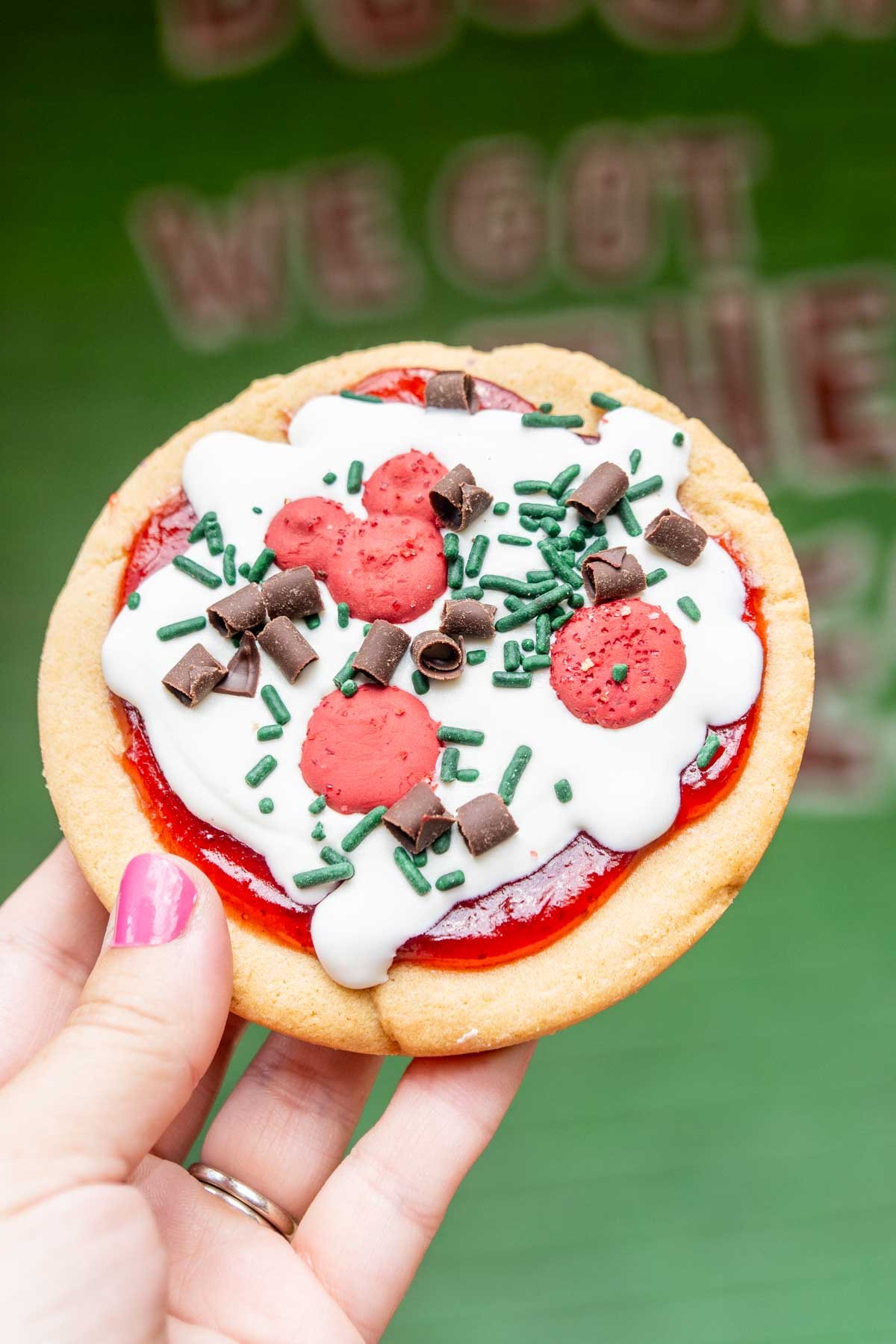 Carrot Cake Cookie
This is another one of those Disney snacks that people have been raving about for years. I actually tried it first like six years ago, and it's still around, which is saying something.
I think of it more of a carrot cake whoopie pie than a traditional cookie, but it's still tasty if you like carrot!
POG Gelato at the Gelato Cart near Muppets
I don't actually know what this cart is called, but it's a gelato cart in the same courtyard as the Muppet's ride, ride before the entrance to A Galaxy's Edge.
I think gelato is always a good snack but this cart serves POG (pineapple-orange-guava) gelato, which is a pretty iconic Disney flavor, and it's the only place I've ever seen it. So if you like the POG flavor, this is a must-try.
Butterfinger Crunch Cupcake at Trolley Car Cafe
Hollywood Studios unfortunately no longer has the Butterfinger Crunch Cupcake, but I had to put it on this list because if it does come back while you're there, get it.
And if it doesn't, you can make my copycat Butterfinger cupcakes recipe at home while you cry about not being able to get it!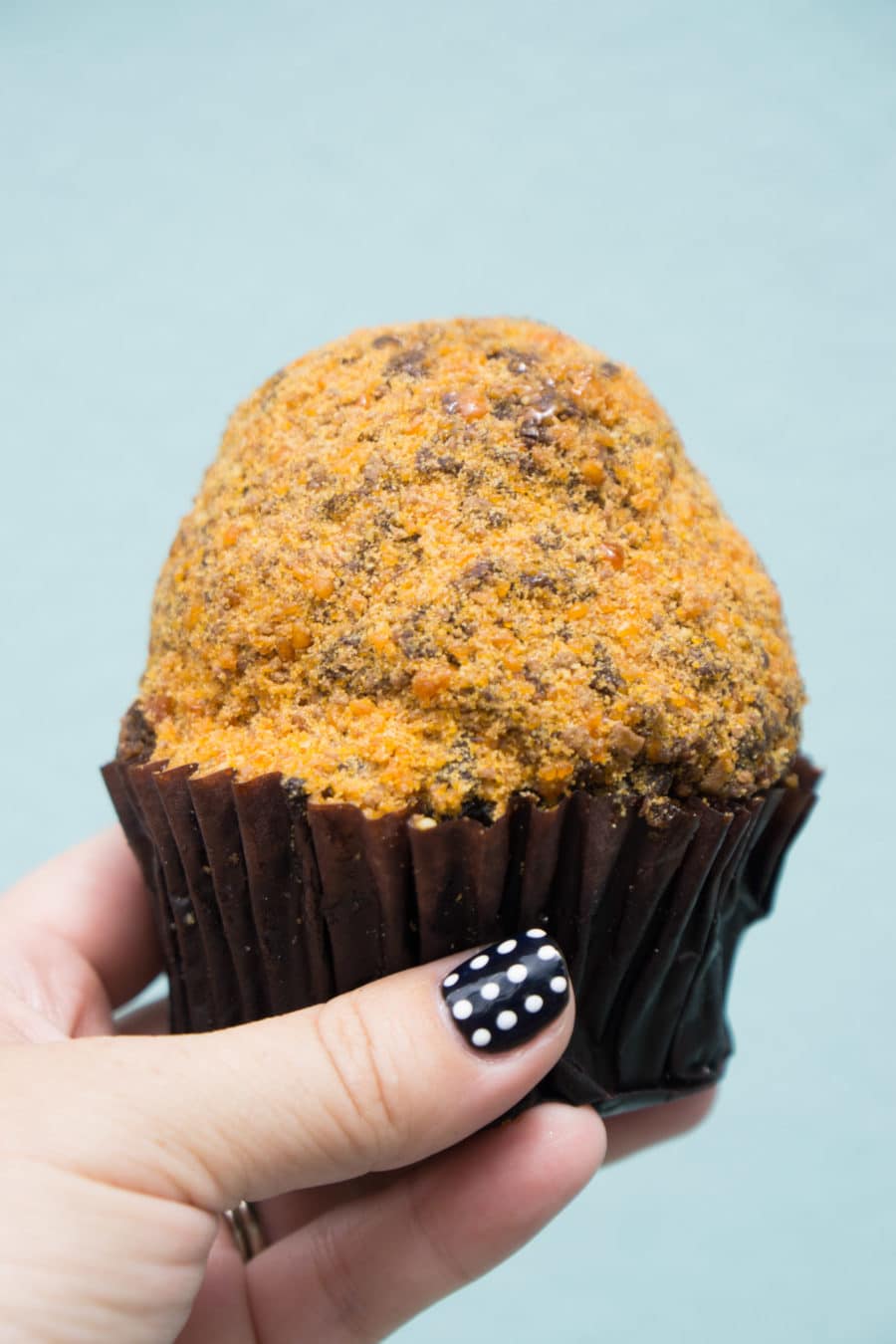 Best Disney Snacks at Magic Kingdom
Alright now let's get to the star of the Disney World snacks show – Magic Kingdom. It took me like three visits and help from Patty, Tania, and Sarah to try out all of these things, but we took one for the team and did it.
And washed it all down with these Mickey's Not So Scary food from the Mickey's Not So Scary Halloween party!
In Magic Kingdom, you really aren't going to be able to try everything. Pick and choose a couple or share with family and friends so you can sample every item.
Dole Whip or Dole Whip Float at Aloha Aisle
If you've been to Magic Kingdom before, you've probably had a Dole Whip or Dole Whip float. But I couldn't leave it off this list, it's a Disney World food staple.
And it has a cult following for good reason – it's delicious.
If you've never tried the other options at Aloha Aisle like the pineapple upside down cake (with Dole Whip) or float, try one of those and enjoy Dole Whip in a different way.
Or just go with the traditional soft serve – either way is bound to be sweet and delicious.
Tropical Serenade from Aloha Aisle
I dare say the tropical serenade is better than the traditional dole whip. It combines pineapple-orange-guava (POG) juice with coconut soft-serve and an upside-down pineapple cake pop. I love POG juice and the coconut soft serve was delicious, so if this is available – I recommend getting this one!
You can save the dole whip for another day because who knows how long the tropical serenade will stick around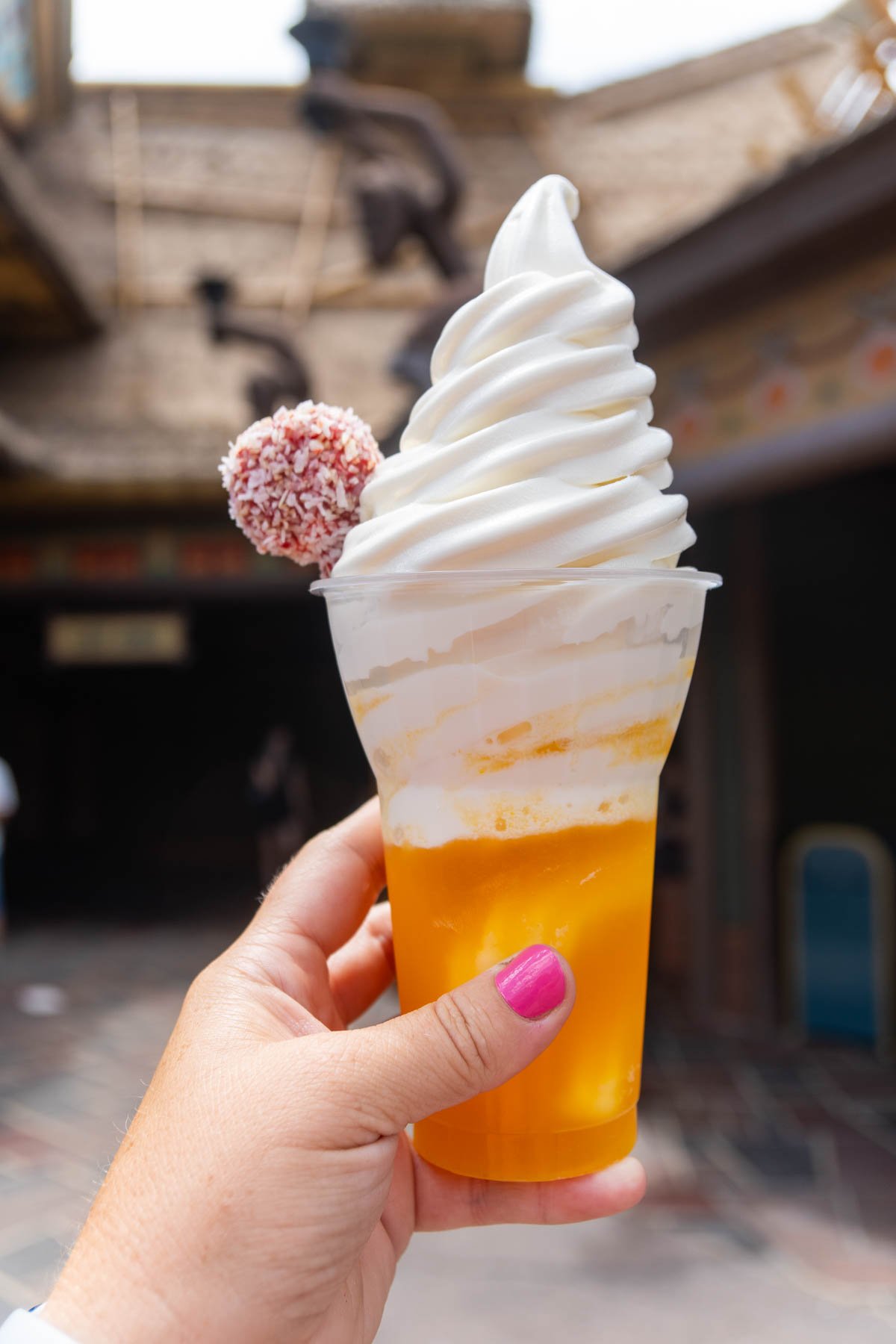 Soft Serve & Float from Sunshine Tree Terrance
One of my favorite Disney World snacks to get is some sort of soft serve or float from Sunshine Tree Terrace. I say some sort because the menu is always changing, but they're pretty much always good!
My favorite ever was the orange cream float (pictured below), but I really like the I Lava You Float as well, and I know people love the citrus swirl too!
Check out the menu and get whatever sounds good to you – it's likely going to be good!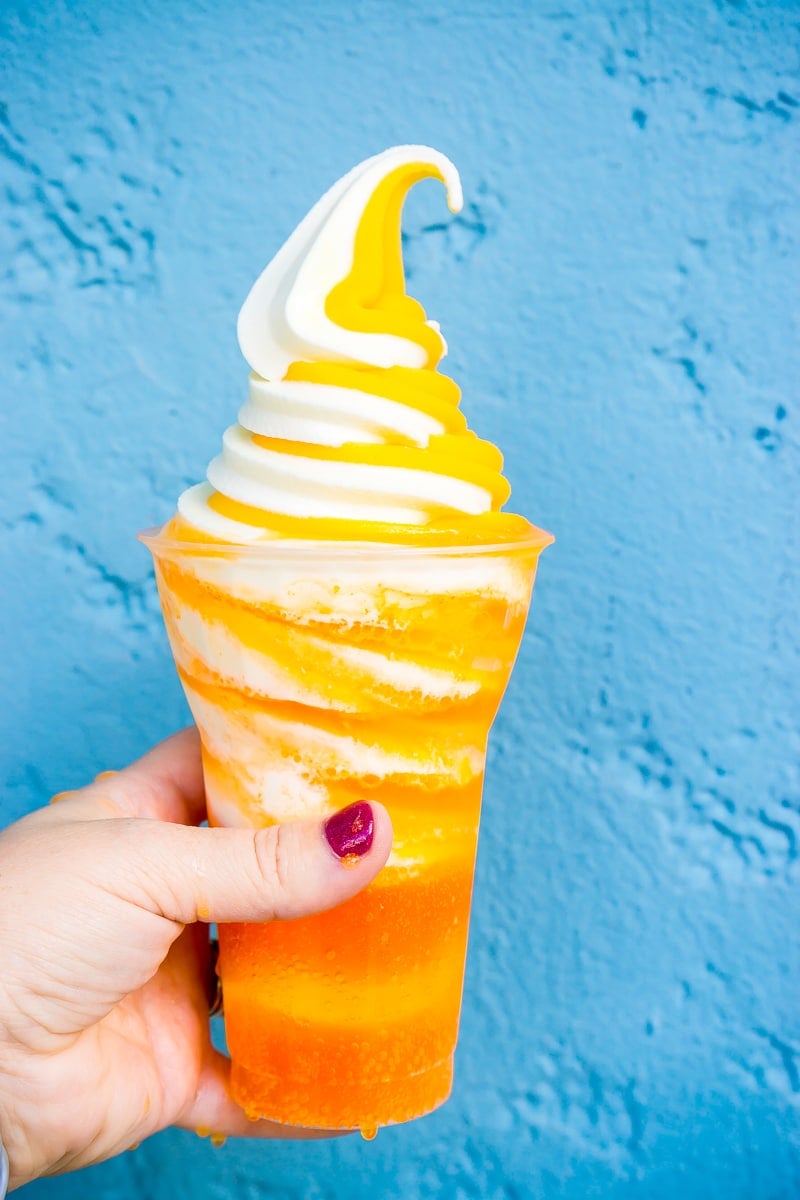 Ice Cream or Float at Storybook Treats
Similar to Sunshine Tree Terrace, Storybook Treats is constantly changing their ice cream and float options. I've had a few misses but they've mostly been hits.
My favorite is the Peter Pan Float so get that if it's there. If not, most of the time the soft serve is delicious and the floats are a fun option.
The only one I'd personally skip is the Hades float that's only offered during Mickey's Not So Scary Halloween party and is one of my least favorite MNSSHP food items!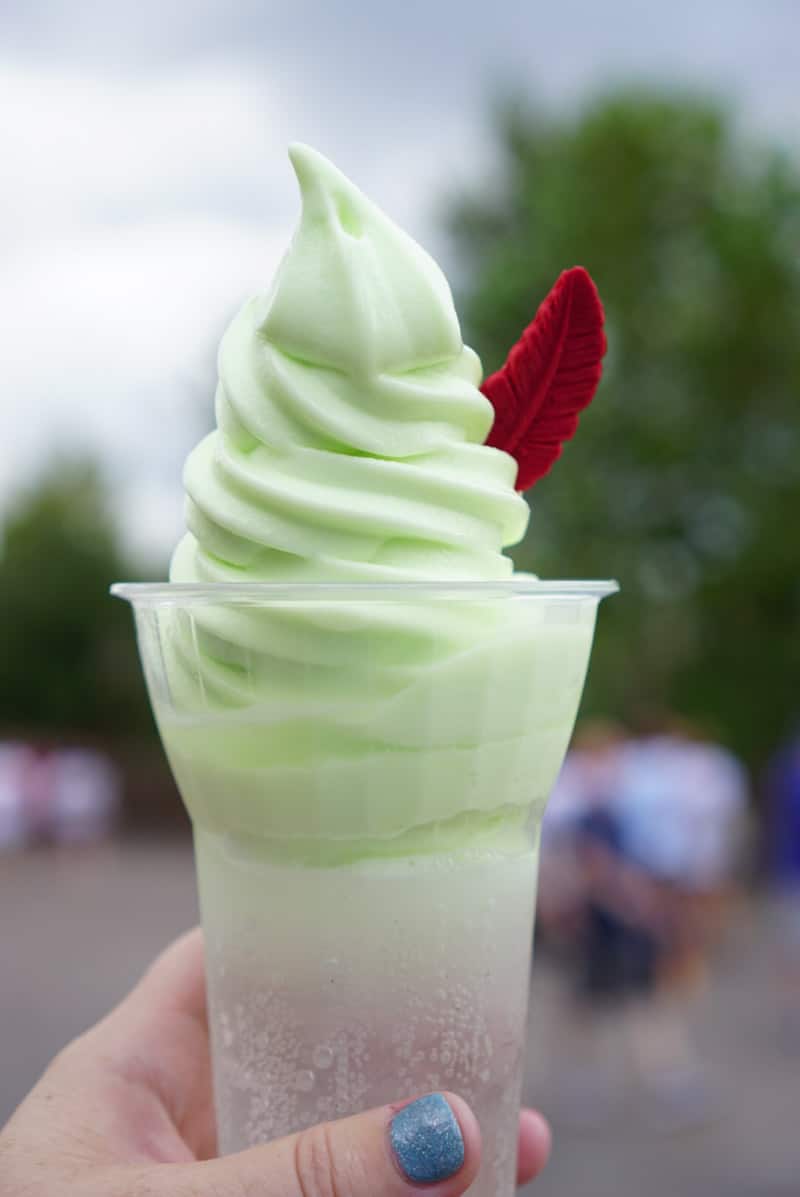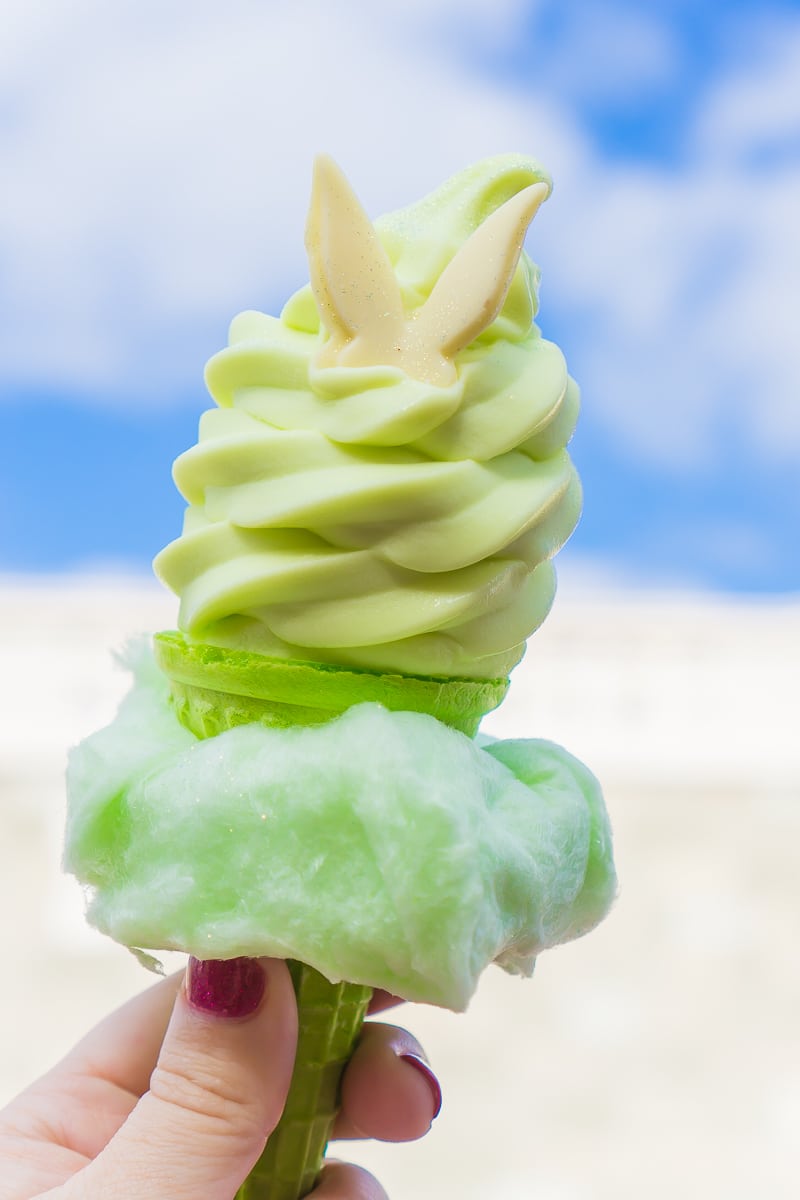 LeFou's Brew from Gaston's Tavern
Okay, fine this one isn't actually a food, but it's my favorite drink out of all of the parks, so it made this list.
And the cream on top is kind of a food, close enough to a snack for me.
LeFou's Brew is a frozen apple juice drink with a bit of toasted marshmallow and then topped with a passionfruit mango foam, and it's amazing. Refreshing, delicious, and just all around my favorite drink in the park.
Just beware it's a bit sweet so I recommend sharing – most people aren't going to want to finish the entire cup themselves.
If you want to try a little sample to see if you like it – ask the cast member in Gaston's Tavern. They almost always give me a small sample to try if I ask!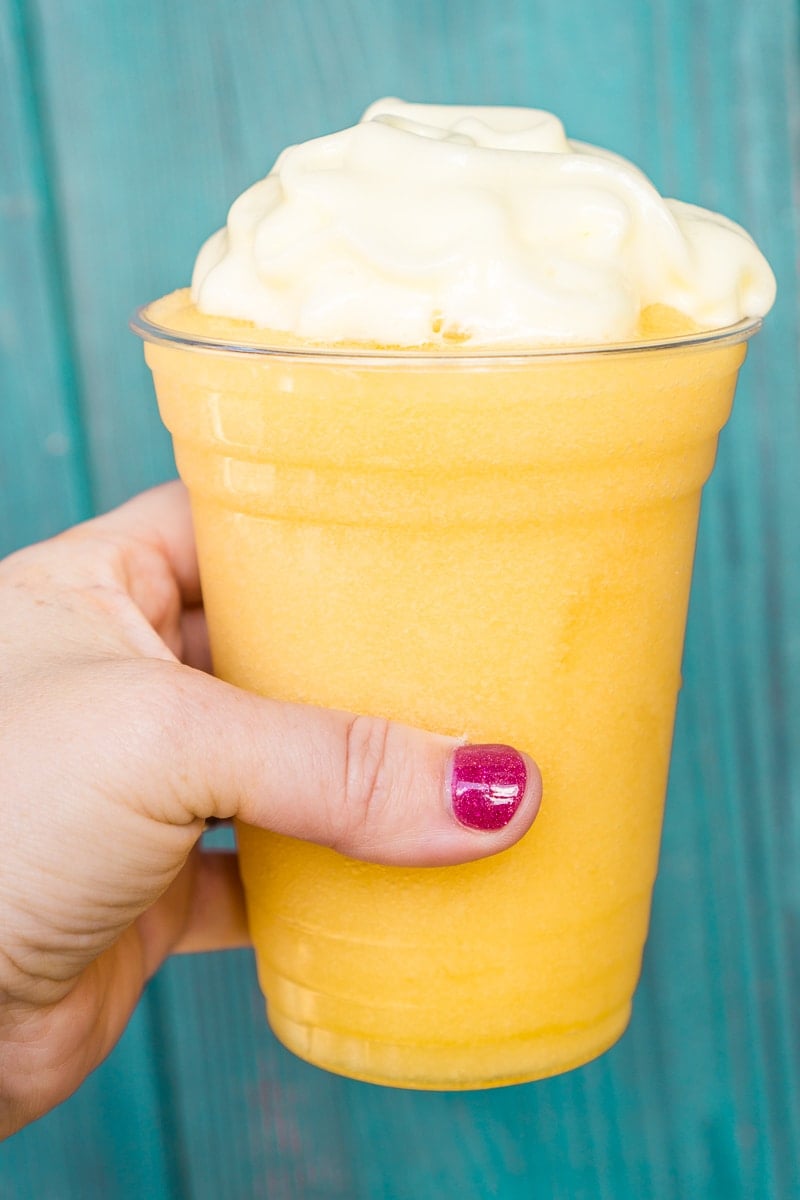 Corn Dog Nuggets at Casey's Corner
Disneyland owns the corn dog market and Disney World has my favorite corn dog nuggets. They're not nearly as good as the corn dogs at Disneyland, but they're still delicious in their own right.
A corn dog nugget meal comes with fries, but I can take or leave the fries at Casey's.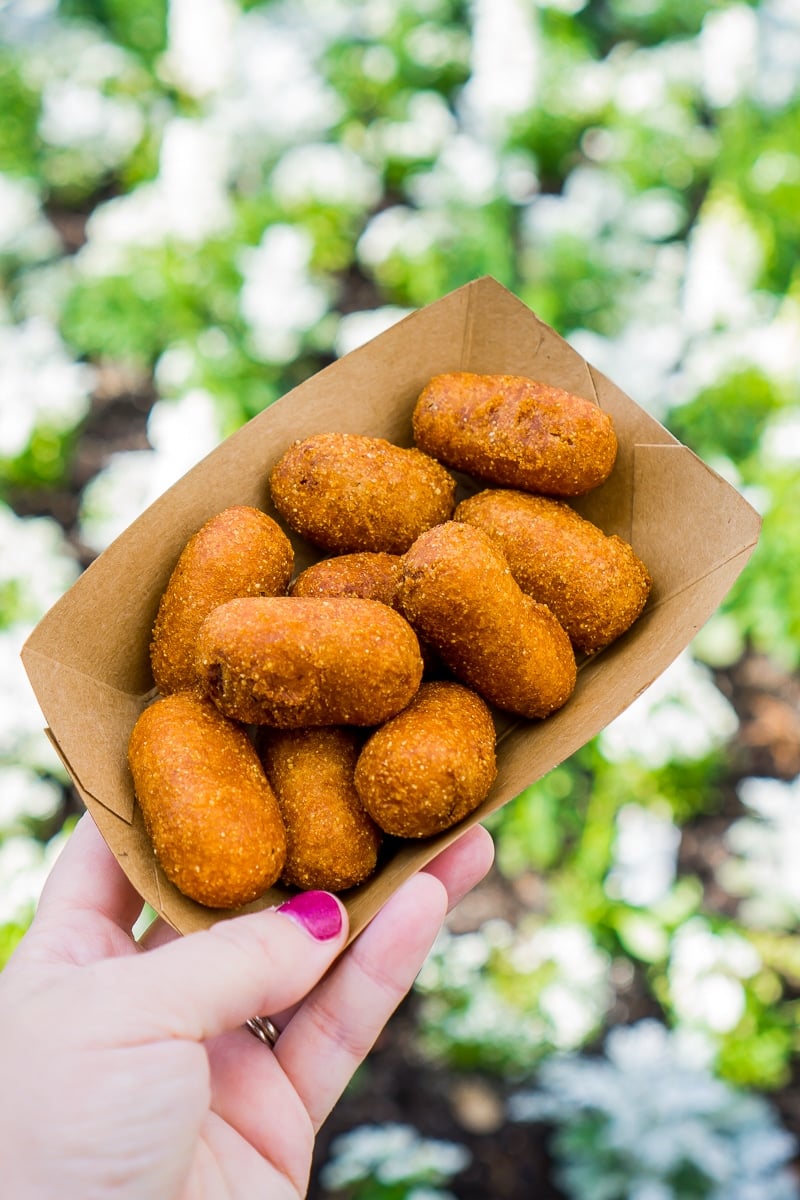 While you're at Casey's, you can also try the baseball brownie. It's surprisingly good compared to all of the other Disney World brownies we tried!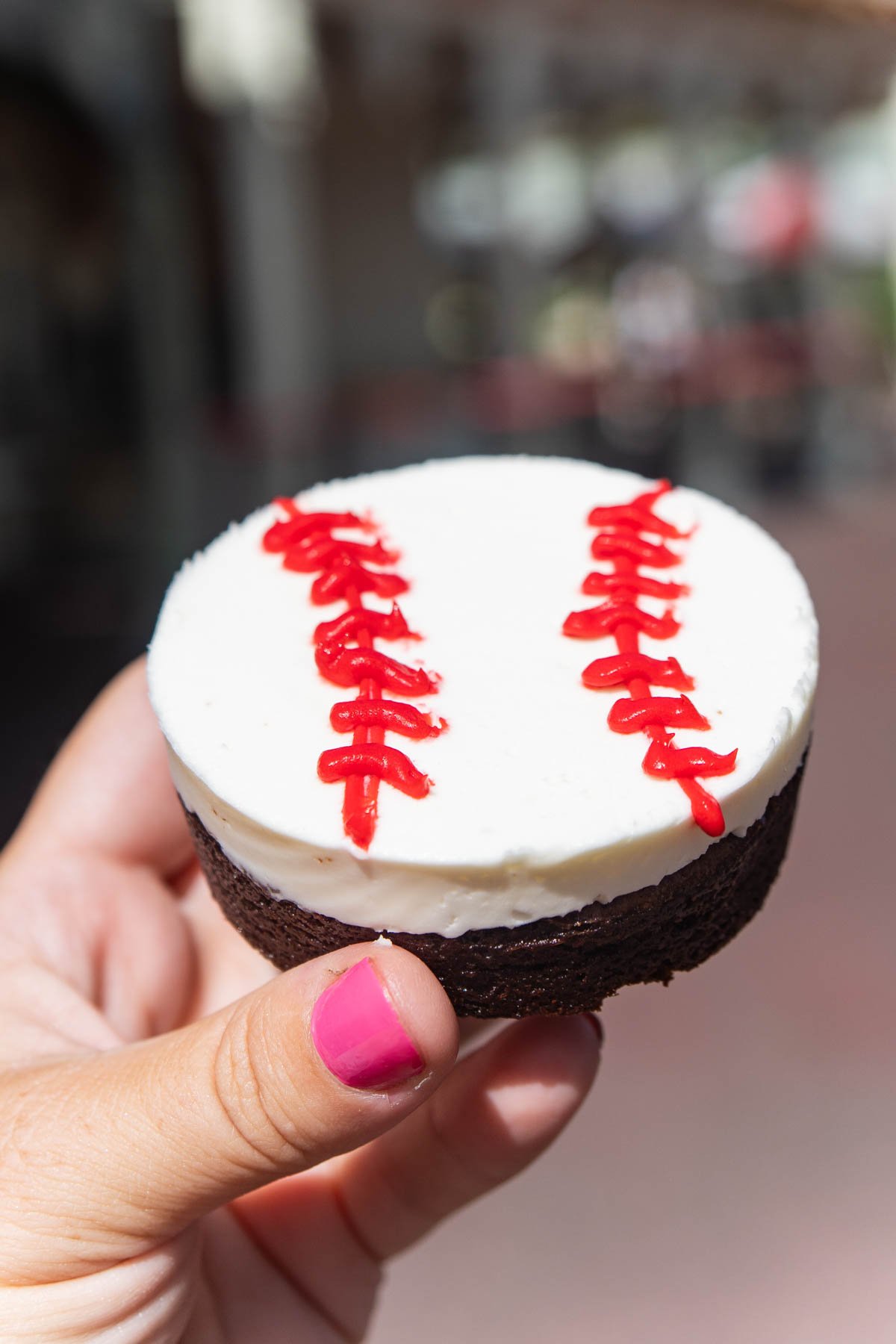 Cream Cheese Stuffed Pretzel from The Lunching Pad
This is another one of those things that you probably think, I don't need another pretzel. But you do need this pretzel.
It's a salted pretzel filled with a sweet cream cheese filling. There is something just special about the combination that you can't imagine until you try it. This is one I crave and get every time I'm in any of the Disney parks.
Waffle Sandwich from Sleepy Hollow
The waffle sandwich from Sleepy Hollow is one of those Disney World food items I've been wanting to try forever. I got the fresh fruit waffle sandwich with a chocolate-hazelnut spread, but they also offer a sweet and spicy chicken waffle sandwich as well.
This is one of those Disney snacks is totally worth buying even though they don't accept Disney dining plan snack credits.
And don't even think about skipping the waffle sandwich for the Mickey Waffle with strawberries and cream. Nowhere near as good, honestly I threw most of it away because the waffle got soggy way too fast!
But the waffle sandwich – it's kind of a masterpiece. And makes a great Instagram photo with the castle in the background.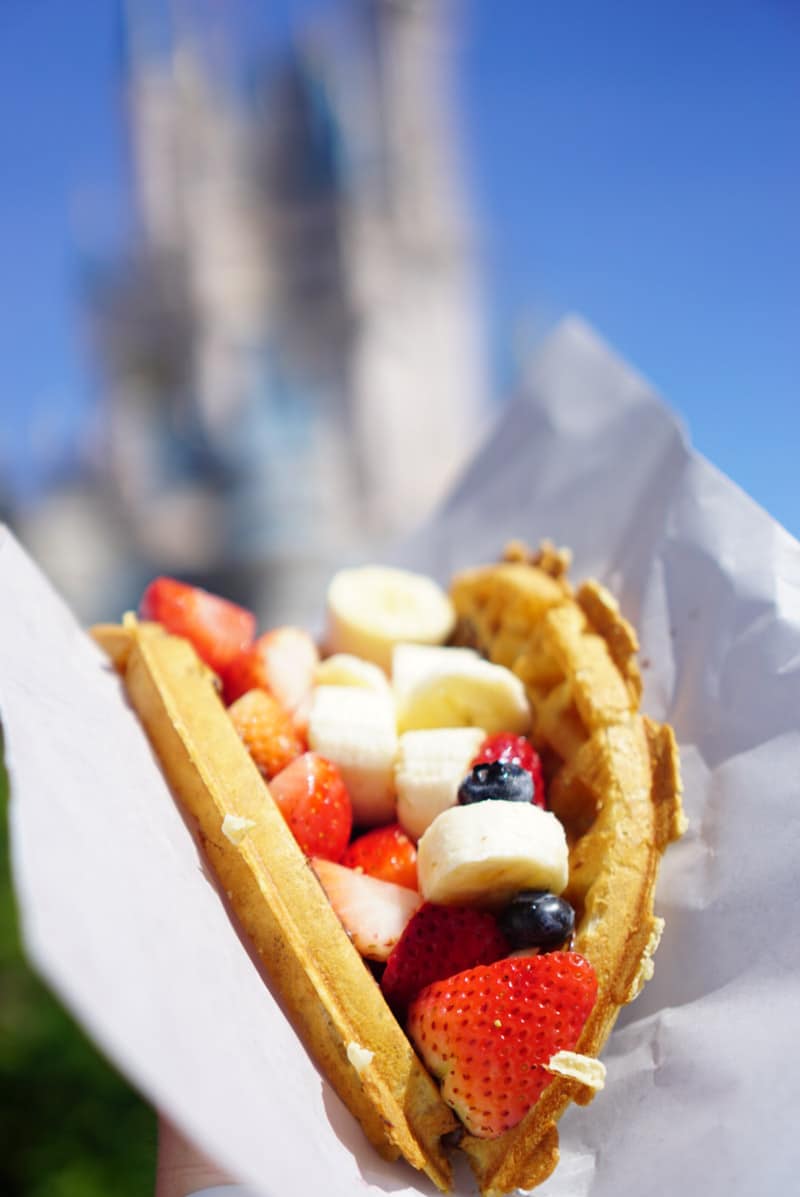 Grey Stuff Cupcake at Gaston's Tavern
Try it, it's delicious. Don't believe us? Ask the dishes.
Grey stuff on a cupcake. It's iconic Disney food and it's a must-try at least once. And then you can make it at home with my copycat grey stuff recipe!
Apple Pie Caramel Apple from Main Street Confectionery
While this is a seasonal item, it's typically available all fall and it's worth looking out for. A caramel apple that's coated with white chocolate, cinnamon sugar, and pie crust.
If you can't get it in the parks, you can use my copycat apple pie caramel apples recipe to make them at home!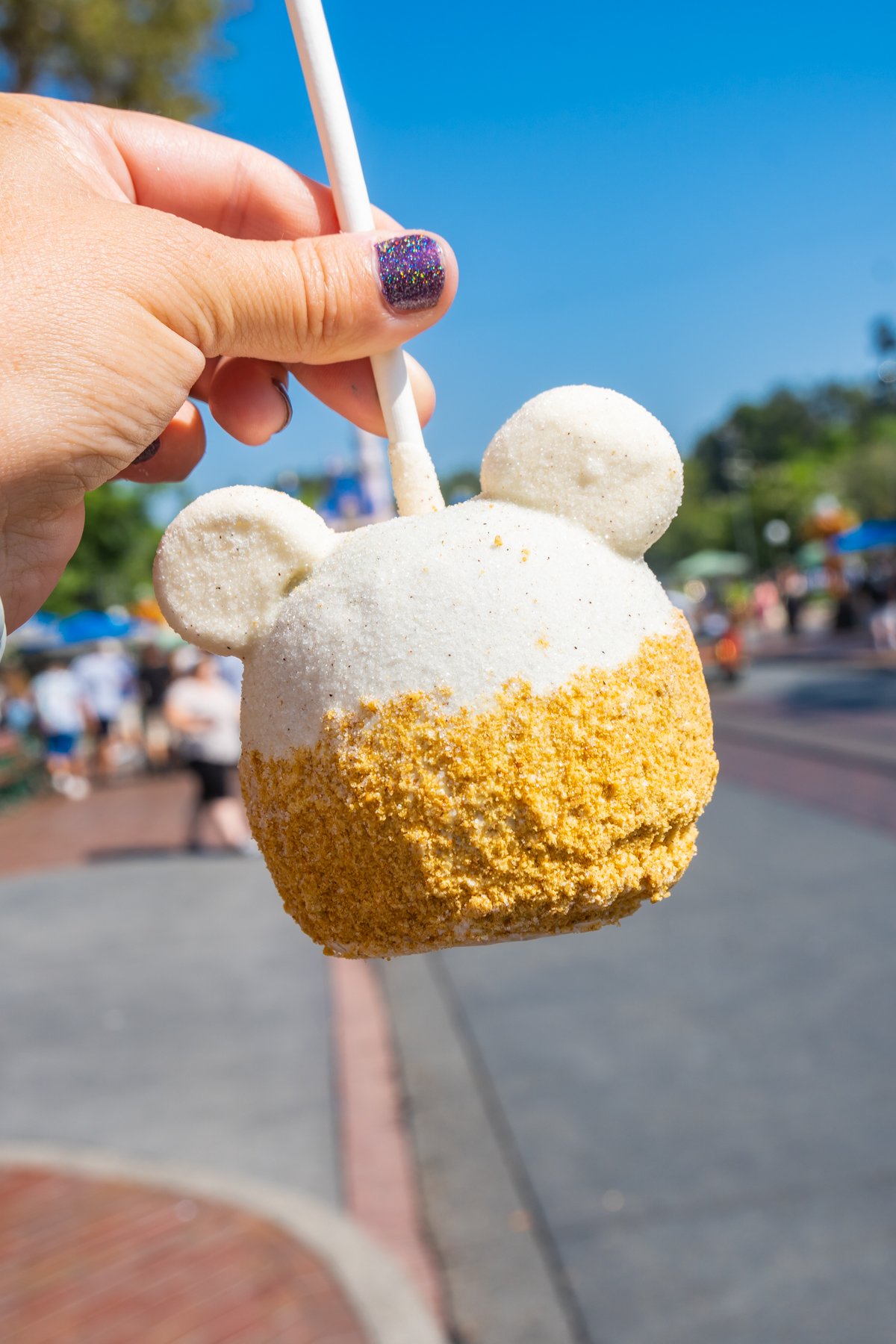 Best Disney Snacks at Epcot
Epcot is a hard one to tackle because there are just so many different foods to try. But I had to include Disney snacks from all of the different parks – this list couldn't be just Epcot all the time.
So instead, you'll have to wait for my Epcot food post to see what other things you have to try in Epcot. For now, these are my four personal favorites that I get every time I'm there!
Fish & Chips from Yorkshire County Fish Shop
The fish and chips is another case of probably shouldn't be on this list of best Disney snacks because technically it's a meal BUT I typically order it and share with friends, so it becomes a snack for everyone.
I'm not sure how this compares to legit fish and chips in England, but I do know that every time I've tried them, they have been hot, crispy, and fresh.
The chips are actually thick cut fries and maybe my favorite fries in all of Disney World.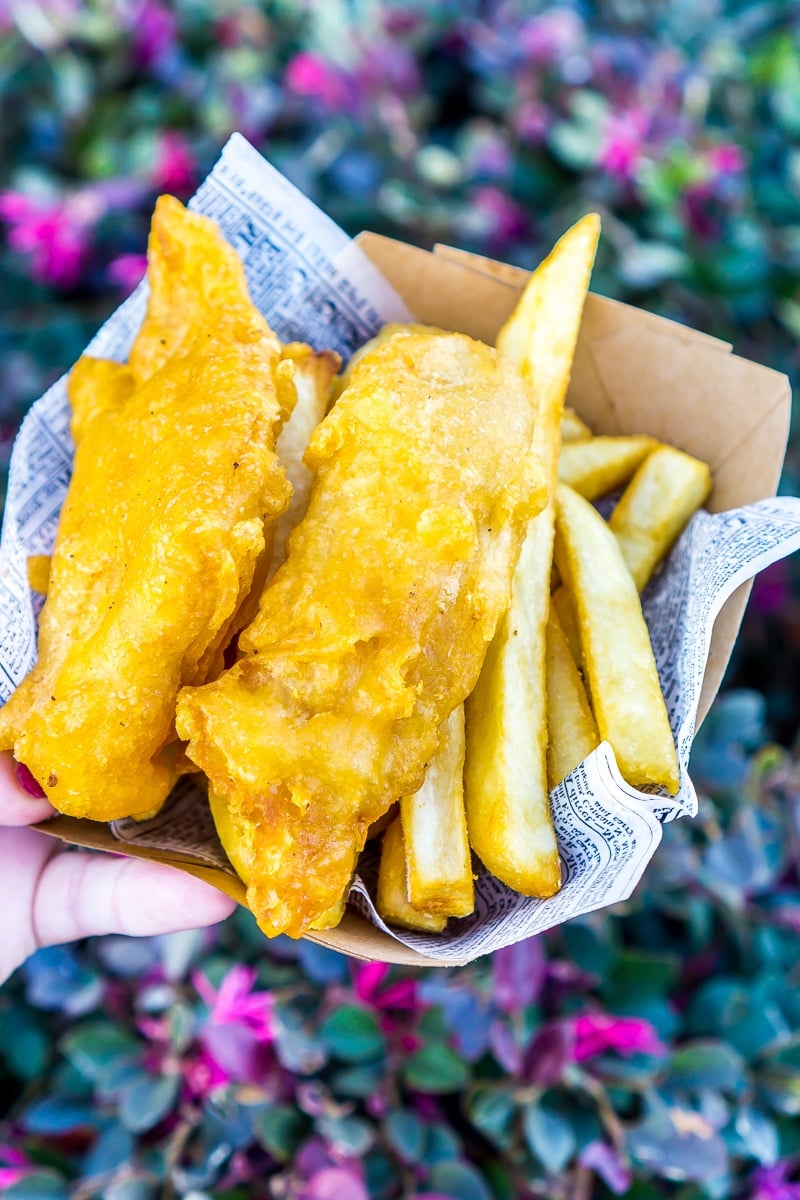 Macaron Ice Cream Sandwich from Les Glaces
There are so many different options at Les Glaces in France, but the macaron ice cream sandwich is my personal favorite.
Ice cream squished between two macaron halves and frozen together – it's two of the best desserts ever combined to make an even better one.
Just be careful, it does melt fast and gets tough to eat once it's melting. So either stay inside the store or ask for a cup/bowl to eat it in, unless you want ice cream melting all over!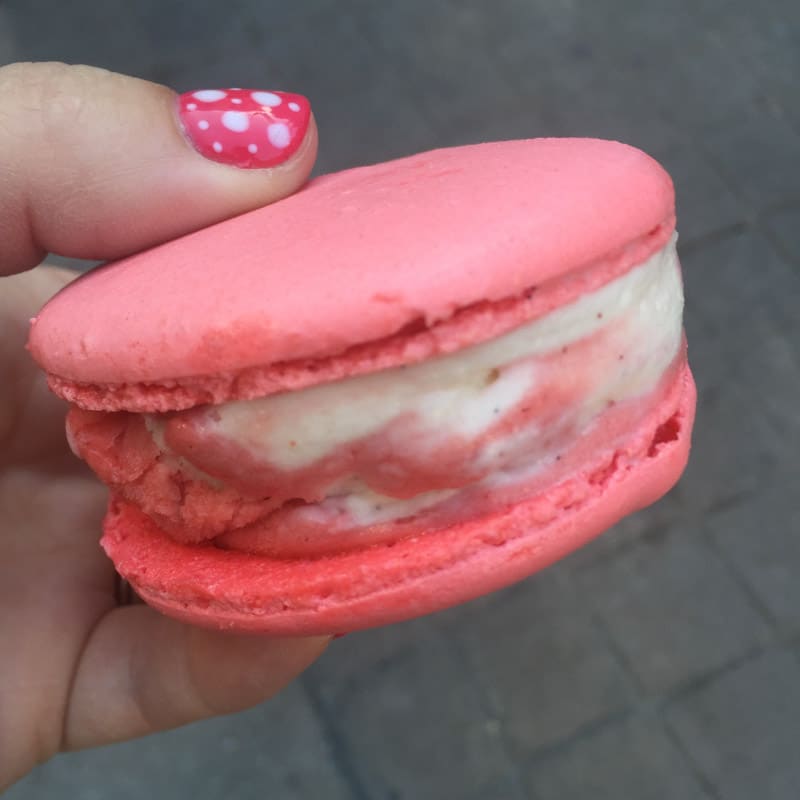 Caramel Popcorn from Karamell Kuche
My friend Tania got me hooked on the caramel popcorn, I probably wouldn't have either bothered trying it. But it's one of her favorite foods at Epcot, so I figured it should try it.
It's not your typical caramel corn, it's addicting and delicious. Made by the company that makes the Werther's Originals caramels (you know those hard things that no one really loves) but so much better than the candy itself because you get the flavor without having to deal with sucking on those candies forever.
Get it in a bag and enjoy it as you walk around the world!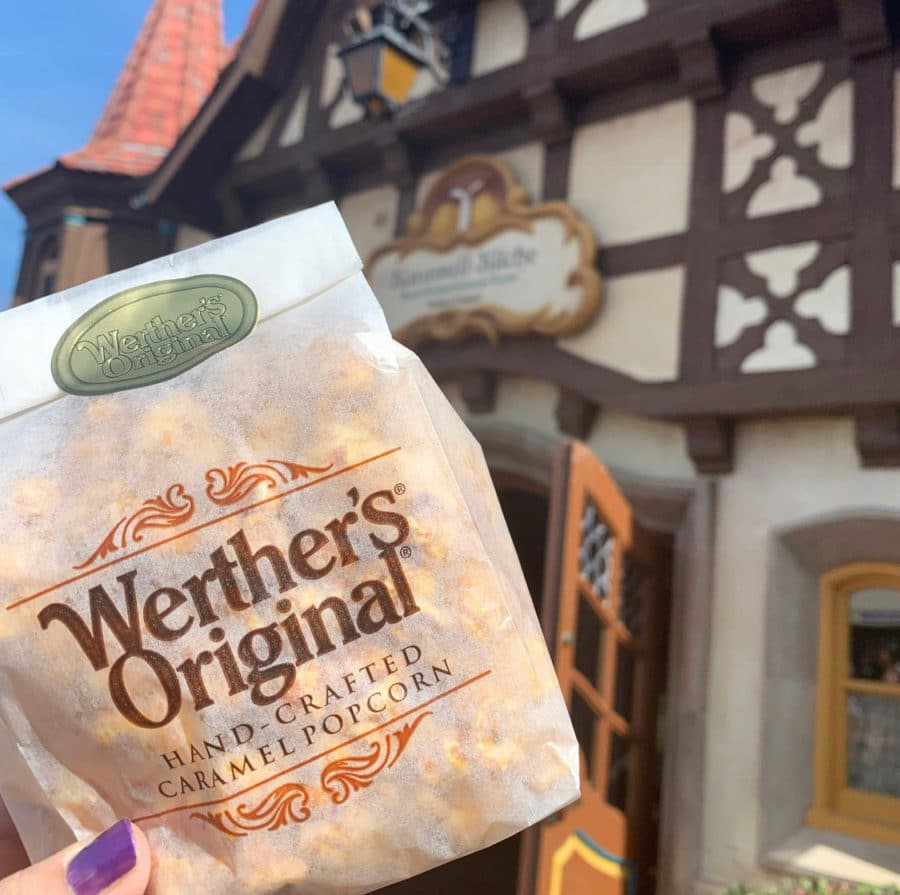 Black Forest Baumkuchen at Connections Eatery
This cake is one of the most unique things we found at Epcot during our most recent visit. The cake itself is good with its tons of little layers, but the coolest thing about it is that you can actually watch them making this cake in the Connections Eatery.
And that is very cool. It looks like a tree with all of the tree rings and has a great story behind it. So watch the cake making, order the cake, and enjoy!
Pretzel Bread Pudding at Sommerfest
I've always kind of felt like Germany was a throwaway country at Epcot when it comes to food. I just haven't loved anything they've offered there for a while.
This pretzel bread pudding is unique and delicious. It's a small bread pudding made out of, you guessed it, pretzels. If you like pretzels, you need to try this. If you like bread pudding, you also need to try it. If you don't either, you can probably skip it but everyone else should enjoy this one.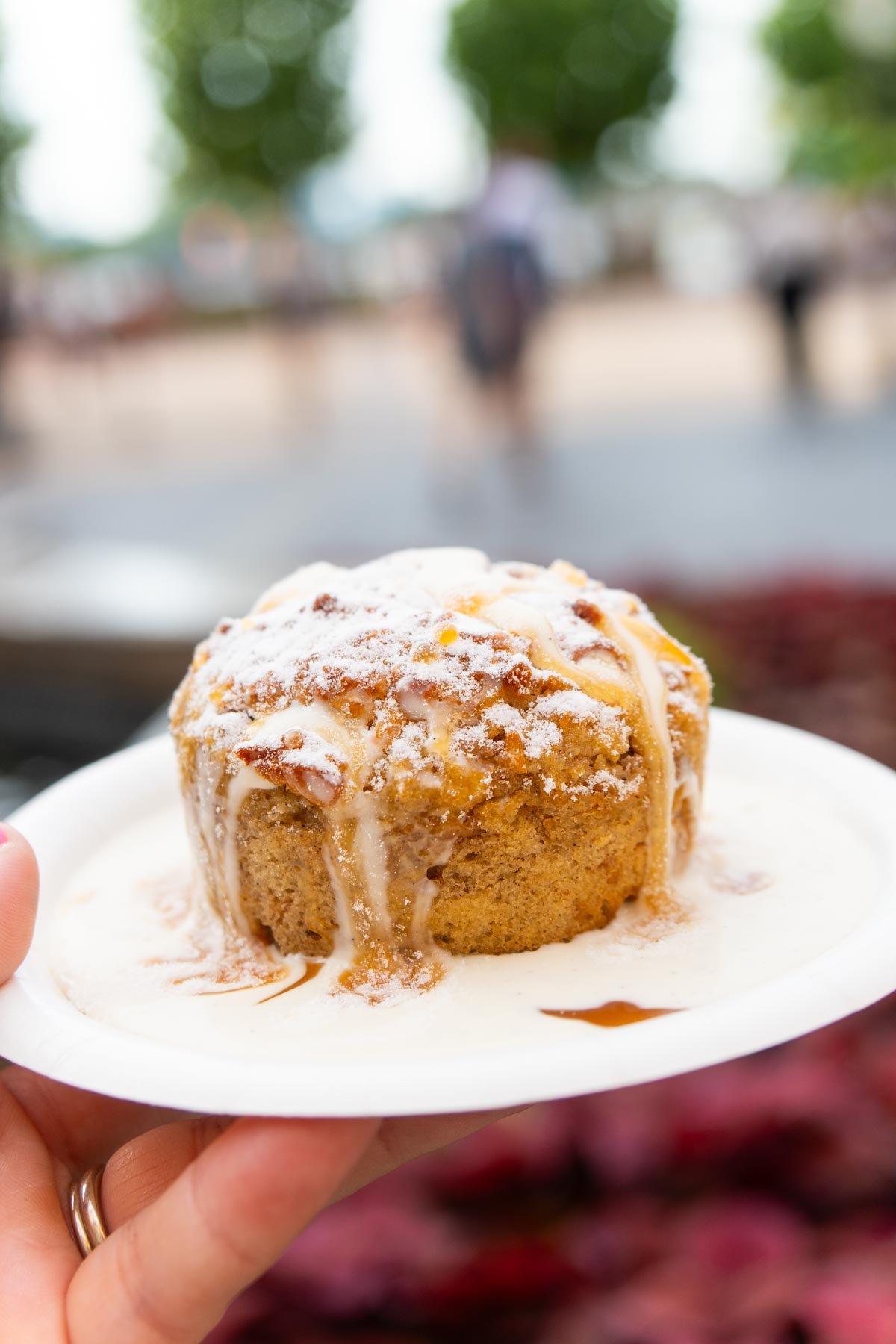 Croissants at Les Halles
This French patisserie is full of delicious tarts, croissants, sandwiches, and various other baked goods. We tried both the chocolate and almond croissant. Both were good but the almond one was much more memorable.
This is also one of the few places that's open early in the parks, so it's a great place to grab a snack if you're in the park early in the morning!
Turtle Brownie from Sunshine Seasons
Sunshine Seasons regularly rotates through different snacks and desserts. I specifically asked which of the desserts stick around (aka not seasonal) and they told me about this turtle brownie. They said it was originally a seasonal thing but ended up staying because it was so popular.
It's popular for a reason! It's a soft brownie topped with caramel and nuts. If you like homemade turtles, think of that on top of a ooey gooey brownie. This was definitely a keeper for us!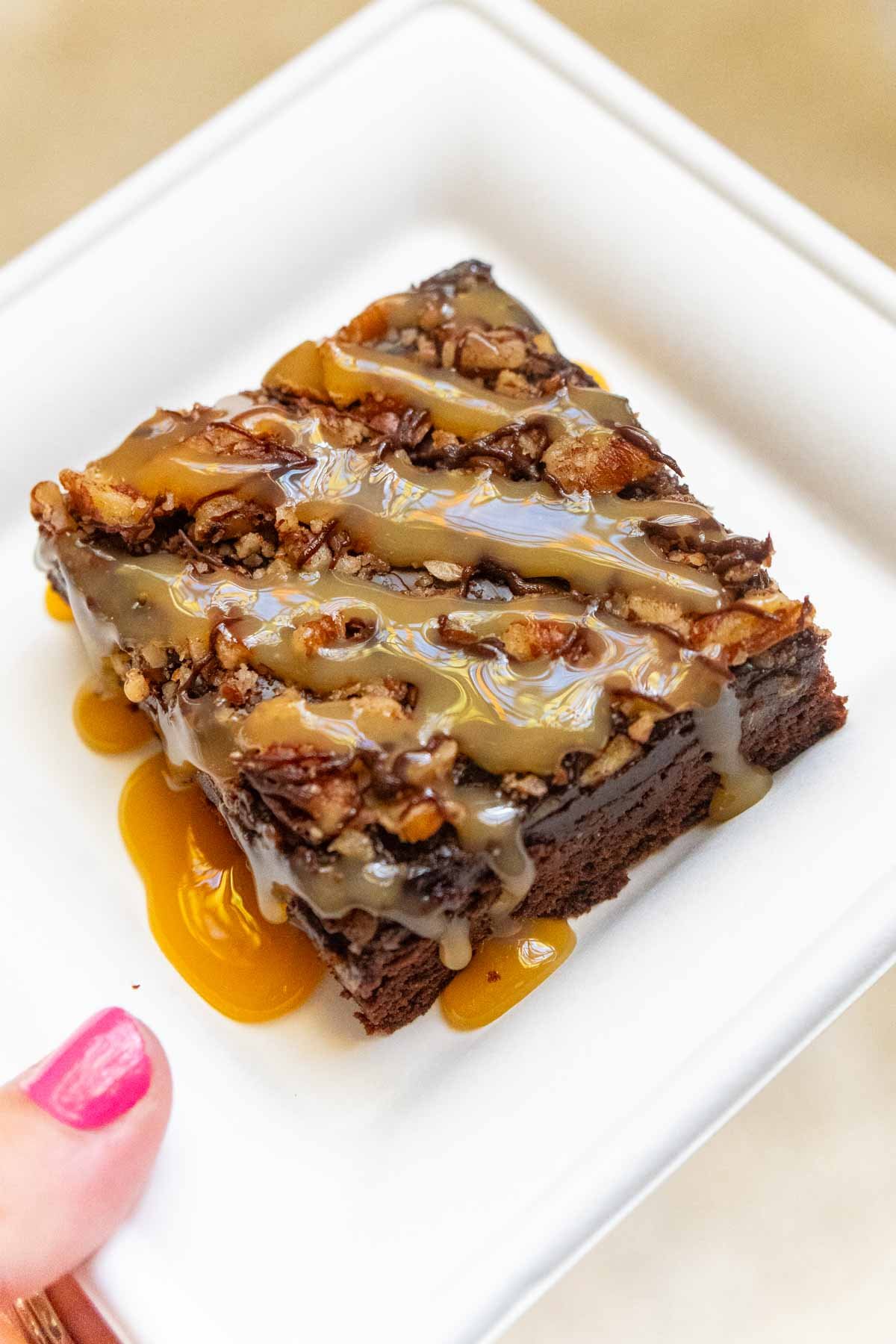 Honorable Mentions!
If you want to get out of the parks, the cookies at Gideon's Bakehouse are delicious (as is this copycat recipe)! And if you stay at Grand Floridian Resort, make sure to check out the Grand Floridian chocolate chip cookies!
More Disney World Travel Tips
Planning a trip to Disney World? Make sure to check out these posts first!