Everything you need to know about Disneyland Halloween in 2021! Details about the Disneyland Halloween party, Halloween treats, decorations, rides, and more!
I just got back from a four day trip to Disneyland to check out all of their fun Disneyland Halloween Time food and festivities for 2021. It was so much fun but exhausting because there's so much to do and see!
I've put together this guide to give you an overview of all the Halloween fun that can be had at Disneyland this time of year! If I missed anything and you have questions, feel free to comment on this post and I'll get you an answer!
What is Disneyland Halloween Time?
Before I get into the details, I thought I'd provide some basic details and answers to questions I know are going to come up!
Disneyland Halloween Time is the most spooktacular time of year at Disneyland Resort! It starts September 3rd and runs through Halloween on October 31st. It's full of frighteningly fun food, fall decorations, Halloween celebrations, and seasonal ride overlays.
It's more treats than tricks and definitely worth a visit to check out both parks, Downtown Disney, and all the hotels!
You can get great deals on tickets from my favorite Disneyland ticket partner Get Away Today! Right now they have a great deal going on for tickets!
discount disneyland tickets!
Get an extra day and night free for travel to Disneyland when you purchase tickets through Get Away Today here with my link and travel between now and October 31st! That includes a 4th night free at your chosen hotel PLUS a fifth day free at Disneyland (pay for a 4-day park hopper and get a 5-day one!). It's the best deal you'll find right now and you can get it here!
Okay so let's really get started now and talk about all of the fun Halloween activities going on in Disneyland Resort during the Halloween season!
Disneyland Halloween Party: oogie Boogie Bash
Oogie Boogie Bash is the Disneyland Halloween Party that's held on select nights during the season at Disney's California Adventure Park. It's a special ticketed event (tickets are currently sold out) and the best place to meet villains, collect tons of treats, and see the only parade currently going on at Disneyland!
I wrote up an entire post about Oogie Boogie Bash here so I won't rehash all of the details in this post here!
Characters in Halloween Costumes
Halloween is one of the only times to see characters dressed up in costume at Disneyland! And they don't just wear one costume – during our four day visit I saw characters in all sorts of different costumes!
While character interactions are different than they were in the past for safety reasons, it's still fun to take pictures of and with these seasonal costumed characters! I mean when else are you going to be able to see Goofy dressed as a skeleton and Mater as a vampire!?
Halloween Photo Opps
Throughout both the parks, there are fun Halloween specific photo opps to take advantage of! Some of them you can just use your phone (like with the great big pumpkin) – just note that cast members cannot take photos with your phone for you, so you'll need someone else to do it!
Other photos that include a little magic will require having a PhotoPass! They're $20 for the day and can be shared across the family, totally worth it to do for a day or two to get all the magical Halloween shots!
And if you're a Magic Key holder, make sure to check out the Starcade (near Space Mountain) in Disneyland where we found a fun Halloween themed Minnie Mouse photo opp setup! Minnie was fantastic and the setup is super cute and festive!
Tip!
If you have a ticket to Oogie Boogie Bash, PhotoPass is included with the event for free so you'll be able to take as many FREE PhotoPass photos during the party as you'd like!
Disneyland Halloween Treats
There are about a gazillion different Disneyland Halloween treats you can try, and I tried all of them! And wrote reviews on all of them. This Disneyland Halloween treats post is long, but it has all of the information you could ever need about what to eat during Disneyland Halloween time!
Here are just a few pictures of some of my favorites!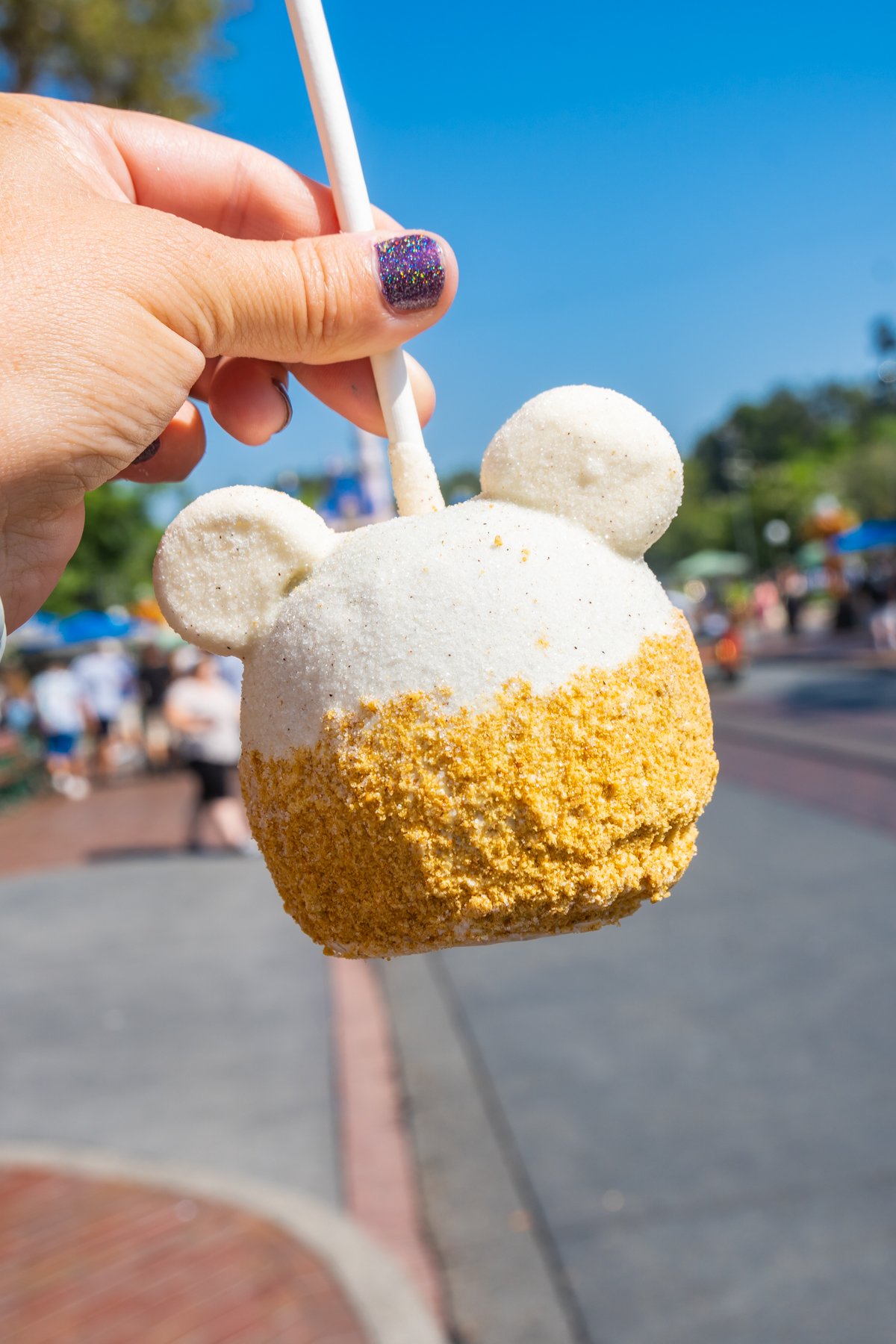 Tip!
Often times the seasonal treats won't all be listed on the mobile ordering. If I don't see it on mobile order, I'll walk into a restaurant and look for a sign that looks like the one below. These are the seasonal items!
Disneyland Halloween Decorations
Both Disneyland Park and Disney's California Adventure Park are all decked out for the Halloween season! As soon as you walk in the front gates, you'll know you're in for a treat!
Not all parts of the parts are decorated so make sure to keep an eye out for these main highlights!
Main Street Pumpkin Festival – tons of pumpkins line Main Street, U.S.A. plus lots of lights and other festive decorations!
Halloween Tree – this tree decorated for Halloween can be found right outside of the Golden Horseshoe Saloon in Frontierland. It's a fun tradition that's been going on for a long time and a fun one to spot in the middle of an otherwise undecorated portion of the park!
Frontierland is decorated for Día de los Muertos just across the way from the Golden Horseshoe and the colorful decorations are totally worth checking out!
Cars Land Haul-O-Ween – Cars Land gets a full makeover for Halloween Time with lights, costumes, and decorations everywhere you look! I shared lots of photos in this Disneyland Halloween party post if you want to see details! Make sure not to miss the photo opps with the Haul-O-Ween cars too!
Edible Oogie Boogie – make sure to hop into the Grand Californian Hotel to see the edible Oogie Boogie at the front of the lobby. I actually had fun going in every day to see what had been done in the past 24 hours!
Downtown Disney Decorations – Downtown Disney is decorated with pumpkins, signs, and backdrops all over the place that make great Halloween photo opps! I loved the candy corn fountain near the entrance to the parks!
One of my favorites is this mural just across from Earl of Sandwich by the entrance to Downtown Disney!
Also, make sure to not miss Pluto's Pumpkin Pursuit – more details on that shortly!
Halloween Rides at Disneyland
There are four different Halloween overlays at Disneyland for Halloween Time – two of them are don't miss attractions and the other two are fun if you want to ride those rides anyway.
Haunted Mansion Holiday is the only Halloween ride in Disneyland Park and is Haunted Mansion completely transformed into a Nightmare Before Christmas version of the ride. It's so well done and a can't miss.
Tip!
Rope drop Haunted Mansion for the shortest lines. It had the longest lines of any ride while we were there because everyone is so excited about the Nightmare Before Christmas overlay. We only waited for about 10 minutes at rope drop and that was because the ride was down when we originally got there.
Guardians of the Galaxy: Monsters After Dark is another complete transformation of a ride. Same concept as the regular Guardians of the Galaxy ride (one of my favorites) but the preview movie, storyline, and actual ride music and scenes are totally different.
The nice thing about Monsters After Dark is that it doesn't completely take away the regular Guardians of the Galaxy Ride (which is one of my favorites), instead the ride switches over starting at 3PM every day. I recommend doing both!
One thing to note is that Monsters After Dark is definitely more scary from a theming standpoint than the regular Guardians ride. The actual drop sequences are in the dark and includes some not so scary but still could be frightening for little one monsters – although I think the scarier part is just being in the dark! I thought it was still fun, but definitely something to know if you're planning to take younger kids!
Luigi's Honkin' Haul-O-Ween and Mater's Graveyard JamBOOree are basically just the same rides as they are normally but with more festive Halloween music and decorations! They're worth riding if you have time but not much different than the regular rides!
Plaza de La Familia
At the park of Disney's California Adventure near Paradise Grill is a huge setup celebrating the spirit of Día de los Muertos and Coco!
There's plenty of color, fun, and food to be enjoyed including a couple of exclusive photo opps, a free craft, and a place to write down and hang up family memories!
Plus, there's a band playing festive music throughout the day at the Paradise Gardens stage!
Oh and don't forget about the food! The Coco cake at Paradise Garden Grill was one of my favorite Disneyland Halloween food item! They also have a ton of Halloween speciality entrees to try that all sounded delicious!
Disneyland Halloween Fireworks and Shows
While Disneyland doesn't have all of their entertainment back, there were definitely a few things I found entertaining to watch (other than people)! The Dapper Dans were back singing Halloween tunes, a Mariachi band was playing near Paradise Garden Grill, the Disneyland Band was playing in Tomorrowland, and so on. You can see the full entertainment schedule here!
Instead of parades, they are still doing character cavalcades like the Incredibles that were zooming down Pixar Pier! I saw less of these during our trip to Disneyland than when I visited Disney World in 2021, but there were still characters around – just not in cavalcades or parades!
Plus, Disneyland also has a Halloween fireworks show called Halloween Screams at 9PM every night. Honestly, it was the one time that I felt overcrowded at Disneyland so we skipped it, but here's a picture from the Disneyland website to show you an example of what the show is!
Disneyland Halloween Merchandise
Of course there's an entire line of new merchandise just for celebrating Disneyland Halloween! With so many items to choose from, it's pretty hard to know where to start! Simple ideas are cute Halloween ears, a Halloween balloon, or even just a fun collectible Halloween glass or popcorn bucket!
You can also get a lot of the same merchandise directly from ShopDisney! They have a huge Halloween collection that's full of a lot of the merch from the parks as well as exclusive ShopDisney items! I totally ordered myself a Mickey Mouse Jack-O-Lantern Candy Bowl and this Halloween spirit jersey because they wouldn't fit in my suitcase home!
Tip!
If you're a Magic Key holder, make sure to pack extra space to buy souvenirs in the parks! You get merchandise discounts in the parks and Downtown Disney but not if you order things online from ShopDisney at home!
Pluto's Pumpkin Pursuit
Okay since we're talking about merchandise, this is my favorite secret to getting a Halloween souvenir for a discount WITH a free activity included!
At Downtown Disney, you can do a pumpkin scavenger hunt called Pluto's Pumpkin Pursuit. Head into World of Disney (or look at many of the other kiosks) and buy a scavenger hunt card for $9.99. It comes with a little double-sided card. One side has the pumpkin locations and the other side has the pumpkin stickers.
Then head out into Downtown Disney to find where all of the pumpkins are hidden! The hunt starts at the fountains by La Brea Bakery and ends all the way at the other end of Downtown Disney by the Star Wars Trading Post!
Put your stickers on the back and turn the card in for your choice of one of four Halloween tumblers that typically cost $14! So you save $4 on the tumbler and get a fun activity while you're at it! Or if you don't even want to do the hunt – you can still get your tumbler! Grab it before you leave World of Disney if you want!
I did this on my own but know my boys would have loved it – they love any Halloween scavenger hunt! And it was definitely an inexpensive souvenir, one that I'll actually use at home all the time! If you just want the tumblers, you can't buy them directly but can buy a pumpkin scavenger hunt and turn them in for the tumblers (I asked!).
Tip!
Use mobile checkout at World of Disney to avoid any long lines. Just find the little desk where it says Mobile Checkout and they have a code for you to scan for the hunt. Then all you do is scan the code, pay on your phone, and you're on your way! Plus, they're sometimes doing little freebies for using mobile checkout – I got this cute Wish Disney Parks food item for FREE!
Disneyland Halloween Tips
Okay so these are some tips that didn't necessarily fit into any of the other categories above that I thought would be helpful!
Be at the parks for rope drop or within a few minutes after rope drop to enjoy the shortest lines and fewest crowds. Because of the new Magic Key program, we saw a lot of additional people in the parks after school hours and in the evenings.
Do Disneyland Park on days of the Oogie Boogie Bash if you don't have an event ticket. The park closes at 6PM on those days so you don't want your DCA day cut short by the party!
Skip the fireworks if you're worried about crowds. That way by far the most crowded I saw the parks at all. People were lined up for hours beforehand and the entire Main Street U.S.A. was full. Otherwise, there were very few times I felt overcrowded during our visit.
Head to Haunted Mansion first thing after rope drop. It had the longest line of any ride throughout trip and unless you want to wait for 30-45 minutes to ride, rope drop is going to be your best bet!
Avoid weekends if possible. We went mostly on weekdays but Friday afternoon/evening you could tell that the Magic Key (annual pass) crowd was coming in. I can only imagine what the weekends would feel like.
Grab a locker to hold extra things like costumes, treats, souvenirs, and extra closing layers. It's only $7 for a small (one backpack) locker and $10 for a two backpack sized large locker all day. We used one for two of the days we were there and it was SO nice to not have to carry about all of the extras. Lockers in DCA are located right near Market House at the front of the park and lockers in Disneyland are on the right about halfway down Main Street U.S.A., tucked into a back corner.
Mobile order your food if possible. This is always a great Disneyland tip but I found it really helpful this past week, especially since a lot of the seasonal items were available via mobile order!
Disneyland Halloween FAQs
When is Disneyland Halloween?
Halloween Time at Disneyland is from September 3rd through October 31st. November 1st will begin the transition into the holiday season at Disneyland!
Is there a Disneyland Halloween Party?
The Disneyland Halloween Party is called Oogie Boogie Bash, and I wrote an entire post dedicated just to things to do at Oogie Boogie Bash here!
Is there a Disney Halloween Parade?
There is a Disneyland Halloween Parade only during Oogie Boogie Bash. It is shown two times on Oogie Boogie Bash event nights at 7:45PM and 10:00PM in Disney's California Adventure. The parade is only available to guests with valid event tickets. You can see more details about Oogie Boogie Bash here.
Are there Disneyland Halloween fireworks?
There is a Disneyland Halloween fireworks show called Halloween Screams in Disneyland Park at 9PM every night. Keep reading for more details on the fireworks!
Are masks required at Disneyland?
Masks are required in any indoor spaces at Disneyland for ages 2 and up. This includes ride lines, restaurants, on rides, hotels, shops, and pretty much anywhere that resembles an indoor place. If you're taking photos indoors, masks are still required.