Need a fun theme for this year's New Year's Eve party? Try a black and white party filled with black and white treats, black and white party games, and even some awesome black and white New Year's Eve party decorations! This guide will give you everything you need to host one incredible black and white New Year's Eve!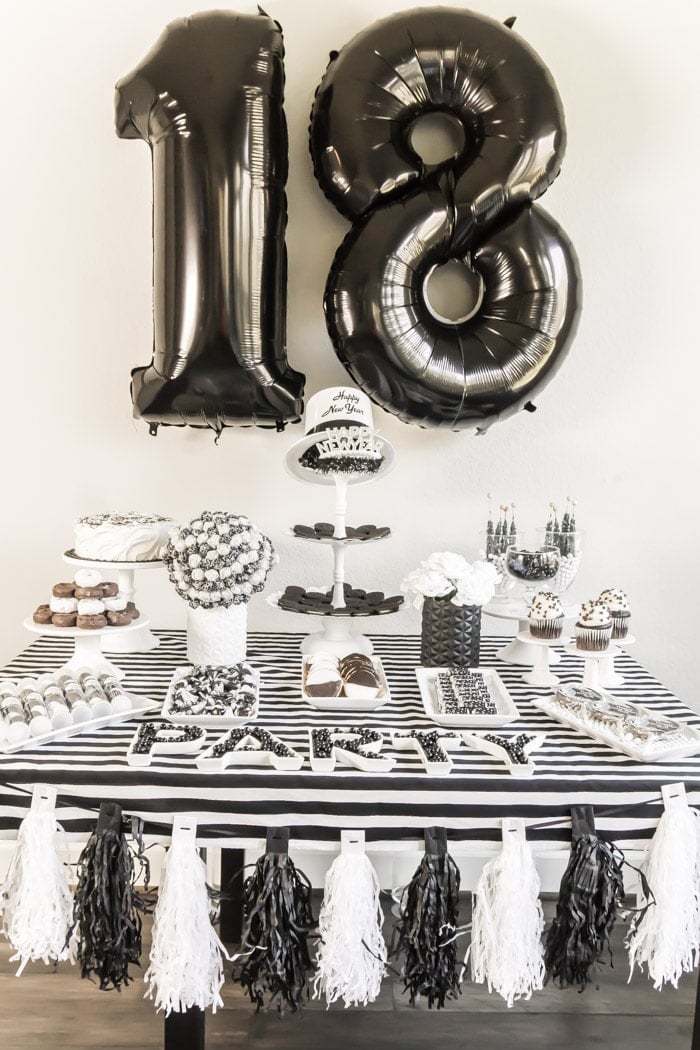 Black and White Party Ideas
There is only one rule when it comes to hosting a black and white party – it needs to be black and white including the dress code! We did a black and white party with our friends a few years ago and this year are doing it again for New Year's Eve.
A black and white party makes the perfect party theme for a game night, a dinner party with friends, or this case a New Year's Eve Party. It actually works perfect for New Year's Eve because black and white tends to lean itself to a more adult and sophisticated vibe, although you could easily do all of these things with kids as well!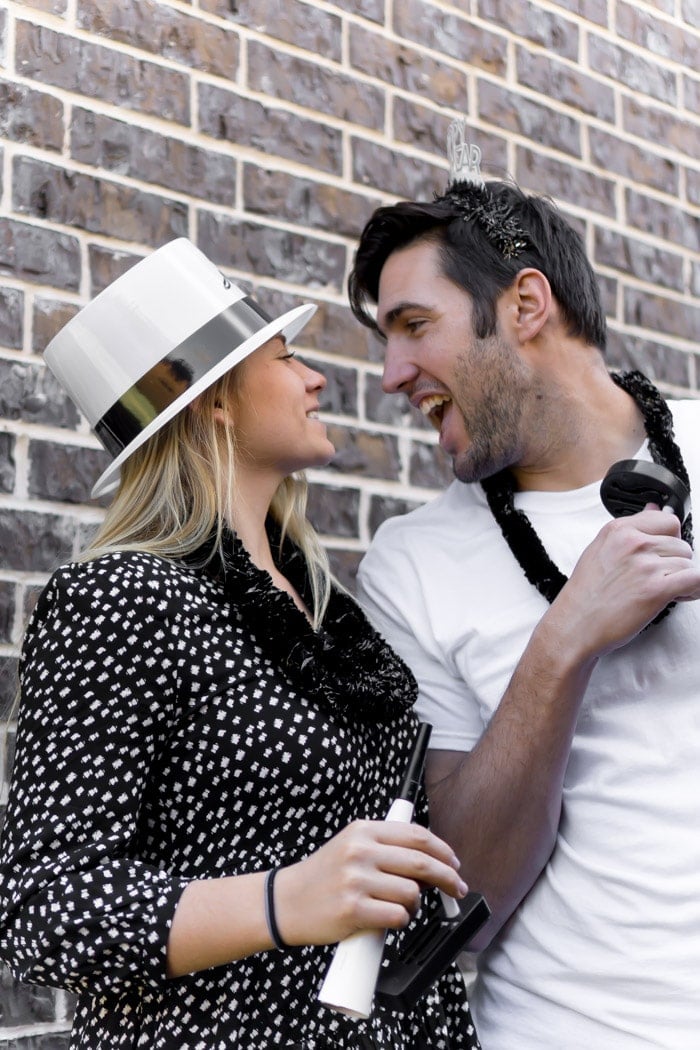 Black and White Party Food
When I first came up with the idea of doing a black and white party for New Year's Eve, I was a little worried trying to come up with food to serve that would fit the theme. That was before I realized the Shindigz has an entire selection of candy you can order by color, and we're not just talking about gum balls and Sixlets, we're talking black and white Dum Dums, black and white Hershey kisses, and even black and white rock candy. Perfect for filling these smaller apothecary jars.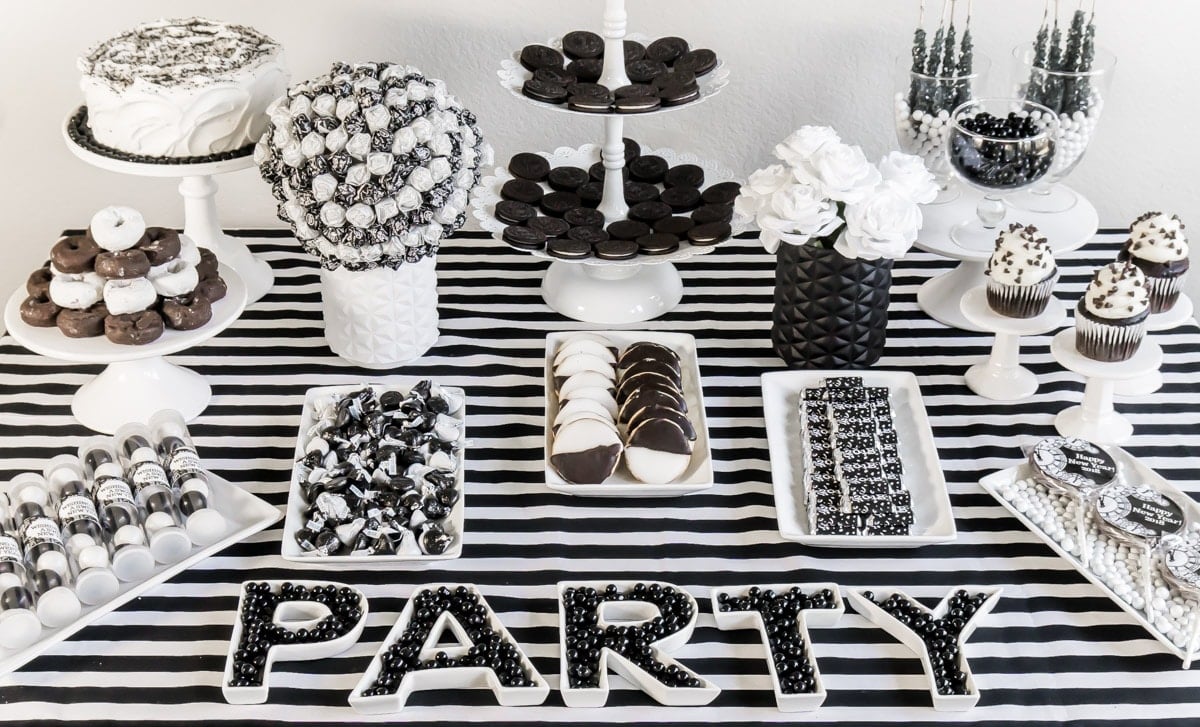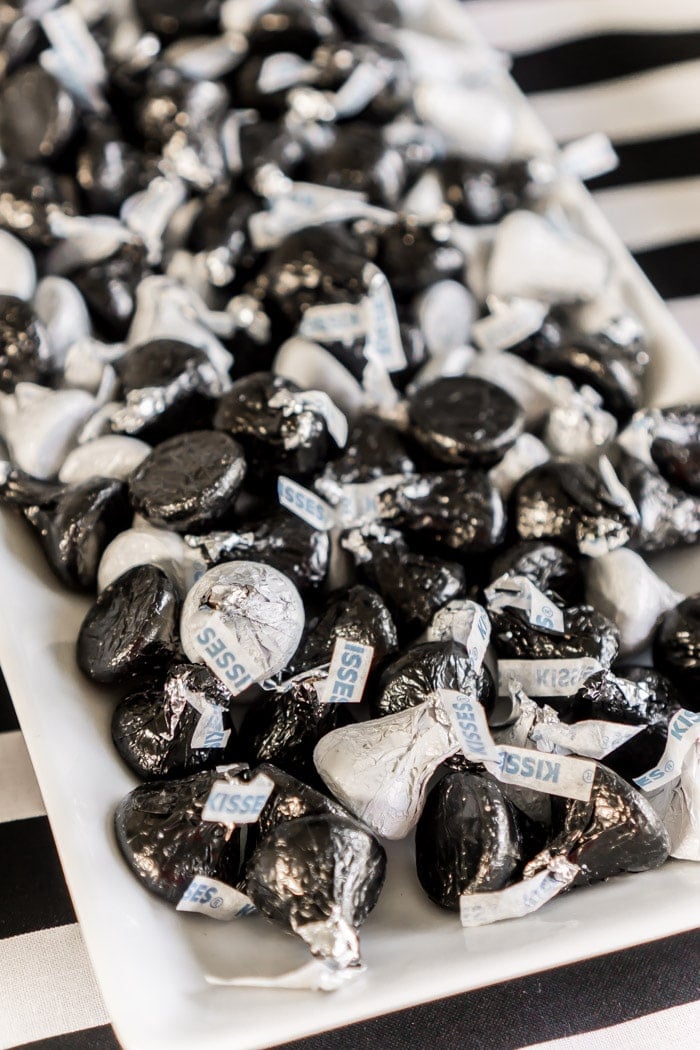 On top of the candy they actually offer themselves, you can also make printable wrappers for other candy like the labels I made for these mini chocolate bars, the big chocolate suckers, and even these 2018 candy tubes. It definitely made putting together this black and white dessert table so much easier.
In addition to the candy, I just grabbed a couple of other desserts – Oreos, black and white cookies (of course), a white cake decorated with black sprinkles and Sixlets, chocolate and white powdered donuts, and Devil's Food Cupcakes with white frosting. Who knew black and white food could be so sweet?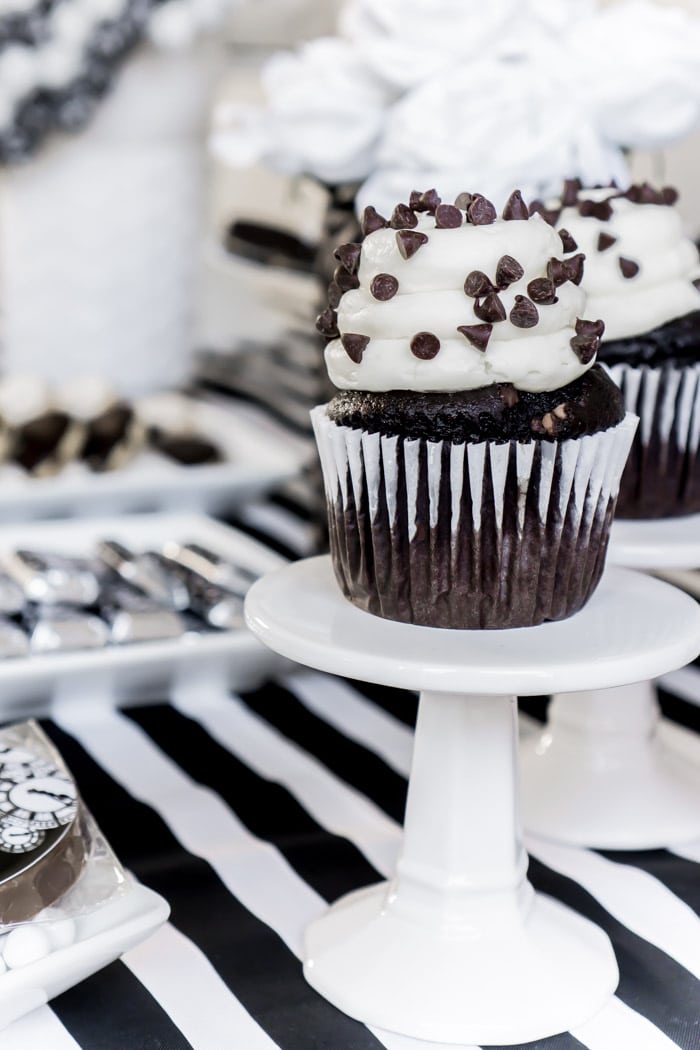 While I did a dessert table, you could also go the more savory route with some of these instead:
Olive and mozzarella cheese crostinis
Sushi rolls
Popcorn with black sprinkles
Blackberries with a cream cheese drizzle
White tortilla chips with black bean dip
Black bean soup with crumbled white cheese
Black eyed peas with forbidden rice (the black eyed peas are great for New Year's Eve)
Black and White Party Decorations
I kept it pretty simple with our party decorations because I like things simple. I used a piece of black and white striped fabric as a tablecloth on the table highlighted by this awesome black and white tissue paper garland. And I incorporated some of the hats and leis from this black and white New Year's Eve Legacy Collection in my center cake stand to tie everything all together.
For my table backdrop, I ordered a set of these black 2018 Megaloon balloons (and only used the 18 because the balloons are pretty big) and used these balloon weights tied with clear string to hold them down. And last but not least, I tied some of these black and white happy New Year's Eve balloons to our mailbox.
These other decorations would also be perfect, they just didn't really work with our party setup!
Black and White New Year's Eve Games & Activities
Black and White Printable Games
The beauty of the black and white theme is that it's so easy to make any printable games fit the theme – simply print out games like these New Year's Eve trivia games in black and white and voila, you have a themed game! Here's an entire collection of New Year's Eve games that you could just print out in black and white.
Black and White Gift Exchange
Have everyone bring a black and white gift wrapped in black and white (a pop of color is okay), print out these gift exchange cards in black and white, and order this big black and white foam dice to play one of the most fun gift exchange games ever.
Luckily black and white is a pretty popular color combo so finding black and white gifts should be a breeze. If you can't come up with anything, a pack of Oreos with a gift card taped to the bottom if a good failsafe option.
Black and White New Year's Eve Name that Tune
Name that tune is one of my all-time favorite games to play at parties. You split the team in two, play a short clip of a song, and see which team can guess the song first. One point for the song title and one point for the artist. Detailed instructions for playing name that tune can be found here.
For a black and white New Year's Eve party, there are two different ways you could play this one. You could either do a list of songs that have the word black or white in the title or just do a playlist of the top songs from the year. You can get the black and white playlist below here or get my New Year's Eve name that tune playlist here.
Black and White Reverse Charades
Another one of my favorite party games is reverse charades, and I love it because you really can make it fit any theme. The general idea is that instead of in traditional charades where one person is acting something out while the team guesses, in reverse charades, one person guesses while the entire team works together to act out their item. It's one of the funniest games I've ever seen.
I put together a list of black and white words that would work well for this that you can get by clicking the big pink button below. You could also put together a list of hot terms from the past year and have people act those out as well! Those may be a bit harder to guess, but it would be hilarious to watch someone act out say the battle scene between Thor and Hulk in Thor: Ragnarok, one of this year's top movies.
Get the full instructions here and a printable list of black and white charades cards here. Here's a little sampling of the list.
Shaun White (Olympic gold medalist in snowboarding)
Baa Baa Black Sheep
White Men Can't Jump (movie)
White blood cells
White and Nerdy (Weird Al song)
Ebony and Ivory
Albino
Crossword
Panda Bear
Black Hills of South Dakota

Face the Cookie
One of my favorite minute to win it games is face the cookie. Since Oreos are black and white, this is a hilarious game that works perfectly with the theme. Give everyone a cookie and see who can get it from their forehead to their mouth first without their hands! You could try any of these other New Year's Eve minute to win it games as well.
A Black and White New Year's Eve Photo Booth
No need to setup an elaborate photo booth for the party. Simply purchase one or two sets of these awesome black cardboard frames from Shindigz and set them up with hats, noisemakers, and leis from this black and white New Year's Eve party kit to create an impromptu photo booth. And instead of doing color photos, have a printer setup to print out black and white photos.
Could there be any better party favor for a black and white party than a black and white photo?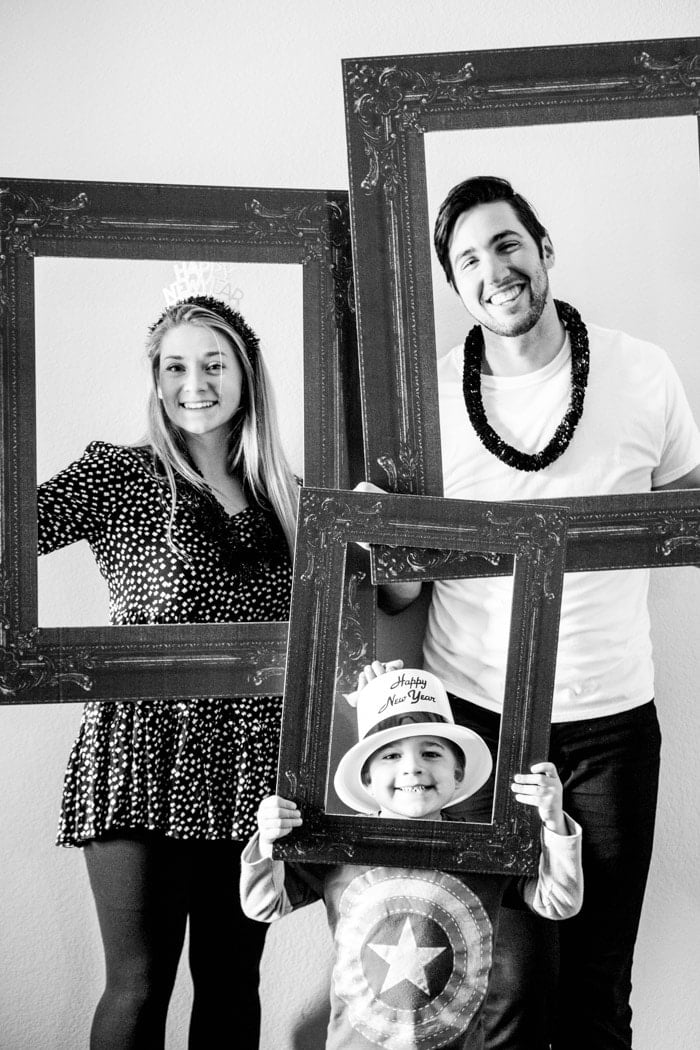 What's your favorite part of this black and white New Year's Eve Party?
Don't forget to pin these New Year's Eve party ideas for later!  
More Fun Party Games
25 Hilarious Minute to Win Christmas Games

Free Printable Holiday Movie Christmas Bingo Cards

A Left Right Christmas Gift Exchange Poem

The Best Christmas Songs Ever

100+ Gifts for Gift Exchanges: White Elephant Gifts and More

7 Tips for Hosting the Best Christmas Party Ever & Christmas Carol Game

Gift Exchange Game Cards and Hosting Tips

Printable Switch, Steal, Unwrap Gift Exchange Game Idea

10 Fun and Unique Gift Exchange Games

Heads or Tails White Elephant Gift Exchange Game