These hilarious New Year's Eve games are perfect for playing with adults or with families! Sixteen different New Year games that will have you laughing long after the ball drops! Play one, choose a few favorites, or play them all!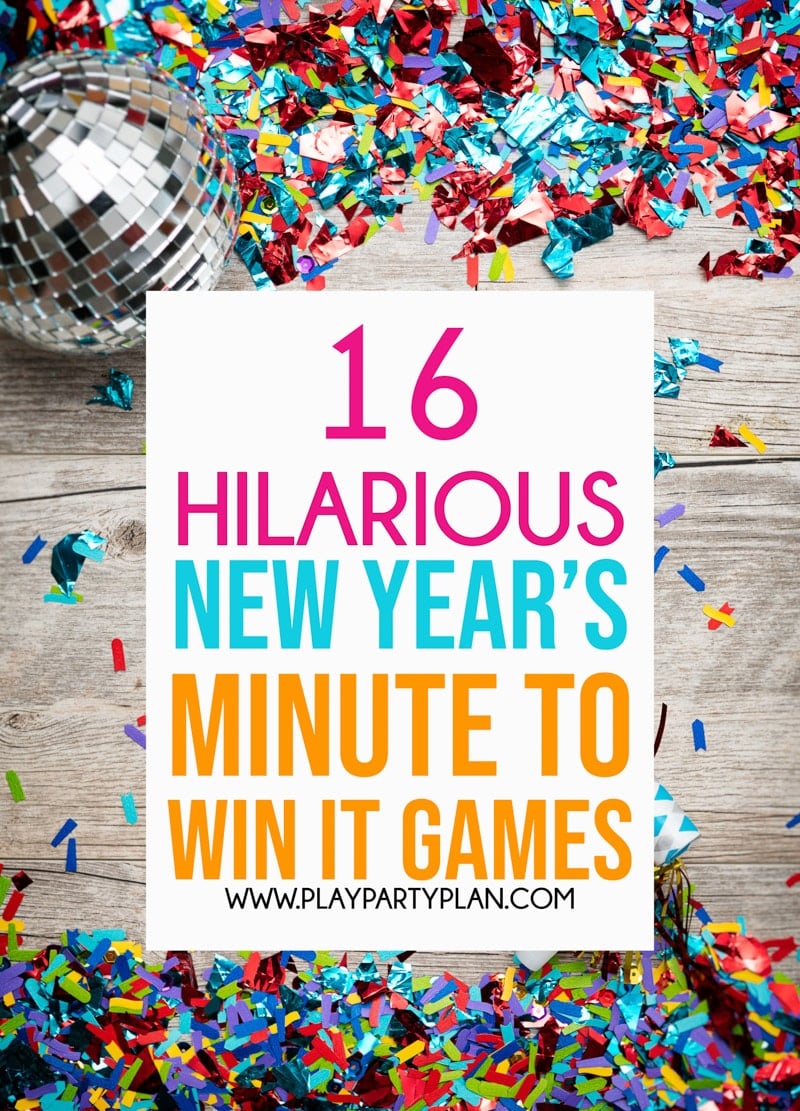 How to Play These New Year's Eve Games
All of these games were originally written as minute to win it style games, but you can easily just play them as regular games as well!
Don't know what what minute to win it games are? Start with my minute to win it games page that's full of instructions, scoring ideas, and more!
If you do want to do it minute to win it style, these are the three ways you can play depending on the number of people you have playing.
Man vs Clock – players have to try and do each of the challenges in one minute or less.
Head to Head – choose two players and they compete against each other head to head, first one to finish wins.
Teams – choose one player from each team to play each game and earn points for their team based on who finishes the quickest.
Note: If any of these challenges seem to easy or too hard for the group you're playing with, feel free to adjust slightly. For instance, if you have an extremely coordinated group for #1, make them catch 10 or more.
And if these games aren't your style, check out these printable New Year's Eve games I made just for this year! Or these 20 other New Year's Eve games – I'm sure there's something for everyone in this list!
Or get my bundle of 12 printable New Year's Eve games all in one place!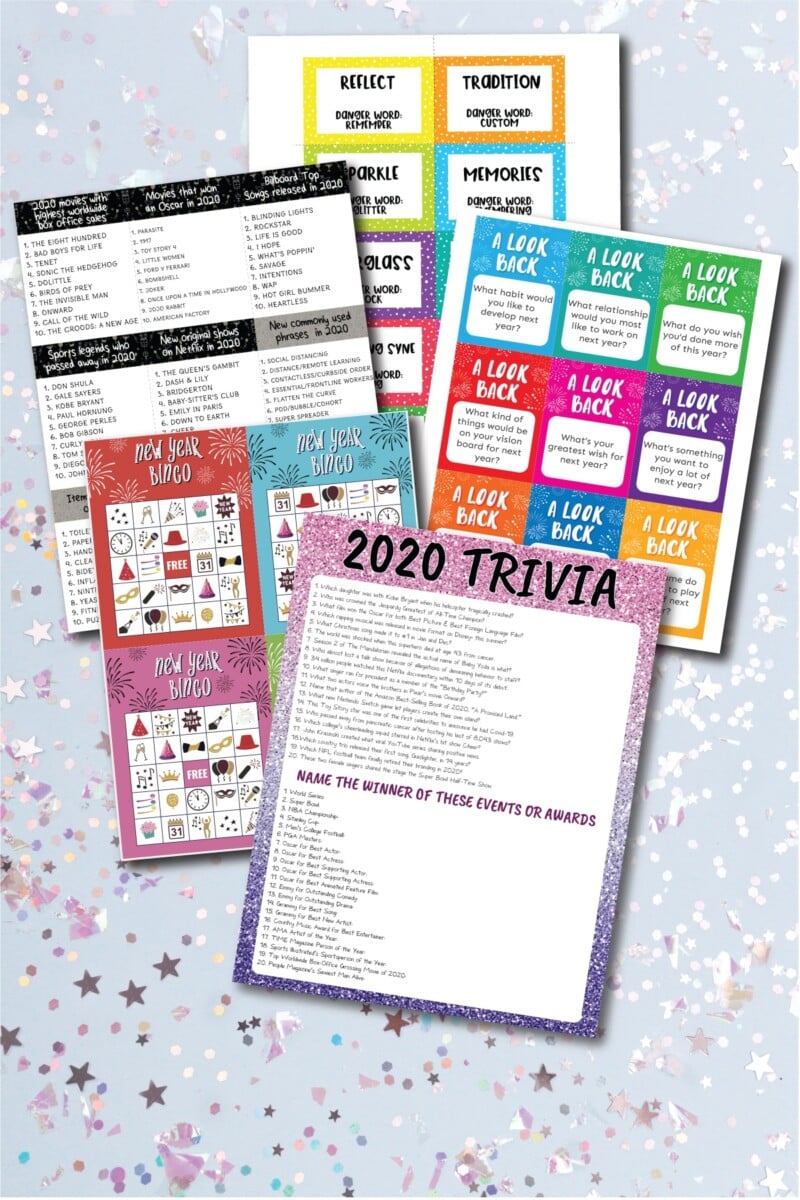 want more New Year's Eve Games?
Fun New Year's Eve Games
Watch the video below for a quick look at how fun these games really are!
#1 – Don't Look Back, Just A Head (2 Players)
Supplies: Cotton balls, pom poms, and New Year's Eve party hats
How to Play:
Give one player a bag of cotton balls
or pom poms
and give the other player (from the same team) a New Year's Eve party hat.
For the game, player 1 must stand behind player 2 and toss cotton balls or pom poms over player 2's head. Player 2 must try to catch the pom poms without turning around and looking back and their teammate, just by stretching and reaching to catch the poms.
First team to catch five first wins.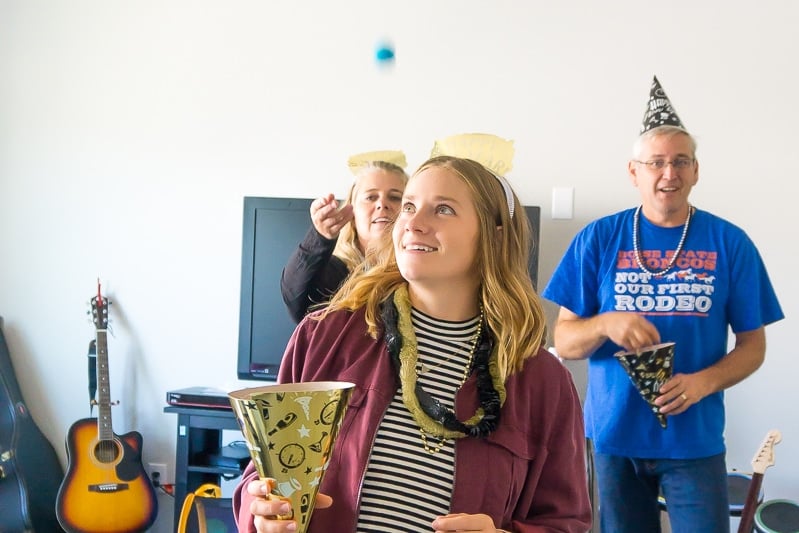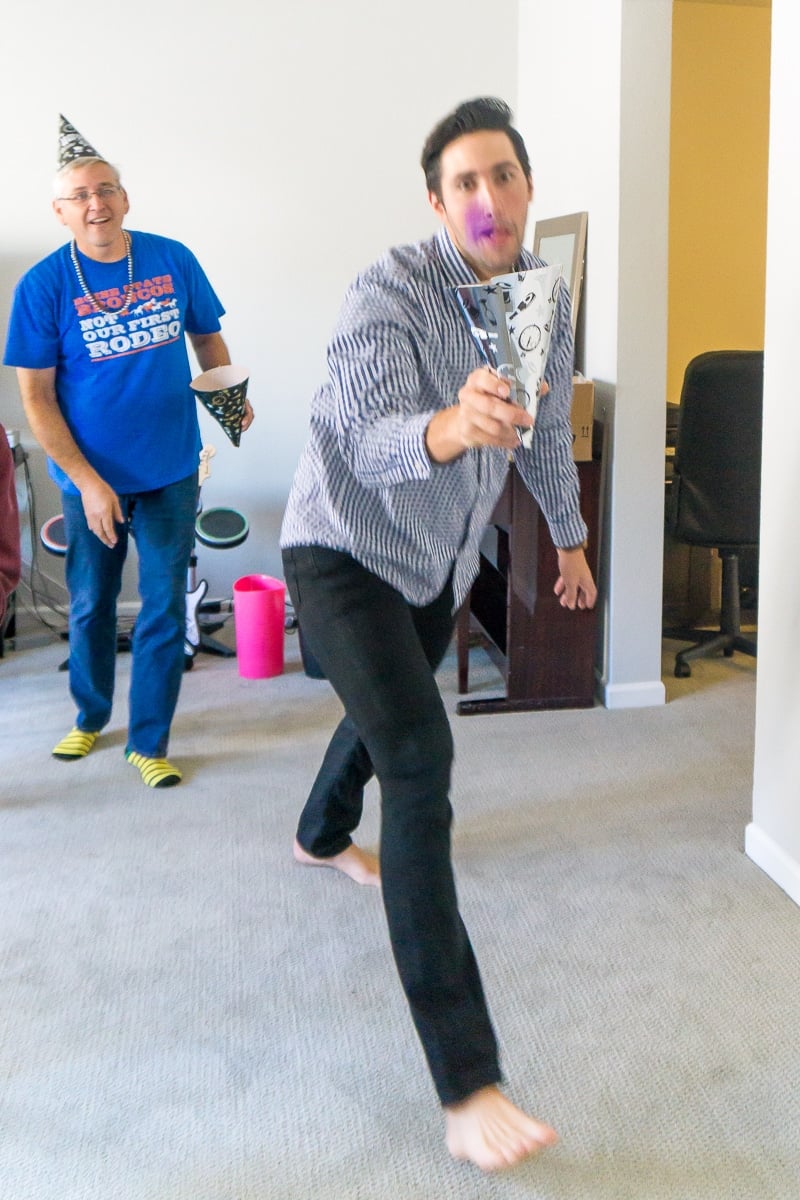 #2 – Sort Through 2022
Supplies: Write a bunch of 2s in three different colors so you have three sets of 2s, for example a bunch of blue 2s a bunch of of red 2s, and a bunch of purple 2s. Do the same with the number 0 – choosing a different color so say green 0s.
How to Play:
Put all of the numbers in a large bowl. Put the bowl with the numbers in the middle of a table. Put four smaller bowls at the four corners of the table if it's a large table or put them in four places around the room. Assign each bowl a number and a color – e.g., blue 2, red 2, purple 2, green 0.
Player must sort the numbers in the large bowl into the smaller bowl within the time limit selecting only one number at a time and they MUST sort the number they selected (can't put it back to do all the blue 2s, etc.).
#3 – Pop the Confetti
Supplies: Five balloons, confetti/sprinkes/Fruity Pebbles, and heavy winter gloves
How to Play:
Fill five balloons with confetti
, sprinkles
, or Fruity Pebbles
per team/player.
Player must pop all five balloons in the allotted time using just their hands (so no teeth, feet, bum, etc.) while wearing heavy winter gloves
. You can see this game in action in my kids New Year's Eve party here!
#4 – Tiara Toss
Supplies: Weighted champagne glasses, New Year's Eve tiaras
How to Play:
Setup traffic cones, poles, weighted champagne glasses
, or anything else that you could use to toss a ring around.
Give a player three New Year's Eve tiaras
and have them stand behind a line you create with masking tape.
Players have to toss tiaras from behind the line to try and ring the tiara around the cone or stick. Player must ring three tiaras in the time.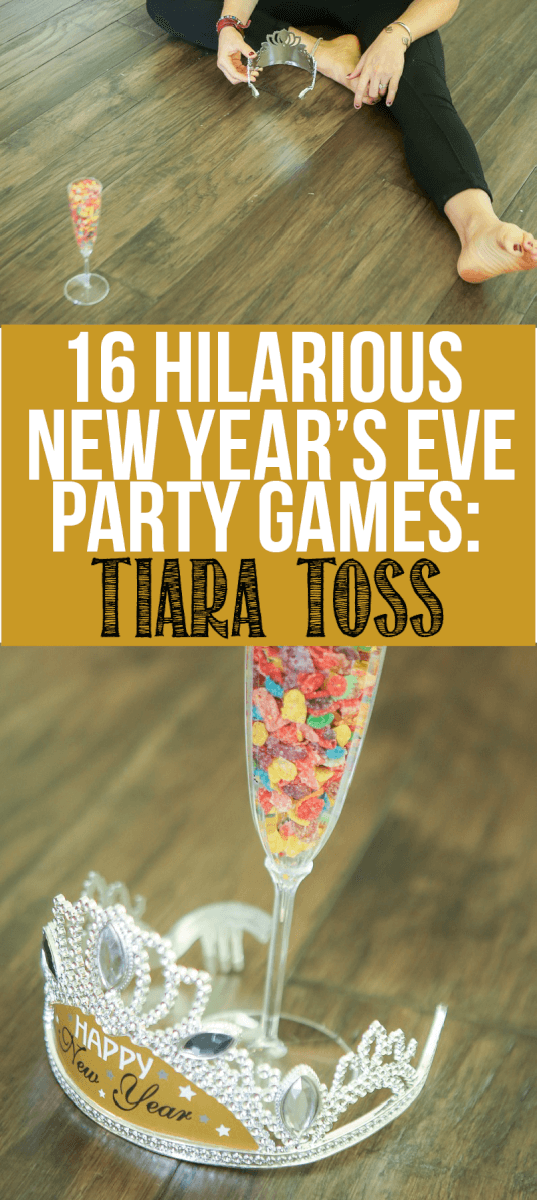 #5 – Name that Celebrity
Supplies: Index cards with names of celebrities who were in the news a lot
How to Play:
Write down a list of celebrities who were in the news a lot during the year. If you're stuck, check out these New Year's Eve trivia games and just grab the names from each of the games.
Player must put that celebrity's name on their forehead like the game Heads Up
and their team must give them clues (no names) to get them to guess the celebrity on their forehead. Once they've guessed the celebrity, they can move on.
Player must guess five celebrities correctly in the minute or whoever can get the most correct in a minute.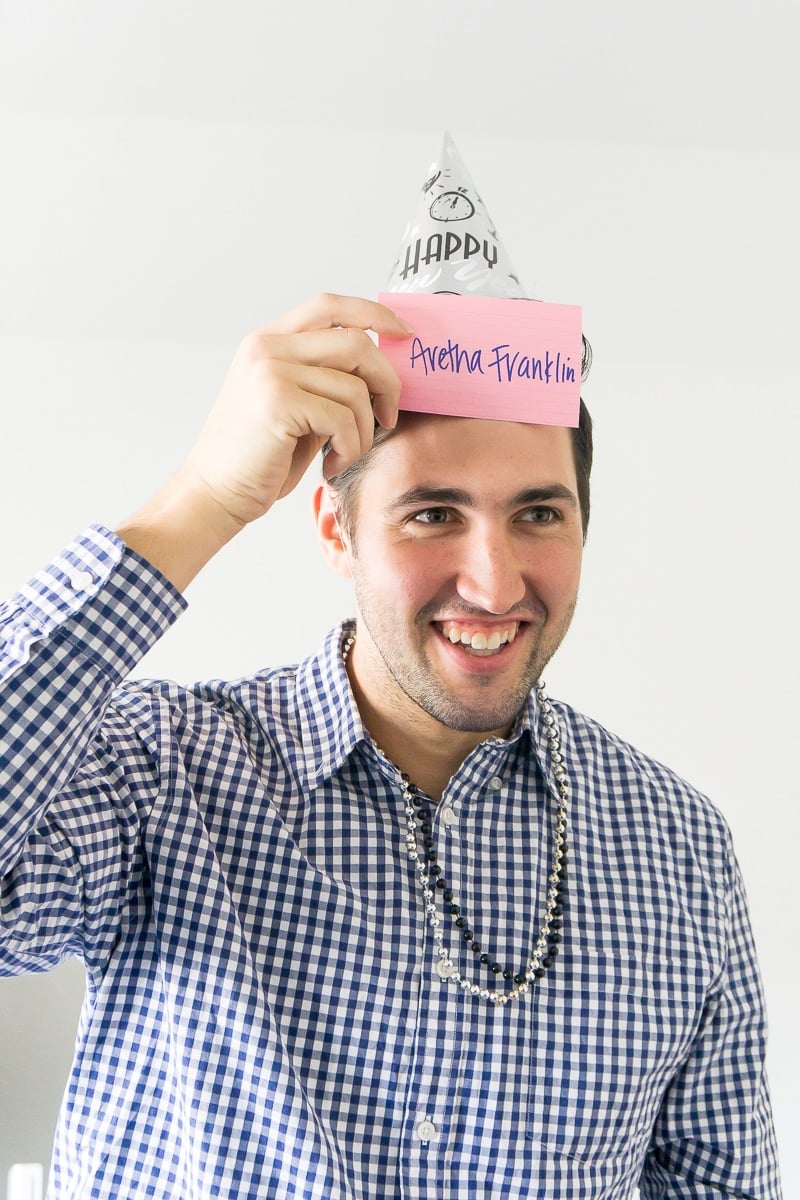 #6 – Ball Drop
Supplies: Ping pong balls, buckets, chairs
How to Play:
Player must stand a on chair and attempt to drop ping pong balls
into a bowl (or cup) on the ground behind the chair. Player must successfully land three ping pong balls into the cup (without it bouncing out) before the time expires.
#7 – Midnight Kiss
Supplies: Chocolate kisses, stickers or tape with the word 12:00 on them.
How to Play:
Before the party, write out 12:00 (or midnight) on five small slips of paper and tape those slips of paper on the bottom of five chocolate kisses
. For this game, lay out 50 chocolate kisses, including the five with the 12:00 on the bottom, on a table with the bottoms facing down.
Player must go through and select one kiss at a time, trying to find one with a 12:00 on the bottom. If it has a 12:00, they are done. If it doesn't have a 12:00, player must eat the chocolate kiss before choosing another.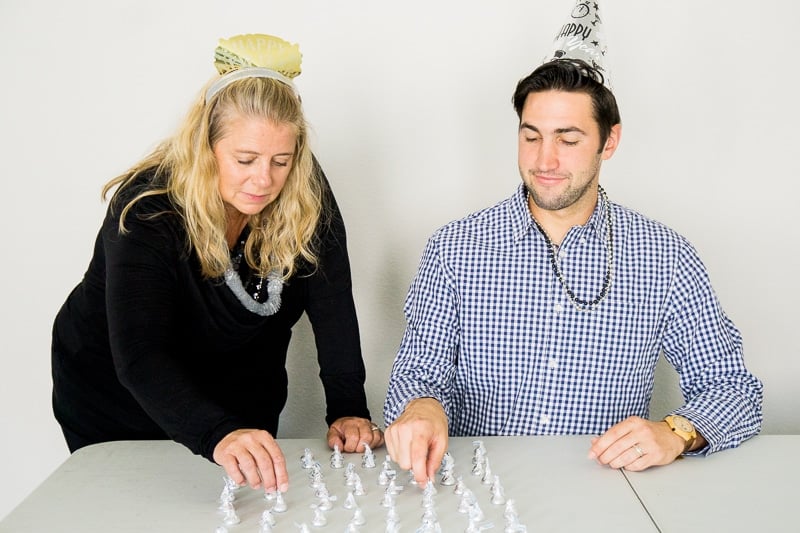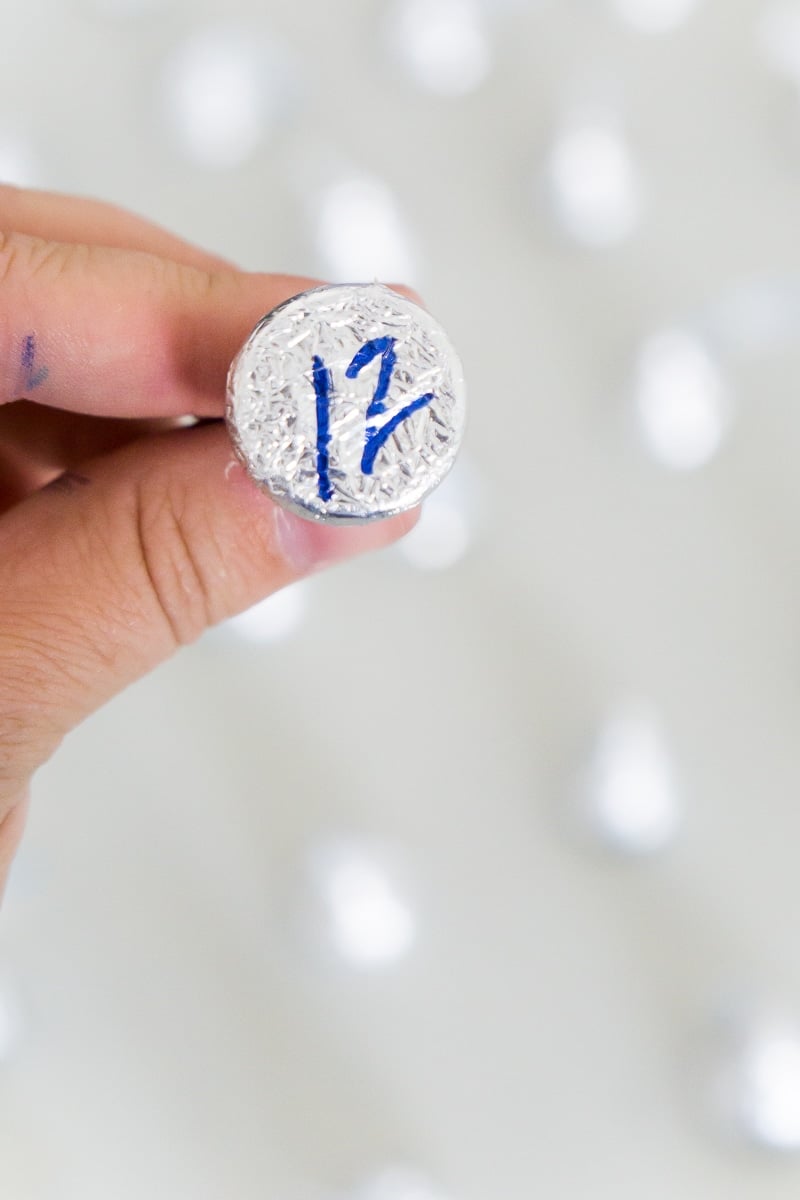 #8 – Keep Up Your Resolution (1 player)
Supplies: Balloons, slips of paper with typical resolutions written on them
How to Play:
Blow up three balloons
per player and write a typical resolution on each of the balloons (e.g., lose weight, work less, meal plan, etc.). Player must keep the three balloons in the air for the full minute to win or time how long they keep them up and the person who keeps them up the longest wins.
This game works best in a large space if you're playing with multiple people at once or have one player play at once. If you're going to have multiple people play at once, I recommend using different colors.
#9 – New Year's Eve Countdown
Supplies: Boxes, jingle bells
How to Play:
Fill up 10 boxes with jingle bells
, 10 in one, 9 in one, 8 in one, and so on so every box has a different number of jingle bells in it. Player must shake the boxes and put the boxes in countdown order (10 to 1) based on how many bells they think are in the box – 10 on the left and 1 on the right. Player must finish ordering in a minute and get it correct to win.
If you are playing with multiple teams, first player to get the correct order in the fastest time wins. This game works best with gift boxes
or other boxes that have tops you can just take off so you can reuse them again and again.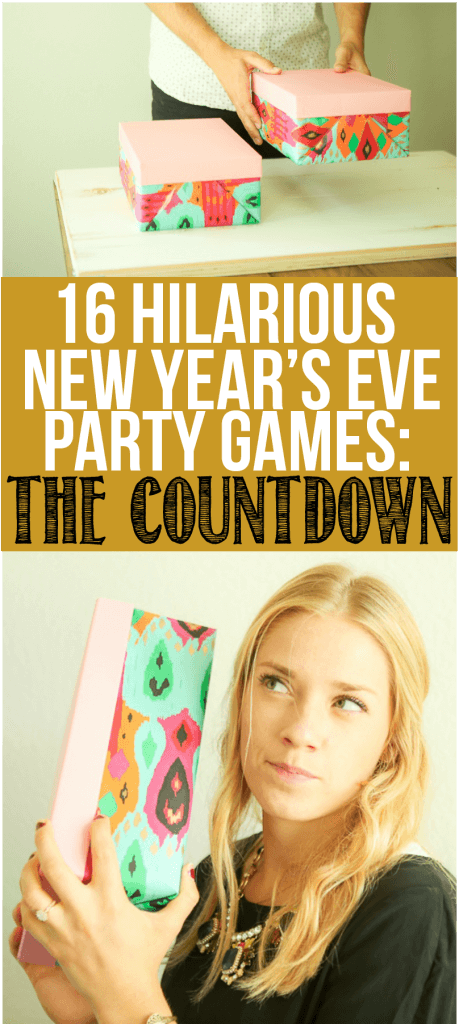 #10 – Reflection Race
Supplies: Items to set up an obstacle course and large hand held mirrors
How to Play:
Set up an obstacle course of objects like cones, toys, confetti poppers, etc. on the ground from one line to another. Player must scoot themselves on a towel from the start line to the finish line going around the objects and then back from the finish to the start line to complete the challenge.
But wait, it's not that easy. Instead of going forward, player must hold a handheld mirror
and scoot backward using just what they see in their mirror reflection to move.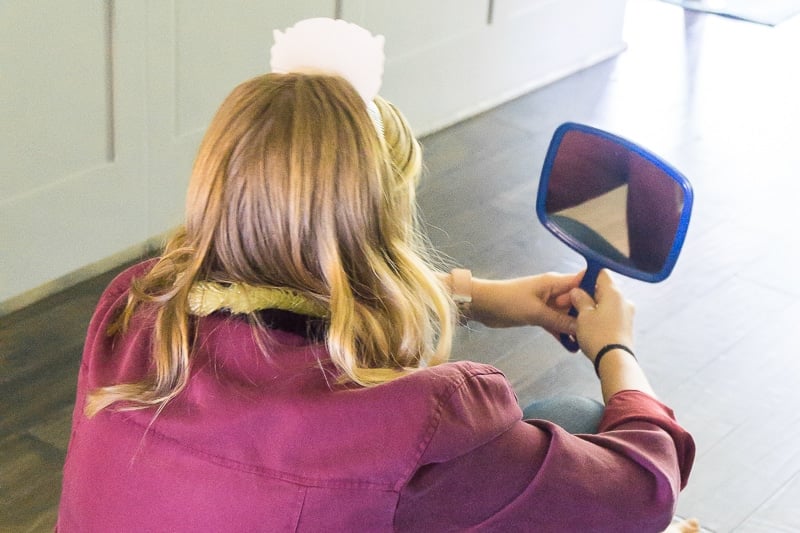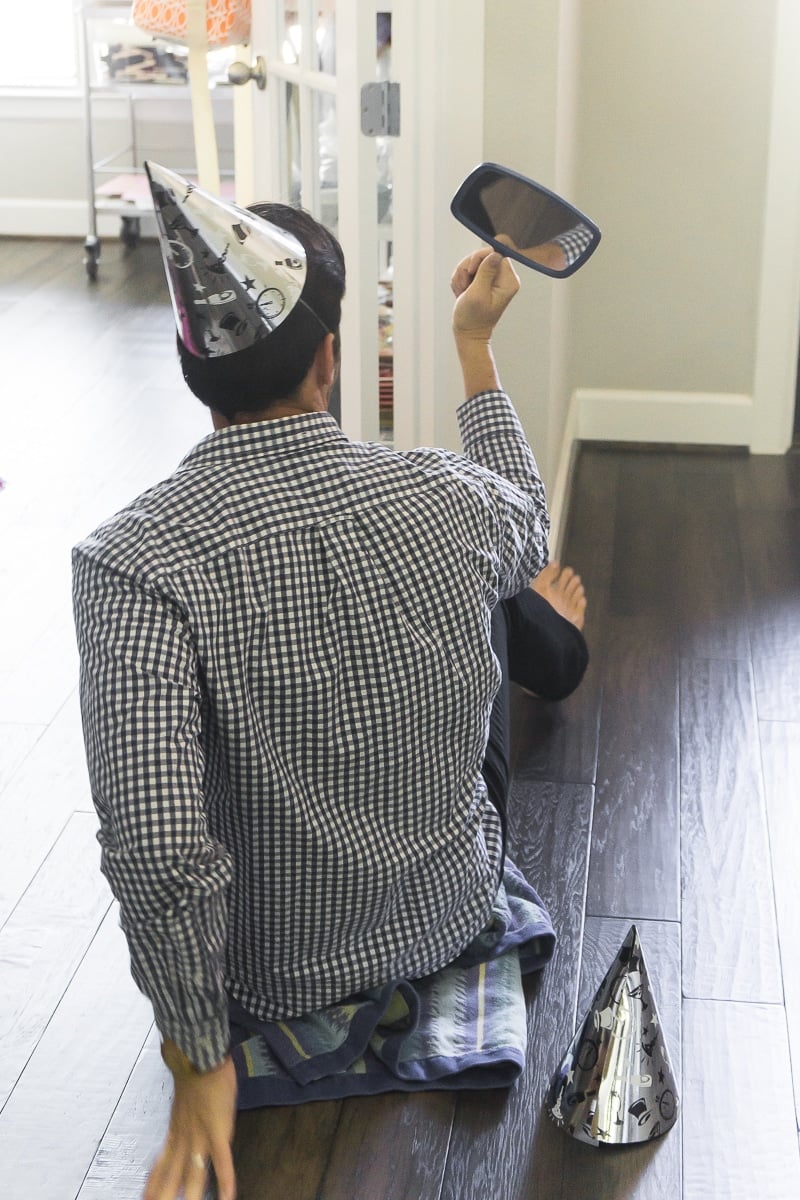 #11 – The Sands of Time
Supplies: Buckets, sand, plastic letters
How to Play:
Player must search through a large bucket
of sand
to find letters to spell out Auld Lang Syne before the time runs out (or the quickest). Plastic letters
like these ones would be perfect.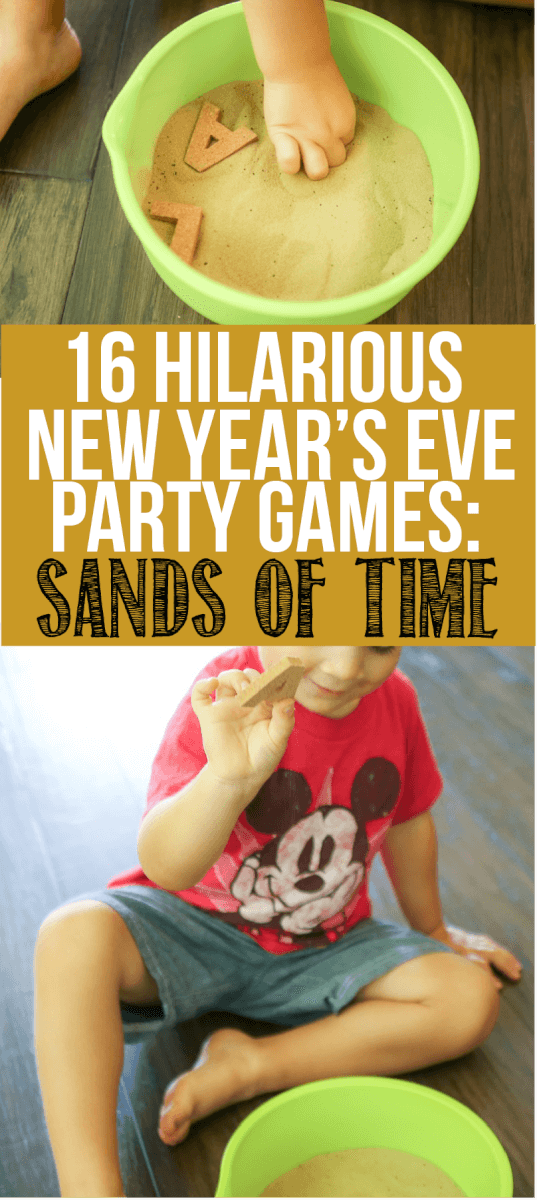 #12 – Hats Off
Supplies: Party hats, ping pong balls, a table
How to Play:
Put party hats
like these ones on a pedestal or table. Player must bounce (they have to bounce, not roll or throw) ping pong balls
at the table and attempt to knock off all the party hats before the time runs out. Use party hats that are nice and light.
#13 – Toast to Toast (2 players)
Supplies: Bouncy balls, plastic champagne glasses
How to Play:
Have two players from the same team stand on one end of the room and have a bucket on the other end of the room. Give each of the two players a champagne glass
(plastic ones like you might use for some non-alcoholic New Years punch work fine) and give one player a ping pong ball. Or if you'd rather use champagne glasses, you can use small bouncy balls
like this instead.
Players must stand facing one another (can stand as far apart as they'd like) and must make their way from the starting line to the end line by passing the ping pong ball from one person to the other, tossing it (NOT dumping it into the other person's glass) from one glass and catching it in the other glass.
(No hands allowed except for holding the glass). Players can move as much as they'd like down the path each play but if the ball drops at any point, the team must start over.
#14 – Black Eyed Pea Blow
Supplies: New Year's Eve noisemakers, black-eyed peas, table
How to Play:
Player must use just a New Year's Eve noisemaker
to blow a dried black eyed pea from one end of a table to the other. First person to knock off their black eyed pea wins.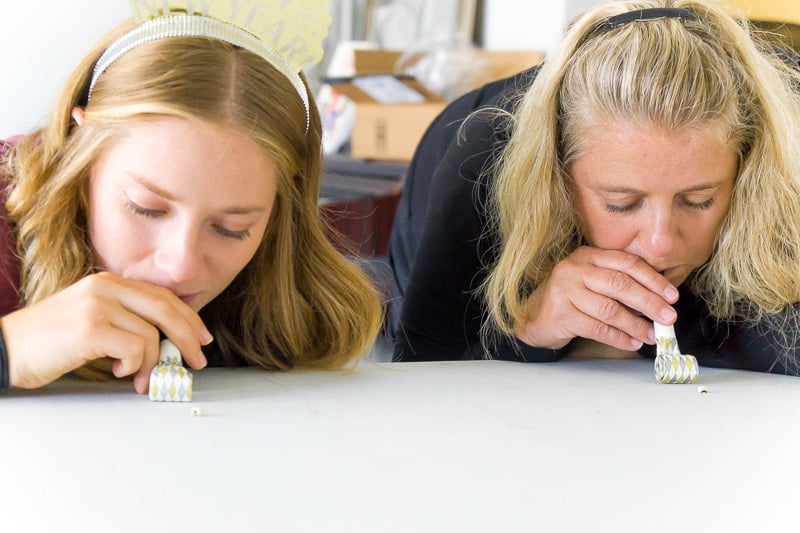 #15 – Face the Future Cookie
Supplies: Cookies
How to Play:
Player puts a cookie
on their forehead and to win the game, must move the cookie from their forehead to their mouth without using their hands. If a player drops the cookie on the ground, pick it up and try again. If the cookie breaks, get a new cookie and start over.
#16 – A Shakin' New Year's Eve
Supplies: Empty tissues boxes, ping pong balls, and panty hose
How to Play:
Attach an empty tissue box (the long rectangle ones like this work best) to panty hose that you can attach to someone's waist. Fill tissue box with ping pong balls
and tie around someone's waist (with Kleenex box opening facing out). Similar to the shake your tail feather in this Thanksgiving games post (there's a video there too!)
Player must shake their booty to get all of the ping pong balls out before the time runs out.
More New Year's Eve Games
If you like these fun minute to win it games, make sure to check out these other fun New Year's Eve games!