These ring in the new years party ideas are perfect whether you're planning to celebrate all night long or do a kid-friendly party earlier in the day! Simply serve ring-shaped foods, give out noisemakers that ring, and decorate with a ring shaped background so the best way to ring in the new year!
I received free products from Oriental Trading Company for this post. All ideas and opinions are 100% honest and my own. This post also contains affiliate links. If you purchase via these links, I may receive a small commission at no additional cost to you.
One of my favorite nights of the year is New Year's Eve! There's just something about saying goodbye to the year and hello to the new one that makes me happy.
This year I thought it would be fun to do a New Year's Eve party all about celebrating the coming year!
So I went with a Ring in the New Year theme – complete with all sorts of ring-shaped food items, an awesome 2020 ring background, ring in the new year favors, and of course New Year's Eve games!
Keep reading to see all of the ring inspired fun!
Ring in the New Year Dessert Table
There's no set rule on when to start a New Year's Eve party, but I typically like to do them a little later – like after dinner time, so you only have to serve appetizers. Or just desserts!
For this New Year's Eve party, I put together a cute ring themed dessert table complete with a 2020 that I made by gluing these ring toss rings onto this 2020 cupcake stand just without the stand part.
It took me like ten minutes to make and makes a huge impact on the table! I stuck with the colorful theme by adding some colorful leis like these ones and a paper tassel garland to the front of the table.
And a little DIY cake topper that said 2020 on top of the bundt cake.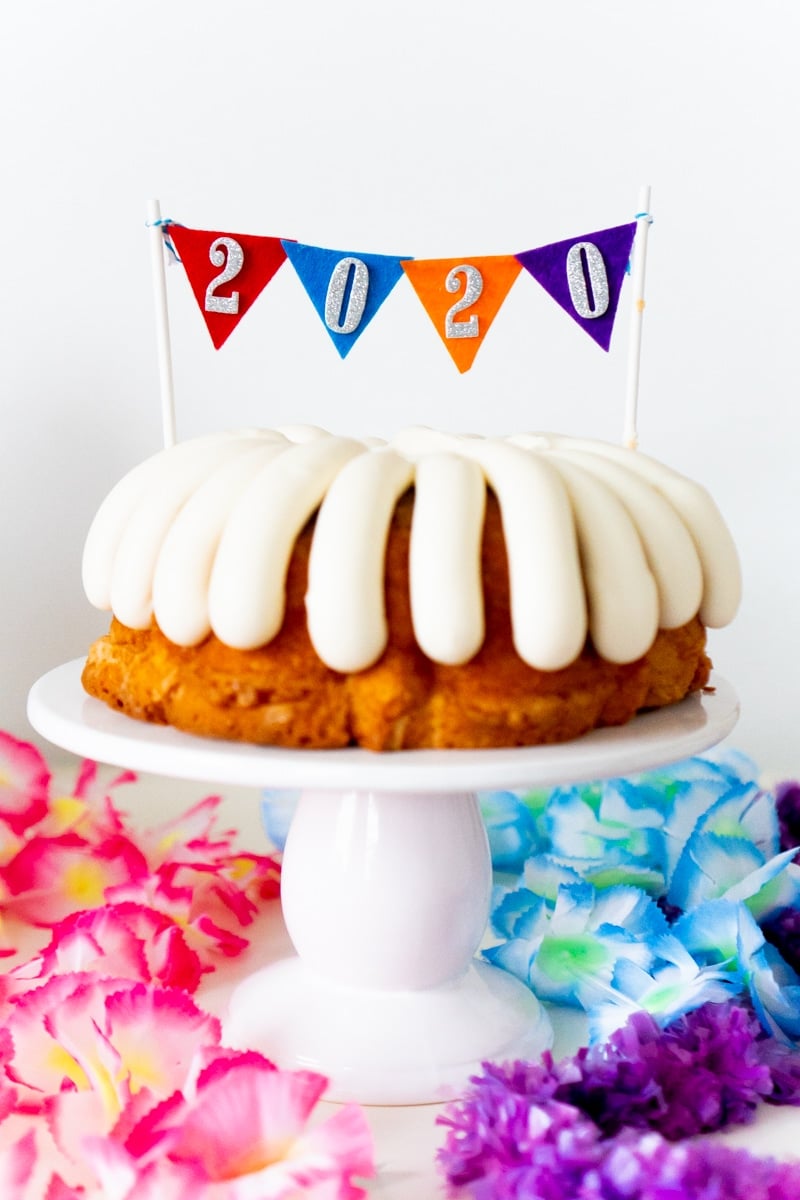 On the actual dessert table, I did a bunch of ring-shaped food (full list below) as well as some cupcakes and mini bundt cakes with ring pops and jawbreaker rings on top.
And after seeing this donut stand, I knew I had to include a couple of different kinds of donuts!
It's amazing how easy it is to put a dessert table together when you have a theme. I literally just walked around the grocery store and looked for ring-shaped items and found enough for my table within minutes!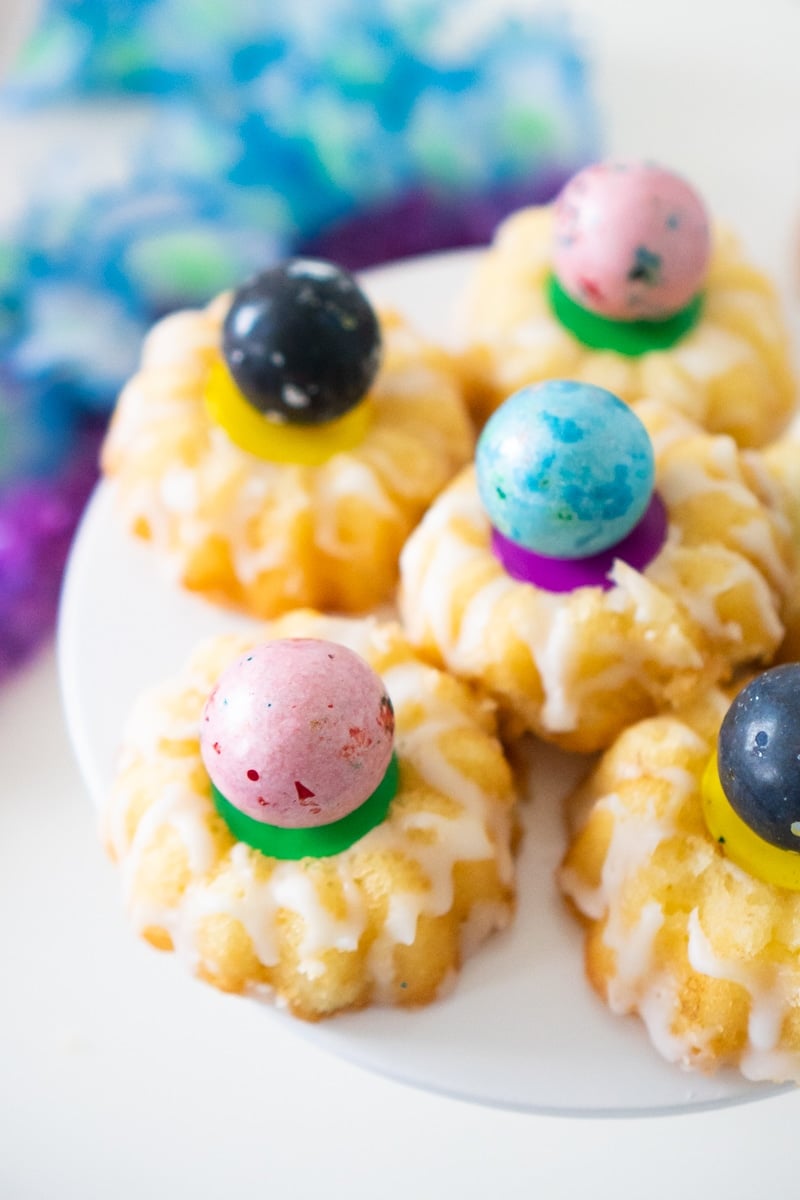 Ring-Shaped Foods
Donuts (can do all different kinds) – this donut stand is great for serving a variety of donuts or any other ring-shaped items
Bagels (cinnamon sugar if you're doing dessert, anything else if you're doing savory)
Fudge striped cookies
Coconut cookies like these
Bundt cakes – I did a large one and a bunch of mini ones
Angel food cakes
Fruit rings – apples and pineapple rings work well
Candy rings – ring pops or these jawbreaker rings work really well
Ring in the New Year's Games
You all know I loved my games! One of my favorite things to do every year is New Year's Eve trivia games. I thought it'd be fun to combine my love of trivia games and the ring theme in one fun game called "Who can ring in first?"
Who Can Ring in First Game
The goal of the game is to be the first person to ring in when a correct answer is called.
Supplies Needed:
Ring in the First cards (get the printables toward the bottom of this post)
How to Play:
Split your group into two teams and have them either stand or sit on opposite sides of the room. Put the bell in the middle of the room on a table or other surface, making sure it's as close to the middle as possible.
When you're ready to play, pick one of the who can ring in first cards from the pile. Read the category on the top of the card making sure both teams can here.
Then read the items on the card – in any order. Don't always go from top to bottom, just read them in any random order, pausing for a few seconds before reading the next item on the list.
When someone hears an answer on the card that matches the category (e.g., Lady Gaga for Actors Who Won an Oscar), they must run to the bell and ring it.
If they ring it on a correct answer, they earn one point for their team. If they ring it on an incorrect answer, they do not score any points for their team and they must sit out for the remainder of the question AND for the next question.
To keep track, I recommend having them sit in a designated "out" location while they're out, kind of like the penalty box in hockey.
If they choose an incorrect answer, you still continue reading the rest of the answers on the card until someone guesses a correct one and earns a point for their team.
How to Win:
Read a set number of cards and whichever team has the most points at the end of the game wins.
Other Ring Themed Games
Here are some other fun activities that you could do at a ring in the new year party!
Ring in the New Year Favors
I did two different types of favors for this party – one for people to use during the party and one for people to take home.
The first was a "things that ring" bucket for every family that came. For typical New Year's Eve parties, you give people noisemakers to use to celebrate the new year at midnight.
So I filled these plastic tumblers with things that ring (aka noisemakers), added a printable label, and voila – a fun favor they can take home and use during the party! The perfect New Years party ideas to go with this theme!
There are so many different things that you could put into a things that ring bucket, but mine included:
I also did little bell favors using these clear bell ornaments for people to take home after the party that said "thanks for helping us ring in the new year." You can get the free printable for the favors by scrolling down in this post!
I filled in the clear bell ornaments with three different colors of gummy rings, but you could totally fill them with any sort of ring shaped treat like lifesavers, candy bracelets, or anything else from the list above!
Download the Ring in the New Year Printables
Want any of the printables shown in this post? Enter your first name and email address below to get a PDF file that will include:
Thanks for coming to ring in the new year favor tags (cut out with a 2″ circle punch)
Things that ring labels
Who can ring in first game cards (print double-sided)
I recommend printing all on white card stock for durability! If you do not see the form below, click here to get to it.
Other New Years Party Ideas
Don't forget to pin these ring in the new year party ideas for later!