This broccoli cheese chicken casserole with Ritz crackers is one of the easiest weeknight dinner recipes and one of my favorites! It's one part creamy, one part crunch, and absolutely delicious!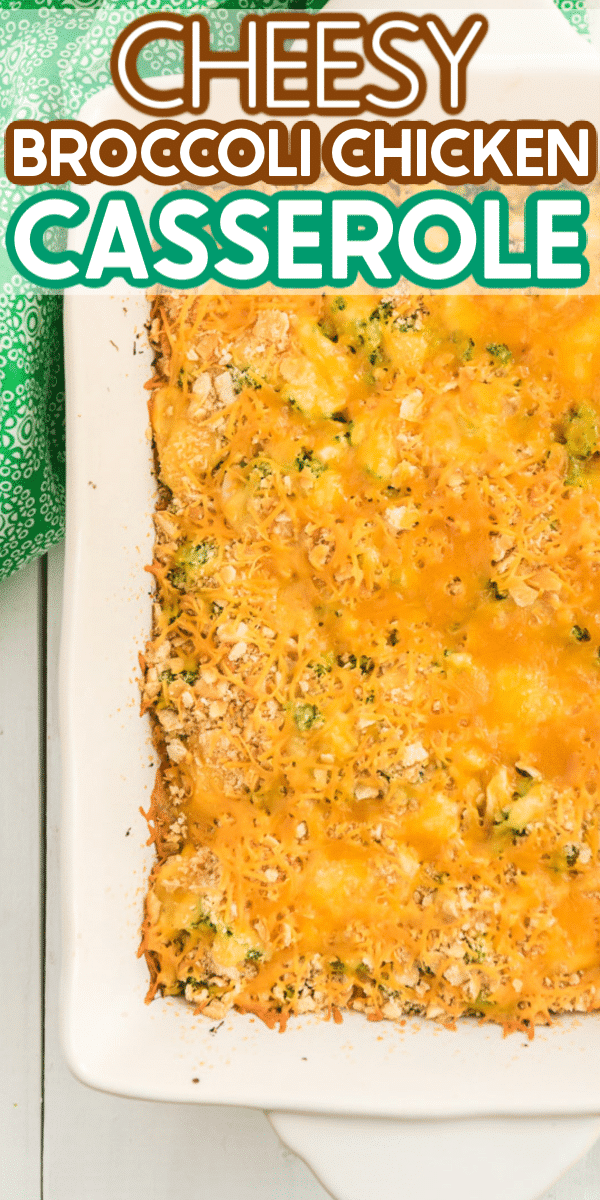 Easy Chicken Casserole with Ritz Crackers
I have a confession to make. I have a terrible memory when it comes to my childhood. I seriously don't remember anything that happened before I was in high school unless it's associated with a song in some way, or I've seen pictures of something that happened.
It's a terrible problem to have, especially when my family starts talking about, "oh remember this," and I have no recollection of it whatsoever.
There are very few things that I remember my mom cooking when I was growing up, not because she didn't cook, but because I just don't remember them. One of those things is pizza loaf and still my favorite meal to this day. One of the others is this broccoli cheese chicken casserole that we had probably once a week.
I love it so much that I even made these broccoli cheese bites that are pretty much the same thing (minus the chicken) in small bite form.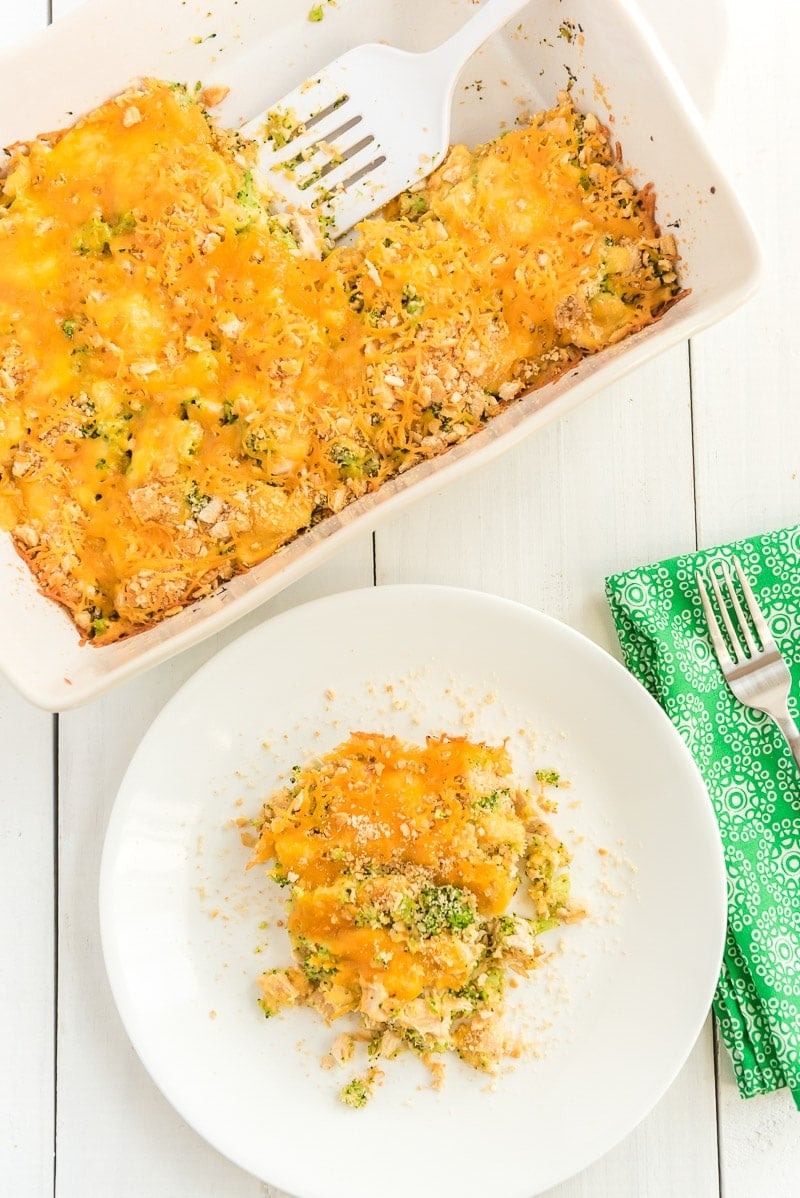 The original that my mom made when we were growing up used Velveeta Cheese, but we've moved past that in our house so I changed it up and made a cheese sauce for it instead!
One of the things I love most about this casserole is that it's everything you need in one meal – protein, veggies, and dairy. Plus the crunch of the Ritz crackers on top just makes it fun and yummy to eat!
Broccoli Cheese Ritz Chicken Casserole Ingredients
You really don't need much for this recipe and honestly you probably have all of it at home already if your family is anything like mine! It's perfect for a day when you're trying to clear out your pantry/fridge and only have a few items left. Here's everything you need!
Butter – we prefer Kerrygold grass-fed butter but any real butter will work
Flour – All-purpose flour
Salt + pepper
Paprika – you can use either regular or smoked paprika, really doesn't matter
Milk
Shredded cheddar cheese – we typically shred our own from a block but you could totally buy pre-shredded as well
Broccoli – frozen or fresh works – just chop it up and steam before adding it to the casserole
Chicken breasts – cooked and diced. Make it even easier by buying this Perdue Farms diced chicken so you just need to cook it. Buy it using this link and get an extra 15% off your order + a pack of free diced chicken breasts!
Ritz crackers – this is a Ritz chicken casserole after all. You could skip these but they're kind of a big deal in this casserole.
How to Make Chicken Casserole with Ritz Crackers
Once you've prepped your ingredients, this casserole is super easy to make. Make sure to read the recipe card at the very end for precise ingredients, timings, etc.
1 – Make the cheese sauce.
Make a roux by melting the butter over low heat. Add the flour, salt, and pepper until well combined.
Then add in your milk and bring it to a boil.
Finally, add the shredded cheese and stir it all up until you get a good creamy cheese sauce.
P.s. this cheese sauce would also be really good on these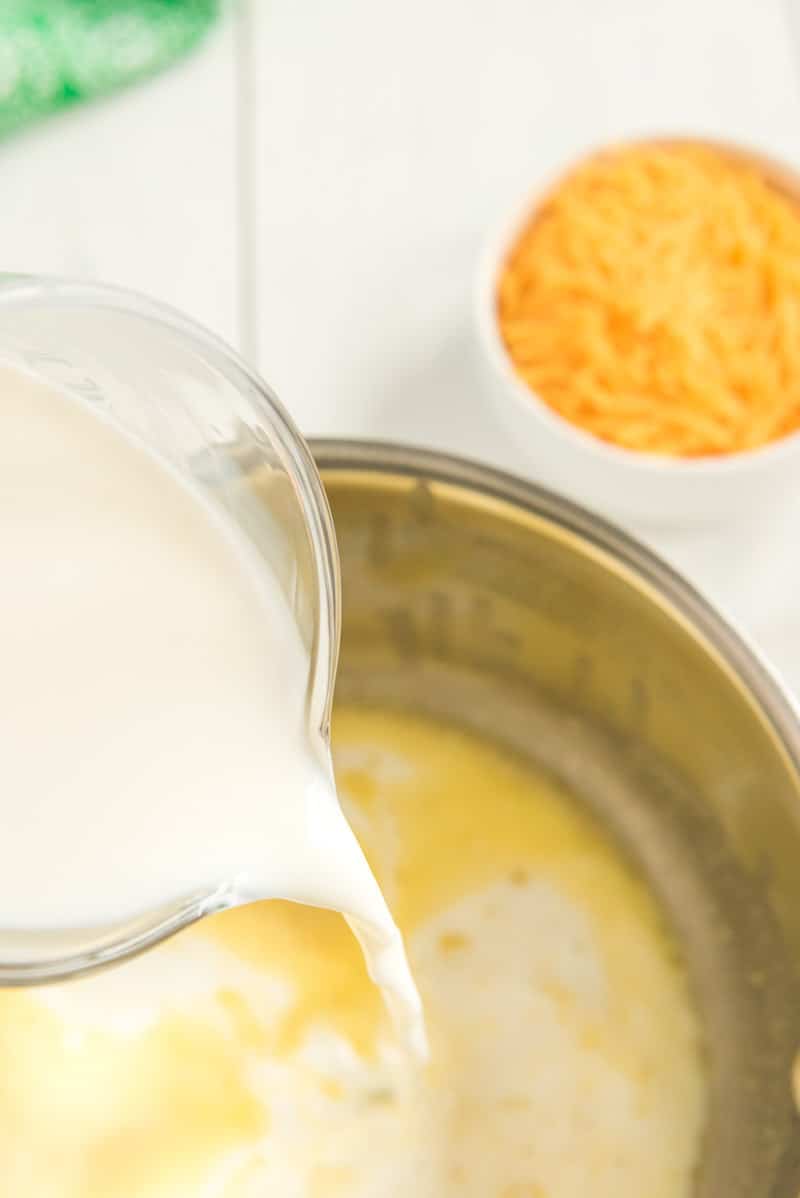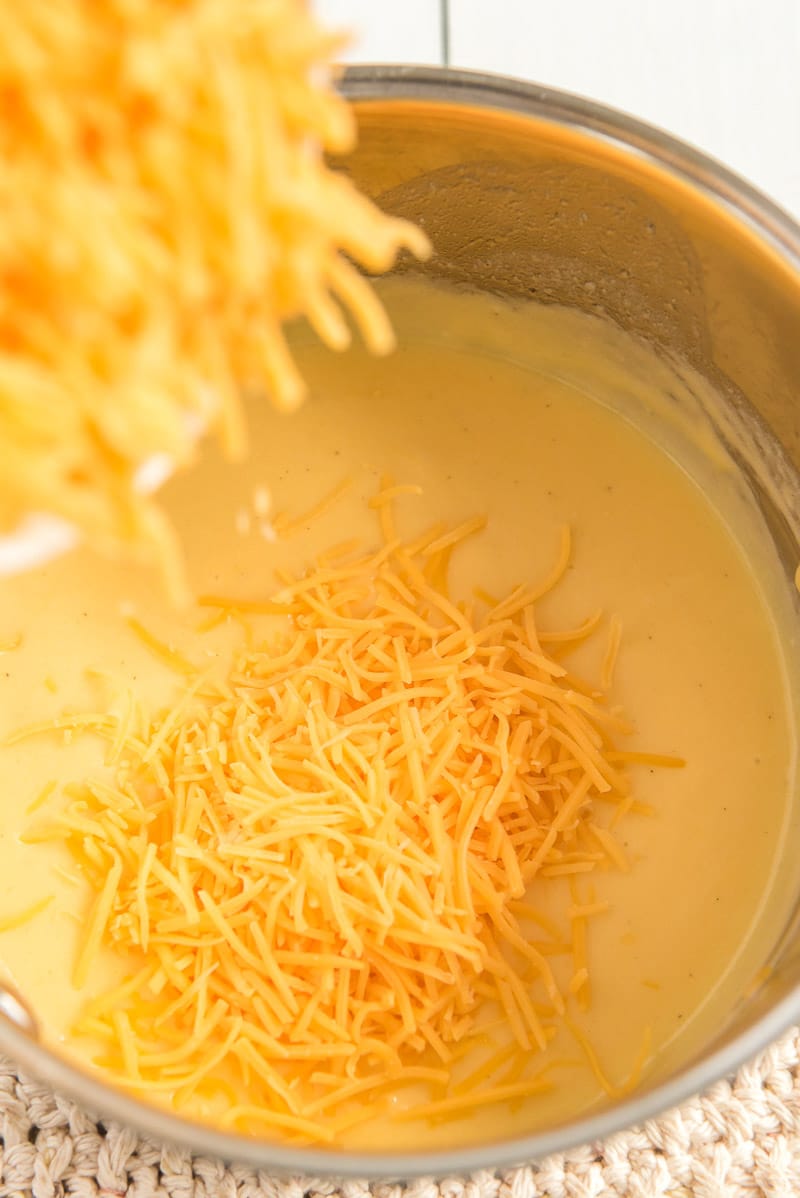 2 – Add half the chicken and broccoli in casserole dish.
Layer your cooked chicken and steamed broccoli in a non-stick 9×13 casserole dish. I prefer using glass but you could use whatever.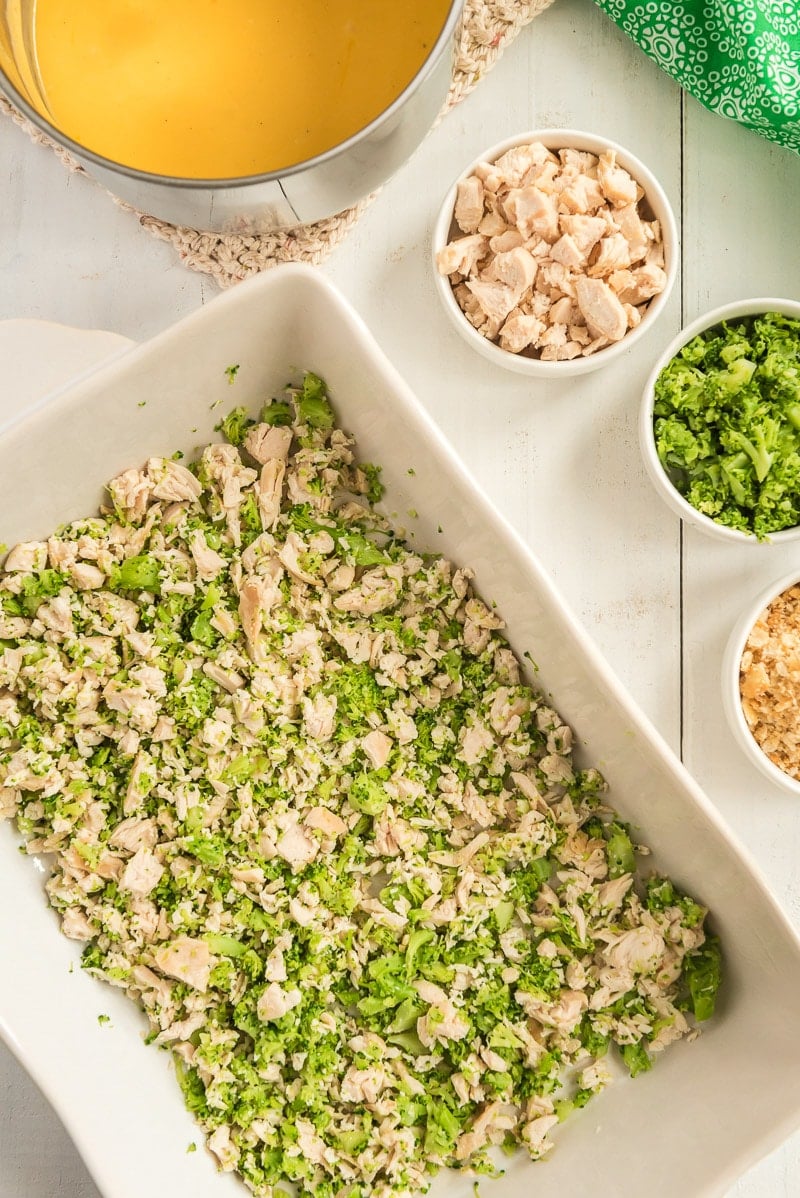 3 – Top with cheese sauce and crackers.
Top with half of your cheese sauce then half of your Ritz crackers.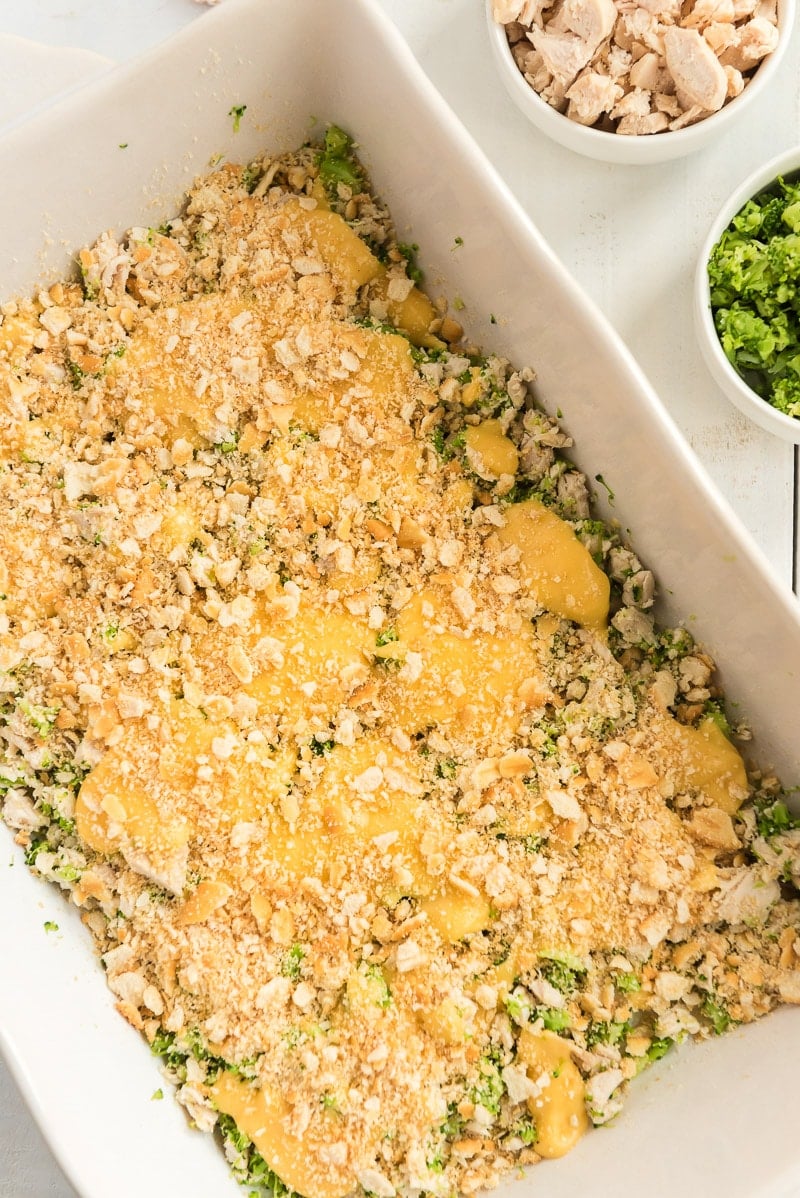 4 – Repeat.
Kind of like a lasagna, repeat the same thing with the other half of your ingredients. Chicken + broccoli topped with cheese sauce and finally Ritz crackers.
5 – Finish with a layer of cheese and butter.
Top with a final layer of shredded cheese then some melted butter.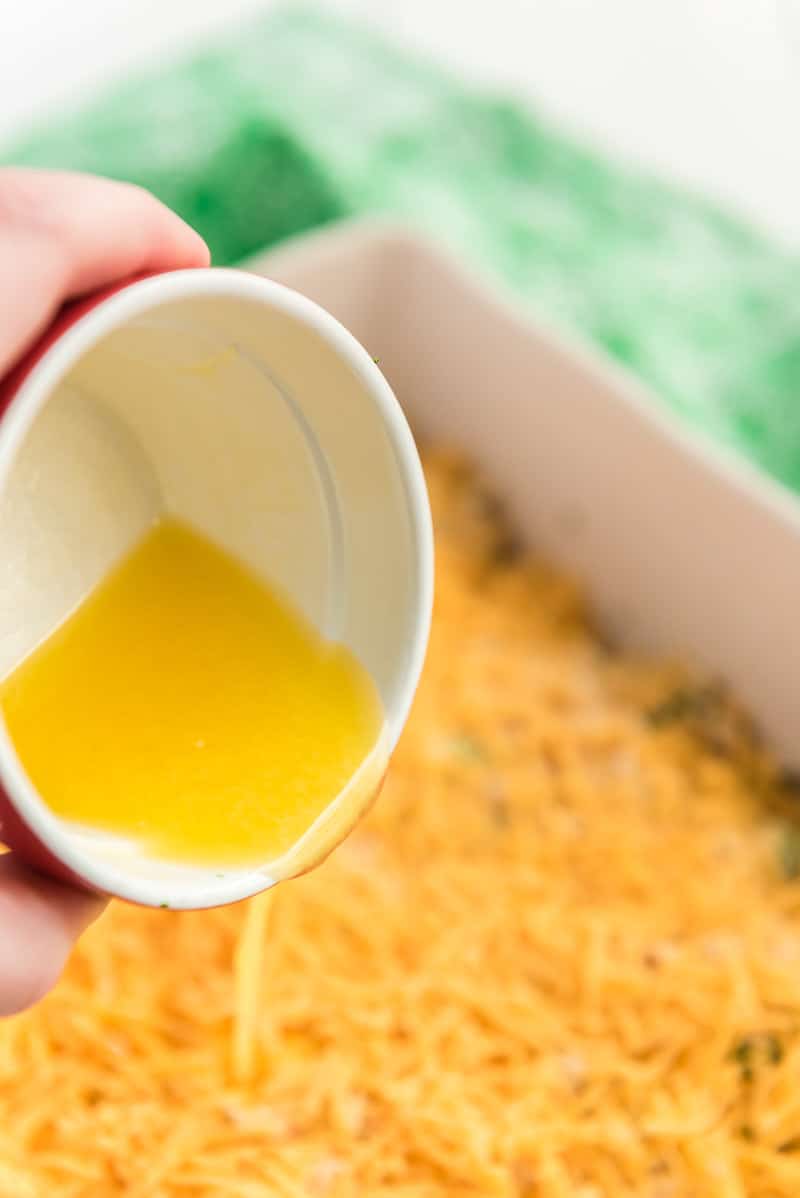 6 – Bake then serve.
Bake in the oven until everything is heated and melted together. Serve right out of the oven warm.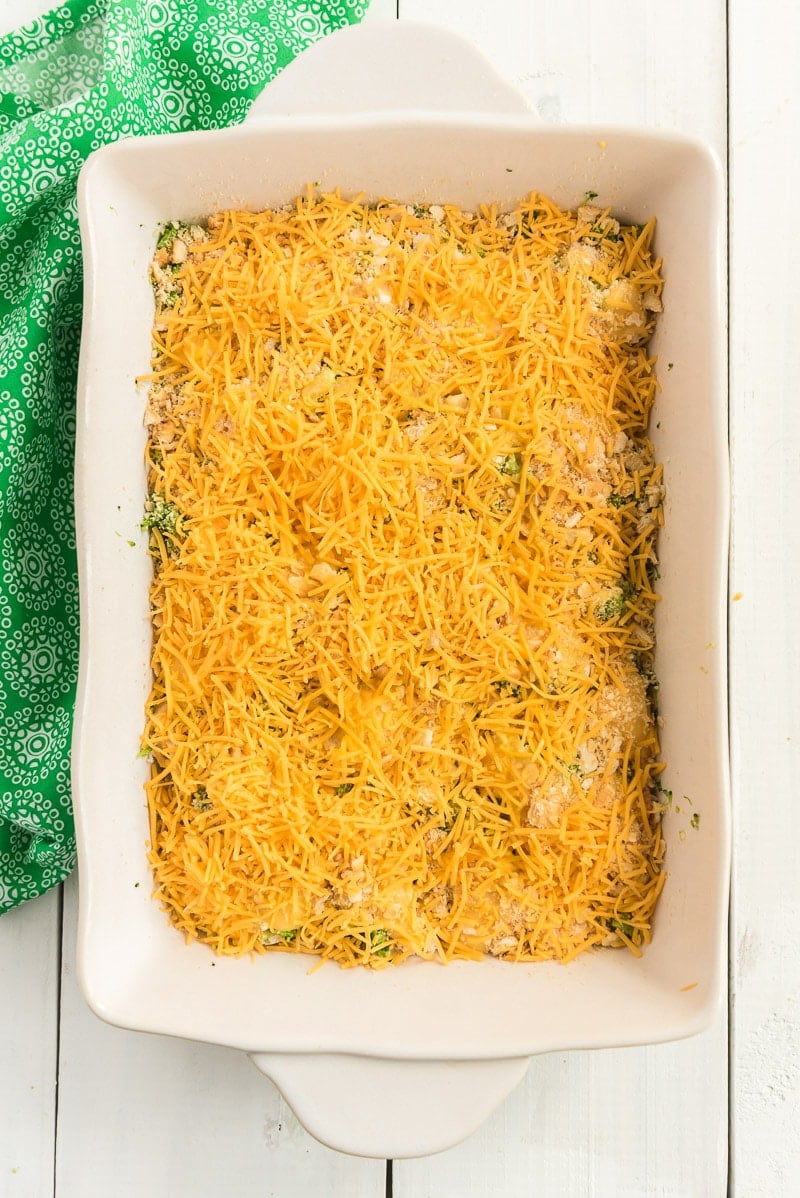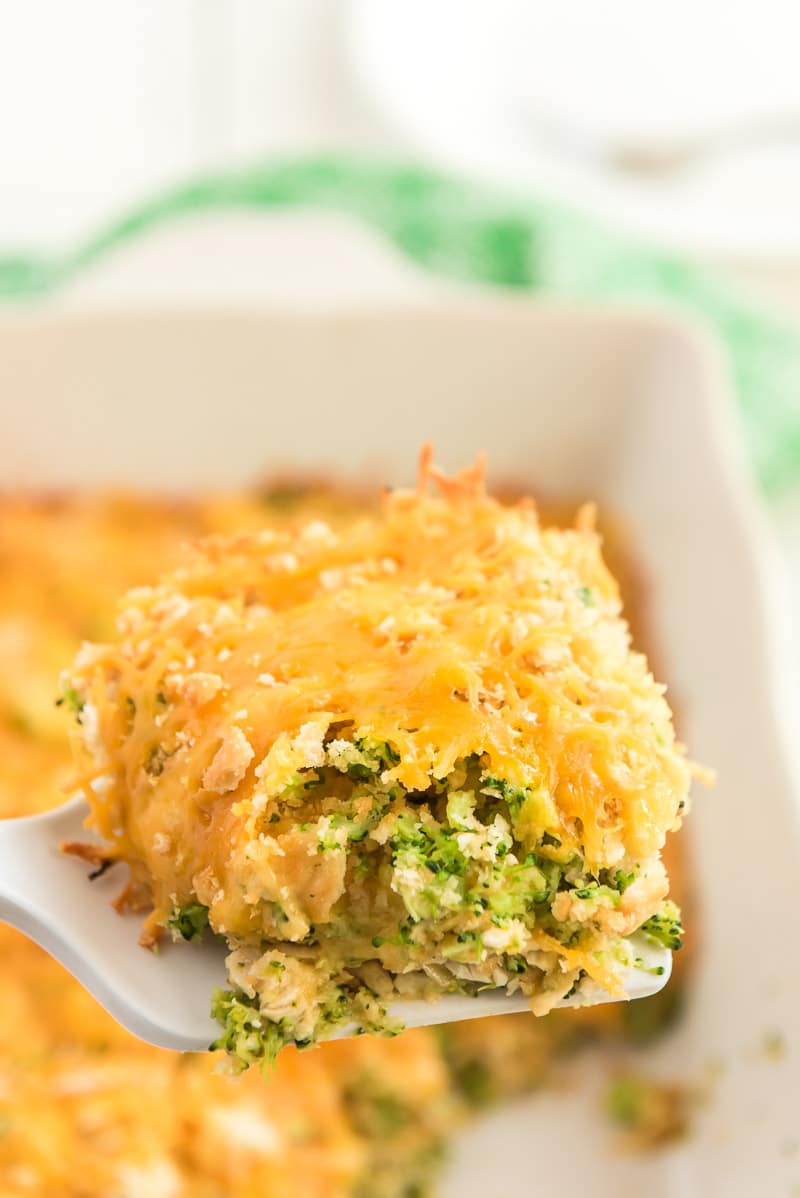 Broccoli Chicken Casserole with Ritz Crackers
This broccoli cheese chicken casserole with Ritz crackers is one of the easiest weeknight dinner recipes and one of my favorites! It's one part creamy, one part crunch, and absolutely delicious!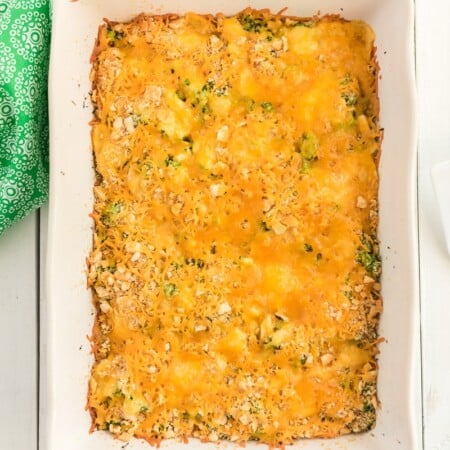 Ingredients
Cheese Sauce
2 TBS butter
1 TBS flour
¼ tsp salt
¼ tsp pepper
1 sprinkle paprika
1 cup milk
1 ½ cups shredded cheddar cheese
Make Casserole
16 oz boneless skinless chicken breasts cooked and cubed
2 cups fresh broccoli steamed and chopped
½ cup shredded cheddar cheese
1 sleeve Ritz crackers , crushed to large crumbs either in a ziploc bag or food processor
Instructions
Make Cheese Sauce
Melt 1 TBs butter in saucepan over low heat. Once bubbly, add flour, salt, pepper, and paprika. Stir until combined.

Cook over low heat for one minute then add in milk and stir. Heat until mixture is boiling, stirring continually.

Once milk boils, boil for another minute before adding 1 1/2 cups shredded cheese. S

Stir until completely melted and remove from heat.
Casserole
Spray large casserole dish all over with non-stick spray.

Add half of your broccoli and half of your chicken into the prepared casserole dish. Mix together into one single layer.

Top chicken and broccoli layer with half of your cheese sauce, making sure to cover the entire chicken layer with cheese.

Sprinkle half of your cracker crumbs over the cheese layer.

Repeat so you have two "layers" of casserole, like a lasagna.

Top final layer with the other 1/2 cup of shredded cheese.

Melt the other 1 tablespoon of butter in the microwave and pour over the top of the casserole.

Bake casserole at 350 degrees for 25-30 minutes or until the top cheese is melted and the cracker crumbs are browned (but not burnt).
Nutrition Info
Calories: 387kcal, Carbohydrates: 5g, Protein: 25g, Fat: 29g, Saturated Fat: 14g, Cholesterol: 110mg, Sodium: 347mg, Potassium: 329mg, Sugar: 2g, Vitamin A: 855IU, Vitamin C: 28.3mg, Calcium: 340mg, Iron: 1.2mg
More Easy Chicken Recipes
Don't forget to pin this broccoli chicken casserole with Ritz crackers for later!