This paleo almond chicken recipe is gluten-free and perfect for someone looking to try something new. It's simply my favorite almond chicken recipe out there! It's also one of the best Whole 30 chicken recipes and even works for Keto. The outside of the almond chicken is crunchy while the inside is moist and delicious! 

The Best Paleo Almond Chicken
I love chicken tenders, chicken wings, chicken nuggets, and pretty much any other chicken that's been coated in something crunchy. There are two different ways you can make this recipe – one that's a paleo almond chicken and one that's just regular almond chicken. They're both equally delicious and really the paleo version is just omitting the breadcrumbs from the breaded version!
The thing that makes this almond chicken so good is that the almonds on the outside are super crunchy while the inside gets perfectly moist! We love to pair it with a fresh salad or roasted veggies. And it makes a regular occurrence when we eat Keto or use this Whole 30 meal plan!
I have yet to meet someone who tried this recipe and didn't love it. It's a family favorite too –  even kids will love this take on chicken nuggets!
So You Want Regular Almond Chicken (Not Paleo)?
This almond chicken recipe actually started out as a regular almond chicken recipe – not paleo. If you want to do a full breading, add a 1/4 cup of bread crumbs to the mixture. But I'll be honest, the paleo version is just as good! You don't even miss the breadcrumbs, and I'm normally all about the breading.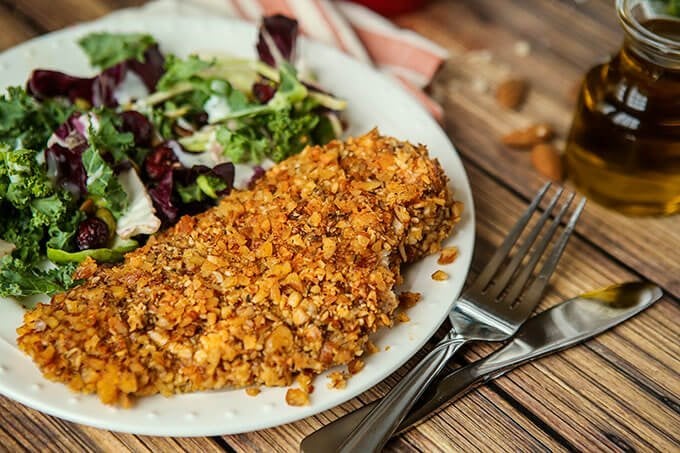 What to Eat with This Almond Chicken
Since you can't just eat almond chicken by itself, here are some great sides that would pair well with this paleo almond chicken. You could always go with something basic like this strawberry spinach salad or one of these other delicious sides!
How to Make This Almond Chicken
There are three keys to making this almond chicken super crunchy and delicious! Don't skip this step if you want it to really be the best almond chicken ever.
First, you want to crush the almonds and spices in a food processor until they're small but not totally pulverized. You want small chunks of almonds, not ground almond powder. Using a food processor has always given me the most consistent sizing in the coating but if you had to, you could also just use a mallet and smash them up or something as well, but I recommend the food processor.
Second, after the almond coating is on the chicken, pat it down with your hand. This will seal the coating to the chicken and keeps it from falling off. It also helps the flavors of the spices to soak into the chicken.
Finally, add that drizzle of oil before baking the chicken. Again, it's not going to make or break the chicken, but it will give an added layer of crispiness to the chicken and just help the coating brown perfectly.
Want to see how easy it is to make this almond chicken? There's a video below with step by step instructions. It really is as simple as it seems!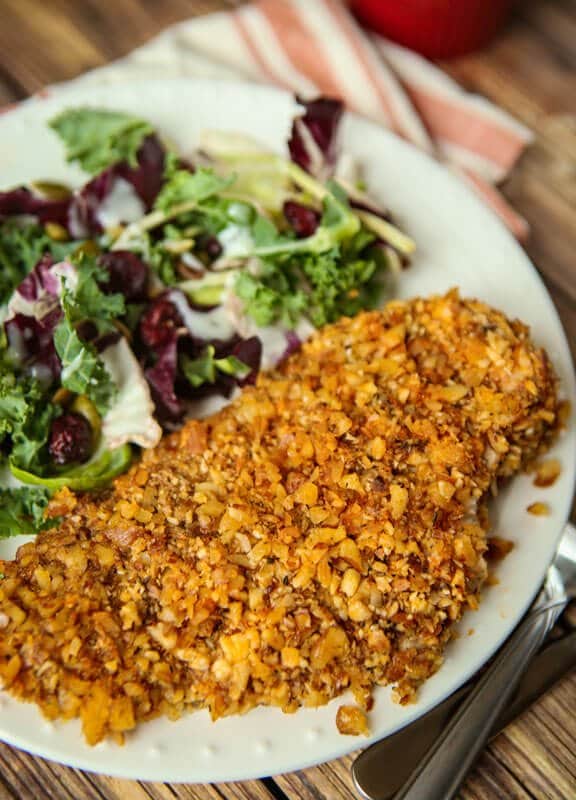 Other Paleo Chicken Recipes:
If you're a big chicken lover like me, these other paleo chicken recipes should be added to your meal plan along with this almond chicken recipe!
Paleo Almond Chicken Recipe
Ingredients
3/4-1

cup

almonds

, depending on the size of the chicken

1

tsp

garlic powder

1/2

tsp

paprika

1/2

tsp

dried oregano

1/2

tsp

dried thyme

1/2

tsp

salt

1

egg

, beaten

4

chicken breast halves

4 small or 2 large
Instructions
Preheat oven to 375 degrees F.

Combine the first six ingredients (through the salt) in a food processor. Pulse until the almonds are chopped fairly small.

Pour the almond mixture in a shallow bowl.

Pour the beaten egg egg in a shallow bowl.

Salt the front and back of each piece of chicken.

Working with one piece at a time, dip the chicken in the egg and then coat with the almond mixture making sure to pat the mixture into the chicken.

Place the chicken on a non-stick baking sheet or one lined with parchment paper.

Drizzle olive oil over top of chicken to help make crispy.

Bake for 22-25 minutes and remove from oven.

Let rest for 3 minutes to let juices redistribute

Serve hot.
Recipe Notes
This is the paleo/gluten-free version. If you would like to use gluten, you can substitute 1/4 cup of the almonds with bread crumbs to add a little extra breading to the chicken.
Adapted from Play. Party. Pin.
Don't forget to pin this paleo almond chicken for later. 

More Healthy Recipes
The Best Homemade Taco Meat

The Best Whole 30 and Keto Cauliflower Puree

Paleo Almond Chicken Recipe

Whole 30 Results & 10 Whole 30 Must-Haves

Whole 30 Recipes & Meal Plan: Week 2

Whole 30 Meal Plan: Week 1

Paleo Cincinnati Chili Recipe

Zuppa Toscana Soup Recipe

Balsamic Chicken Recipe and Sweet Kale Salad