This baked lemon chicken recipe can be on the table in under 30 minutes and uses just a few fresh ingredients you can pick up at your local grocery store.
The Greek chicken marinade on these lemon chicken thighs is so flavorful and delicious both kids and adults will love it! Pair it with with lemon potatoes or Greek salad for one easy weeknight meal the whole family will enjoy.
While this post is sponsored by ABSCos, all opinions and ideas are 100% honest and my own.
Easy Baked Lemon Chicken Thighs Recipe
Last year when I was doing Whole 30, we lived on chicken recipes. This baked lemon chicken came about because I just could not handle eating another grilled chicken breast.
I've always loved Greek flavors and this lemon chicken uses a Greek chicken marinade that is simply put, amazing. It'd also be really good on this southwestern chicken salad if you're looking for healthy recipes for dinner!
No more dry grilled chicken breast for me. I could eat this Greek lemon chicken every day for 30 days and still be happy! Really anything that reminds me of my time in Santorini would make my happy!
You can make it with or without the additional toppings like the Greek potatoes but let me tell you – you're going to fall in love and want to make chicken thighs every day of the week!
Lemon Chicken Thighs Ingredients
One of the most important parts of this recipe are the ingredients. You want to make sure the ingredients you're using are high-quality so you get as much flavor in the chicken as possible. We started with some O Organics® Air Chilled Chicken Thighs that I picked up at our local Tom Thumb grocery store.
The air chilled chicken is individually processed with purified air, which gives it 100% more natural flavor than typical chicken thighs. And like I said, you want as much flavor in this Greek chicken as possible! And the air chilling helps to keep the chicken moist even when its skinless!
O Organics Air Chicken chicken isn't just more flavorful, it's also higher in Omega-3 fatty acids and up to 40% lower in dietary cholesterol because of its organic flaxseed-enriched diet! And as a bonus, it's cage free and American Humane Association certified so you can feel good about what you're eating!
In addition to the chicken, you'll need some kalamata olives (it is Greek after all!), capers, fresh lemons, and a handful of spices to make a delicious Greek chicken marinade.
Here's the full list of ingredients, also included in the printable recipe card at the end of this post!
2 TBS olive oil
Juice of one medium lemon (2-3 TBS)
Zest of one medium lemon (about 1 TBS)
2 cloves garlic, minced
2 tsp dried oregano
1/2 tsp dried rosemary
1 tsp dried thyme
1 lb boneless skinless chicken thighs
1/4 cup kalamata olives
1 TBS capers
Kosher salt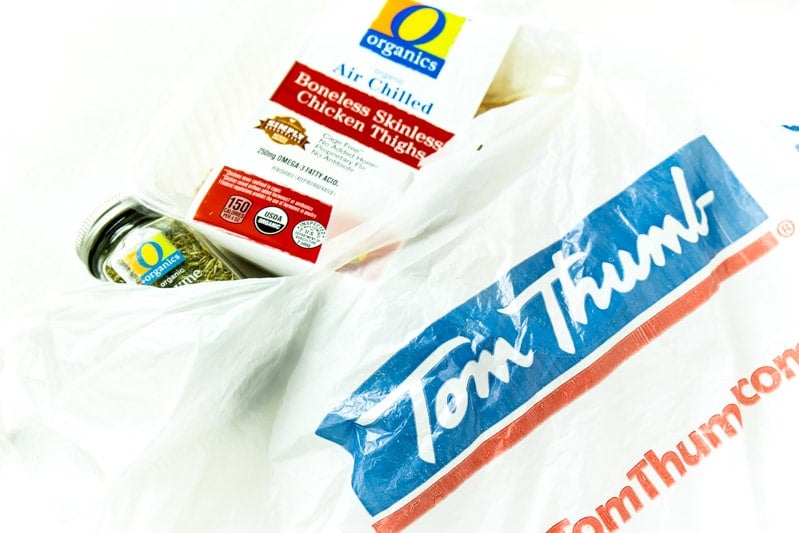 How Do You Make Lemon Chicken?
You make lemon chicken by marinating the chicken in a delicious Greek chicken marinade, flash sautéing the chicken, then finishing it off by baking in the oven. It sounds simple but make sure to read this entire post for tips on how to marinate lemon chicken to get the most flavor in the chicken before baking!
By doing all three things – marinating, sautéing, and baking your chicken, you'll end up with the juiciest and most flavorful chicken thighs possible. Much juicier than say if you were making chicken in this broccoli cheese casserole.
Baked Lemon Chicken Directions
Here's a quick rundown so you can see how easy this really is!
Mix all the ingredients other than chicken and salt in a large bowl until well combined.
Salt each piece of chicken individually.
Place chicken into bowl of marinade and coat with marinate. Allow to marinate for at least 20 minutes.
Saute chicken mixture in pan on the stove over medium-heat.
Bake in the oven at 425 degrees for 15-20 minutes depending on thickness of the chicken.
Enjoy!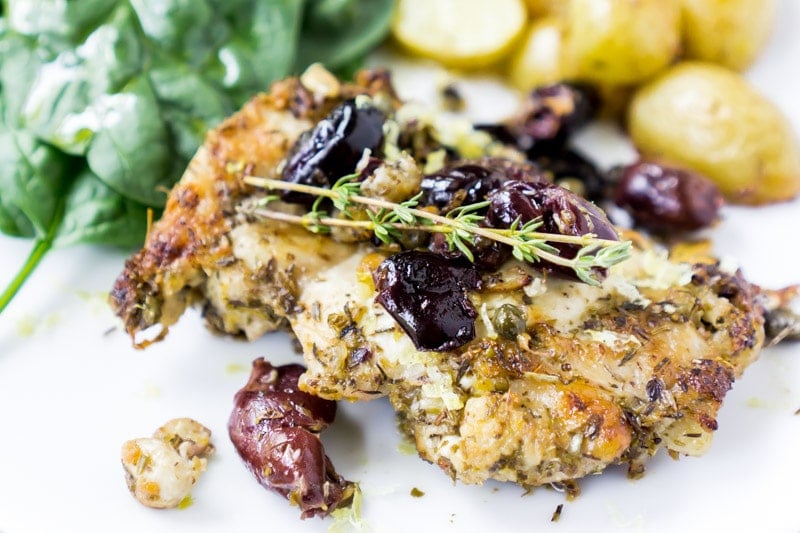 Greek Chicken Marinade
The first step as I mentioned is making your marinade. To do this, simply combine all of your ingredients other than the chicken and the salt together in a bowl. I even like to add in both the olives and the capers to let the chicken soak up their salty flavor while it sits.
Greek Chicken Marinade Ingredients
These are the ingredients you need specifically for the Green chicken marinade – get the measurements in the recipe card at the bottom of this post!
Olive oil
Lemon zest
Lemon juice
Garlic cloves
Dried oregano
Dried rosemary
Dried thyme
Kalamata olives
Capers
How to Marinate Greek Chicken
Before you add the chicken, salt both sides of all of your chicken thighs individually with kosher salt. Doing this rather than adding the salt to the marinade allows you to get salt on every part of the chicken, not unevenly, which often happens in a marinade.
Then place your chicken into the marinade and use your hands to really coat the chicken with the marinade. Coat isn't really the right word – it's more like squeezing and squishing the chicken into the marinade so that it's completely coated and soaked in.
Then let your chicken sit in the Greek chicken marinade for at least 20 minutes and up to overnight. The more time it marinades, the more flavor the chicken will have.
After your chicken has marinated for the appropriate amount of time, you'll be doing a quick (like 3 minutes) pan-fry to get a bit of color on the outside of the thighs before popping them in the oven to bake.
It's very important to use an oven-safe pan when you do the pan-fry so that you can put that same pan directly in the oven to bake. Transferring to another pan can totally change this recipe because you'll be going from a hot pan to a cold one, which could change the cooking length.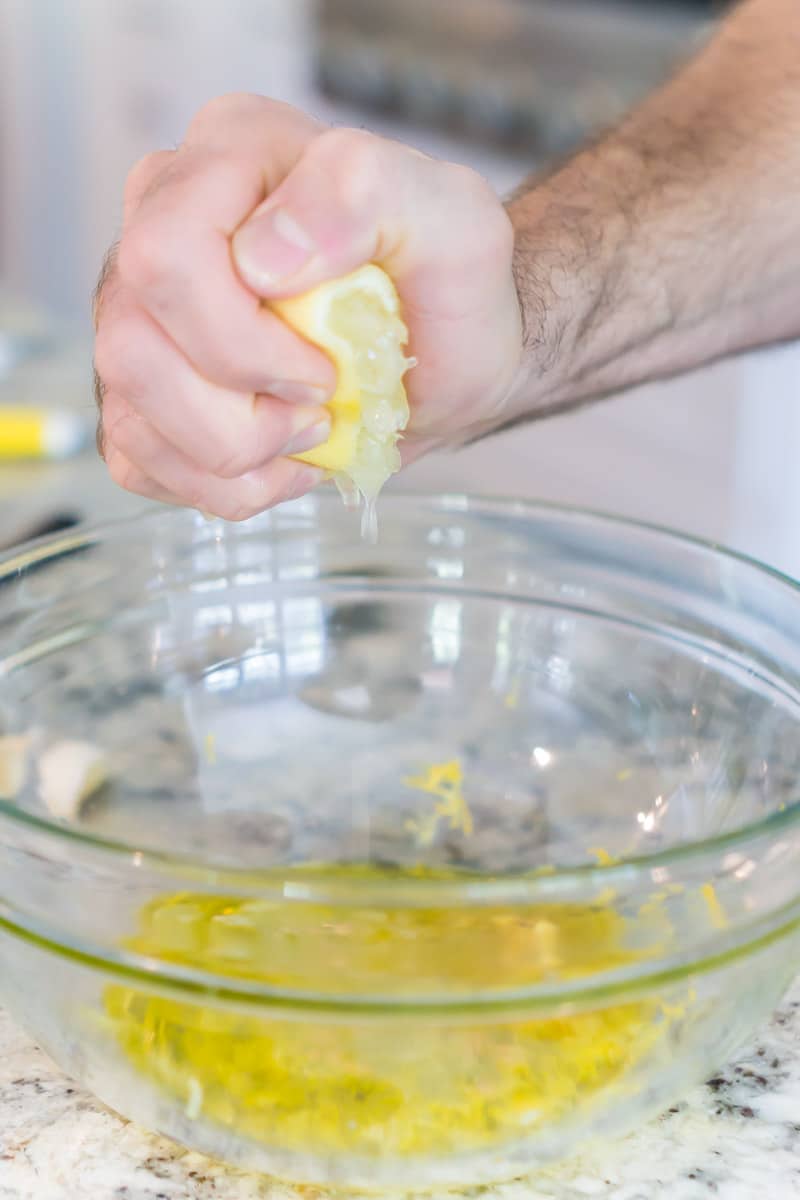 How to Bake Greek Chicken?
You bake Greek chicken thighs in a pre-heated oven at 425 degrees for 15-20 minutes depending on the thickness of the chicken thighs. Ours were fairly thin so we cooked them for 15 minutes but you want to make sure the chicken is cooked through.
Just pop the entire pan in the oven and bake until the outsides are lightly browned and the inside is completely cooked.
What Pairs Well with Lemon Chicken?
Lemon chicken pairs well with Greek lemon potatoes, a fresh salad, or even some plain noodles. Just pair it with something that won't detract from the amazing lemon flavors in the dish but instead will soak up all of the delicious lemon sauce!
And because everything is better with bread, toast up some delicious fresh bread to dip in the remnants of the sauce when you've devoured the chicken. That's pretty much all I was craving when we ate this on our Whole 30 meal plan!
If none of those things work well and you're still wondering what to serve lemon chicken with, try one of these great side dishes:
Lemon Chicken FAQs
I've answered some of the most frequently asked questions about this recipe below. If you have any other questions, feel free to leave me a comment, and I'll answer as quickly as possible!
Can you fry lemon chicken?
No, you cannot fry this lemon chicken recipe. It's designed to be baked – not fried.
Can I freeze lemon chicken?
Yes, you can freeze lemon chicken. Either eat these Greek chicken thighs within 3-4 days or freeze for up to 3 months. They won't be nearly as good reheated, but you can definitely do it. This is also a great recipe to use when you're feeding a crowd because it's so simple!
Is lemon chicken healthy?
Yes, lemon chicken is healthy as the recipe is written, although healthy is a totally subjective term these days. This recipe works for the keto diet, Whole 30, paleo, Weight Watchers, and really pretty much any diet I can name. If you're eating keto, just, skip the lemon potatoes on the side!
Is lemon chicken sweet?
No, lemon chicken is not sweet. This recipe is flavorful but because its using lemon and no sweeteners, it is not sweet.
Is lemon chicken gluten free?
Yes, lemon chicken is gluten free. Or at least this lemon chicken recipe is!
How to make greek chicken and potatoes?
If you want to make potatoes along with your greek lemon chicken, simply add a few chopped and peeled Yukon Gold potatoes in with the marinade then fry and bake along with the chicken. I have the actual recipe coming soon, but that's a good way to get started until I have the full recipe!
Will lemon juice tenderize chicken?
Yes, lemon juice will tenderize chicken in this recipe – that's why we use the lemon juice along with the oil! But beware just because it's tenderized doesn't mean it can't be overcooked, make sure to take it out right when it's cooked through rather than letting it get dry.
Baked Greek Lemon Chicken Recipe
This baked lemon chicken recipe can be on the table in under 30 minutes and uses just a few fresh ingredients you can pick up at your local grocery store.

Ingredients
Marinade
2 TBS olive oil
1 TBS lemon zest zest of one medium lemon
2 TBS lemon juice juice from one medium lemon
2 cloves garlic minced
2 tsp dried oregano
½ tsp dried rosemary
1 tsp dried thyme
¼ cup kalamata olives pitted
1 TBS capers
Chicken
1 lb O Organics® Air Chilled Chicken boneless skinless chicken thighs
kosher salt to taste
Instructions
Marinade
Mix all of the marinade ingredients together until well combined.
Chicken
Salt both sides of each piece of chicken individually.

Add to marinade. Coat with marinade and massage marinade into chicken thighs.

Allow chicken to marinate for at least 20 minutes and up to overnight.

Preheat oven to 425 degrees.

Heat oven safe pan on the stove at medium-high heat.

Add chicken + marinade to hot pan and cook for 3 minutes on one side.

Flip chicken over in pan then immediately place pan in preheated oven.

Bake for 15-20 minutes until chicken is cooked through. Time will depend on thickness of chicken thighs.

Remove from oven and serve warm.
Nutrition Info
Calories: 216kcal, Carbohydrates: 2g, Protein: 22g, Fat: 13g, Saturated Fat: 2g, Cholesterol: 107mg, Sodium: 292mg, Potassium: 277mg, Vitamin A: 60IU, Vitamin C: 5.3mg, Calcium: 30mg, Iron: 1.4mg
Don't forget to pin this Greek lemon chicken recipe for later!