If your kids are into cars or planes, they are going to love these free printable car valentine cards! They're great for kids who like anything that's on the go!
As a boy mom, my house has always been filled with things that go. Cars, trucks, trains, and even airplanes. If it moves, my boys loved it.
I mean I even did a things that go party for my son when he turned two. That was such a long time ago and still one of my favorite parties!
Pretty sure I could give out these valentines to every kid in my son's school with Hot Wheels just from our playroom. So many toy cars it's ridiculous.
And if you aren't doing valentines for friends, these also work great as a stop on this Valentine's day scavenger hunt! I like to put cards and little prizes throughout the hunt to keep the kids surprised.
Car valentine set
This set comes with a car valentine and an airplane valentine. Each comes in two different designs – a white design and a colored design depending on how much ink you want to use.
If you want to see the colored versions, keep reading. I included images of both the white and colored versions toward the bottom of this post.
I always recommend printing these on card stock so that they hold up better, especially since kids will most likely be handling them.
If you need ideas of little toys or trinkets to put with these valentines, I've got you covered! I am kind of an expert in all tiny toys with wheels, or at least I should be at this point.
Car Valentine Gift Ideas
The car valentine is definitely going to be easier since there are SO many different toy cars out there. Here are just a few fun ideas to get you started!
Airplane Valentine Gifts
Airplanes are a really fun one as well, maybe even more fun if I'm being honest! Here are some of my favorite airplane themed items to go with these valentines!
Paper airplanes (or paper with instructions for building their own)
Airplane erasers (I got the ones in the photo below at Target)
More Printable Valentines
We have a ton of different printable valentines on our site! These are some of the most popular options!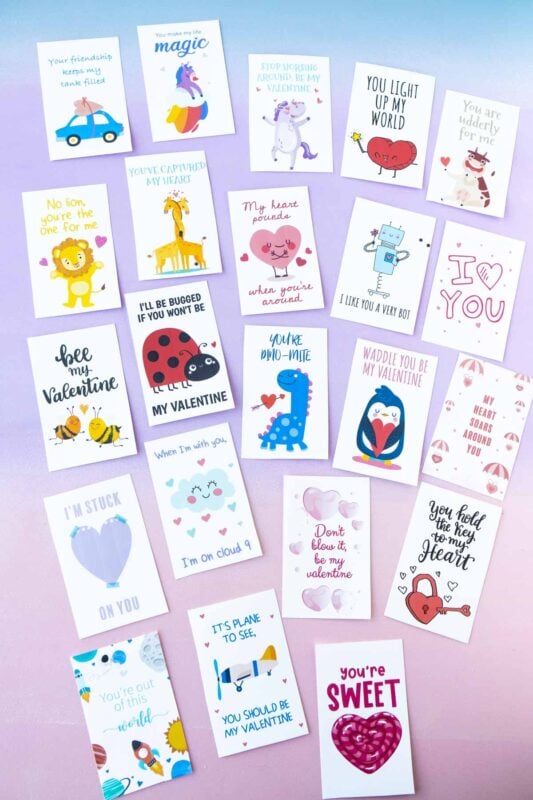 want more Valentines??
Colored Valentine Designs
Each of the valentines will also include a colored design if you'd prefer something colored! Here's what both options will look like!
Download the Printable Car Valentine
Click the button below to download the car valentine PDF. The button should take you directly to it!
If you're having issues getting the files to download, you can get a copy in my shop here.
The file will include:
A set of white car valentines
A set of colored car valentines
A set of white airplane valentines
A set of colored airplane valentines