These free printable Baby Yoda valentines are perfect for any Star Wars fan! With four different adorable designs, these Mandalorian valentines are a fun option for those Star Wars loving kids in your life! Plus, they're possibly the cutest valentines in the entire galaxy!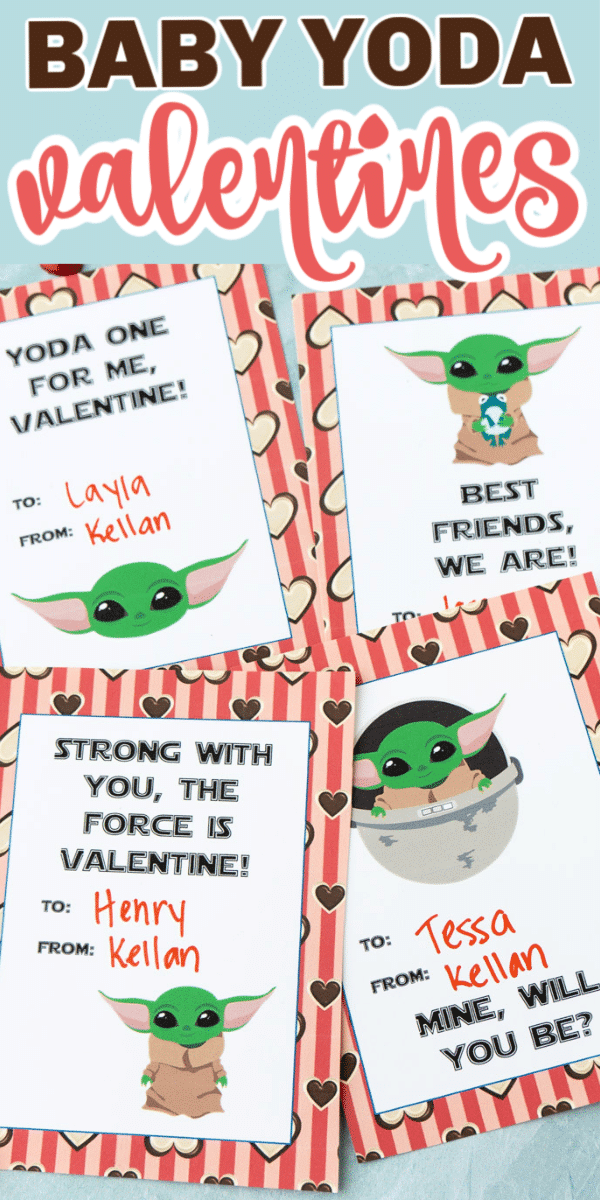 Baby Yoda Printable
Whether or not you've watched The Mandalorian on Disney+, I can almost guarantee you've seen Baby Yoda floating around the internet since the show premiered.
Ever since he appeared in the Mandalorian, Baby Yoda, or "The Child" has become a favorite for both Star Wars fans and non-Star Wars fans.
Although at this point maybe these should actually be called Grogu valentines. But I prefer Baby Yoda and so do my boys who are obsessed.
First it was Baby Groot (and his groot beer float) and now it's Baby Yoda – Disney sure knows what they're doing with the cute factor. I mean seriously, how cute are these??
Way cuter than my Starburst valentines (although those are yummier!)
These Baby Yoda valentines cards are perfect for any Star Wars or really just Baby Yoda fan. The valentines are designed with phrases that he might've said assuming he speaks like the classic Yoda.
There are also a few blank sheets if you want to create your own sayings! And for my Star Wars obsessed family, these were the perfect addition to our collection of Valentine's Day cards for kids!
And if you need something to hand out with these cute Mandalorian valentines, I have a huge list of ideas at the bottom of this post!
How to Make Baby Yoda Valentines
All you'll need to make a Yoda valentines day card is:
Free printable PDF (get it at the bottom of this post)
White card stock
Scissors
Marker or pen to write names
To make the valentines, simply print out the Baby Yoda Valentines, cut, and add names.
It's really that easy! Even easier than playing this Valentine's Day card game!

Baby Yoda Valentine's Day Treats
While the cards are cute, if your kids are anything like mine – they may want to give a little something to go with the cards!
Here a few fun Baby Yoda inspired ideas you you could give out with these valentines. I've included both non-candy and candy options!
More Fun Star Wars Ideas
If your family is a Star Wars family like mine, they'll love these other fun Star Wars ideas!
Download the Baby Yoda Valentines
Click on the link below to get the free printable Baby Yoda valentines!
Or if you'd rather not download them here, you can always get a copy in my shop here.
Four different Baby Yoda Valentines with words
Four different blank Baby Yoda Valentines