These cute robot valentine cards are a great way for kids to tell their friends Happy Valentine's Day in a cute and fun way. With creative robot valentine sayings and a couple of unique designs, these are perfect for any robot lovers in your life!
As a boy mom, there are a handful of things that are constant in our lives. Dinosaurs, superheroes, cars, reptiles, and robots.
Our house is filled with robots of every shape and kind – coding robots, battling robots, and even stuffed robots.
I've already done car valentines, dinosaur valentines, and even Baby Yoda valentines, so I thought it would be fun to do a cute robot Valentine's Day card that the boys can give out to their classes this year.
I found the cutest little stuffed robots to give out with the cards (since I like to do non-candy valentines) and the boys loved them!
I have tons of ideas of other things you can give out with the robot valentine cards as well, although at the end of the day just anything with a robot or anything robotic works!
Robot Valentine Sayings
There are a lot of different punny sayings that you could put with robots, but I wanted to go simple and to the point, so I went with the saying "I like you a very bot," on these robot valentines.
There are two different designs – one with a white background and one with a colored background. Other than the color of the cards, the designs themselves have the same saying and picture design.
You can see both of the color design options below.
Robot Valentine Ideas
I left the sayings on these cards open so that you could really put them on anything robotic. I've seen everything from robot erasers to the stuffed animals I mentioned earlier.
You could even just put these with any sort of little wind-up toy that is like a robot if you want something a little more robotic.
Or give them out with anything with a robot on it. I know last year Target's Valentine's Day collection had notebooks, coloring books, and more with robots.
Robots are popular enough it shouldn't be hard to find something in stores. But if you can't, here are some simple things that you can use to gift with these!
Robot Gift ideas
More Printable Valentines
If you like these valentines, etc.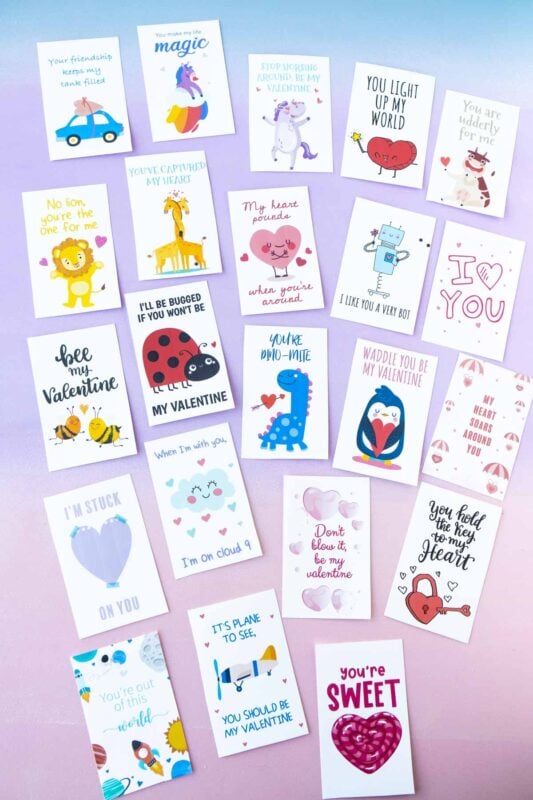 want more Valentines??
Download the Printable
Enter your first name and email address in the form below to get the printable PDF. You will receive a link to download the PDF to your email within minutes.
If you do not see the form, click here to get to it.
If you'd rather not provide your email, you can get a copy in my shop here.
If you do not receive the email immediately after you fill out the form, make sure to check your promotions, spam, and junk folders! Emails will be sent within a few minutes.
The file will include:
Sheet of eight robots valentines with a pink background.
Sheet of eight robots valentines with a while background.