Looking for the best Christmas gifts for runners you know? Start with the seven running gifts on this list and you're sure to make the runners in your life happy this holiday season. Each of these gifts is geared toward running in the wintertime making them the perfect Christmas gifts for runners planning to run in the cold!
Sponsored by: Nike. All opinions are 100% honest and my own.
How We Picked These Gifts for Runners
One of the hardest parts about training for a spring half-marathon for me when we were living in Virginia was getting myself to go on the long training runs when it was cold outside.
There's something about being cold when you run that just makes everything hurt a little bit more and on long days, my bed just feels a little bit warmer. Even the perfect running playlist didn't help.
It's not as cold now that I'm living in Texas but that doesn't mean there isn't still a bit of chill in the early morning. Chilly enough that I still would rather stay in my nice warm bed.
These Nike winter essentials make great gifts for runners whether it's freezing where you're at or just a little chilly like the weather here. Because face it, no one really likes to be cold.
When my sister was here a few weeks ago, we went through the full list of winter essentials, picked out our favorites, and tested them out. And as runners ourselves, we picked out the ones that would make great Christmas gifts for runners – out of practice slower ones like me or in shape regularly training ones like my younger sister.
Why Nike?
I'm not a brand snob, I mean there are some brands that I really like but when it comes down to it, I normally will go with whatever is cheapest, cutest, or most convenient. Except when it comes to Nike.
Nike is my go-to brand for all athletic gear from back in the day when I was playing high school sports to right now when I'm jogging on the treadmill while binge watching shows on Netflix. I even wore the same pair of Nike running shoes (switched out for new ones when the soles wore out) for all 15 half-marathons I've run.
All of these gift ideas are Nike because I know Nike means quality, innovation, and a brand I trust. And I only recommend products from brands I personally love and trust.
The Best Christmas Gift Ideas for Runners
Since Christmas is a winter holiday, I stuck with winter specific gifts for runners rather than just general runner gift ideas. You don't want to buy someone a pair of shoes for Christmas that they won't be able to wear until it gets warmer in the spring. The perfect Christmas gifts for runners are the ones that they can use right now, not months from now.
#1 – Nike Running Shoes for Women
First and foremost, every runner need a good pair of running shoes. I'll be honest, running shoes are such a personal thing, and unless you know exactly what shoes the runner you're buying for wears, this one is going to be hard to get exactly right unless you already know what your runner wants.
These are some of my favorite Nike running shoes to choose from as a starting point. Do your research and find out what shoes they wear now, find a comparable pair, and buy a color you know they'll love. And save the receipt so they can make any exchanges necessary to get the perfect fit and feel! They'll be putting a lot of miles on these shoes. Or get them a gift card and let them design their own pair of shoes!
#2 – Nike Training Shoes for Women
I just talked about how important a good pair of running shoes is to a runner.
They need another pair of shoes too – ones they can wear when they're not running. Shoes that are made to go side to side (not just one foot in front of the other for miles), for jumping, and for all of the other exercises you do when you're not running.
They can either be designed for cross-training or even something like the Women's Nike Free that is designed to feel like you're running barefoot and really works for any type of movement.
#3– Nike Running Pants (Tights or Leggings)
If you think you can run in normal sweat pants, yoga pants, or leggings – you're absolutely right.
Will it be as comfortable or convenient? Not a chance.
Nike running pants and tights are designed for going out on a cold day training run.
With an amazing amount of stretch, fabric that breathes, and even running gems like a zipper pocket on the waistband to hold your keys, the Nike leggings are a must. A good pair of running leggings makes a cold morning run doable.
Nike has a number of great pairs of running leggings for cold weather in their winter essentials collection.
#4 – A Nike Running Jacket
This is another must for anyone who will be running outside during the winter. Nike has a fantastic collection of winter running jackets (and vests!).
Running jackets that move with you when you run, block the wind and rain, have zippered inside pockets to protect your valuables, and even have built-in vents to keep you from overheating.
#5 – Long Sleeve Running Tops
Sometimes the weather surprises you and it's not cold enough for one of the running jackets I mentioned above, but it's too cold for short-sleeves. That's where the perfect long sleeve running top comes in.
Every runner needs a couple, and Nike makes some great long sleeve tops that are built for keeping you warm, but not too warm.
They also have ones for every fit level – ones more like a sweatshirt that fit loosely and fitted ones that are more like spandex that moves with your every step.
#6 – Running Hats
Another essential for braving the elements during a run is a good running hat. During the winter, one of these beanies is going to be your best bet.
Not only are they designed for running, they're cute enough to double as a beanie to wear during non-workout times too.
#7 – Comfortable Socks
I didn't understand the importance of running in good socks until I was doing sixteen and twenty mile training runs for the Marine Corp Marathon.
When you're only running a few miles, you can get by with socks that slip and slide all around. When you get serious, you need good socks.
These Nike running socks are high enough that they won't slip into your shoe and give you blisters (been there, done that) are designed to keep your feet dry and comfortable, and even have mesh panels for breathability.
They'd go great with a pair of running tights I mentioned above and would be a fantastic stocking stuffer (socks always are). See all Nike running socks (including no-show options) here.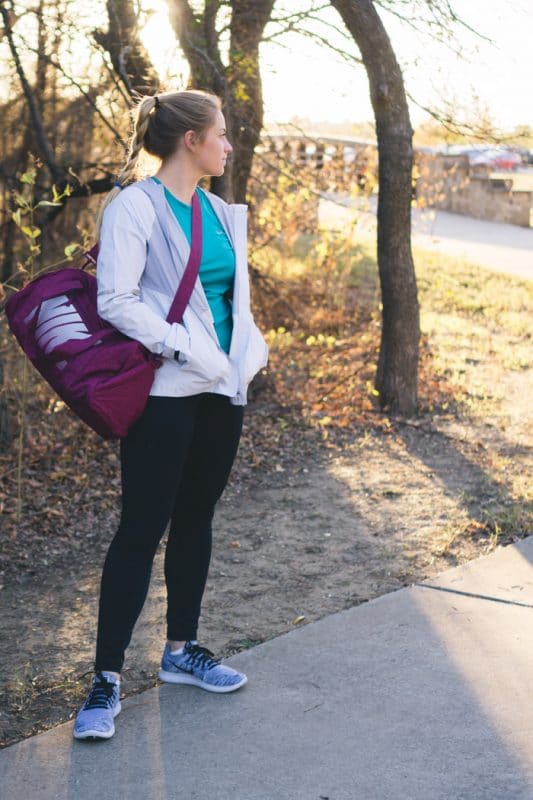 More Gifts for Runners
If you're looking for even more ideas, these are some of my must-haves as a runner!
Self-care gift ideas – there are a handful of items on this self-care gift list that are perfect for runners including the Hip Hook (spoiler alert, it's amazing!)
Running watch – I used a Garmin Forerunner for years and it was amazing!
Spi-Belt – when you don't want to hold your phone or keys in your hand, a Spi-Belt is essential (also makes a great addition to an amusement park packing list).
Massage gift certificate – bodies get tight after a long run and a massage can really help!
Massage gun – if you don't want to go the massage gift certificate route, I have a massage gun like this and it's amazing!
Honestly, there are so many different things that you can get runners. These are just the tip of the iceberg! Good luck!