Looking for golf gifts for men or women who already have everything? These golf gift ideas will score you a hole in one with golf lovers in your life! From a DIY golf gift basket to a Topgolf gift card and even some personalized golf gifts – these are the best golf gifts you can find!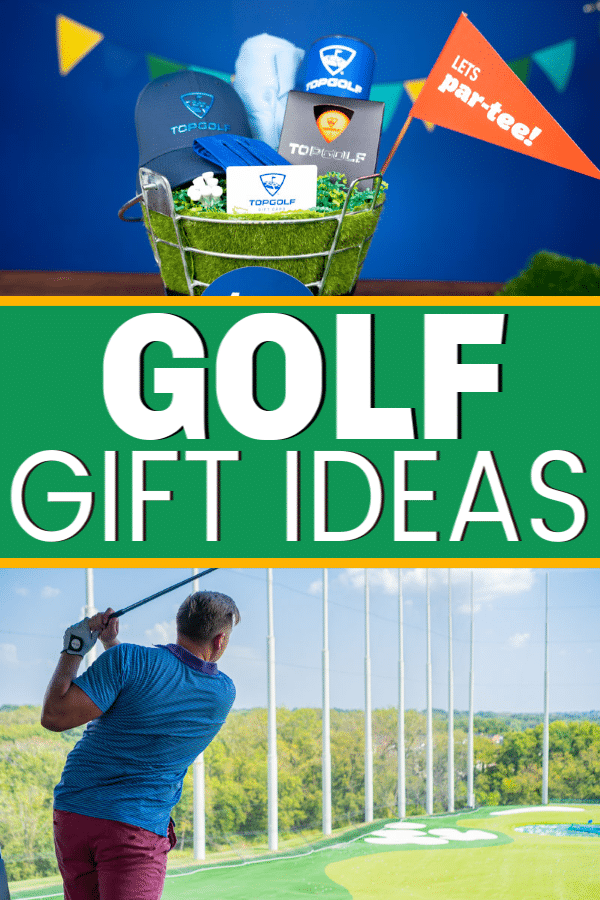 This post is sponsored by Evite. All opinions are 100% honest and my own.
Gifts for Golf Lovers
My family loves golf. I don't know when it started but for as long as I remember, golf has been a big part of our family.
After I moved out of the house, my family moved into a house in Kansas City on a golf course. I think that sealed the deal for younger siblings but I know it started long before that.
Even my six-year-old loves golf. He actually put a golf ball into his favorite things bag for school show and tell this year. And everywhere we go whether it's Gulf Shores or Lake Lure, he begs us to play mini golf.
I'm with him – I love a good round of mini golf.
So when I'm thinking about getting gifts for grandparents, Father's Day gifts, or even just because gift ideas, buying golf gifts for anyone in the family is a pretty safe bet.
We typically get golf balls for Christmas bingo, and I always include golf gifts for men in my white elephant gifts. Really anything golf related makes a great gift for this golf fam.
The Best Golf Gifts
One of the best things about golf is getting to connect with other people. So when I was putting together this list of golf gift ideas, I wanted to come up with the perfect gift that lets you enjoy the game of golf while still enjoying time with other people.
1 – DIY Golf Gift Basket
This DIY golf gift basket from Evite is full of golf essentials and so easy to make! From golf gloves to a golf tumbler, this basket will delight any golf fan.
Watch the video below to see how quick this fun golf basket comes together. Then head over here to Evite's page for exact supplies and a full DIY tutorial!
2 – Topgolf Gift Card
Shopping last minute and don't have time to make a golf gift basket? A Topgolf gift card makes a great gift for golf lovers instead!
Just make sure to get enough money on the gift card for them to enjoy a few drinks and appetizers while they're playing. It's all part of the experience!
3 – Topgolf Party
I mentioned that golf is all about the experience. Topgolf gives people the chance to enjoy playing a little golf while still being able to eat and enjoy the people around them.
We recently went over to Topgolf for a little family celebration and let me just tell you, the food was much better than my golf swing!
I love that Topgolf can be a whole family affair, unlike a day out on the golf course. With three little babies in our family right now, going golfing often means that someone gets left at home. Not at Topgolf – it's great for all ages and all skill levels!
Whether you're just going with a small group of friends or want to play an entire Topgolf birthday party, these Evite Topgolf invitations are a fun way to get the word out.
Other Golf Gift Ideas
Those are just some of my personal favorite golf gifts because I like Topgolf but if you need more ideas, here are some other great ones!
Or any of these could go inside that golf gift basket to make it a hole-in-one!
4 – Personalized golf balls, gloves, or tees (these make great stocking stuffer ideas for women and men)
5 – Gift certificates for a golf course they may not be able to afford or want to pay to play themselves
6 – Tokens for the local driving range
7 – A birthday scavenger hunt with a golf gift basket at the end
8 – Mini golf date night idea (or just add it as part of this build your own date night)
9 – What every golfer needs – money! Money that's dedicated to improving their game in a way of their choice
What else would you add to this list of golf gift ideas?
Other Creative Gift Ideas
Other Sports Party Ideas
Don't forget to pin these golf gifts for later!