Get into the holiday spirit with this fun Christmas music bingo game! Give everyone a card, play Christmas songs, and see who can get a bingo first!
Who's ready for some fun Christmas games? Today starts the beginning of a series of brand new Christmas party games for this year! I've got tons of great printable Christmas games, virtual Christmas games, and even ones like these 12 days of Christmas games that you can play with your family and friends!
Today's game is one of my personal favorites – Christmas music bingo! It combines the fun of Christmas name that tune with the classic Christmas bingo game.
And what isn't better with the best Christmas songs? This one is great to play virtually (just give everyone a card to use at home), play in a classroom at desks, play in the office, or play with family and friends at home!
Supplies
This is similar to a regular bingo game in that you'll need:
Bingo cards – download them at the end of this post or get them in my shop here, you need one per person playing
Music playlist – you need to make a playlist of all of the songs possible before you play, I have the list of songs included with the bingo card PDF to make it easy
Calling sheet – mark this off as the songs get played so you can check bingos
Bingo markers – I recommend something small like Christmas M&Ms, Christmas erasers, or these actual bingo markers (I have these and use them ALL THE TIME)
Prizes – I've got a list of fun Christmas prizes at the bottom of this post to get you started but don't forget the prizes, they're important!
You could also technically use bingo daubers but they'll mark up the cards so you can only use them once. They're better for events where people are buying multiple cards from a huge set like on a Disney Cruise or at a big event.
How Do You Play Bingo
I've included basic instructions below as well as my recommendations for playing this as a virtual Christmas game!
Setup Your Game
Okay so first you need to print and cut out the bingo cards and get your supplies together. You also need to create a playlist of the songs on the Christmas music bingo cards – the entire playlist is in with the downloadable bingo cards at the bottom of this post.
Also, print out a calling sheet that you can mark off as songs get played so you can verify bingos when they're called.
Make sure wherever you put your playlist (e.g., Apple Music, Spotify, Pandora, your phone, etc.) has a shuffle playlist option. This is important so that your list isn't just playing in say alphabetical order or the order you added the songs on. You need to be able to shuffle it, especially if you want to play multiple rounds.
Once you have your playlist and your cards ready to go, give everyone playing a card (or let them choose a card) and bingo markers. If you want to do this virtually, send everyone one of the pages from the downloadable pack and assign them one of the four cards to use (i.e.,g top right, bottom left) for the game.
Play Christmas Music Bingo
Everyone should start by putting a marker over their free space – this will be a free space that can be used to create a bingo in any direction.
Play a song from the shuffled playlist. Anyone who has that song on their bingo card can mark it off.
Tip!
If you want the game to be a bit more challenging, don't say what the song is called when it gets played to make it a combo name that tune bingo game. If you want it to be easier, call out the name of the song (or let the group playing yell it out) so that everyone knows what to mark off.
After 15-30 seconds (depending on your group), stop playing the song and play the next one. People should keep marking off spots on their bingo card as songs are played.
When someone gets five in a row either vertically, horizontally, or diagonally they should call out bingo and the game stops. Compare their covered up bingo spaces to the songs that have been called and if they get a bingo, they win a prize!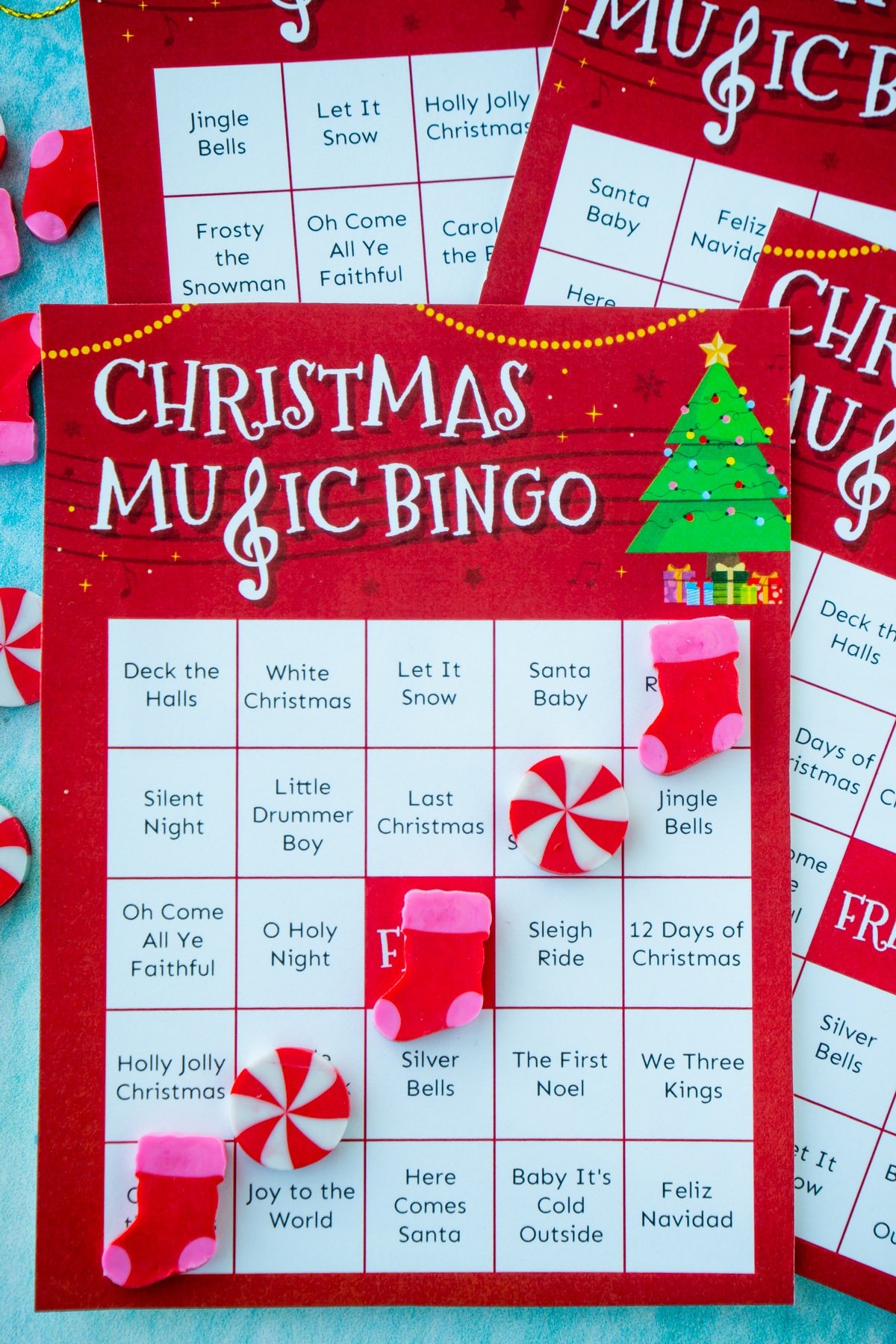 You can then either have everyone clear their cards or you can keep going with that same card and have multiple winners per round – totally up to you!
Keep playing until you're out of prizes or people are tired of Christmas music bingo.
Alternate Bingo Games
Another really fun thing to do is to change what is a "bingo" each game. Use the same cards but instead of having to get 5 in a row every game, we make "bingo" a different goal.
These are just a few of the different things we've used in the past to get a bingo:
Four corners – cover all four corners on your card
Postage stamp – cover any four spaces together in a square (postage stamp) on your card.
X – cover all the spaces going both ways diagonally to make an X
T – cover the top row and the middle row to make a T
Cross/Plus – cover the middle horizontal row and the middle vertical row to make a plus sign
Friendly Free – mark off all of the spaces touching the free space
Biggest Loser – we do one of the above PLUS whoever is the last person to get a marker on the board gets the first prize
Bring a Friend – whoever bingos gets to choose a friend to bingo with them a choose a prize (this works best if you have lots of people/prizes)
Play until – If someone hasn't won yet, play until that person bingos
Christmas Music Bingo Prize Ideas
I always like to get bingo prizes that people will actually want to win. I've been playing bingo on Christmas Eve for over 30+ years so I can tell you what goes quickly and which prizes will still be on the table at the end of the night.
These are some of my personal recommendations for great music themed prize ideas. I've included a variety of price levels depending on if you're playing for lots of winners or just a few. If you want more Christmas specific prize ideas, check out my regular Christmas bingo post.
Expert Tips
Laminate the bingo cards so you can use them year after year! They'll be more durable and you can use dry erase markers (or any of the bingo markers I already talked about) to cover the spaces!
Pass out cards to people if you think they'll go crazy trying to figure out which card they want. Skip giving them the choice and just hand them out.
Buy extra bingo markers if you're using something edible like M&Ms or cereal. People tend to snack on the edible bingo markers, which is all part of the fun – but you'll need about double what you originally thought.
Game FAQs
How many bingo cards are there?
You can get 20 free unique cards in this post. If you need more than that, you can get up to 40 unique cards in my shop here. If you need even more than that, email me at britni@playpartyplan.com.
Can these cards be used for blackout?
There are 37 different songs used in this Christmas music bingo game, not the 75 that are in a normal number based bingo game. That means that while the cards are unique, there is a possibility that people will have the same 24 songs on their card. You can definitely play blackout BUT I can't guarantee you won't have two people blackout at once.
How can you play virtual Christmas bingo?
I included a section above for how to play this game virtually but the basic idea is that you need to send everyone an assigned card. Then setup a virtual call with everyone, making sure everyone can hear your screen. Play the songs (and I recommend announce them) and have people cover their own cards at home like if you were all playing together. Whoever gets a bingo at home wins!
Do you have more bingo games?
Yes! You can find them all on my bingo games page here! I have a ton of different bingo cards for all kinds of occasions!
More Christmas Games
want more fun Christmas Games?
Download the Christmas Music Bingo Cards
Enter your first name and email address in the form below to get the printable PDF. You will receive a link to download the PDF to your email within minutes.
If you'd prefer to not fill out the form OR if you need more than 20 cards, you can get a copy in my shop here.
The PDF will include:
Instructions
20 unique Christmas music bingo cards
Calling sheet with all the Christmas songs on it
If you do not see the form below, click here to get to it.
If you do not immediately receive the email, make sure to check your promotions, spam, and junk folders!