Think you know your Christmas movies? Test your movie knowledge with this fun printable Christmas emoji game! A fun Christmas game for all ages!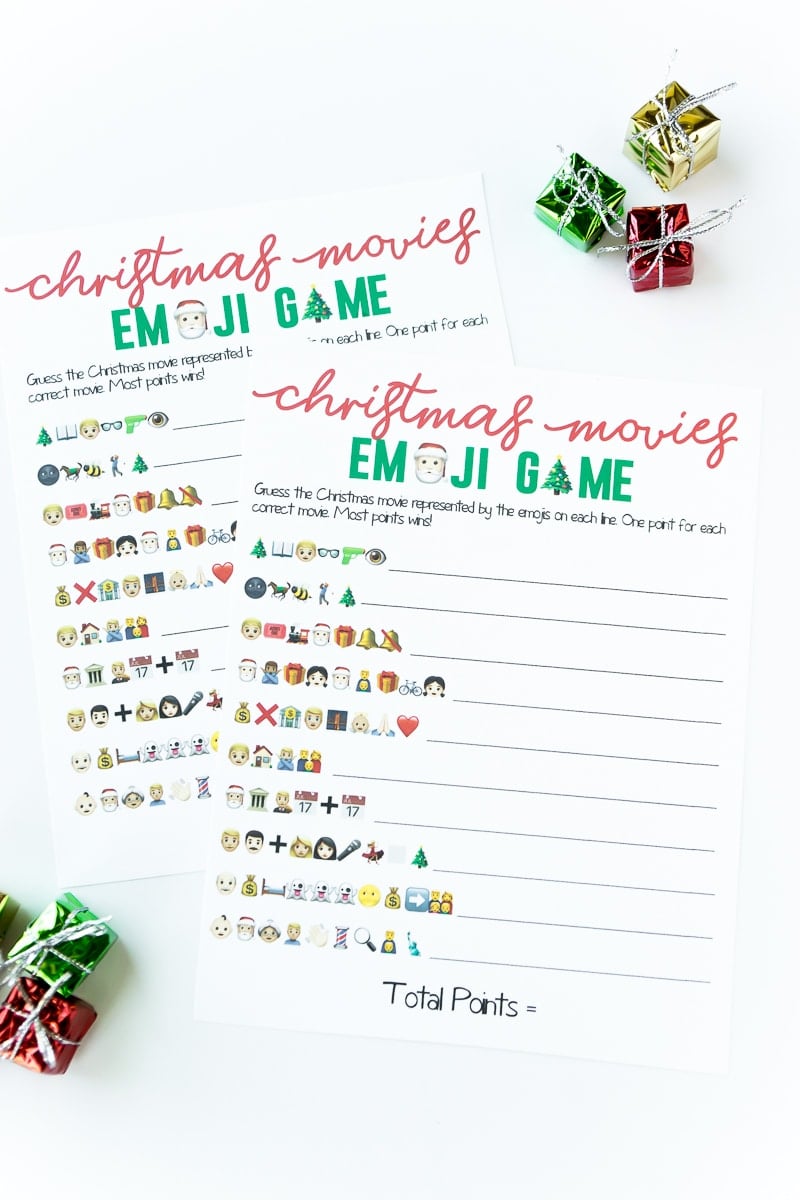 Christmas Movie Games
One of my favorite things about Christmas is the Christmas movie season. Whether you watch the 25 days of Christmas on Freeform or watch the original movies on the Hallmark Channel or just watch all of the classics – for some reason Christmas means movies.
I've shared tons of Christmas movie games in the past but this emoji one is still one of my favorites!
With my Christmas movie bingo game being so popular, I thought it'd be fun to make another Christmas movie themed game. And with emojis being so on trend right now – I decided to go with a Christmas emoji game!
And a bridal shower emoji game and a baby shower emoji game. I'm a bit emoji obsessed these days.
Christmas Emoji Game Instructions
If you've never played emoji games before, they're simple. Just look through the emojis listed and try and guess what they represent. In this case, it's Christmas movies.
So for the first one above, there's a Christmas tree, a book (or story), a boy, some glasses, a gun, and an eye.
What movie is it representing?
A Christmas Story – the boy who wants a BB gun but shouldn't have it because he'll shoot his eye out.
You get it?
Some of the clues are a bit more complex while others are simple to figure out. I did that on purpose so that the person who wins the game would actually have to do pretty well – not everyone being able to get them all.
Whoever gets the most Christmas movies correct wins.
Fine Print
I recommend giving out this Christmas emoji game to the entire group (with a pen), setting a timer, and letting people fill out their cards all at once.
Once everyone is done, go through the answers together so people can score their sheets.
And get a fun movie themed prize for the winner!
Tip!
If you think this will be too hard for people to correctly guess, you can create a list of movies (using the answer sheet) that everyone can use to fill in the answers. That way they at least know what movies they're looking for.
Christmas Emoji Game Answers
I'm not going to give away all the answers in this post. To get all of the correct answers, simply download the game PDF below, and it comes with a sheet of answers too!
Or you can get a copy of the game in my shop here.
All of the answers are on the third sheet of the PDF that you'll receive to your email.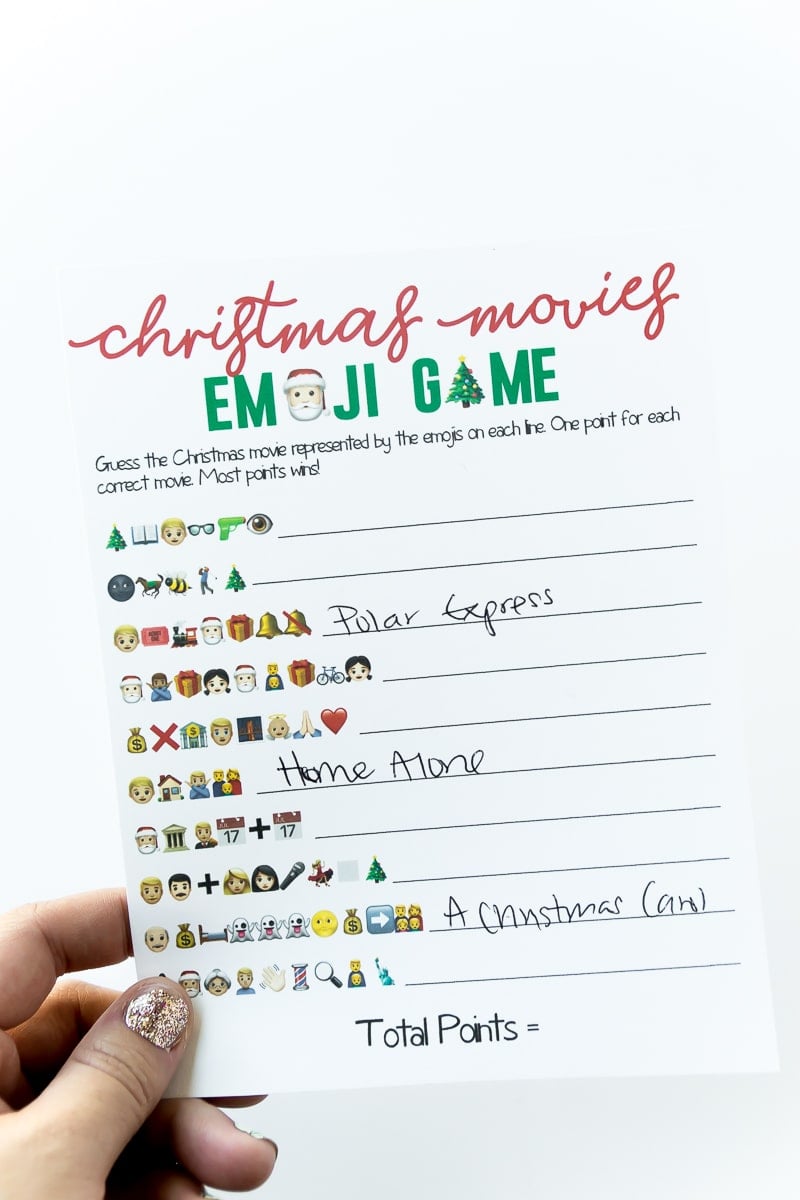 More Printable Christmas Games
Looking for more Christmas party games you can print out that are good for all ages? These are some of our family favorites!
want more fun Christmas Games?
Download the Emoji Game
Enter your first name and email address below to get the free printable game and answer sheets.
If you cannot see the form, click here to get it.
If you'd rather not fill out the form, you can get a copy of the game in my shop here.
There are three pages in the downloadable PDF:
A two-per page version of the game
A one per page version of the game (same exact game, just different size)
An answer sheet