Who can come up with the most creative words in this fun Christmas scattergories game? This Christmas version of a popular classic board game is a great option for a Christmas party or just Christmas activity night!
Some of the best board games that are just classics – Monopoly, Catch Phrase, Sorry, Trivial Pursuit. They're the games you can play over and over again and they really never get old.
Scattergories is one of those type games for me because the game changes every single time you play. This Christmas scattergories game is a simplified version of the actual board game, one with Christmas categories instead of just random ones! Just like we did with our New Year's Eve scattergories game!
And if you've never played Scattergories before, you should because it's fun! The basic idea of the game is that you have to come up with items that fit particular categories that start with random letters. It's easy and fun!
I've created a set of four printable category cards you can use for any Christmas party – in person, a family night, or even a virtual game. Check out my tips section below for ways to play this virtually with family and friends!
Supplies
Since Christmas Scattergories is another one of my printable games, you really won't need much other than the PDF file I have for you at the bottom of this post.
The only other things you'll need are:
Scattergories card – get it at the bottom of this post or in my shop here
Pen/pencil for every player
A 2-minute timer (or 3 minutes if you think your group will need a bit longer to come up with answers) – I recommend a sand timer so people can see how much time they have left
All the letters of the alphabet either on a 26 sided letter die, cut out (from the PDF download), or even something like alphabet magnets put into a bowl for you to draw out of.
Prizes (optional)
NOTE – Remove the letters Q, U, V, X, Y, and Z from your magnets, cut out letters, etc. These shouldn't be used as they're almost impossible to come up with words.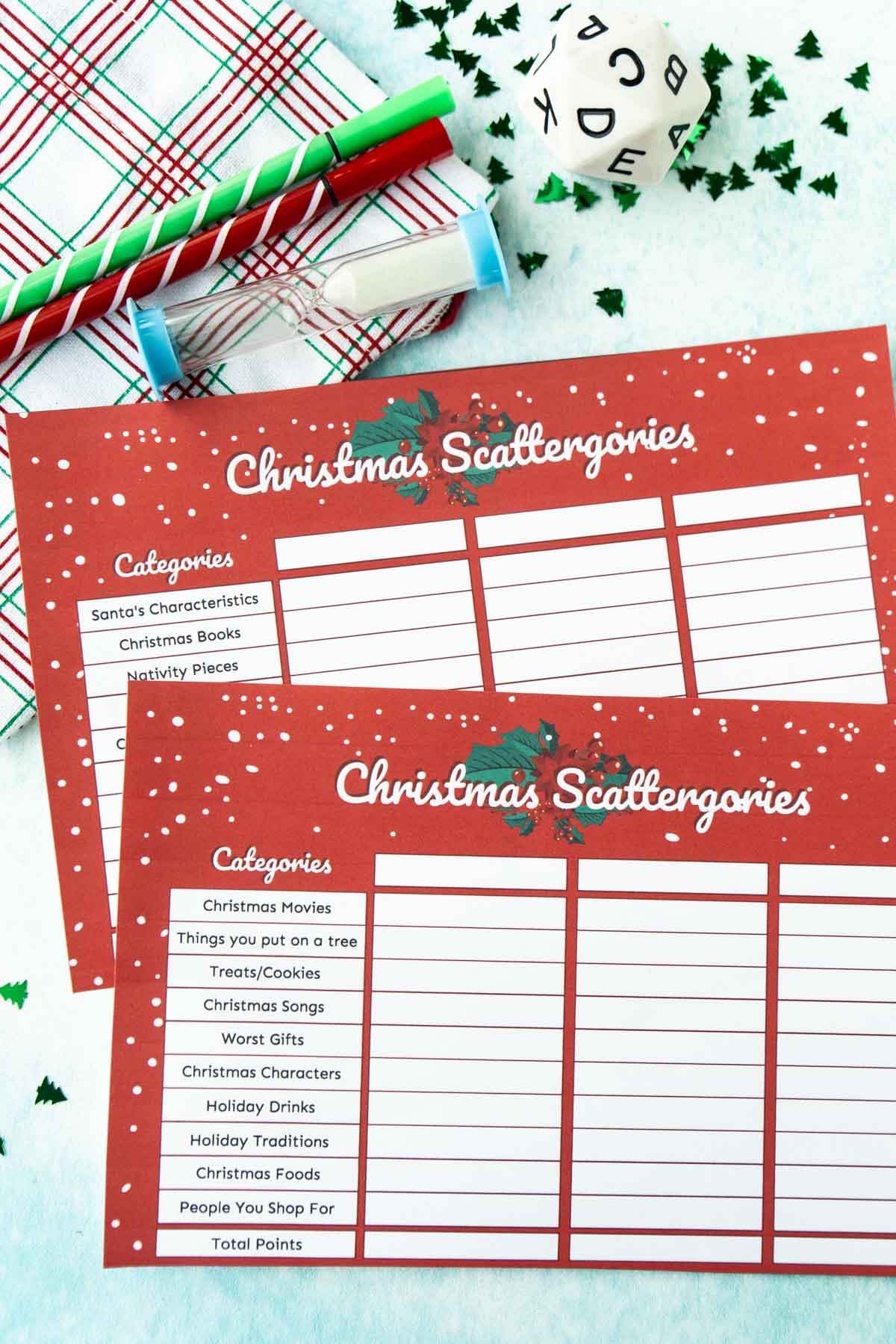 How to Play
Christmas Scattergories is really simple and really fun! Here's how you play!
1 – Get Ready
Give everyone a copy of the first printed out card (you don't want to give them all at once so they can't start thinking about answers…) and a pen or pencil.
Roll the die (or pick a letter somehow) to get the letter you'll use for the first round. This is the letter that will be used for the first set of categories.
2 – Write Answers
When you say go, everyone should try to come up with something that starts with that letter for each of the categories on the first card.
There are just a few rules for legit answers compared to bogus ones:
Answers must start with the letter, not end with it (so like Jack Skellington would work for J but would not work for S)
Answers can be truncated to not include articles like A or The (so Christmas Carol would be fine for a Christmas Book for C even though it's A Christmas Carol – it would also be fine for the letter A if someone wanted to use A Christmas Carol because it's part of the name)
Answers cannot start with a descriptive word unless the descriptor is actually part of a distinct item (i.e., Black Jack would be okay but black cat would not).
Answers need to be real things, not made up ones
Everyone should try their best to write down as many answers in the 2-minute window. It's very likely they won't come up with anything, especially for a tougher letter or category.
3 – Score Answers
Once the timer runs out, go through each category one by one and have everyone say their answer. If anyone matches answers, those two should cross their answers out.
Go through the entire sheet and any answers remaining after you go through all of them score a point. Tally up the total number of points and write it down at the bottom of the card.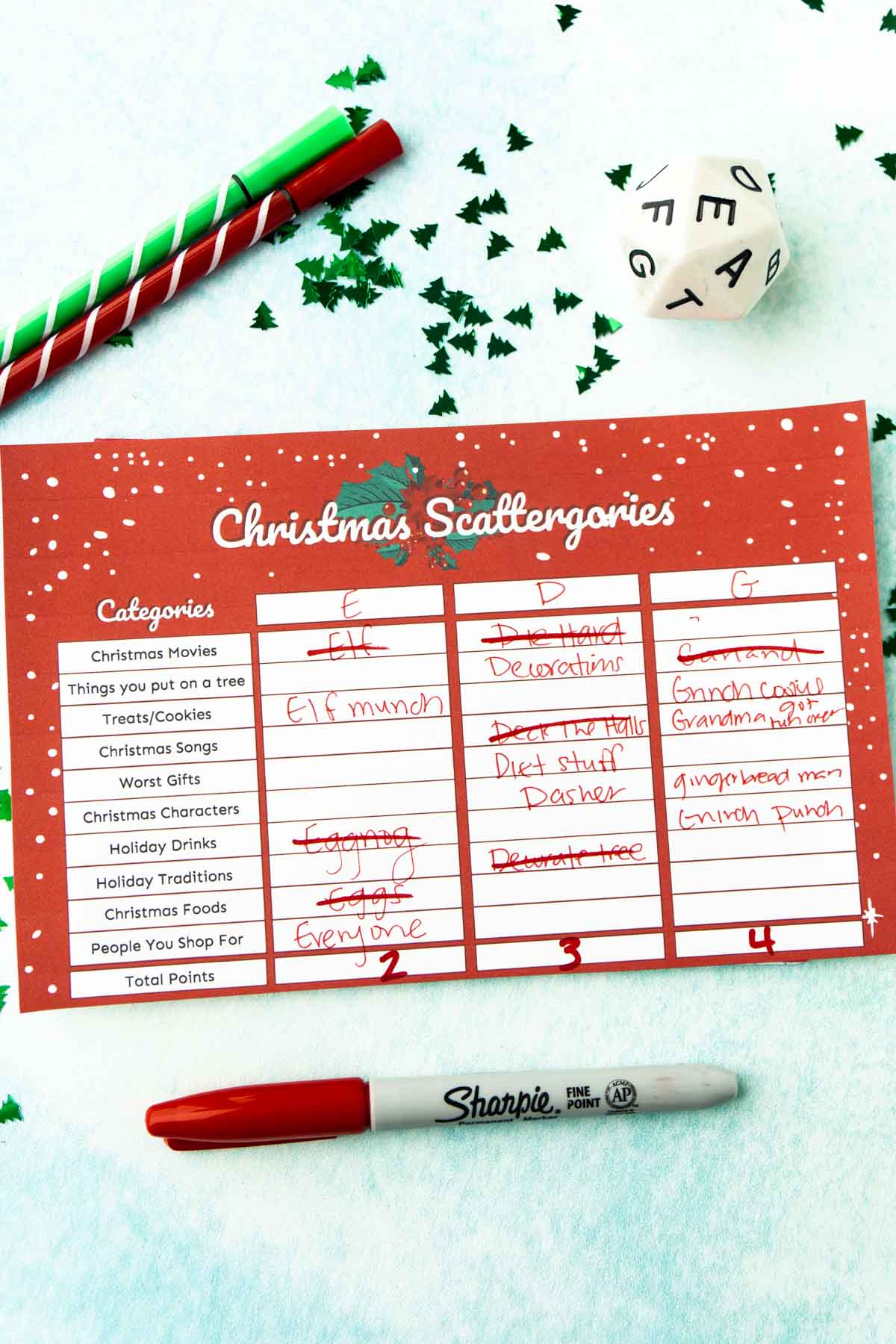 4 – Play again
Hand out another category card to everyone. Roll the die to get another letter, and play another round.
There are four total category cards you can use to play four different rounds (or play less if you don't want to do all four). If you still want to play after that, just move onto the next columns on the categories again and roll a different letter.
5 – End the Game
Once you're done with all of the rounds you want to play, total up the points everyone has earned during the game.
The person with the most total points wins!
Tip!
If you're playing with young kids, give them a point for every answer they get (within the rules) regardless of if someone matches them. Still cross out any matches that adults may make but don't cross out the kid's answers.
Go Virtual
If you want to play a virtual version of this game, it's easy! Have everyone get out their own paper and pen at home. Roll the die and have people write the letter down at the top of their paper.
Put the list up on the screen (just hold it up to the screen or you can type it out otherwise on a PowerPoint presentation or something) and let people play at home with everyone using the same list.
Alternately, you could also send everyone a copy of the lists. They'll have seen the lists before you play, but it should be fine since they'll still have no idea what letter they'll get. And the letter really does make all the difference!
More Great Christmas Games
want more fun Christmas Games?
Download the Printable
Enter your first name and email address in the form below to get the printable PDF. You will receive a link to download the PDF to your email within minutes.
If you do not see the form below, click here to get to it.
If you would not fill out the form, you can get a copy in my shop here.
The PDF will include:
Instructions
Half-sheet games (2 to a page) in three different designs
If you do not immediately receive the email, make sure to check your promotions, spam, and junk folders!