These easy Christmas party ideas will make planning this year's holiday party easier! Plus over 100 Christmas charades words and fun ways to use the words for holiday charades and more!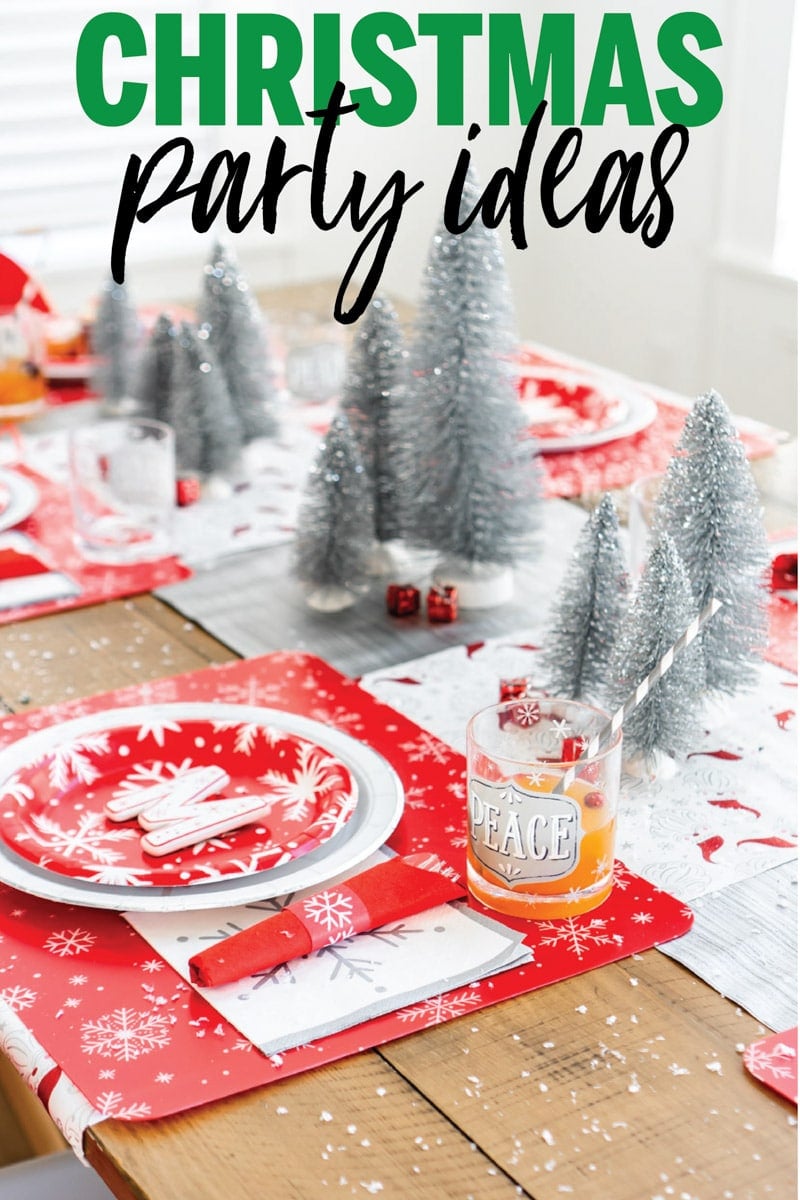 This post was originally sponsored by Batteries Plus Bulbs and has since been updated.
Easy Christmas Party Ideas
It's the most wonderful time of the year! Whether you start celebrating on November 1st, the day after Thanksgiving, or in December – there's just something about the holiday season that puts a smile on people's faces.
Or at least on mine!
This year I'm so excited to share something else that puts a smile on my face – ways to make your holiday parties more festive and fun. And the most important of all – easier for you as a host!
These are just a few simple Christmas party ideas made smarter with Batteries Plus Bulbs Smart Home devices!
1 – Have Fun
One of the most fun parts of any holiday party is getting to mix and mingle with other guests. But don't stop there – plan some fun Christmas party games to get everyone involved.
You could do one of the creative gift exchange ideas or split into two (or more) teams and try out any of the fun games below.
Christmas Charades
Everyone's played charades before (and if you haven't, here are some fun charades ideas). Try one of these unique twists combined with the printable list of charades words below for some festive fun.
I've got a list of over 100+ Christmas charades words you can download below!
Regular Christmas charades – simply have people act out the words on the downloadable file included
Christmas carol charades – have someone act out one of these Christmas songs instead of Christmas words.
Reverse Christmas charades – instead of one person acting out the word, have the entire team act out the word while one person guesses. Full instructions for reverse charades here.
Christmas movie charades – instead of using the Christmas charades words in this post, use characters from popular Christmas movies instead like the Grinch, Oogie Boogie, Gizmo, and Kevin from Home Alone. Players must act out the character and teams have to guess the movie the character is from.
It's kind of like a charades version of this Christmas movie bingo!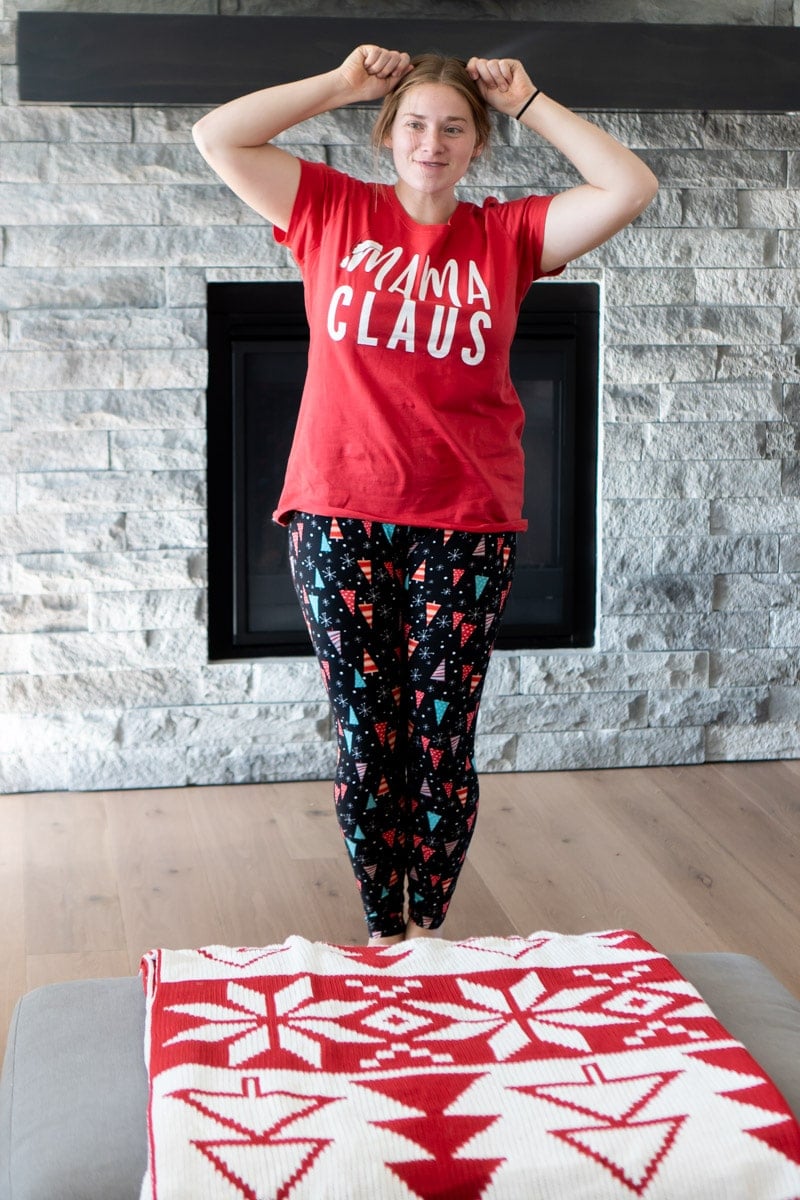 Christmas dance charades – this version combines Christmas carol charades with reverse Christmas charades. One person guesses while the rest of the team dances out their chosen Christmas song. You can see a video of this and other Christmas games here.
If you need more ideas for ways to use the words, I've got a ton of other charades games in this Halloween charades post!
Download the Christmas Charades Words
Enter your first name and email address in the form below to get the printable PDF. You will receive a link to download the PDF to your email within minutes.
Or if you'd rather not provide your email, you can purchase a copy of the words in my shop here!
If you do not see the form, click here to get to it.
If you do not see the email immediately after you fill out the form, make sure to check your promotions, spam, and junk folders!
The file will include a two-page PDF with 100+ Christmas charades words!
2 – Light it up
Everyone knows that Christmas lights are a big part of the season. But why stop at outdoor Christmas lights and lights on your tree?
Bring the fun inside with Geeni dimmable color changing smart bulbs with built in WiFi. They fit into any regular light bulb socket and are perfect for adding the lighting you're looking for.
Pair the bulbs with your phone then simply use the Geeni app to turn them on and off and change colors. Keep them white throughout the day then change them to your favorite holiday colors with just the touch of a button on your phone.
With the ability to customize millions of different colors, they'll be the most fun part of any holiday tablescape!
Or if you're having a New Year's Eve party, why not change the colors every hour as a fun countdown to midnight? Use the app to schedule the colors to change on the hour, every hour – great reminder to pass out these New Year's Eve trivia games as the hours countdown.
3 – Make it scentsational
One of the easiest ways to make it feel like the holidays is with scents – Christmas cookies, cranberry, wassail, or even pine if you really want to go there.
Use a candle warmer to add holiday scents to any gathering without the worries of having an open flame in your home.
If you're like me and constantly forgetting to do things, use a Geeni Smart Wi-i Plug along with the candle warmer to program it to turn on an hour before the party to give the room a little boost before your guests arrive.
Simply plug the candle warmer (or any device) into the Geeni Smart Wi-Fi Plug, make sure the candle warmer is turned on, and plug it into the closest outlet.
Pair the plug with the app on your phone and use it to set a schedule for turning on the warmer or if you don't want to schedule it, use the app to turn it on when you're in another room. Or another state.
Have an Amazon Alexa or Google Home? The plugs are also voice enabled so you could literally just tell Alexa to turn on the candle warmer if you're even too lazy to pick up your phone.
4 – Taste the season
A Christmas party isn't a Christmas party without food! I always love to have a combination of sweet and savory dishes, especially during the holidays.
Put together a simple table with sweets and eats and a delicious warm drink like wassail or apple cider that people can grab from while they're mingling. Or maybe even homemade hot chocolate.
Make it even easier on yourself by putting that warm drink in a crockpot, plugged into a Geeni Smart Wi-Fi plug, and scheduled to turn on to start warming a few hours before the party.
That's one less thing for you to remember to do on party day! Pour in the ingredients, plug it in, and warm it up when it's time – without ever having to touch a button.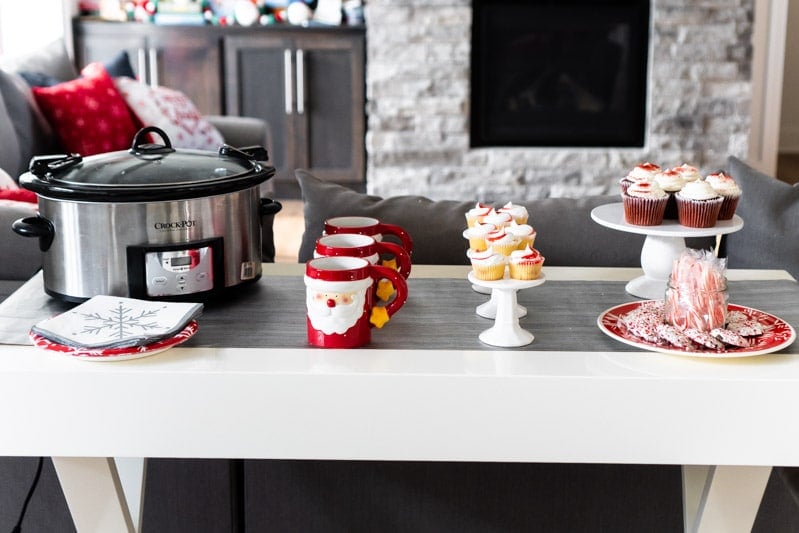 5 – Get rid of the garland
Forget the garland and simply add colorful light strips throughout your home instead.
With a sticky backing and built-in WiFi, Geeni Smart Wi-Fi Color and White Strip Lights are perfect to stick on stair railings, mantels, and underneath party tables to add color and light without having to turn on your overhead lighting. And way easier than trying to wrap garland in a way to make it look presentable.
Or if you really want to use garland, add a strip of lights beneath the garland to still get the holiday effects with the holiday colors.
You're no longer stuck with whatever lights come with your garland (or adding one strip of lights) but can change them all party long. Or pick a color-changing option in the app and have a rainbow color of lights blinking in the background.
They're also a great way to add some ambient light to a movie night or smaller more intimate party where you don't want all the harsh overhead lighting.
6 – Coordinate colors
Pick a color scheme and use it throughout your home and party to make decorating simple. No need to even look at other things as you're out shopping – simply look or the colors you chose and go from there.
We did red, white, and silver with snowy accents this year for our tablescape, dessert table, living room decorations, and even our tree to give it a cohesive and coordinated look.
7 – Save some surprises
Don't show off everything you've put together all at once when people arrive for the party. Save some surprises for later during the party to keep people involved, intrigued, and impressed.
Just a few ways you can do this include:
Schedule a "tree lighting" by plugging your tree lights into a Geeni Smart Wi-Fi plug and turning them on during the party from the app
Break out bottles of sparking cider later in the evening
Play a fun Christmas saran wrap game that gives everyone little gifts while they play
Have a special guest visitor (aka someone dressed as Santa) show up at sometime during the party
Wrap up gifts to play this pass a present game and bring them out at random intervals throughout the party
Set the table with a personalized gift, ornament, or other item for your guests to find when they sit down
8 – Turn it off
Just like you can use the Geeni Smart Wi-Fi plugs to schedule your candle warmer, crockpot, or really anything to turn on using your app – you can also schedule them to turn off automatically after the party.
It's one less thing to worry about as you're packing up leftovers, cleaning up, and saying goodbye to your guests.
And if you're one of those people who regularly forgets to unplug their curling iron, straightener, etc. after getting ready for an event – use a Geeni Smart Wi-Fi plug to turn it on on your phone, even if you're on a last minute grocery store run or something you forgot.
No more worrying about whether you unplugged it or not. I'm all about anything that helps you worry less – you have enough to worry about with the party!
Pick up your Geeni Smart Home products at batteriesplus.com or soon at a Batteries Plus Bulbs store near you!
Other Fun Christmas Party Ideas
Christmas Party Food Ideas