See how well you know popular Christmas movies with these fun Christmas movie trivia games! With three different games to play, there's something for all ages, skill levels, and levels of movie knowledge!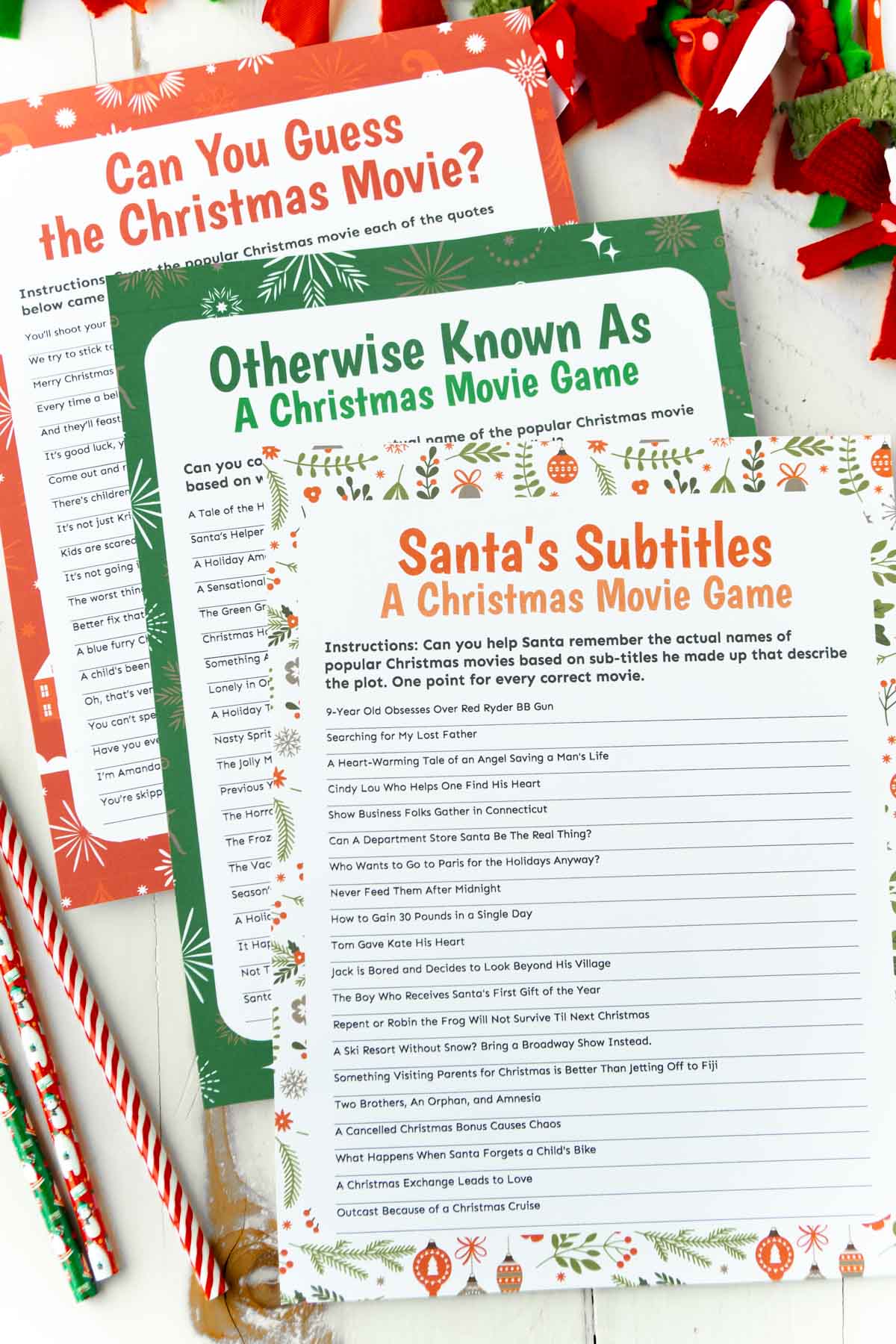 Out of all of the seasons of the year, Christmas just seems to be the one where people watch the most movies. I don't know if it's because TV shows take a winter break and people need something to do or if it's just because there are so many amazing iconic movies to watch.
Either way watching Christmas movies is one of my family's favorite ways to celebrate the season! I've already shared a Christmas movie bingo game and a Christmas emoji game (with Christmas movies) so thought it was only fitting to do a little Christmas movie trivia set this year!
These games aren't necessarily specifically Christmas movie trivia but more guessing movies based on things that happen in the movies, movie quotes, and more. If you want actual trivia, check out either this Christmas trivia game (true or false with lots of movie questions) or these Christmas trivia questions.
There are three different games with increasing levels of difficulty, but they do use a lot of the same movies. So you could either play just one with your group or if you're going to play all three, start easy to give people an idea of what movies are included (kind of like in the game Celebrity – one of my favorite party games for adults) and then they'll have a better shot of answering the harder ones.
They're fun for the entire family and great for playing in person, virtually, in the classroom, in an office social distanced from one another – you name it and these Christmas movie trivia games work!
Supplies
No real supplies needed for this game other than a print out of the game(s) itself and a pen to fill in the answers. If you're playing virtually, you don't even need a print out for everyone – just one for whoever is asking the questions and then people can write down their answers on a piece of paper.
You can get all three games to download at the bottom of this post or you can get a copy in my shop here.
Oh and prizes! It's always fun to have a prize for the winner(s), and I've included a handful of fun prize ideas later on in this post!
How to Play
There are three different games, and they all work in a pretty similar manner – give out the game sheets, give people a set amount of time to complete them, and people should write down their answers.
Go through each of the answers together and the most correct answers wins!
Now I'm going to walk through the three different games and the differences between them, plus which ones are the easiest and more difficult!
1 – Otherwise Known As
The first and easiest game of the bunch is "Otherwise Known As," and this game is very similar to my Christmas carol chaos game but with movies instead of songs. Each question has a movie title but in different words, like if it was written using a thesaurus (but still making sense).
For example "Lonely in One's House" would be Home Alone. And Previous Yuletide would be Last Christmas. Get it?
This is definitely the easiest of the three games because the words are there for you giving you the movie title, you just have to decipher it. But it's possible to just guess the movie title, or at least sort of figure it out, without really knowing much about the movies at all.
2 – Santa's Sub-titles
In this game, players are trying to guess Christmas movies based on what a sub-title of the movie might be. The sub-titles in this game are all plot based, so you do need a bit of knowledge about the movies to get the answers.
So for example, "9-year Old Obsesses Over Red Ryder BB Gun" would be A Christmas Story and "Searching For My Last Father" would be Elf.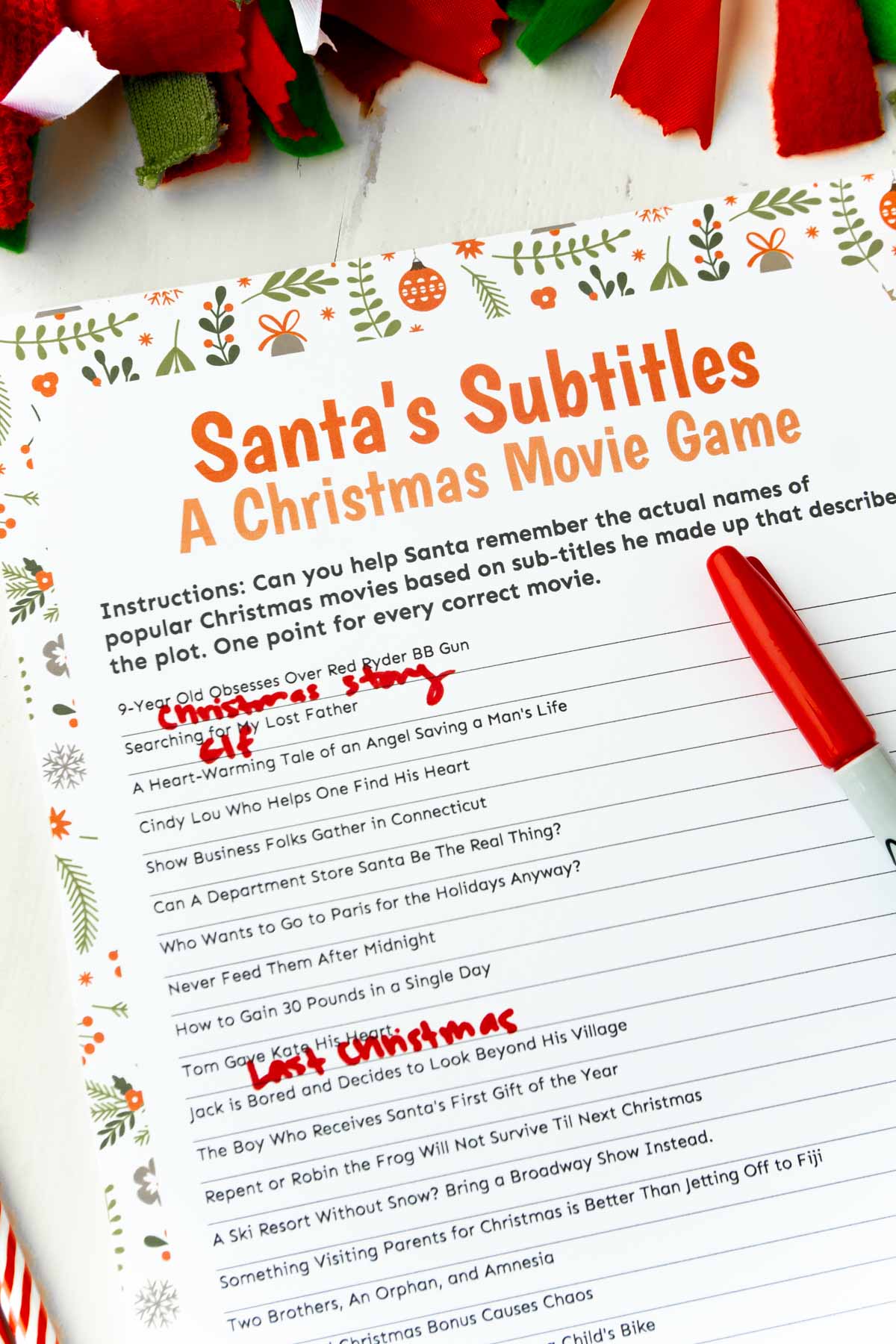 They're not super difficult if you've seen and know the movies, but that's what makes it fun – you still have to come up with the movie name based on a plot rather than just deciphering words.
3 – Can You Guess the Christmas Movie?
Alright now it's time to get to the most difficult of the three games – the movie quote game! In this game, players have to guess movies based on popular quotes from the movies. This is legit Christmas movie trivia and only real movie buffs will be able to get all the correct answers.
I tried to include quotes that were fairly obvious if you know the movie but there will definitely be more challenging ones as well. This game is probably best for teens and adults who have seen a lot of movies.
But there are definitely options that kids will likely know as well like quotes from Elf, Arthur Christmas, and Polar Express. So don't count this one out for the kids – maybe just make it a team activity!
Or if you're worried about this one being too hard, play the Otherwise Known As game first to get movies in people's heads (and tell them they'll be reusing a lot of those movies for this one), and it makes it a whole lot easier! Or give them a list of movies to choose from!
Alternate way to play!
Instead of having everyone fill out a sheet, you could also just ask each individual question to the group. Whoever answers it correctly first (shout it out, write it down and hold it up, run up to you and tell you), gets a point or a prize. This is a fun way to give out a few more prizes AND people have a chance to win even if they aren't necessarily going to know enough to score the highest overall.
Tie Breaker Questions
If you end up with a tie (multiple people got the same number of questions correct), choose one of these three questions to ask the players in a tie. Whoever gets closest to the actual answer wins.
How much do the McAllister's spend on pizza at the start of Home Alone? ($122.50)
In the movie White Christmas, which division are the soldiers in? (151st)
How much did the 2018 version of The Grinch make in worldwide gross box office sales? ($511,595,957)
Prize Options
There are a couple of ways you can do prizes for this game. If you're playing in person and having everyone fill in their own sheet – just get one slightly bigger prize per game. Or if you're just going to ask the questions to the entire group and give the first person to answer it correctly a prize, go with smaller prizes.
Expert Tips
Go virtual by having everyone just write the answers down on a piece of paper instead of using the printed out game. Or you can use the printed game and just send them a copy to print out on their own at home.
Team up if you're playing with various ages. Pair kids with teens or adults who will be more likely to know some more of the classic movies.
Play all three games starting with the easiest first, then the second, then finally the most difficult game. Since they use many of the same movies, it becomes also a test of knowledge and remembering which movies were answers in the previous games!
Pair this with a little Christmas carol game to get all your Christmas pop culture in at once!
Game FAQs
Where are the answers?
In the file you download at the bottom of the post, there will be a copy of each of the three games and a copy of the answers for each of the games.
How many people can play this Christmas movie trivia game?
You can play this game with as many people as you want. You can just print it out to test yourself or your individual family or you can play with an entire room of people! Just know the more people that play, the more likely that you'll have a tie since there are only so many questions.
What if there's a tie?
Have each of the players in the tie answer one of two trivia questions that have number answers. Whoever is closest wins. See question options right above the prize section above.
More Printable Christmas Games
want more fun Christmas Games?
Download the Printable
Enter your first name and email address in the form below to get the printable PDF. You will receive a link to download the PDF to your email within minutes.
If you do not see the form below, click here to get to it.
If you would not fill out the form, you can get a copy in my shop here.
The PDF will include:
Instructions
3 game sheets – one for each game
3 answer sheets – one for each game
If you do not immediately receive the email, make sure to check your promotions, spam, and junk folders!