This free Cinco De Mayo word search printable is a fun activity for your Cinco De Mayo celebration! Kids can search for the hidden words in this Cinco De Mayo word search puzzle while also learning about the Cinco De Mayo holiday at the same time!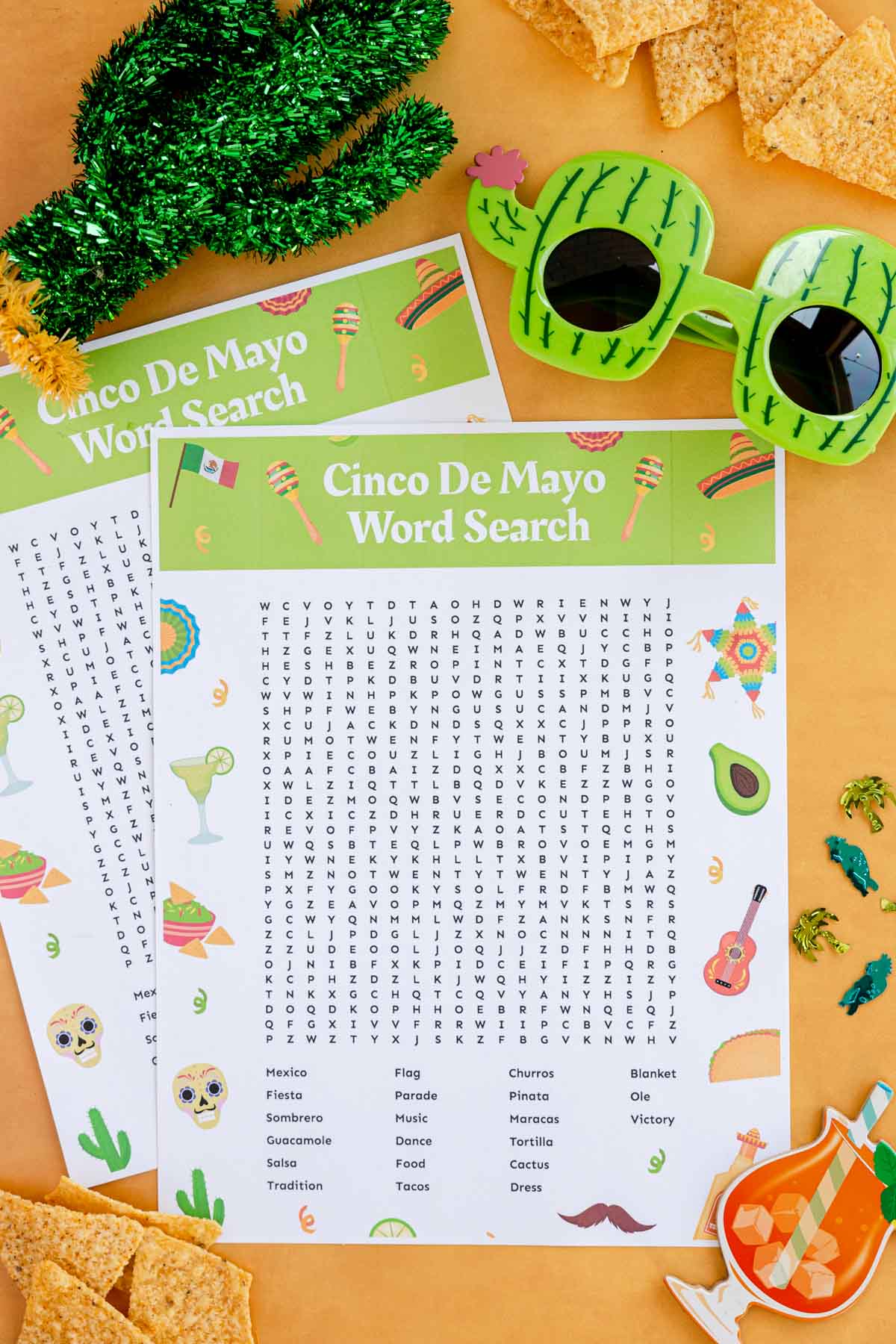 Who's ready for a fiesta? With Cinco De Mayo right around the corner on May 4th, I thought it would be fun to share some activities that you can do with your kids to celebrate with something other than just Mexican desserts. Although that's a great way to celebrate as well!
As the mom of two boys who love word searches, I decided to create a printable Cinco De Mayo word search that they can do as they're snacking on the Mexican appetizers in this Mexican charcuterie board!
It's the perfect way to keep little ones entertained and learning with this colorful Cinco De Mayo word search! They'll get to find fun words like pinata, tacos, and more!
Print one out per person and get ready for the ultimate Cinco De Mayo fiesta to celebrate this Mexican holiday! Or if you're not having a party, it also works great for classroom activities if you're looking for a fun Cinco De mayo activity!
Cinco De Mayo Word Search Free Printable
This Cinco De Mayo puzzle is full of words with a Cinco De Mayo theme. I mostly included different words that you might find at a Cinco De Mayo fiesta (not the important words that go along with the history of Cinco De Mayo like independence or battle) on the fifth of May simply to keep this more kid-friendly for kids of all ages.
So you'll find a lot of Mexican food words and less terms relating to the Mexican army's victory.
This isn't an easy word search but it's also not particularly difficult. It's great for practice fine motor skills (circling words is harder than you think) and great for practicing word recognition!
And you can download the free Cinco De Mayo word search printables at the bottom of this post! Use it for your Cinco De Mayo party, in school (my fourth grade son loved it), or even just to make Cinco De Mayo a special day at home!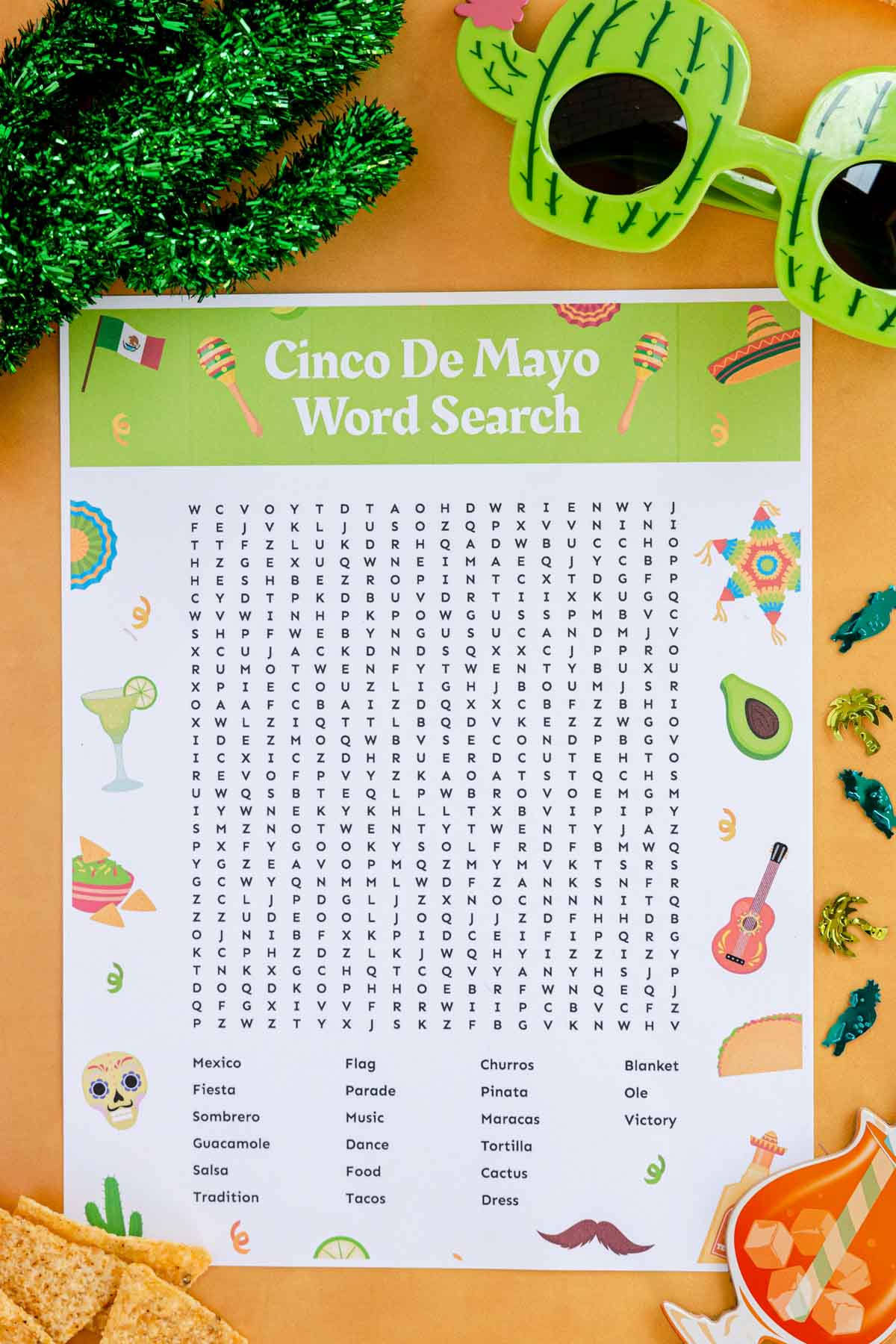 How to Use the Cinco De Mayo Word Search Puzzle
It's simple to use this for your Cinco De Mayo celebration! Just print out one per person who will be participating or if you have a really large group, you could also split into pairs and do it together.
I recommend printing on regular printer paper or if you want to laminate to use again next year, you can print on white card stock and laminate after.
Then give each person their own printable worksheet and let them get to work. You could even turn on a little mariachi music to add to the environment!
Older kids can search for all of the words in the word lists and circle them as they find a word. Remind them to also cross out the words in the word list at the bottom so they don't spend time looking for words they've already found.
Speaking from experience, that is not a great activity for anyone!
Game FAQs
How difficult is the word search?
This particular Cinco De Mayo word search is a medium difficulty level so it's probably a bit too challenging for say kindergarten but good difficulty levels for older elementary school kids, middle school, and even teens.
Can I print the word search in black and white?
You can totally print the word search in black and white if you'd prefer to save your colored ink. I just thought a Cinco De Mayo word search puzzle needed some bright and vibrant colors!
What age group is this word search best for?
I recommend using this with kids that can read and recognize words in a word search, so probably 1st grade and up. You can look at the answer key in the file to see if you think it works for whatever age group you're wanting to use it with.
More Word Search Puzzles
Word searches are the perfect activity to combine learning with fun! If you want more word search games, I have plenty! I've included a few below but you can get all of my word search templates here.
Download the Free Printables
Enter your first name and email address in the form below to get the printable PDF file. You will receive a link to an instant download of the PDF to your email within minutes.
The PDF will include:
Instructions
Word search
Word search answer sheet
License and use – for personal use only
If you do not immediately receive the email, make sure to check your promotions, spam, and junk folders!
If you do not see the form below, click here to get to it.