Disney's brand new cruise ship Disney Wish will be setting sail summer 2022 full of magical new surprises, first of a kind experiences, and more! Here's everything we know so far about this enchanting new adventure!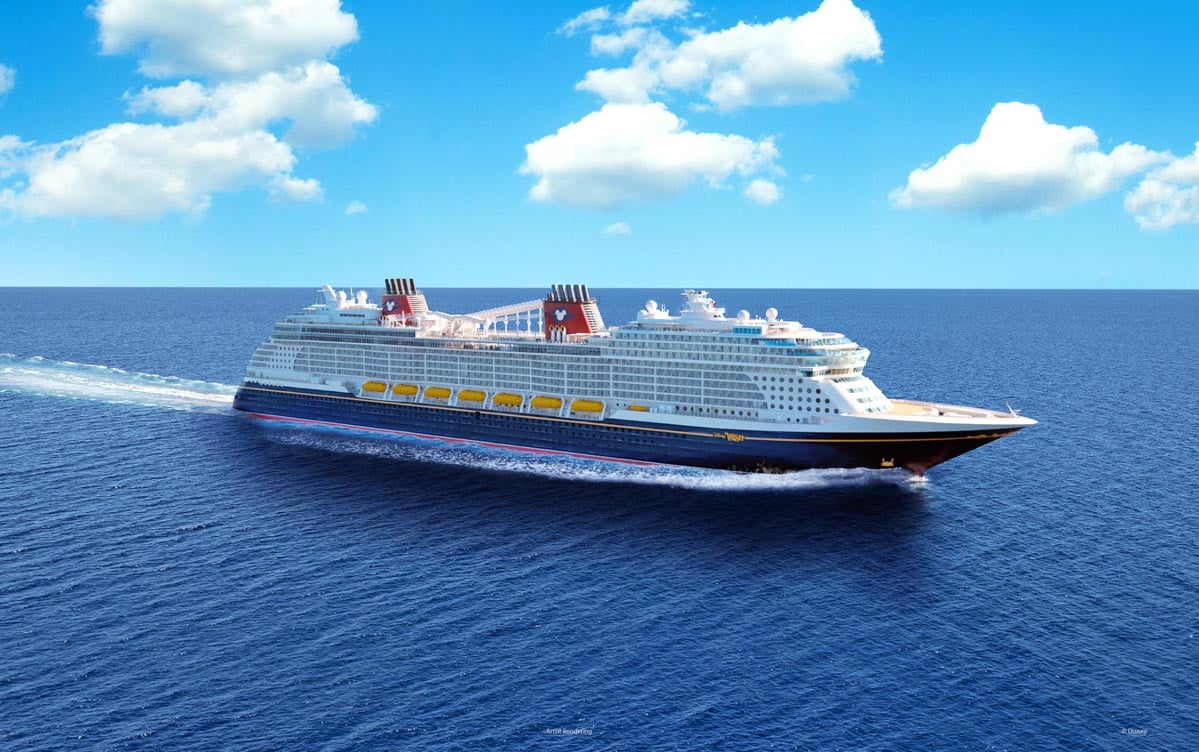 Note: All photos in this post are credited to Disney. If you want to see the full reveal of the Disney Wish, you can watch it on YouTube here.
Highlights
If you read nothing else, here are a few of the highlights about the brand new Disney Wish Cruise Ship! These only make me want to book our new cruise aboard Disney Wish! Read on to get all the details about each of these highlights!
A secret slide entrance into the kids club from the grand hall (like going down the rabbit hole in Alice in Wonderland!)
Kids Oceaneers Clubs will feature Marvel Superhero Academy, a Fairytale section (with crafts, storytelling, and lots of characters), and a Disney Imagerineering Lab where kids can design and try out their own roller coaster!
AquaMouse will be the first ever Disney attraction on sea and will be part water ride, part dark ride, and just fun!
Toy Story Splash Zone is a large water playground featuring a two story slide, splash areas, and smoothie bar!
Aladdin and two original Broadway caliber shows will be shown in the Walt Disney Theatre.
Disney Wish will introduce three new entertainment areas – Luna, Grand Hall Stage, and Hero Zone (complete with game shows, obstacle courses, and sports).
Three brand new family dining areas – Worlds of Marvel, Arendelle, and 1923. You have to read more about these, they sound incredible!
Star Wars Hyperspace Lounge featuring Star Wars scenes, drinks, and more.
Three adult only premiere dining experiences – The Rose, Enchante, and Palo Steakhouse.
Beautiful new stateroom designs including the first ever two-story staterooms!
Booking Date
Okay so let's start off with the most important thing. The general public will be able to start booking trips on the Disney Wish on May 27, 2021 for trips beginning June 9, 2022 through September 2022.
Castaway Club Members should be on the lookout for early booking information with opportunities to book beginning May 17th.
If you're going to book, I recommend booking early. Based on what I've seen on the ship, itineraries are going to book up so fast!
Kids Club
If there's one thing that my kids love the most about Disney Cruises is the Disney Kids Club or Oceaneers Club. I can't tell you how many times I've gone on Disney Cruises and barely seen my kids while I'm there.
The Oceaneer's Club on the Disney Wish looks marvelous, truly marvelous.
Let's start with the fact that there is a secret tunnel slide from the Great Hall right into the kids club. I mean I could stop right there and it'd be enough. (There's also a door, but that's nowhere near as fun).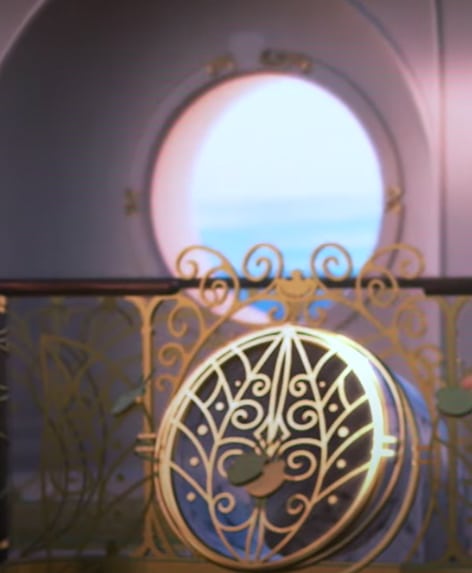 Marvel Superhero Academy
A big portion of it will be dedicated to Marvel Superhero Academy where kids can meet some of their favorite superheroes like Spider-Man, Black Panther, Ant-Man, and the Wasp! They'll be able to go through superhero training and even make their own superhero costumes and test them out during training!
As the mom of two boys who are obsessed with superheroes and superhero games, I'm all in for this!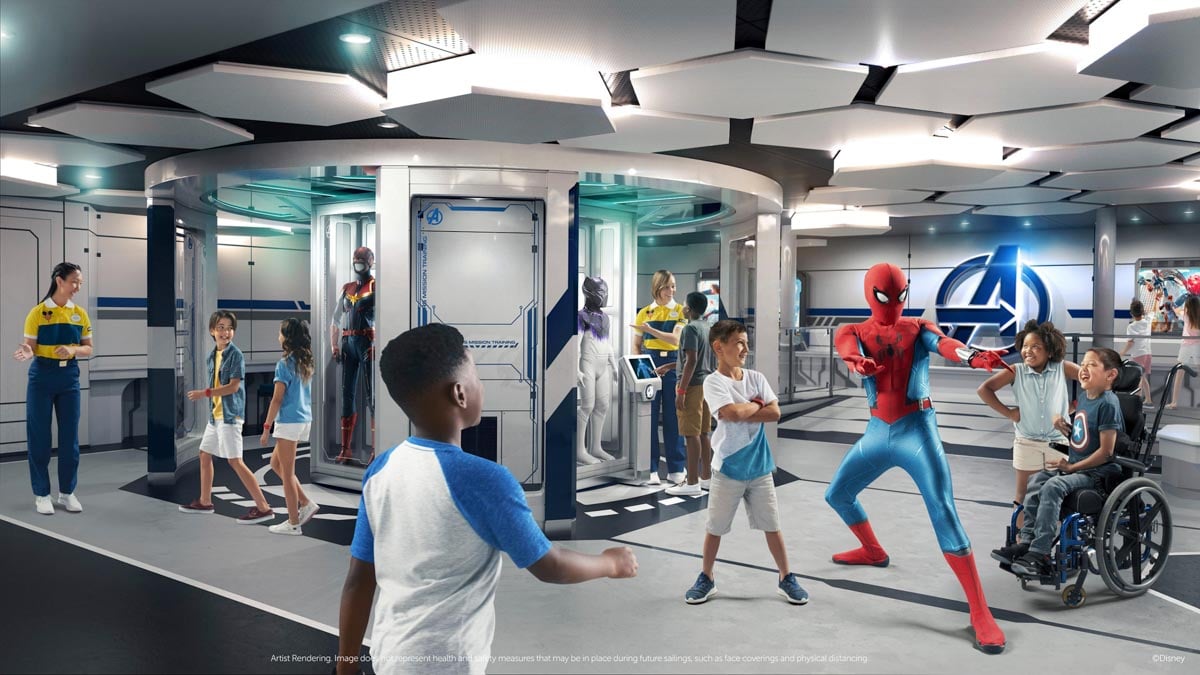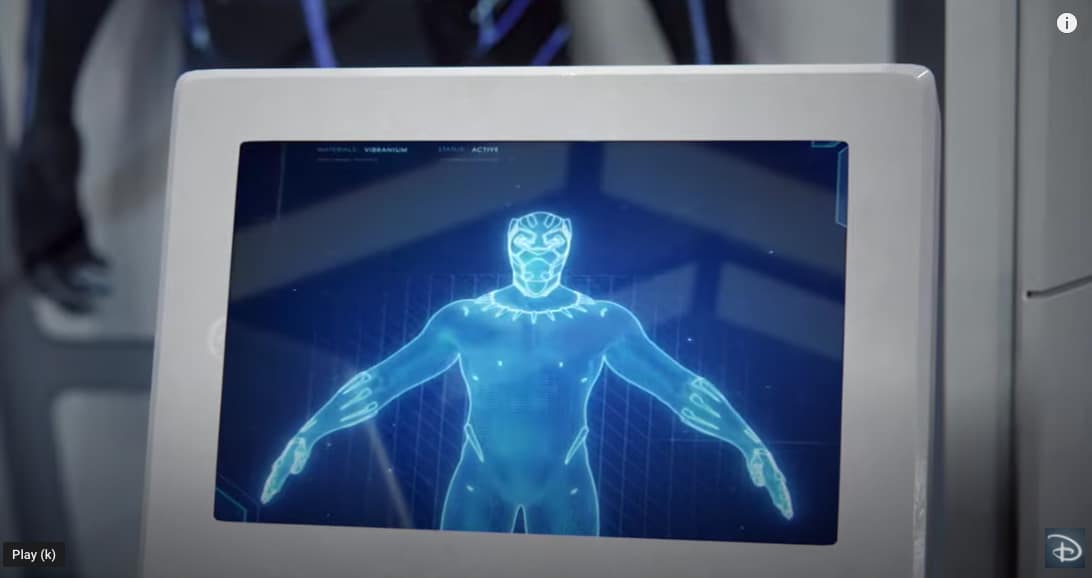 Fairytale Hall
The fun doesn't end there! The kids club also features Fairytale Hall where kids can join their favorite princesses and queens in areas like:
Rapunzel's Art Studio – kids will be given the chance to make their own art and craft projects like paintings and paper lanterns
Belle's Library – read and act out your favorite stories with the help of some beloved Disney characters!
Anna and Elsa's Sommerhaus – kids can unlock powers during a series of Frozen games hosted by Olaf complete with snowball fights, hunts for Snowgies, and more!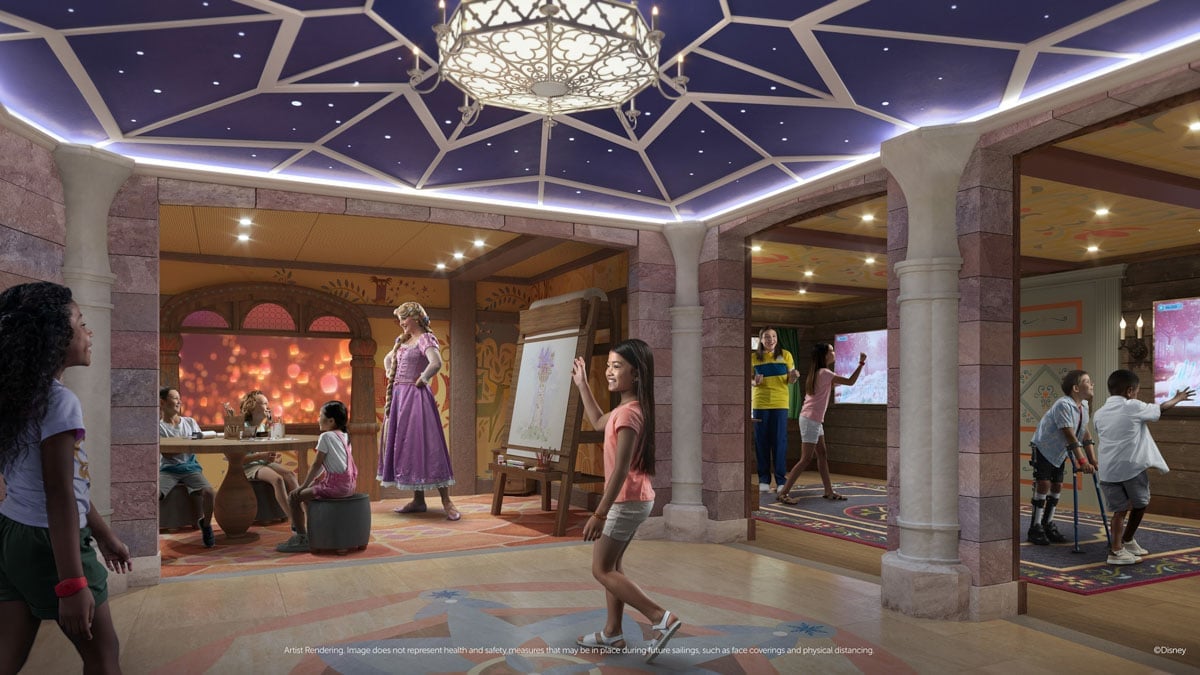 Imagineering Academy
And last but not least, kids will also get to experience a Walt Disney Imagineering Lab. Being a Disney Imagineer is kind of my dream job, and I love that this is a new interactive element of the Disney Wish Oceaneer's Club.
The Imagineering Academy will include fun features like being able to design and ride their own virtual roller coaster and more!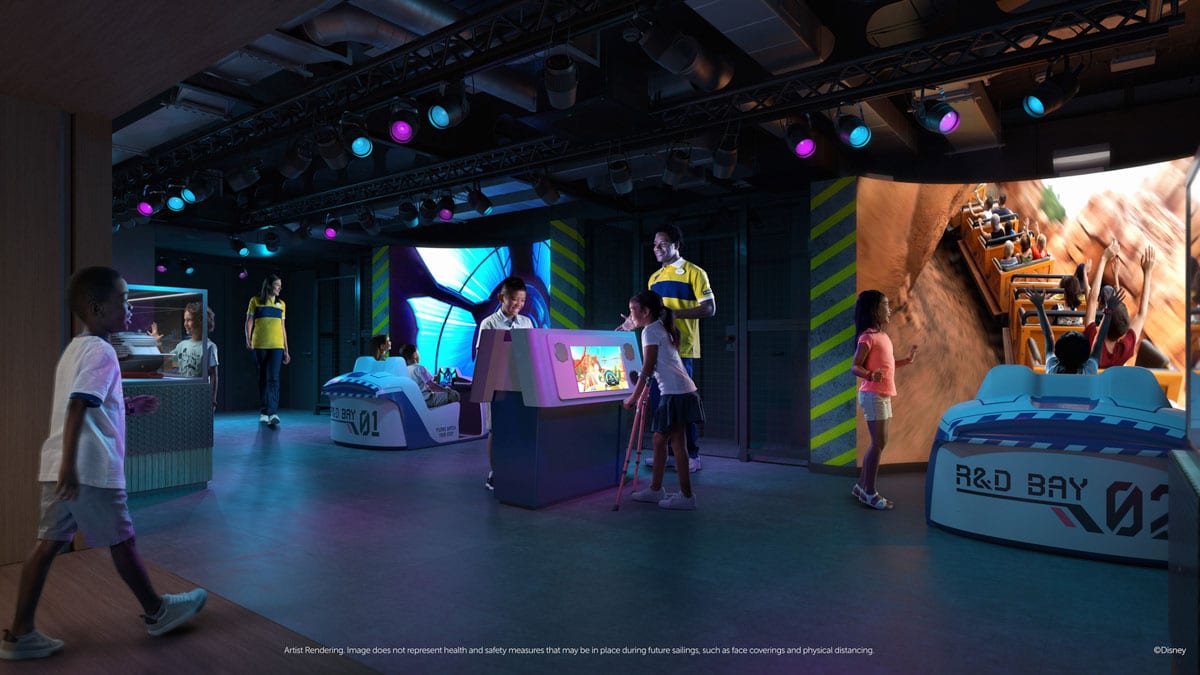 Pools and Water Rides
If your kids ever leave the kids club, you can head out to the upper deck where there is even more fun and entertainment to be found with six pools of various shapes and sizes plus two brand new features not available on any of the Disney Cruise ships!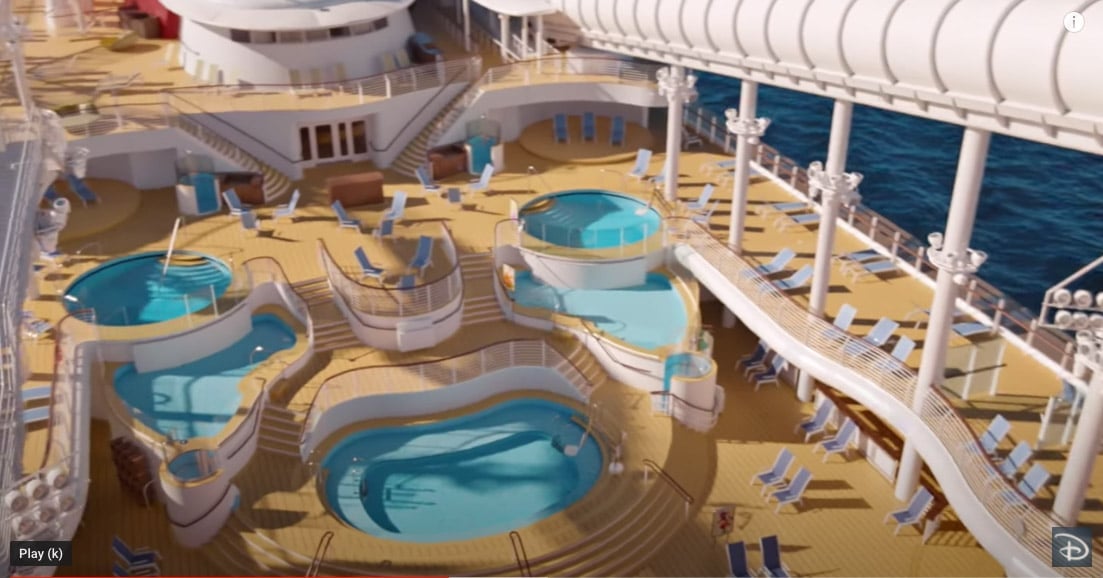 AquaMouse Attraction at Sea
Disney Wish will be the very first Disney attraction at sea that's part water ride, part dark ride. The ride will feature animated Mickey Shorts as Mickey and friends go on an adventure complete with show scenes, lighting and special effects, and lots of surprises!
It's a one-of-a-kind ride, and I cannot wait to try it out!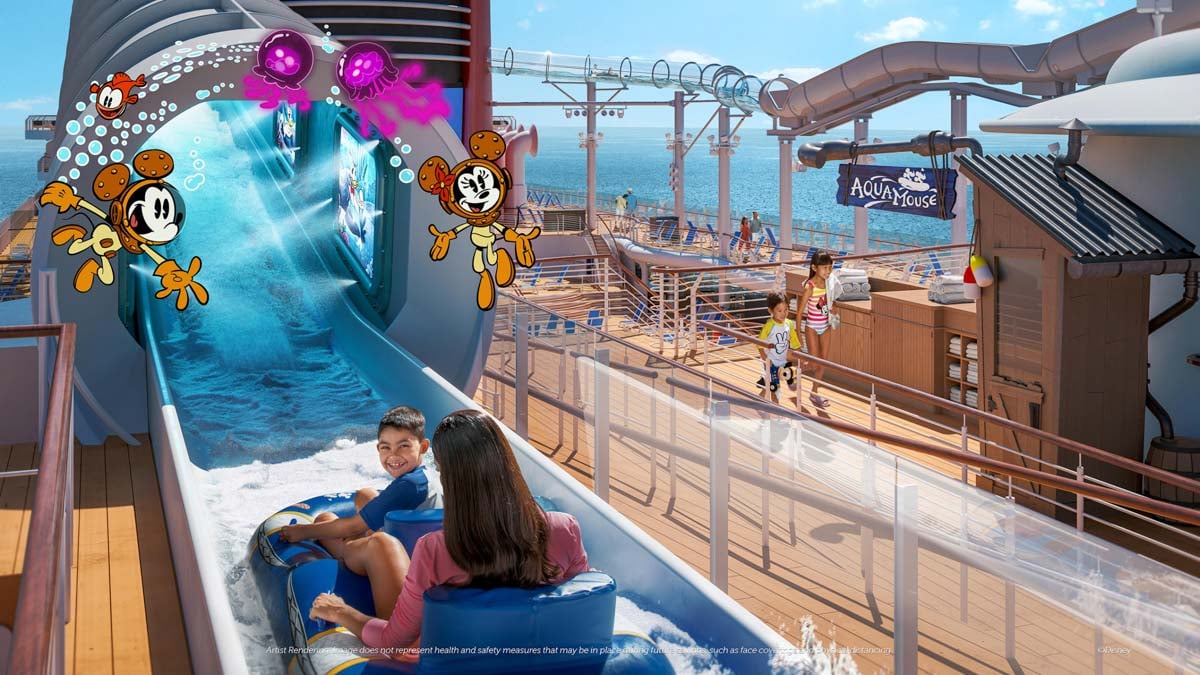 Toy Story Splash Zone
Another huge selling point for my family is the huge Toy Story inspired Splash Zone. We've spent lots of time in the past in the smaller splash zones on the Disney Dream, so I'm super excited to see an expanded play area that's just for families!
The Toy Story Splash Zone will feature a water playground with Toy Story characters, larger than life bath toys, a double-looping waterslide, a six-inch deep wading pool with a waterfall, and even Wheezy's Freezies, a smoothie bar serving up cool-down treats.
If you've ever seen the Pixar short Partysaurus Rex (one of my kids' favorites), it's that but in a water playground!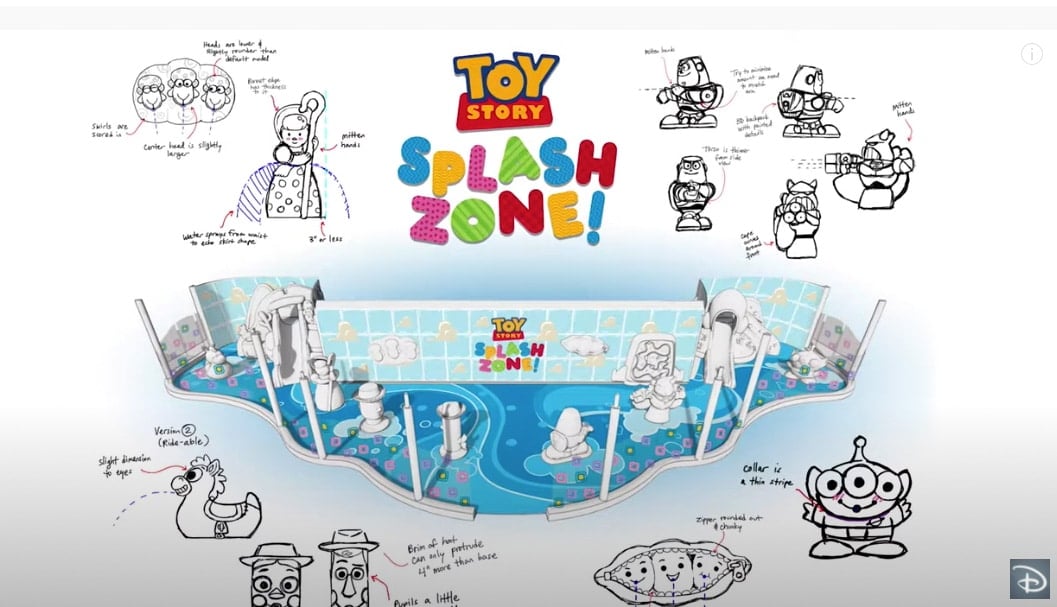 Entertainment
Once you hop out of the pool, Disney Wish will keep you entertained throughout the ship with unique spaces and its Broadway caliber shows!
Broadway Style Shows
Disney Cruiselines always outdoes themselves when it comes to entertainment and Disney Wish seems like it'll follow suit by bringing Aladdin to the Walt Disney Theatre plus two brand new original shows that are currently in the works!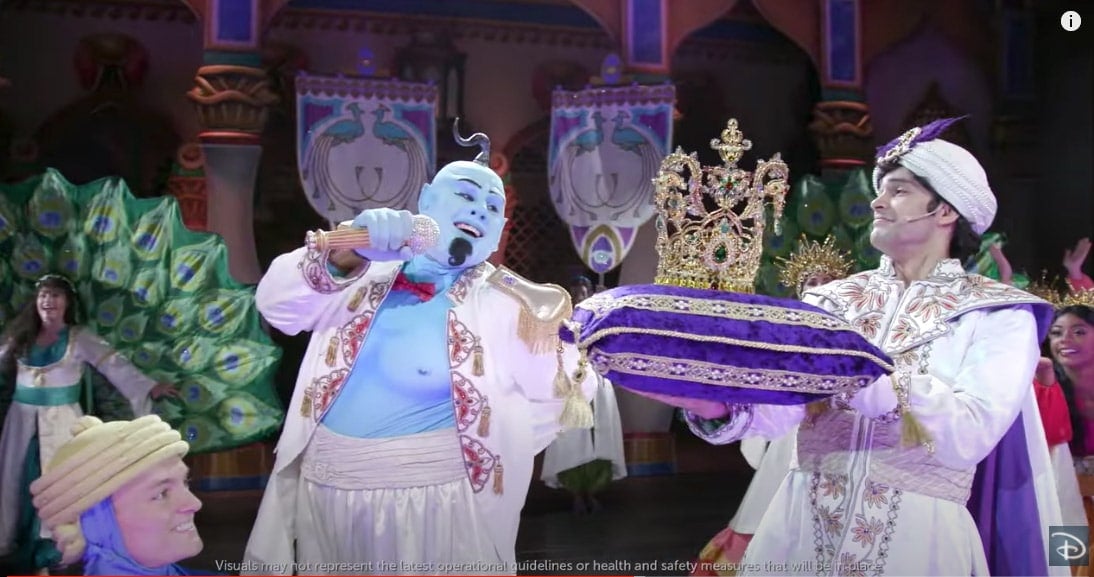 Luna
Luna will be a brand new concept that is designed to be an entertainment hub inspired by the Pixar Short La Luna and will include a two-story LED screen wall, full-service bar, and lots of seating. It'll be the perfect place for all of those Disney games and activities!
The Grand Hall Stage
In addition to being gorgeously decorated and the place you board the ship, The Great Hall will also feature a stage area for fun shows and interactive entertainment throughout your voyage.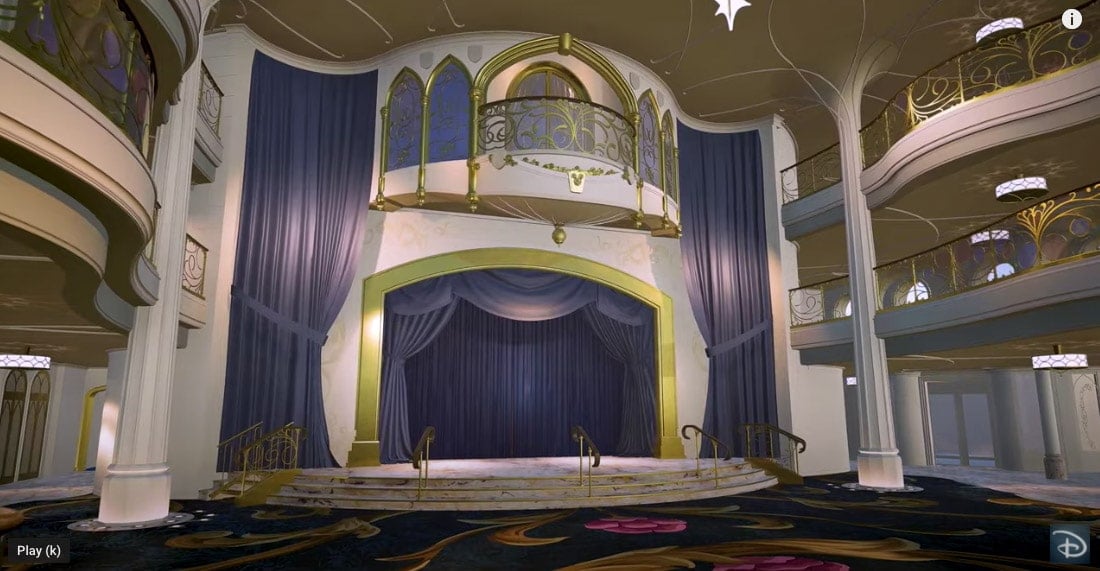 Hero Zone
Okay so I'll admit, anything that has to do with heroes and Marvel has me excited. I don't even know if this has anything to do with Marvel, but I do love me anything hero based!
The Hero Zone will be a futuristic sports arena that includes everything from a family obstacle course to a sports hub! I can't wait to hear more details about this one and all the fun ball games they'll play in here!
Dining Rooms
Another place that Disney Cruiselines really shines is in their dining options. With kids dining on other cruises can be a pain but on Disney, kids actually look forward to Disney every night! Dining on a Disney cruise with kids is part of the fun!
Disney Wish brings three brand new dining experiences that actually gave me chills as they were telling me about them. My family is going to LOVE these, and I'm sure you will too!
Arendelle Frozen Dining Room
The first of the three just looks plain cool. In this brand new Frozen inspired dining room, guests will be invited to a royal engagement party for Anna and Kristoff. This musical celebration takes place with all of our favorite Frozen friends right in the center of the dining area.
The showcase will feature songs, dancing, and even a little audience participation! Plus, you'll get to enjoy a delicious menu showcasing Nordic cuisine with a family-friendly fare. And of course, chocolate.
Worlds of Marvel
I've never been so excited about a dining experience as I am about the Worlds of Marvel experience and we barely know anything about it. All we know so far is that guests will play an interactive role in an Avengers mission of sorts plus there will be food.
Marvel + food, I'm all in!
The menu will feature a food meets technology style show and will include food created with the latest Pym Tech plus dishes inspired by Wakanda, Sokovia, and New York City. Bring me some pizza!
1923 – Hollywood Glamour
Lastly, Disney Wish will also feature a new dining room called 1923 (the year Walt Disney Studios was created) that will feature beautiful dining rooms, lots of drawings from Disney films, and more.
The menu will feature California inspired dishes with a fusion of Asian, European, and South American cuisine.
Premier Adult Dining
The brand new dining concepts don't end with the main dining rooms. The Disney Wish will also have four brand new adult areas to drink and dine the night away.
Star Wars Hyperspace Lounge
This Star Wars themed lounge will take adults on a tour of the Star Wars galaxy at a high-end bar designed to look like a luxurious yacht-class spaceship. This area will be reserved for adults every evening (hopefully'll it'll be available to the rest of the family throughout the day) to enjoy bites and beverages inspired by the films.
Palo Steakhouse
Palo Steakhouse is a new version of the Palo found on other Disney Cruise ships and will combine delicious Italian with upscale steakhouse, all in a setting inspired by Cogsworth. Think delicious melt in your mouth cuts of meat and of course incredible desserts.
Palo's brunch on other Disney Cruise ships is a thing I could (and should) write an entire post about, so I can only hope they bring it on the Disney Wish as well!
Enchante
This brand new dining experience, inspired by Lumiere, will be luxurious and I'm sure delicious. The menu will be crafted by 3 Michelin star Chef Arnaud Lallement (who also has helped with the Remy restaurants aboard other ships).
This romantic venue will be romantic, candlelit, and intimate. Drop the kids club off and enjoy a romantic night off with your significant other or girlfriends!
Enchante's menu will feature a variety of international dishes featuring upscale products and seasonal ingredients.
The Rose
This chic lounge will be adults' favorite place for a pre-dinner snack or after-dinner drink and include both a great selection of drink options as well as a gourmet menu of amuse-bouche and small plates, all curated by Chef Lallament.
Itineraries
Speaking of itineraries, the Disney Wish will be sailing from Port Canaveral, Florida and doing a variety of 3 and 4 night itineraries that will include stops in Nassau and Disney's Private Island Castaway Cay. You can read more about Castaway Cay here.
Design and Decorations
Alright now let's get to the ship itself! The ship itself will feature stories and motifs from tales of wishes come true. Some of my favorite features that have been announced so far include a fairytale castle-inspired Great Hall complete with a beautiful statue of Cinderella, magical forest setting of the Walt Disney Theatre, and storybook inspired staterooms.
Staterooms
Last but not least, the staterooms. All of the staterooms on Disney Wish are inspired by classic fairytales and feature popular characters like Cinderella, Sleeping Beauty, Rapunzel, and more!
Rooms will still feature popular Disney Cruise favorites like split bathrooms, bathtubs in every room (so nice for the kiddos), most with private verandahs, and more!
76 Concierge Staterooms – More than double the number of concierge staterooms and suites available than any other ship (these accommodate up to five guests and include beautiful private verandahs, living areas, and more)
7 Exclusive Oceanview Rooms – that are the very first staterooms above the ship's bridge and include floor to ceiling windows with incredible views.
4 Royal Suites – these have the option of one or two-story suites, the first ever two-story Disney Cruise suites. There are a couple of photos of these below, and they look amazing.
Okay so who else is ready to start booking? I love Disney Cruises and I'm thinking Disney Wish my be my new favorite!