These superhero minute to win it games for kids aren't just for kids, they're good for any superhero loving kid or adult! Tons of fun minute to win it games inspired by their favorite superheroes! Superhero party games for any age!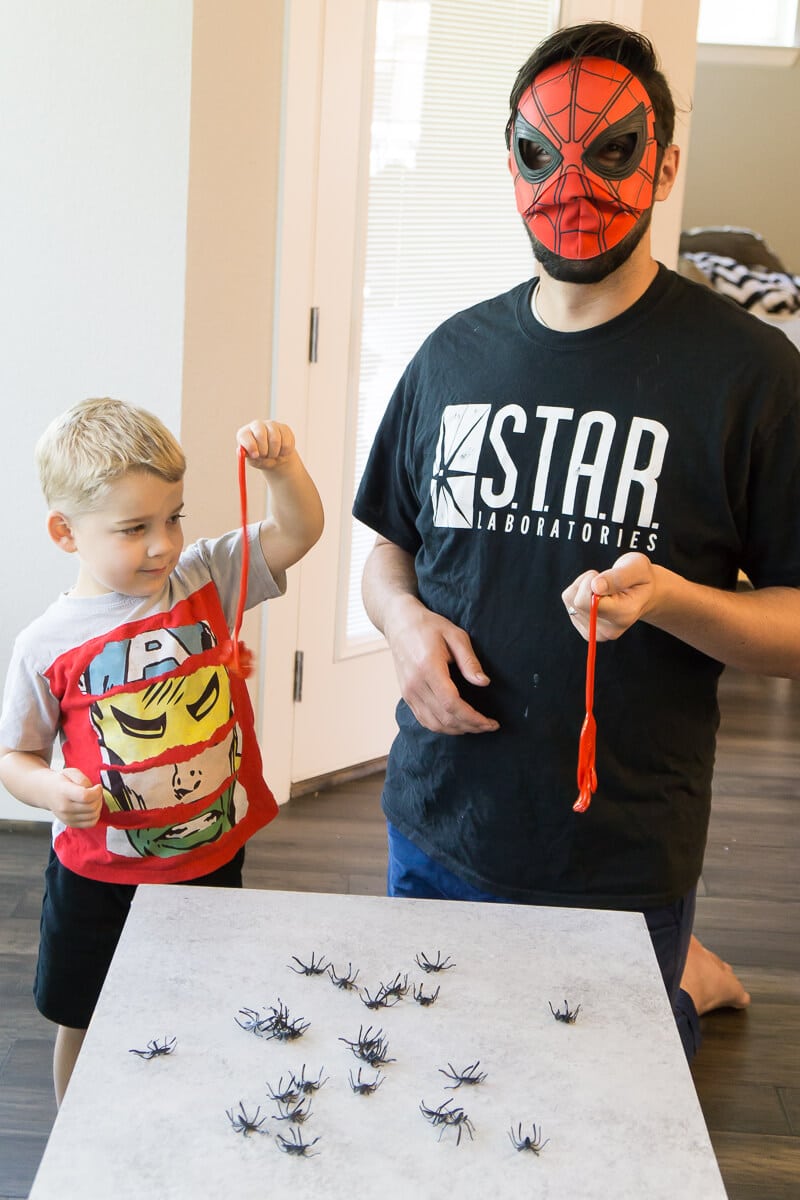 Superhero Minute to Win It Games for Kids
These superhero minute to win it games can be either played individually, head to head, or in teams. Each one is inspired by a popular superhero and even though I'm a little bias toward The Avengers, I included Justice League superheroes, X-Men, and more since I've already shared Avengers party games.
And I've designed the games so that they are all family-friendly, so you can use these for kids, adults, teens, or even grandparents. Minute to Win It games are perfect for that – just use the game and change the difficulty for the player age.
Style #1: Man vs. Clock – In this version, one player will be trying to beat the clock for each game. So for instance, they will have to try and finish the task within a minute.. If they do, they win a prize. If not, let someone else have a shot. Choose a different person per game.
Style #2: Head to Head – In this style, you'll pick two players for each game who will going head to head against each other instead of against the clock. See who can finish the task first. The first person to finish wins the prize. Again, rotate through pairs for each game.
Style #3: Team Competition – In this style, you'll split your group into two (or 3 or 10 depending on the number of guests) teams. For each game, teams must choose one player to compete head to head in the game with the other teams at the same time. The first team to finish will receive 10 points, the second team will receive 5, etc. This works best if you have quite a few people and is a good way to get everyone involved cheering for their team.
How to Play Superhero Minute to Win It Games
Captain America
Supplies: Paper plates, a basket (this Captain America one works great), and tape
Play: Players must stand behind the line that's taped on the ground 20 feet away from the basket and try to toss paper plate "shields" to get them to land in the basket or other container.

Spiderman
Supplies: Sticky hands and plastic spiders
Play: Place a bunch of plastic spiders on the ground and give each player a sticky hand. Players must sling their sticky hand "webs" to pick up a certain number (10) of plastic spiders.

Flash
Supplies: Any objects from your house that you can use to create an obstacle course and a bucket filled with any objects (e.g., balls, villains, medals, etc.).
Play: Players must race through the obstacle course and grab an object out of the bucket setup at the end of the course, as fast as possible then race back through and drop it off by the starting line of the obstacle course. Repeat three times.
Batman
Supplies: Regular white copy paper, plastic cups, and Batman villains (or other toy villains)
Play: Give the player a stack of regular printer player. Player must make a paper Bat Jet (i.e., airplane) across the room to knock villains off cups, setup about 20 feet away, before the time runs out. Players must knock off all three villains (or cups with villains on top) to win.

Iron Man
Supplies: (8) iron lug nuts and a chopstick
Play: Player must put the chopstick in their mouth and using only their mouth to hold the chopstick, stack the lug nuts on their sides on top of each other. Player must stack all eight to win. If they fall down, they must start again.

Hulk
Supplies: Green balloons
Play: This is a two player game. Give each pair a bag full of balloons and to play, they must first blow up a balloon then pop it together, using only one hand per person – pressing the balloon together to Hulk smash. Smash three balloons.
Thor
Supplies: A hammer, ping pong balls, and a bucket
Play: Give each player a bucket of ping pong balls and a hammer. Place a bucket on the other side of the room across from the player with the hammer. To play, player must bounce a ping pong ball and using the hammer navigate the ping pong ball into the bucket at the other side of the room. Make sure to get ping pong balls that bounce well or this becomes almost impossible!

Aquaman
Supplies: Swedish fish or gummy sharks, ornament hooks, and string
Play: Place Swedish fish on the ground in a "pond." Tie an ornament hook to a 3 foot long piece of string. To play, players must hold the piece of string and try to hook a Swedish fish from the pile. They either have to pick it up (more difficult) or just move it from the pond to a designated area on the opposite side.

Green Lantern
Supplies: Green Ring Pops
Play: Player must open and eat an entire green Ring Pop in under a minute.
Black Widow
Supplies: Hula hoop (size should depend on what age group is playing) and plastic spiders
Play: Player must put a plastic spider on their head and without touching the spider at any point (once it's on their head), get through the hula hoop from one side to the other. If the spider drops or they touch it, they have to try again.

Hawkeye
Supplies: Nerf guns or bow/arrows and Hot Wheels or Matchbox Cars
Play: Set the toy car at the end of the table and give the player the loaded Nerf gun. Player must use the Nerf gun to shoot the toy car from one end to the other. If the car falls off the side, they must place it back on the table where it fell off and start again.
Black Panther
Supplies: A ball of black yarn
Play: Player must put one hand behind their back and with the one hand behind their back, must unravel the entire ball of black yarn. They can use any method they want as long as they don't remove their hand from behind their back. They must get the other end of the ball of yarn in their hand to win.

Wolverine
Supplies: Colored pencils or crayons and white paper
Play: Give the player three colored pencils, a piece of white paper, and a superhero themed word. The player has to put the three colored pencils in between their knuckles and draw the word like pictionary, getting the group to guess the word.

Ant Man
Supplies: Raisins and three half-full two-liter soda bottles.
Play: Player the three two-liter soda bottles in a line in the middle of the room. To win, players must stand above the soda bottles and drop "ants" (raisins) from eye level into the soda bottles below. No bending or lowering their hand below eye-level. For kids, they must drop one into a bottle and for adults, they must drop an ant into each to win.
Gambit
Supplies: Playing cards and plastic cups
Play: Make a pyramid about of six plastic cups on a table. Player must stand at the opposite end of the table and toss playing cards to try and knock all six cups off the table.
Daredevil
Supplies: A piece of poster board or cardboard, Oreos, a blindfold, and a bowl/cup
Play: Player must sit on one side of the table wearing the blindfold. Tape the cardboard or poster board to the other side of the table so it creates a ramp from the table edge to a bowl/cup on the ground underneath the edge of the table. Player has one minute to roll Oreos over the edge of the ramp blindfolded to try and get one to land in the cup.

Wonder Woman
Supplies: String and three light weight gold items (like these).
Play: Give player a piece of string and place the three gold items on the ground about five feet away from the player. Player must tie a knot in the string to create a "lasso," then use the lasso to grab the gold items and bring them back to them. They can drag the items, pick them up, or use whatever method as long as they don't leave their spot.
Silver Surfer
Supplies: Gray or silver colored towels
Play: Race from one side of the room to the other (or around obstacles if you choose) by surfing on a gray towel. Stand on the towel and literally shuffle your feet back and forth to move the towel. First player to make it there and back wins.

Professor X
Supplies: Swivel office chair and Oreos
Play: Spin the player around in the swivel chair 3-5 times. Player must then place an Oreo on their forehead and, while still sitting in the chair, use only their face muscles (and mind power) to get the Oreo from their forehead to their mouth. If the Oreo drops on the ground, they can pick it up and start again.

Superman
Supplies: Rock candy and plastic straws
Play: Place rock candy in a cup on onside of the room and place another cup on the other side. Player must use the plastic straws only to transfer the green rocky candy (Kryptonite) to the cup on the other side of the room without touching it. If they touch it, they must start over.
Don't forget to pin these superhero minute to win it games for later!