Gratitude jars are an easy way to build gratitude in your family or classroom by taking the time every day to recognize what you're grateful for. Check out these fun gratitude jar ideas for different ways to share and express gratitude all month long!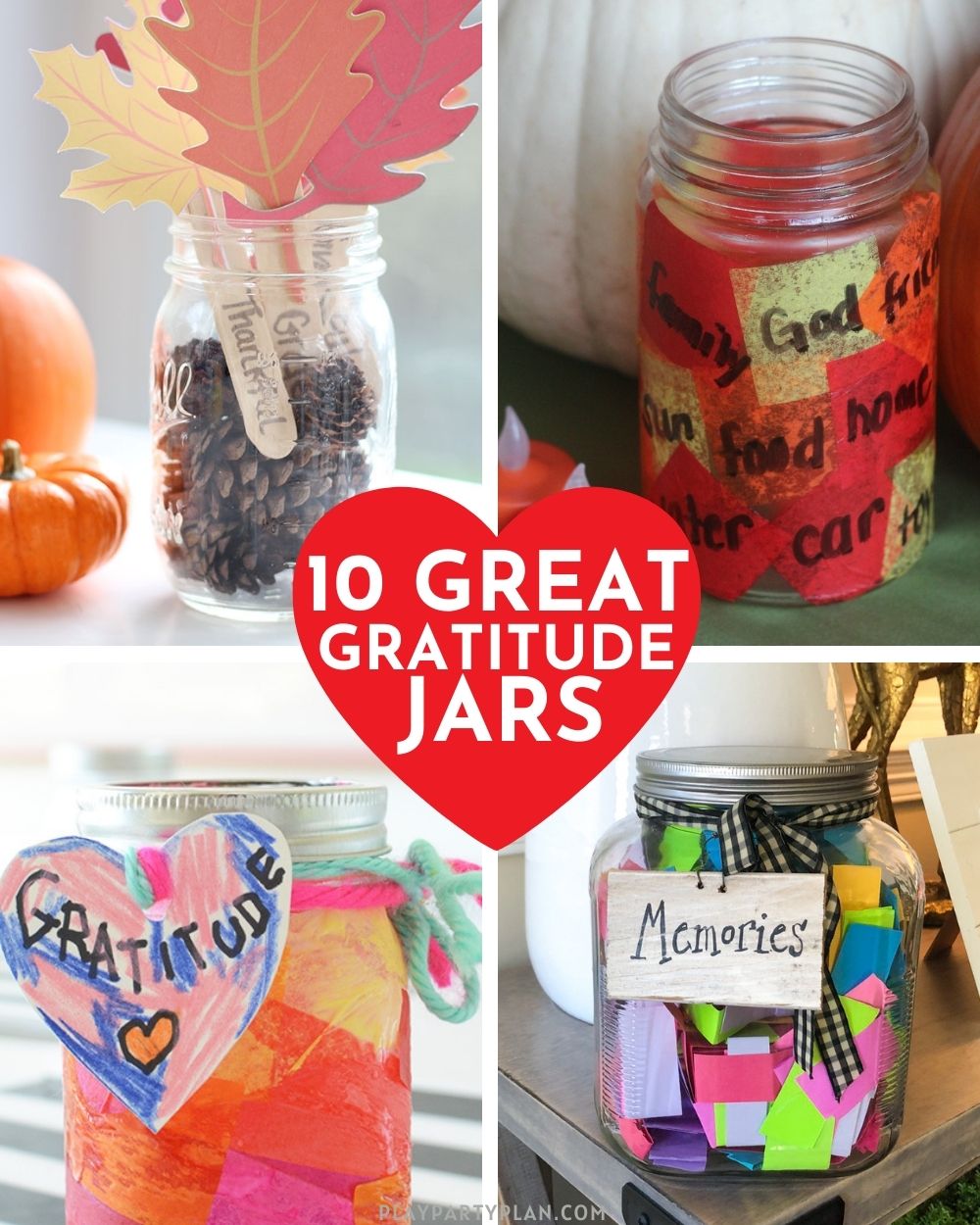 I'm in full on Thanksgiving mood over here these days if you couldn't tell by the Thanksgiving coloring pages and Thanksgiving rice krispie treats I already posted this week.
And I'll apologize now if you aren't a Thanksgiving person because they are going to keep on coming over the next few weeks. I'm just a bit behind this year and have all sorts of fun Thanksgiving games left to share!
Feel free to right to all my Christmas games instead!
A typical tradition during Thanksgiving dinner is to go around the table and have everyone say something that they're thankful for, or at least that's how it worked at my house.
I always hate having to come up with the perfect answer on the spot, the answer that no one else thought of and that isn't a generic "my family," type answer.
This year I thought it would be fun to take the tradition one step further and come up with things I'm grateful for all month long and create a gratitude jar to keep them all in.
It's a simple jar that I can fill up with the things I'm grateful for as I think of them including the random ones like Amazon.com and fuzzy socks to the more important ones like my kids and my beliefs.
Our jar is a very basic one with just a piece of cute ribbon on it, but I thought it would be fun to share different gratitude jar ideas in case you want to do something similar!
What is a Gratitude Jar
A gratitude jar is an activity where participants write down things they are grateful for on pieces of paper and put them in a jar that will later be shared with the group at the end of November or even around the table at Thanksgiving!
There are many different types of gratitude jars, but they all work similarly: a group fills a jar with items or quotes that inspire them or remind them of how fortunate they are.
This jar can be found at your local dollar store and the cost of it may vary depending on where you purchase it from or you can use any type of container for your gratitude jar – some people like mason jars while others prefer an old shoe box!
Gratitude jars are an easy way to build gratitude in your family or classroom by taking the time every day to recognize what you're grateful for.
How to Use a Gratitude Jar
There are a number of ways to use gratitude jars depending on how much time you have and what your goals are. A couple of easy ways we've used them in the past include:
Gratitude Jar Ideas
Many people are looking for gratitude jar ideas to help them think about gratitude and different ways to collect and share it. If you need some fresh ideas, this post will provide some simple gratitude jar ideas that can be used with kids, adults or by yourself!
I tried to include a variety of different ideas for doing some sort of gratitude jar activity, not just different containers!
Printable Doodle Jar
This fun activity is a quick and easy version of a gratitude jar where you doodle and write down things you want in a printed out jar!
Check it out!
Gratitude Jar Craft
Don't just make putting things in the jar the activity, make decorating the jar an activity too! This simple gratitude jar craft will get kids even invested in filling the jar after it's all decorated!
Check it out!
Mod Podge Thankful Jar
This fun idea takes the crafting idea a step further and combines it with the things you're thankful for! A little mod podge, paper, and a grateful heart makes this a really fun one!
Check it out!
Leaf Thankful Jar
This cute jar uses popsicle sticks with fall colored leaves attached to make this gratitude jar one you'll love looking at and adding to!
Check it out!
Memories Jar
Turn your gratitude jar into a great way to also write down your memories by adding a little more to your slips of paper! When you're writing down what you're grateful for, add a little more context like I'm grateful for Amazon because it helped me get something for a last minute project. And so on!
Check it out!
Little Things Gratitude Jar
Focus on the little things you're grateful for with this simple gratitude jar idea. Instead of the big things we all think of (family, God, our house), try to focus on writing down the little things you're grateful for. It'll really help you find more things every day to appreciate.
Check it out!
Gratitude Pumpkin
Don't want to use a jar? Try writing on something else that's decorative like a paintable pumpkin, a poster, or even a picture frame. While not technically a gratitude jar, it's still a similar activity!
Check it out!
Prompted Gratitude Jar
If you're not sure where to start or you struggle coming up with things you're grateful for that don't seem silly, how about answering these gratitude jar prompts instead? Grab a prompt, write down your answer, and you'll have a full jar in no time!
Check it out!
Gratitude Rocks
Spend a day painting some rocks with things that you're grateful for then keep those rocks in a jar for everyone to see! Or spread them out in your yard to help others remember things to be grateful for!
Check it out!
Tips for Creating Gratitude Jars
As you're planning out your own gratitude jar activity, here are a few tips to keep in mind!
Let people get creative. You may want to write your items, someone else may want to draw or even paint their items. The goal is just to foster positivity and gratitude so let people do it however they want.
Read through things in the jar at least once a month, if not once a week. It'll help keep people motivated and on track to keep writing down the things they're grateful for.
Make it a celebration when you fill the jar or when you hit the date you're going to read what's inside. Go somewhere to eat or order in and really make going through the jar something to celebrate and enjoy!
Don't think anything is too small to make it in the gratitude jar. Explain to everyone participating that this is what they are grateful for. It's okay if it's something as simple as their alarm going off on time or getting to play with a friend after school. The goal is to think about what makes us blessed and anything and everything does that.
Gratitude Jar FAQs
When do you fill a gratitude jar?
You can fill a gratitude jar once a day, anytime you're feeling grateful, or really any time you want! The idea is just to fill it regularly to foster more appreciation for the blessings in our lives.
Why would I want to use a gratitude jar?
Gratitude jars help people remember to be thankful! It's easy to take things in our lives for granted when we don't stop to think about them sometimes. A gratitude jar can remind us to keep track of these good things so that we always feel appreciated, rather than neglected or taken for granted.
How do I make a gratitude jar?
Grab any container you want that's large enough to hold pieces of paper inside. Then decorate it however you see fit – glitter, ribbons, mod podge, photos, etc. You can also decorate the inside with things you love like flowers, confetti, shells, and more.
More Thanksgiving Activities
If you're looking for more ways to enjoy the Thanksgiving season together, try some of these fun activities with your family!
Note: This post was originally written in 2013 as just directions for how we created our give thanks jar. It has since been updated to include more details and other people's gratitude jar ideas!