Need something fun to do with the family for Thanksgiving? This fun Thanksgiving bingo game is great for all ages! Just print out the cards and play!
thanksgiving Bingo
My family has always had the tradition of playing bingo on Christmas Eve. We play, win prizes, then open new Christmas PJs.
But ever since my son has gotten old enough to realize how much bingo is, he's been asking us to play bingo way more than just Christmas Eve.
So this year I created these cute printable Thanksgiving bingo cards so everyone can play over the Thanksgiving holiday!
This bingo game would be a great option for the entire family along with these Thanksgiving would you rather questions and a little Thanksgiving charades!
Or even after a more active round of Thanksgiving minute to win it games!
And I've created 20 free printable cards for you to download at the bottom of this post. If you need more than 20 cards, you can get more in my shop here!
Supplies
You don't need much to play bingo, especially this Thanksgiving bingo. All you'll need are:
Thanksgiving bingo cards (download at the bottom of this post)
Calling sheet – included in the download mentioned above
Bingo markers – I use these but you could totally use Thanksgiving colored candies, bingo stampers, or really anything small that fits on the cards.
Prizes – again, this is totally up to you what to give out as prizes, but I've got an entire list of fun ideas below in this post
How to Play Thanksgiving Bingo
I'm going to walk you through the typical way to play bingo with these cards and then provide a few alternative options if you want to get creative!
Game Prep
Before you play, you'll need to cut out the cards and the calling markers. This goes for any of the versions included below.
Put the calling markers in a bag, bowl, or bucket of some sort to pick from.
Bingo Instructions
If you want to play the traditional bingo game, first give everyone a bingo card and bingo markers. Or you can let people choose their own.
Once everyone has chosen a card, choose someone to the caller (or you do it). The caller picks an image out of the bowl/bag/bucket and shows it to the group.
Anyone who has it covers that space on their card with a marker. Keep calling images one by one until someone has covered five in a row – diagonal, horizontal, or vertical. The free space is just that – freebie for anyone to use in any of their bingos.
When someone gets five in a row, they call bingo and win.
You can then either keep pulling images and let more people bingo in that game (if you have lots of prizes like we normally do for Christmas movie bingo) OR have people clear their cards and start again.
Alternate Bingo Games
One of my favorite parts of my family's bingo night is changing up what is a "bingo" each game. We use the same cards but instead of having to get 5 in a row every game, we make "bingo" a different goal.
These are just a few of the different things we've used in the past to get a bingo:
Four corners – cover all four corners on your card
Postage stamp – cover any four spaces together in a square (postage stamp) on your card.
X – cover all the spaces going both ways diagonally to make an X
T – cover the top row and the middle row to make a T
Cross/Plus – cover the middle horizontal row and the middle vertical row to make a plus sign
Friendly Free – mark off all of the spaces touching the free space
Biggest Loser – we do one of the above PLUS whoever is the last person to get a marker on the board gets the first prize
Bring a Friend – whoever bingos gets to choose a friend to bingo with them a choose a prize (this works best if you have lots of people/prizes)
Play until – If someone hasn't won yet, play until that person bingos
Prize Ideas
Bingo isn't bingo without prizes. Since this is a Thanksgiving bingo game, I've come up with some fun Thanksgiving related options below that would make great prizes! I've included both small options and larger ones as well depending on how much budget you have for prizes.
Expert Tips
Laminate the cards so that you can use them every year. Just store them with a rubber band around them or in a plastic bag and pull them out again any time you want to play bingo.
Use reward type prizes if you're playing with just your family. Let kids win things like stay up late, double desserts, a date with mom, etc. It's less expensive and you'll be surprised how excited kids are about those prizes!
Switch callers every game. Let people take turns calling the images – providing help to little kids who want to do it.
Game FAQs
Do you have any more cards?
Yes, if you need more bingo cards you can buy a set of 32 or a set of 40 in my shop here.
How do you make bingo fun?
Switch things up each game! Instead of doing just regular bingo, try out different variations and let the caller choose the game. There are a number of variations above to choose from to get you started.
What is the free spot in bingo?
The middle spot that says free spot is the free spot in bingo. This spot does not need to be covered (though it can if you choose) and counts for any bingo that goes through it.
Do you have more scavenger hunts?
Yes! You can find them all on my scavenger hunts page here!
How do I get the cards?
Fill out the pink form at the bottom of this post to get the set of 20 cards and a calling sheet. If you need more cards or would prefer to not fill out the sheet, you can purchase a set here as well.
Can I use these for blackout?
There are 30 unique images used across the bingo cards, not 75 like traditional bingo. So yes, you can technically use them for blackout because not everyone has the exact same images on their cards BUT many people likely will, so it's not ideal for blackout. If I was you, I'd just do something else for a final game like four corners, all around the free space, etc.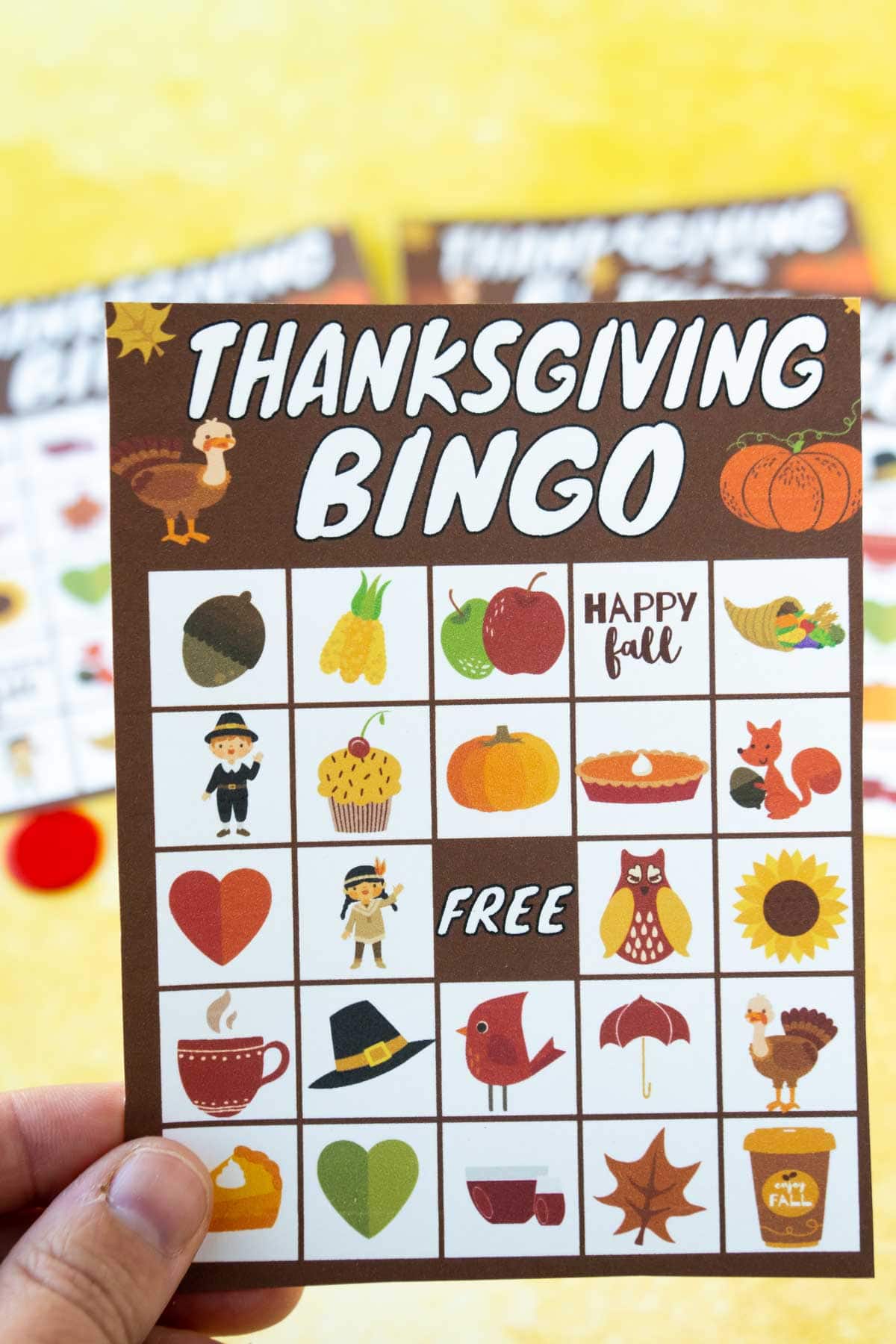 Download the Printable
Enter your first name and email address in the form below to get the printable PDF. You will receive a link to download the PDF to your email within minutes.
If you would rather not fill out the form or you need more than 20 cards, you can also purchase a set of bingo cards in my shop here.
The PDF will include:
20 unique Thanksgiving bingo cards
Instructions
Calling sheet (print this twice – cut out the images from one and use one as your marking sheet)
If you do not immediately receive the email, make sure to check your promotions, spam, and junk folders!
If you do not see the form below, click here to get to it.