Try a different side of a white elephant gift exchange this year with this fun heads or tails edition of your favorite gift exchange game! Simply play your white elephant game as you normally would except instead of choosing to steal or unwrap, the flip of a coin chooses for you. One of the best versions of a white elephant gift exchange we've ever played!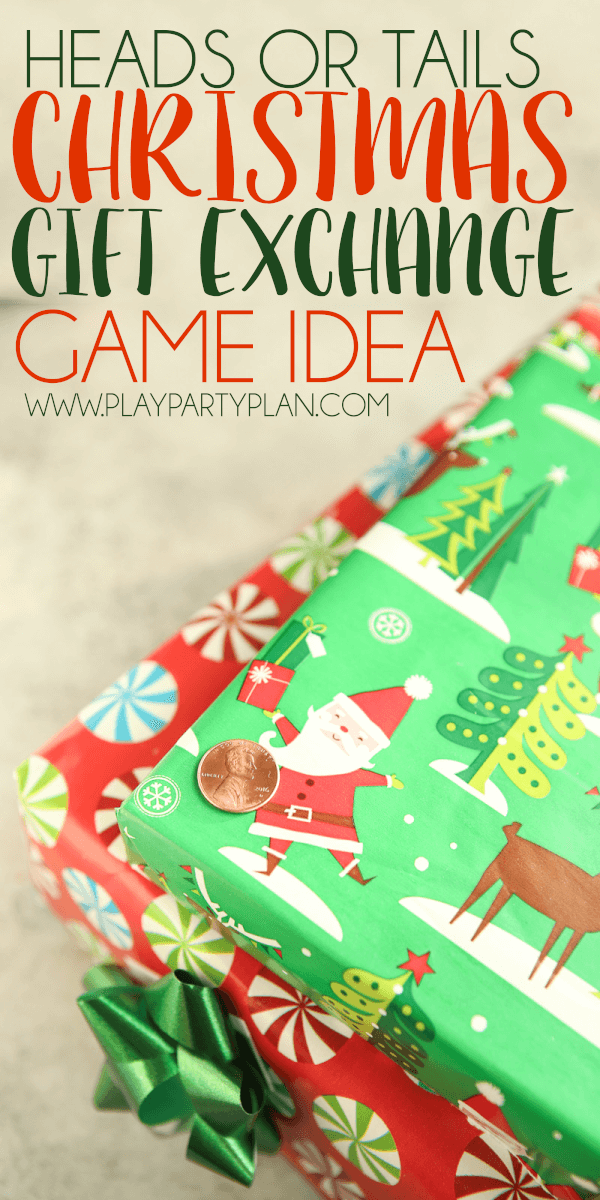 Heads or Tails White Elephant Gift Exchange Game
Gift exchanges are a holiday party staple. If you go to more than one Christmas party this year and don't do a gift exchange, I'd be shocked. Seriously shocked. I actually love gift exchanges mostly because I think it's really fun to see what everyone ends up bringing.
If it's a white elephant gift exchange, I typically pick something from this list of hilarious white elephant gift ideas. If it's not white elephant, I go with something universal that everyone would love!
You can play this game either as a white elephant gift exchange or a normal one, but I prefer white elephant. If you want to go with regular, one of these 10+ gift exchange games might work better! Or not, totally your choice!
In this game, it's basically the same as a normal gift exchange. The big difference is that instead of whoever turn it is choosing to either steal a gift or choose one from the middle, the decision is made for them based on a flip of a coin. And I have to be honest, this actually came from my parents who created this game over in Bosnia!
Game Supplies Needed
Have everyone bring a wrapped gift within a certain price range. Set the range when you invite everyone over as well as a theme (or not) for the gifts like if you want to make it white elephant or something else. Make sure to have at least one or two extra gifts in case someone totally forgets or someone brings a friend who didn't get the bring a gift memo.
Write down pairs of numbers for each person playing (i.e., if you have 20 people playing, write down the #s 1-20 twice, then cut out and put in a bowl. Or alternately, pick out a set of matching playing cards from two decks of cards (i.e., A-K of hearts and A-7 of Spades). This is a much easier way to do this.
When guests arrive, have them put all of the gifts on a table and pick a card or number from the bowl. You'll keep all of the matching numbers as the host.
How to Play
Pick a matching number or playing card from the bowl. Whoever's number is picked will go first. They should pick a gift to unwrap from the pile in the center then sit back down. The first person may also get to go last since their turn isn't nearly as fun as anyone else's. Details for that at the end of the instructions.
Pick another matching number or playing card from the bowl for the person who goes second. Here's where it gets fun. Instead of choosing whether they want #1's gift or a gift from the center, they must flip a coin.
Heads = they pick a gift from the table to unwrap.
Tails = they must steal a gift from someone even if they don't really want any of the other gifts. If it's the 2nd person to play, they can only steal from #1 since no one else has opened a gift yet, but further into the game – people can choose to steal from anyone.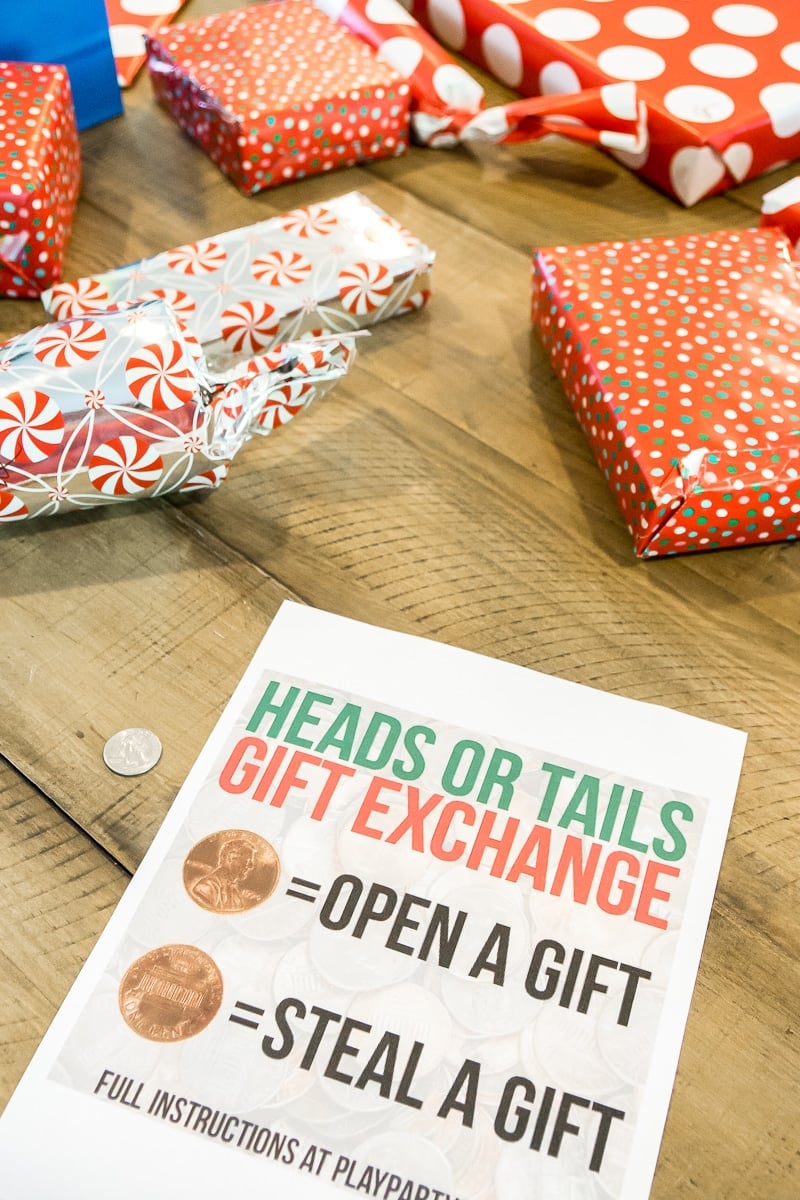 If someone has a gift stolen from them (because a person flipped a tails), that person then has to flip the coin to decide if they can choose an unwrapped gift from the center or have to steal from someone in the circle.
The only rule is that if someone flips a tails, they cannot immediately steal the same gift back from the person who stole it. That gift can be stolen in the same round (i.e,. if lots of people flip tails), but it cannot be immediately stolen back.
Once that round is over, it's time to pick another number or card and start with another person who goes through the same exact process of flipping the coin.
Keep playing until everyone has had a turn and then if the first person who went didn't have their gift stolen (and get another turn), let them go again. If they did have their gift stolen and were able to play again, the game ends once everyone has had one turn.
Heads or Tails Gift Game Video
Since I know that words can be a little tricky to understand, I created a short video showing how to play the game as well. Watch the video below to see how fun and easy it is to play!
Free Printable Instruction Sheet
Since I know this can be a bit confusing, I created a printable version of these instructions as well. Click here to download the instructions!

Want more gift exchange game ideas?
Get the ultimate gift exchange game bundle! The best gift exchange games all in one printable PDF – instructions, printable cheat sheets, printable playing cards, and more! Click on the image below to check it out.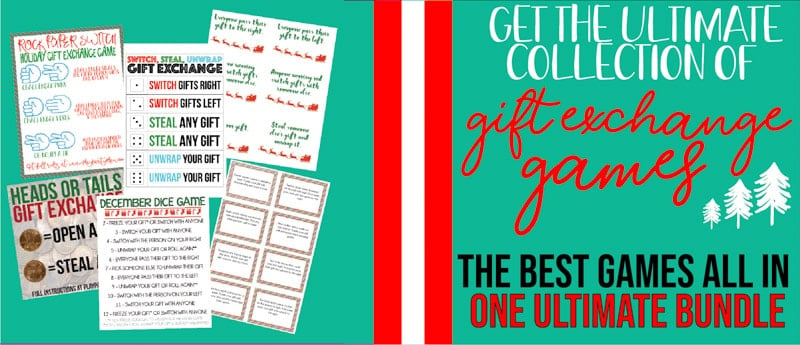 Notes About Playing this White Elephant Game
Some versions of white elephant games will freeze a particular gift once it's been stolen three times. I prefer to not do that in this game since the stealing is more of a luck thing than a choose to steal the same gift over and over. But do what you think works best, I just prefer no freezing!
If a person has a gift stolen from them and then flips a tails, they cannot immediately steal the present back, but it can be stolen back in that same round if multiple people flip tails.
The last person (who has the last number) flips a coin. If they get heads and take the final gift from the table, the game is over. If they get tails, they steal and the game continues until someone flips heads and has to unwrap the final gift from the table.
Don't forget to pin this white elephant gift exchange game for later!