Want to make moving easier? These 26 brilliant moving tips will make packing, moving out, and moving cross country a breeze! Everything from packing tips for moving to time and money-saving ideas for the actual moving process!
This post contains affiliate links. If you purchase something via an affiliate link, I may receive a small commission at no additional cost for you.
My husband and I were joking the other day that we tend to live our lives in the space of three year increments. We've been married for twelve years, and it seems like every three years or so we pick up and move or make some huge life change.
Six years ago it was the birth of my oldest and purchasing our first home in Virginia.
Three years ago it was our big move to Texas (get my best cross country moving tips from that move here).
And just last month, we moved to Kansas City and into a brand new home.
We may not be a military family but in the past twelve years we've moved six times. That's six more times than my husband moved his entire childhood.
So you could say I know a bit about moving. Luckily as I've gotten older and moved more, I've learned some pretty smart moving tips and hacks. Moving is already stressful so anything I can do to make moving easier, I'm all in.
I already put together a showing checklist for showing your home. Now I'm sharing my best tips for moving out, packing tips for moving, and other moving related tip ideas – hopefully I can help someone make moving a little bit less stressful!
Must-Read Moving Tips
I have a total of 26 different tips below, but I went ahead and broke it down into different sections to make them easier to digest:
Packing tips for moving
Tips for moving out
If you have any of your own moving tips to add, leave me a comment and I'll add a reader suggested moving tips list at the bottom of this post!
Packing Tips for Moving
We knew we were moving about five months ahead of time so I've included packing tips for both if you have time and if you're doing a quick last-minute move. Or combine all of these packing tips for moving to make moving day as seamless as possible!
1 – Do a little bit at a time (if possible) so the packing process isn't so overwhelming. Doing a little bit at a time works for everything really, it's one of my secrets to being more productive!
2 – Go through and purge your stuff before you start packing (or during the packing process). I may not have bought into the Life-Changing Joy of Tidying Up, but I do know that getting to a new house and opening boxes of random junk from a desk drawer does not bring you joy. Sort into four piles:
Pack now (things that can be packed up from now until the move)
Pack later (things you want to keep out until right before moving day)
Donate
Throw away
And make sure anything that's in the donate or throw away piles actually get thrown away. There's a reason there's a viral meme about having a bag of stuff to donate in mom's car for months…
3 – If you're moving with short-notice, have a packing day and have people come over to help you pack.
Prep Before Packing Day
4 – Before people come over, create a packing checklist (or spreadsheet in my case) with what needs to be done, who needs to do it, and any notes. Keep track of what gets done so you can easily assign things out to your team of helpers.
5 – Either buy or get moving boxes in all shapes and sizes, even more than you think you'll need. Before you go out and buy them, check local Facebook groups to see if anyone has any they're giving away (or selling for cheap). There are always people moving in and out!
6 – Don't forget that you can pack in things other than boxes. Use your suitcases, storage totes, and other large boxes/buckets to pack in. Just keep in mind that boxes + storage totes stack better so if you're packing in suitcases, etc. those might go better in a car or with you on an airplane.
7 – Buy tons of storage bags in various sizes. I was amazed how even the snack and jumbo size bags came in handy!
8 – Order these stickers to make labeling boxes with their rooms easier. Or if you want to add note about what's in the boxes, these moving labels would work well too!
9 – Pick up or order cold drinks, snacks, and/or food for your helpers. People are much happier when fed, and it's a really easy way to show your gratitude for their help. Donuts, waters, and pizza went over well with our crew! Sending thank you cards is always a nice gesture as well.
10 – Set up a station with everything people will need for packing – tons of packing tape, scissors, Sharpies (for labeling boxes), and anything else you can think of. If you have multiple floors in your home, set up a "moving supply station" on all floors so people don't have to go up and down stairs to get supplies.
Packing Tips for Packing Day
11 – Plan for things to take more time than you originally think. Packing is exhausting and you're going to want to take breaks, grab food, and really packing just takes a long time. Especially if you have a lot of dishes or breakables that need wrapped individually.
12 – Have someone be in charge of "managing" the packing process – you, your partner/spouse, or someone help. Use that checklist/spreadsheet I mentioned earlier to assign people to jobs they can do without a lot of supervision (packing up books, wrapping + packing dishes) and mark things off as they get done so you can make sure everything gets done.
13 – Have everyone label boxes with stickers/labels to tell what room it came out of AND have them add details on what's inside the box – the more detail the better, especially when you're looking for something in 100 boxes in your new home. Not that I've done that or anything.
If you don't order the stickers, you can also just write things on boxes or on tape with a Sharpie. It's just more effort than sticking on a sticker.
14 – Assign one or two people to make a bunch of boxes all at once and give out those boxes to be packed. It's easier to make a bunch of boxes at once than to make them individually. Don't make all the boxes at once in case you don't need them all and want to return them but get started with at least 10.
15 – Don't pack pillows, blankets, and towels all together – use them to add padding to breakables, valuables, and electronics.
This is in addition to all of those lovely moving pad you'll need for furniture and to protect items in the truck.
16 – Even if you're using a TV box for TVs, add in some extra padding like blankets or pillows. Our TVs were packed in a precarious situation in our truck and the pillows my husband packed in with them likely saved us thousands of dollars in a broken TV screen.
17 – If any furniture is taken apart, put any essential pieces like screws, filing cabinet keys, etc. into a plastic bag and tape to the individual piece of the furniture. Or if taping it isn't going to work, put ALL of those plastic storage bags together in one box of building materials. Then keep that box safe at all costs even if it has to go on the plane or in the car with you.
18 – Label cords, remote, and other essentials with tape + Sharpies then put all of those items into one bucket together. No loose cords or remotes anywhere. Put that bucket with the building pieces box so you don't lose that one either.
19 – As you're packing boxes, push them against the wall and out of the walkways to make moving day easier.
Tips for Moving Out (Actual Moving Day Tips)
20 – Hire moving help.
This is my biggest recommendation even for anyone on a budget. I partnered with Hire a Helper for our move, and it was a fantastic experience! And even though they gave me a discount code for a portion of the moving services, I would recommend their services (and hiring movers through Hire A Helper) regardless.
You may not be able to hire the entire move out (packing, loading, driving truck, unloading, unpacking) but if at all possible, hire out the actual loading and unloading portion of your move.
Or at least price it out to see if it's doable.
We used Hire A Helper to hire a moving company in the Dallas area to come and load the truck and then another moving company in Kansas City to come unload the truck into our new house.
Pretty much the best money I've ever spent because while they were doing the heavy lifting, I was sitting with my swollen feet (moving while 9 months pregnant is no joke) up just watching. And because they were being paid (not volunteers helping me out with the move), I didn't feel one ounce of guilt about just sitting around and watching.
And besides, moving companies hired through Hire A Helper are all vetted professional moving companies. They know what they're doing and do this for a living. Wouldn't you prefer a professional handling your stuff over some neighbors who came to help? Let your friends, family, neighbors, etc. help with the packing, cleaning, and other things – let Hire A Helper find you movers to do the actual moving.
I like to think of Hire a Helper like the Travelocity of moving companies. You simply go to the website, put in your move information (location, date, how many movers you need, etc.), and click search. And Hire A Helper comes back with moving companies who meet your needs. You choose which moving company based on the prices and reviews and book right then and there.
And best of all, if you need to make changes (we had to switch our moving times 48 hours before the move), you do it all through the website.
Then you just sit back and wait for moving day. And on moving day, you sit back and wait some more while your home is packed up for you.
Like I said, best money I've ever spent.
Learn more about how Hire a Helper works.
Moving Day Tips
Even though you may not be doing the actual moving, there are still some things you can do to make moving day easier for everyone.
21 – Get the kids out of the house for the day. Let your friend who offered to help take them or have a baby-sitter take them to the park. If they're home, they'll likely just be in the way or confused about why their toys are going into a big truck. \
22 – Schedule moving day the day before your home's trash pickup if possible. That way you can put out all of the trash after the moving is completed without being a bother to your neighbors (or having to find somewhere else to dump it).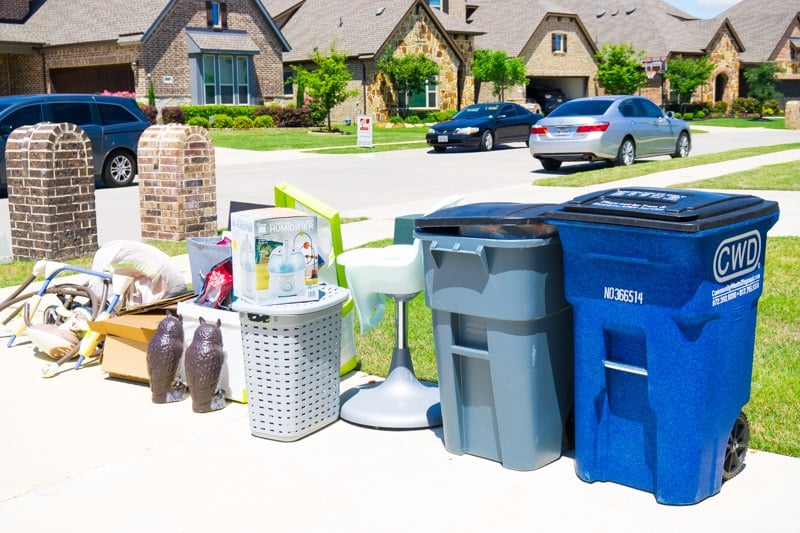 23 – Create a place in your home for things that aren't being moved. We put everything in one room and even added a sign indicating as such.
24 – Speaking of things not being moved, take any valuables or breakables you're really worried about with you either in a car, on the plane, etc. We don't really have many valuables like jewelry but my computer, camera, and SD cards with photos all went in the car with me.
25- Plan a few hours after the move to do small touch-ups in your home. It's almost a guarantee that after you move out all the furniture, bookcases, etc. there are going to be nicks and spots that were hiding and need to be touched up.
26 – Don't try to clean the house while you pack or while the movers are moving. Things are going to get messy during both processes, so I recommend planning a few hours (enlist help!) to clean after or just hire a cleaning service to do a move out clean the day after the move.
And one bonus tip for moving in.
When you're moving into a new house, put big labels on the rooms in matching colors to the stickers I included above. So if the bedroom #1 sticker is blue, put a big blue sign up near the doorway to bedroom #1 that says bedroom #1. You'll likely still get boxes put in the wrong place but at least it's a start.
What are your best moving tips?
Don't forget to pin these moving tips for later.