A couple of weeks ago we moved across the country, and we did it all wrong. Seriously, completely wrong. Things were busy, I was traveling, and I ignored all of the tips for moving that I read beforehand.
When I move again, my goal will be to avoid all of these mistakes made when moving cross country.
13 Mistakes to Avoid when Moving Cross Country
1 – Not going through our stuff
I mentioned it already, but our summer was busy. Between the Disney cruise, my sister's wedding, and other trips I already had planned, I was only home for like one week all summer. And one week isn't enough time to get ready to move, or at least not in an organized manner.
We ended up just throwing armfuls of random junk into those big storage bins rather than throwing away or donating the stuff we didn't actually want to take with us to Texas. And now those storage bins are still full of junk, and I'm doing it in Texas instead of Virginia.
2 – Not organizing our items into "rooms"
We moved from a 1600 square foot townhouse with like six rooms into a 4000 square foot home with 12+ rooms. We were lucky enough to have a company handle our packing and relocation, but they wrote "office" on all of the boxes from our top floor.
Office was fine for our old house but the old office space translated into four different rooms/spaces in our new home, which made moving into our new home much tougher because when a box said office, I had no idea where it went until I opened it up.
3 – Not labeling boxes with what's inside
Having a room name on the outside of a box is fantastic but writing what's inside is even more important. Our movers were great and wrote down the room and a basic description on the outside, but it would've been way more helpful for me to know that "office decor," really meant guest bedroom bedding, not the desk lamp and picture frames. Be specific with your labels so you can find things later.
I've got even more great ideas to keep box labeling more organized in these 26 packing tips for moving!
4 – Not discussing placement of major pieces in your new home
My husband was at a work conference when our movers arrived, and we hadn't taken the time to come up with a plan for how our 1600 square foot house translated to our 4000 square foot one.
The movers would bring something in the door, and I had to guess where to put it because my husband and I hadn't discussed it yet. I guessed wrong, and we ended up spending a good portion of a day with his brother moving things to the correct location. A simple plan of where the big things go will save you a lot of time and energy later.
5 – Buying all of your furniture at once
Moving into a larger home meant that we had furniture for about 1/4 of our house when we moved in. Don't buy all of your furniture right away when you're in that panic, my house is empty mode.
You can rent furniture for a few months to get an idea of how you'll really use your new home, what you like, and what fits well. So instead of being stuck with couches you bought that aren't a great fit forever; you'll be able to just return the couches you rented and try out something new.
Or after you're done renting, go buy whatever will fit the space better.
6 – Not getting help
Moving is overwhelming. There is seriously so much to do from packing to organizing and keeping your home running in the middle of it all. Accept as much as help as possible to make it easier on everyone. We had a moving company do most of our packing and unpacking, so I just assumed I could do everything else on my own. Terrible mistake.
It would've been really helpful to have someone come over to help me go through things to prep for the movers and to be around to help answer questions and supervise the moving process.
My husband's new job started during the move, so I was on my own; I couldn't watch everything at all once and there were incidents I could've avoided if someone else had been around.
7 – Trying to unpack everything at once
One of the options for us with movers was to have them unpack everything or to do a partial unpack. I chose to have them unpack our kitchen, which was great except we still have counters full of things I haven't found a place for yet. And still full boxes is less overwhelming for me than a counter full of clutter.
Getting things unpacked is going to take a while, so don't burn yourself out by taking everything out of boxes before you know how it's going to be organized. Do a little bit every day, and it'll slowly but surely all get done somehow.
8 – Not clearing out our pantry and fridge early enough
I waited until the very last second (literally after the movers were gone and right before my flight to Texas) to clean out my fridge. And I did the pantry the morning before the movers showed up.
Instead of having time to take the food to a nearby shelter or offering it to my neighbors or friends nearby, I ended up having to throw away most of it because I was flying out the same night the movers finished. Such a waste.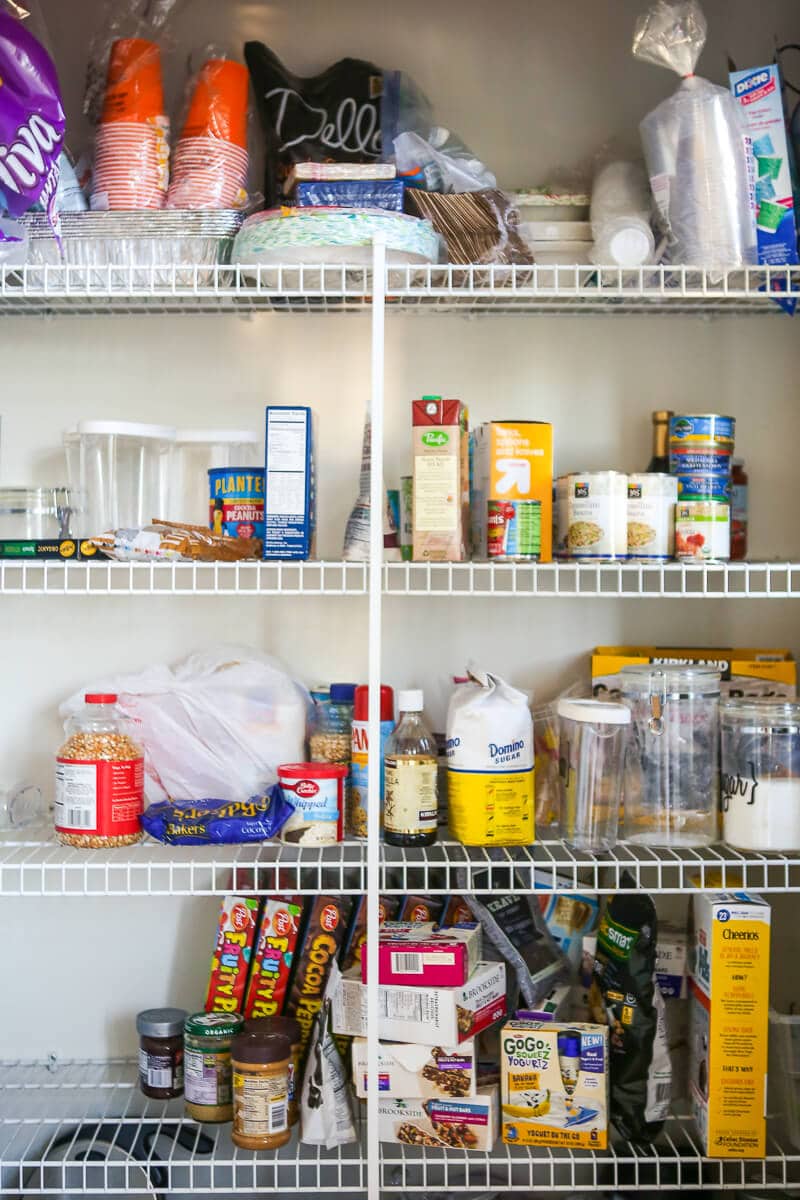 9 – Packing liquids or perishables of any kind
While clearing out our pantry I got rid of anything expired, open, or in a condition that wouldn't be good for traveling. I didn't, however, make it over to our oils and spices because I knew they weren't perishable.
Even though the movers packed every bottle individually so it wouldn't break, about half of our liquids still seeped through and leaked all over everything. The worst was the balsamic vinegar that got over half of the other bottles in the box. Next time I'll trash or give away anything liquid that might leak.
10 – Not figuring out a trash solution
One of my biggest moving regrets was having our movers come on a Wednesday-Thursday because our trash pickup was Tuesday. All of the trash from the moving (and cleaning out fridge/pantry) went into our trash cans and sat there for almost a week before my sweet realtor took it out for me. And no one wants to move into a brand new house where the garage smells like food that's been sitting in a hot trash can for a week.
When I do it again someday, I'll either plan to have my movers come closer to trash day or I'll stick around for a little while longer so I can fill up my trash cans and take them out on trash day, rather than a week before. Another option is if you have a ton of trash you can apparently rent dumpsters or hire people to come and take all of your junk away. Anything would've been better than the way we did it.
11 – Not using moving equipment
Even if you don't have movers, you can still rent great moving equipment like rolling dollies, furniture pads, etc. that'll make moving much easier. Do it. Renting a rolling dolly that'll make moving your piano from one side of the house to another so much easier.
12 – Not keeping track of small pieces and parts
As you're taking things apart, make sure to organize all the little pieces and parts in some specific manner. Put screws from the treadmill in a bag and tape it to the parts. Put the remote in the box with the TV. And all of those miscellaneous pieces, put them all in one parts box – labeled in a bag – so that they're all in one place when you're looking for them later.
13 – Not having a plan
Moving is a huge process and having a plan can make it a much less painful process. We moved so quickly that I didn't have a plan in place other than we are moving from this house into this one.
I did much better the second time we moved. You can find those moving tips here!