This fun New Year's Eve danger words game will have players trying to get their teammate to guess a word without accidentally guessing the danger word! It'll be your new favorite game to play with family and friends!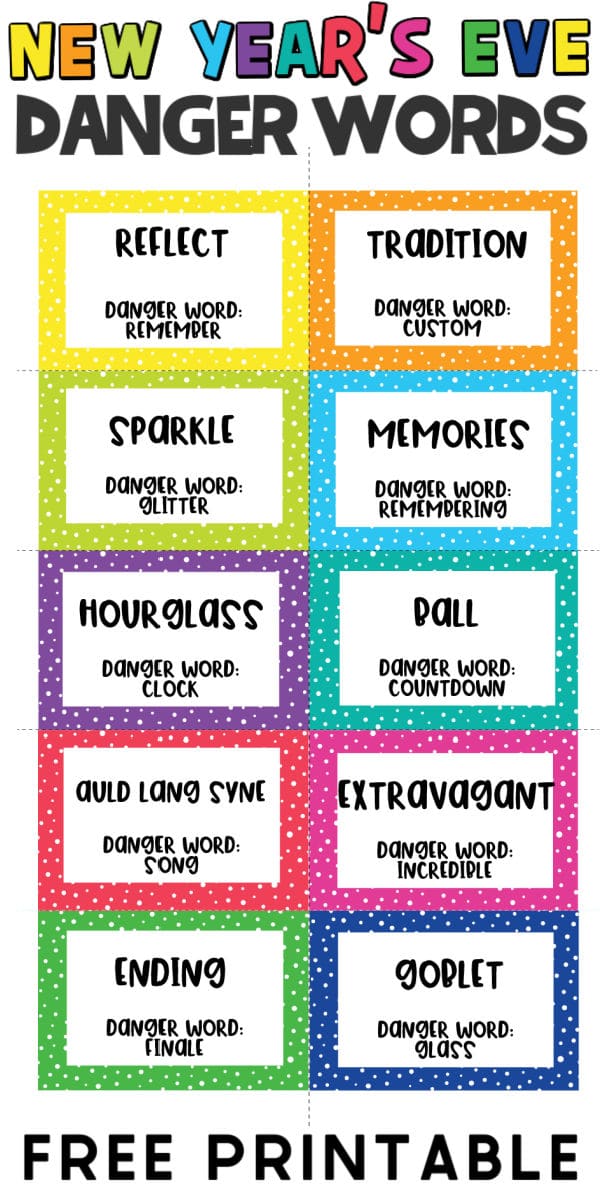 I'll be honest, I wasn't planning on doing a danger words game for New Year's Eve this year. I'd planned New Year's Eve outburst, New Year's Eve bingo, and of course my New Year's Eve trivia games.
But danger words? They weren't happening.
Then I got an email last week telling me how much fun one of my readers had with my Christmas danger words. She asked if I was doing New Year's Eve danger words and of course I said yes.
So here you go – New Year's Eve danger words. I may not have been planning on creating this game this year, but I'm glad I did. I'll likely be using it in one of my New Year's Eve countdown boxes with my own family!
And p.s., if you're not familiar with what danger words is, you're in for a treat. The basic idea is that you have to get your partner to guess the big word on each of the cards without them accidentally guessing the danger word on the bottom of the card.
There's more to it than that, just know it's a lot of fun! And keep reading for more details!
Supplies
Unlike some of my other games, like these New Year's Eve minute to win it games, you really don't need anything at all to play New Year's Eve danger words.
Well nothing except the printable cards at least. And you can get those right at the bottom of this post or if you'd rather not fill out the form, you can get a copy in my shop here.
How to Play
Before you play, there are a few things you need to do to get setup.
1 – Setup
Cut out the individual cards (try not to look at them too closely if you're going to be playing or you'll feel like you're cheating and not want to play.
Put the cards in a bag or bowl until you're ready to play.
2 – Split Into Teams
Split into two-person teams. The max I recommend is six two-person teams. If you have more than that, read my notes about playing with large groups below. Or just switch and play something else like my New Year's Eve outburst or New Year's Eve bingo game.
Give each team a number (team 1, team 2, team 3) to keep track of who will go first for giving clues.
3 – Choose guesser and givers
Pick one person from each of the teams to be the guesser and the other person will be the clue giver. Don't worry, this is just for the first round then you'll switch. Everyone will get a chance to give clues and everyone will get a chance to guess.
4 – Give clues
One of the clue givers should choose one of the cards and show it to all of the other clue givers.
The large word at the top is the clue you want your team to guess. The danger word in smaller letters at the bottom of the card is the word you do NOT want your team to guess.
You can see an example of some of the cards in this post. The idea is that the danger word is typically going to be something that would have similar clues you'd use to get them to guess the actual word.
Starting with team #1, the clue giver should give a ONE WORD clue to their teammate to try and get them to guess the word, without guessing the danger word.
Rules for giving clues:
Cannot use any part of the main word, the danger word, or any variation of the word (e.g., to get someone to guess sparkle you can't use the word sparkling).
Cannot be the word in another language
Must be one only word, no hyphenated words or phrases
Must be a clue that describes or relates to the actual word, not the spelling/writing of the word (e.g., A if the word is apple would not be okay but red would.)
No explanations allowed – just the clue
5 – Guess an answer
Once team 1 gives their clue, their teammate should guess what they think the word is. If they get it correct, the round is over and they win a point for their team. This very rarely happens on the first try just so you're aware.
If they guess incorrectly, team 2 would then get a chance to give a word clue and guess the word following the same rules as above.
Go through the rest of the teams until everyone has had a chance to give a clue and guess. If no one has gotten it yet, go back to team 1 and start again all while trying to get the same word.
It's important for all of the teams to listen during the clue giving because clues can help (or confuse) players who are guessing the word.
IF at any point a team guesses the danger word, the round is immediately over. If you're playing with just two teams, the other team would win a point.
If you're playing with more than one team, no one wins a point for the round. Or you can give all other teams a point so there is some sort of punishment for getting the danger word.
Or you can just give that person a "punishment" that can added a funny element to the game. These are optional but can be funny!
Some of our punishments in the past have included things like:
Skip a turn in clue giving the next round
Lose 3 points
Some physical punishment such as a pie to the face, have to drink a bottle of water, eat something gross, etc. There are lots of good ideas in these kid-friendly truth or dare questions that might work
Don't forget to let people know what they're getting into if you're going to do a messy punishment – it might impact what people wear to play!
6 – Switch Roles
Once a round is over, switch the player who is guessing and the player who is giving clues. No need to switch spots or sides of the room – just switch roles.
Same rules apply, the teammate who was guessing the word first is now just giving the clues.
You also need to switch which team gives the starting clue. Now instead of starting with team 1, you'd start with team 2. And round three would start with team 3 (or team 1 or if you only have two teams).
This gives everyone a chance to start, which can be an advantage for easy words or a disadvantage for tough ones that definitely won't be guessed on the first try.
How to Win
You can either play until all the cards are gone or until you've completed a designated number of rounds. Keep track of points throughout the game where people can see them.
A big white poster board + permanent marker works well for a large scorecard, or you a big dry erase board with dry erase markers is another favorite.
If you don't have any of those things, a regular pen and paper works too! Just make sure to let the teams know regularly what the score is.
How to play in a large group
There are two easy options for playing this with a group larger than 12 people.
Instead of splitting into teams of two, just split your group into teams with even numbers. Limit the number of total teams to six or less for optimal playing.
Now you can choose from one of these three ways to play the game based on how many people and who is playing:
One person guesses each round and the rest of the team discusses and gives clues together as a team.
One person guesses each round and the rest of the team switches off giving a clue to the guesser.
One person gives clues and the rest of the team works together to come up with the word they want to guess, kind of like in this Thanksgiving Family Feud game.
Just make sure that no matter which way you choose, you need to rotate the players each round that are guessing and giving clues. So team member A might give clues the first round, team member B might give clues the second round, etc.
You want everyone to get a chance to play both roles and be involved or it won't be fun for anyone!
Tip!
If you're playing with the entire family including young kids, I recommend doing teams of at least 3 and including the kids with older teens/adults. Then use version 1 or 3 above and let the kids help come up with ideas for the group.
More New Year's Eve Games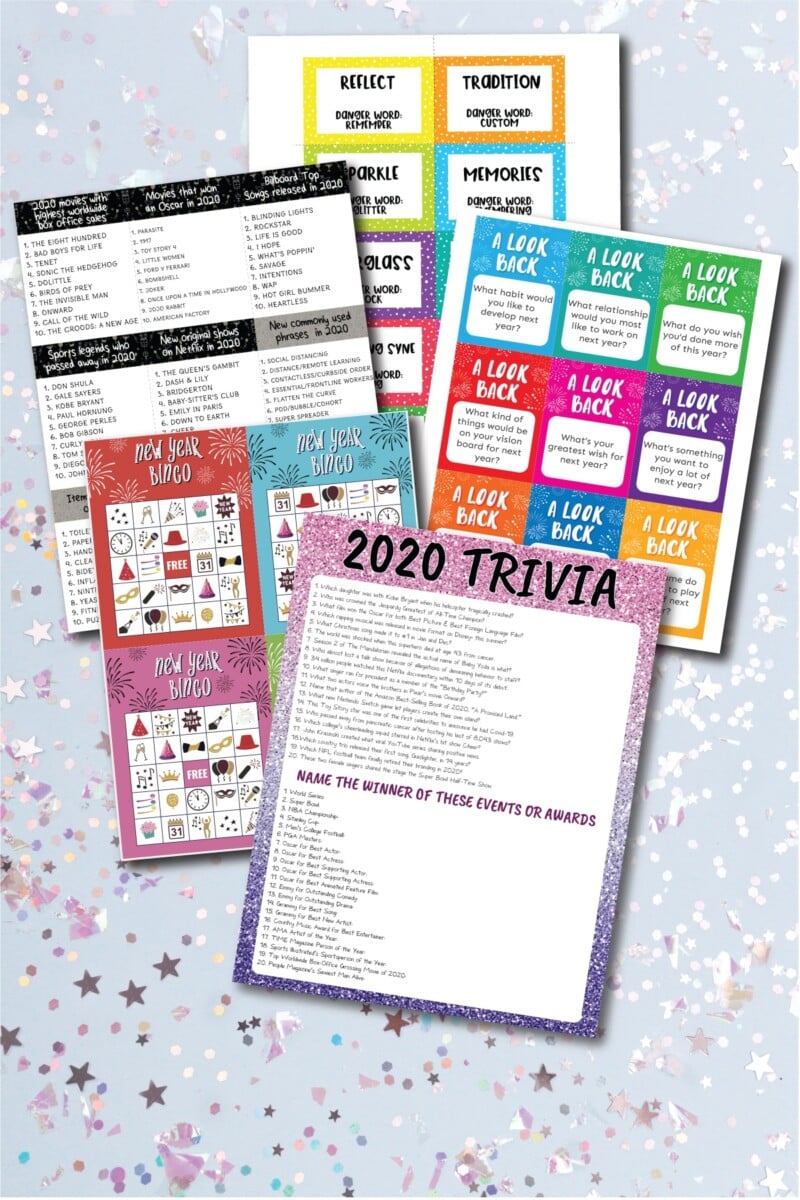 want more New Year's Eve Games?
Download the Printable
Enter your first name and email address in the form below to get the printable PDF. You will receive a link to download the PDF to your email within minutes.
If you do not see the form below, click here to get to it.
If you would not fill out the form, you can get a copy in my shop here.
The PDF will include:
Instructions
Three pages with 10 danger word cards on them (30 total)
If you do not immediately receive the email, make sure to check your promotions, spam, and junk folders!