Send kids and teens around the house searching for clues in this fun New Year's Eve scavenger hunt. It's the perfect New Year's Eve activity to lead to a fun surprise or bigger activity!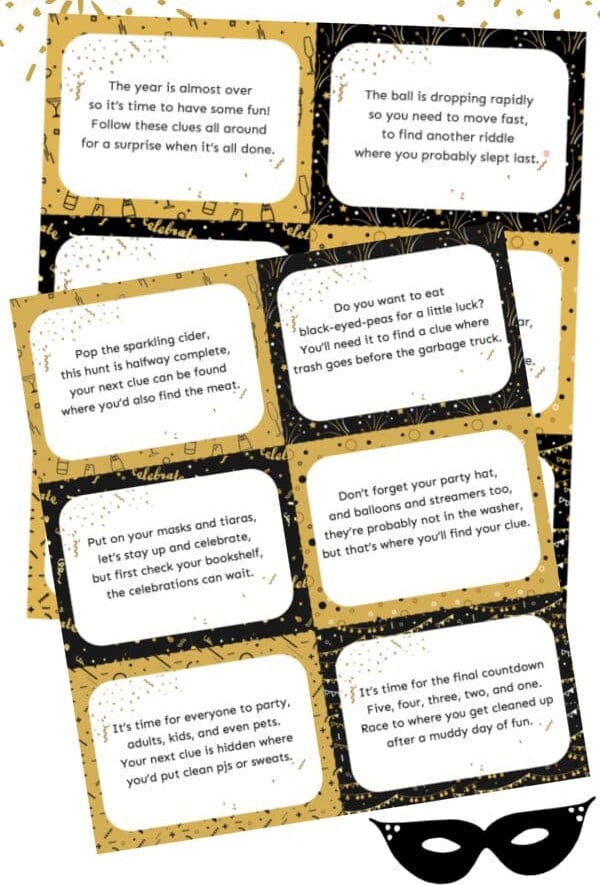 If there's one thing that I love to create most, it's scavenger hunts. There's a reason there are over 50 scavenger hunt ideas on my site.
I'm honestly not sure I like the scavenger hunt part as much as I just like coming up with silly rhyming clues. And I love seeing you all make and share the scavenger hunts with your family.
Plus, I think they're super fun to do with my own family. My oldest still gets a kick out of them every single time. We just did this Christmas scavenger hunt, and he's already asking for a new one.
A few years back I did a confetti inspired New Year's Eve party for kids and included a very basic scavenger hunt in there. It basically had different clues for each hour of your celebration but it wasn't my typical scavenger hunt.
I thought it was about time to add a New Year's Eve scavenger hunt to my collection. So here you go – twelve fun clues leading to a surprise at the end of the hunt! That clue can be a present, a prize, a fun activity, or even just a yummy snack like these cut out sugar cookies to decorate.
Supplies
Scavenger hunts are so simple to setup! All you need to get started is:
Scavenger hunt clues – get them at the bottom of this post or you can get a copy in my shop here.
Scissors – used to cut out the clues
Tape – used to tape the clues up wherever you want in the house, or you can just place them in the locations, I personally just use tape.
Pen – you'll want to write where you're hiding the clues on each of the clues, or at least I do. So you'll need a pen for this.
Prize – I always like to have some sort of prize or surprise at the end of the hunt or you can put little surprises along the way.
Set Up the Scavenger Hunt
Setting up your New Year's Eve scavenger hunt is super easy. Print out your clues and before you cut them out, write on the back of each clue where the clue should be hidden.
Make sure when you're writing out where the clue should be hidden that you remember – clues need to be hidden where the previous clue led the players to.
So for instance, if clue 2 leads to the coat closet, you'd need to put clue 3 in the coat closet.
Clue Cheat Sheet
I've included a quick cheat sheet of where the clues are designed to lead for each of the clues in the hunt. Feel free to make them work as you need for your family.
I've done this in order going top to bottom, left to right (so start with the starting clue, go down, then move over to the next column).
Clue 1 – leads to an oven, will be your starting clue
Clue 2 – leads to somewhere you eat | hide this at the oven
Clue 3 – leads to a coat closet | hide this at the table or wherever you eat
Clue 4 – leads to a bed or somewhere they'd sleep | hide this in the coat closet
Clue 5 – leads to a pen drawer or place you'd find a pen | hide this in the bed
Clue 6 – leads to a door out of the house | hide with pens
Clue 7 – leads to a fridge or freezer | hide by the door
Clue 8 – leads to a bookshelf | hide in the fridge or freezer
Clue 9 – leads to a pajama drawer | hide on the bookshelf
Clue 10 – leads to where you put your trash | hide in the pajama drawer
Clue 11 – leads to a washer (can be clothes or dishes) | hide with trash
Clue 12 – leads to a bathroom/bathtub/shower | hide in the washer
Once you've printed them out, you're going to hide the clues in the locations they go around the house. Depending on how old the players will be, you can either just place them around the house or actually hide them in the locations.
At the end of the hunt after the last clue, put your surprise for players to find.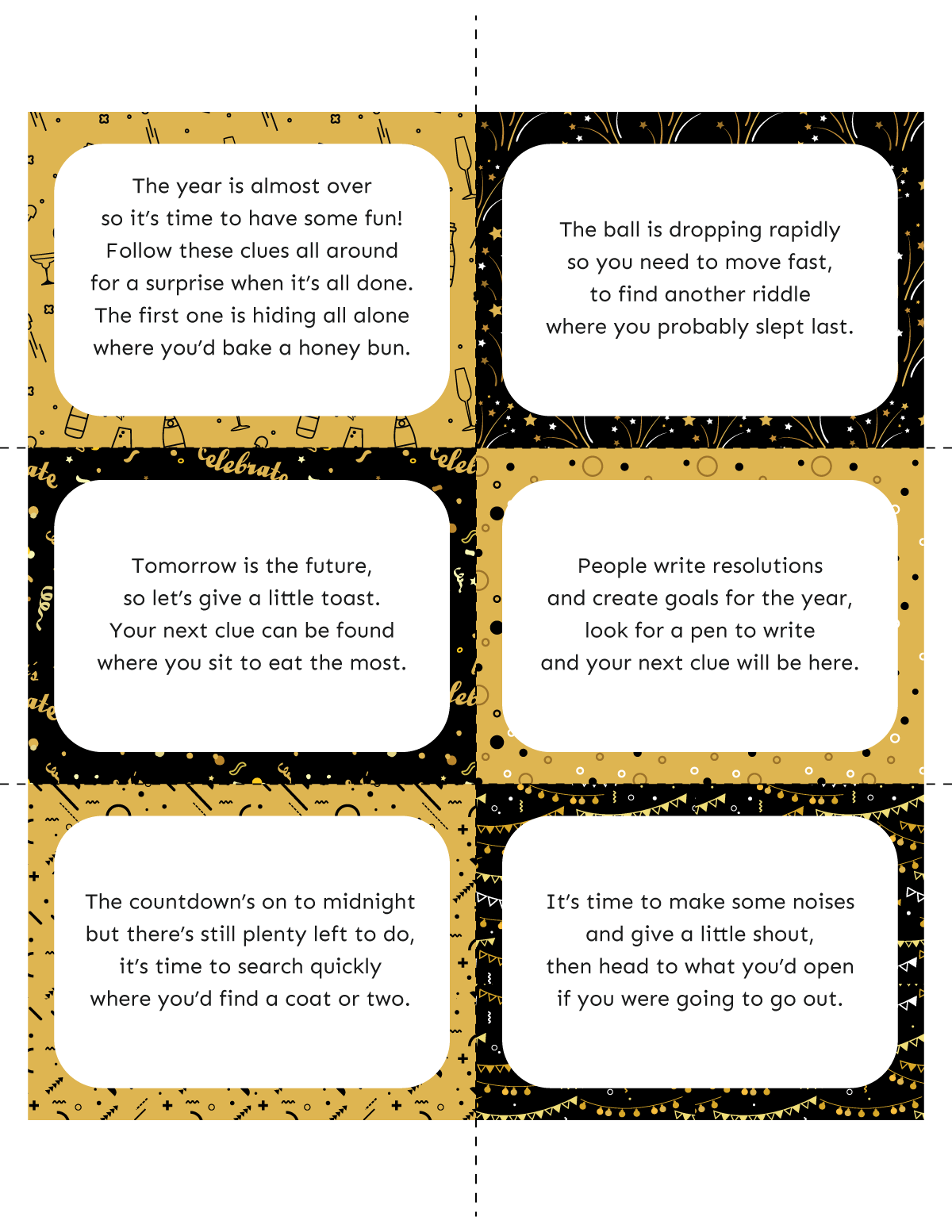 How To Do the Scavenger Hunt
Once all of the scavenger hunt clues are hidden, it's time for the hunt!
Give the first clue to whoever will be doing the hunting and say go. They should read the first clue and once they decipher where it leads, they should go to that location to search for their next clue.
As they find each new clue, they should read the new clue, and head to the next location.
Keep going until they get through all the clues and find the surprise at the end of the hunt!
Tip!
If you're doing this with more than just one or two people, I recommend having whoever finds the clue hold off from opening and reading it until everyone gets there. And you can take turns reading clues so that everyone can be involved.
Scavenger Hunt FAQs
Will this scavenger hunt work for my home?
I always try to make my clues lead to universal places that most people have in their homes – beds, bathrooms, appliances, etc. This scavenger hunt is no different and should work for pretty much any home. It is designed to be an indoor hunt since in most places it's cold for New Year's Eve.
Do I have to use all the clues?
There are twelve total clues in this New Year's Eve scavenger hunt. You can use all twelve cards or less. The only one that I recommend making sure you use is the starting card. You can pick and choose from the others depending on your circumstance.
How do I get the scavenger hunt?
Fill out the form at the bottom of this post for the scavenger hunt clues and instructions. Or you can get a copy in my shop here.
Are these clues editable?
These scavenger hunt clues are not editable or customizable. If you'd like custom scavenger hunt clues, please contact me at britni@playpartyplan.com.
Do you have any other scavenger hunts?
I have scavenger hunt ideas for all major holidays plus tons of different themes! You can check out all of my scavenger hunts – both clue based and find all the items on a list based on my scavenger hunts page.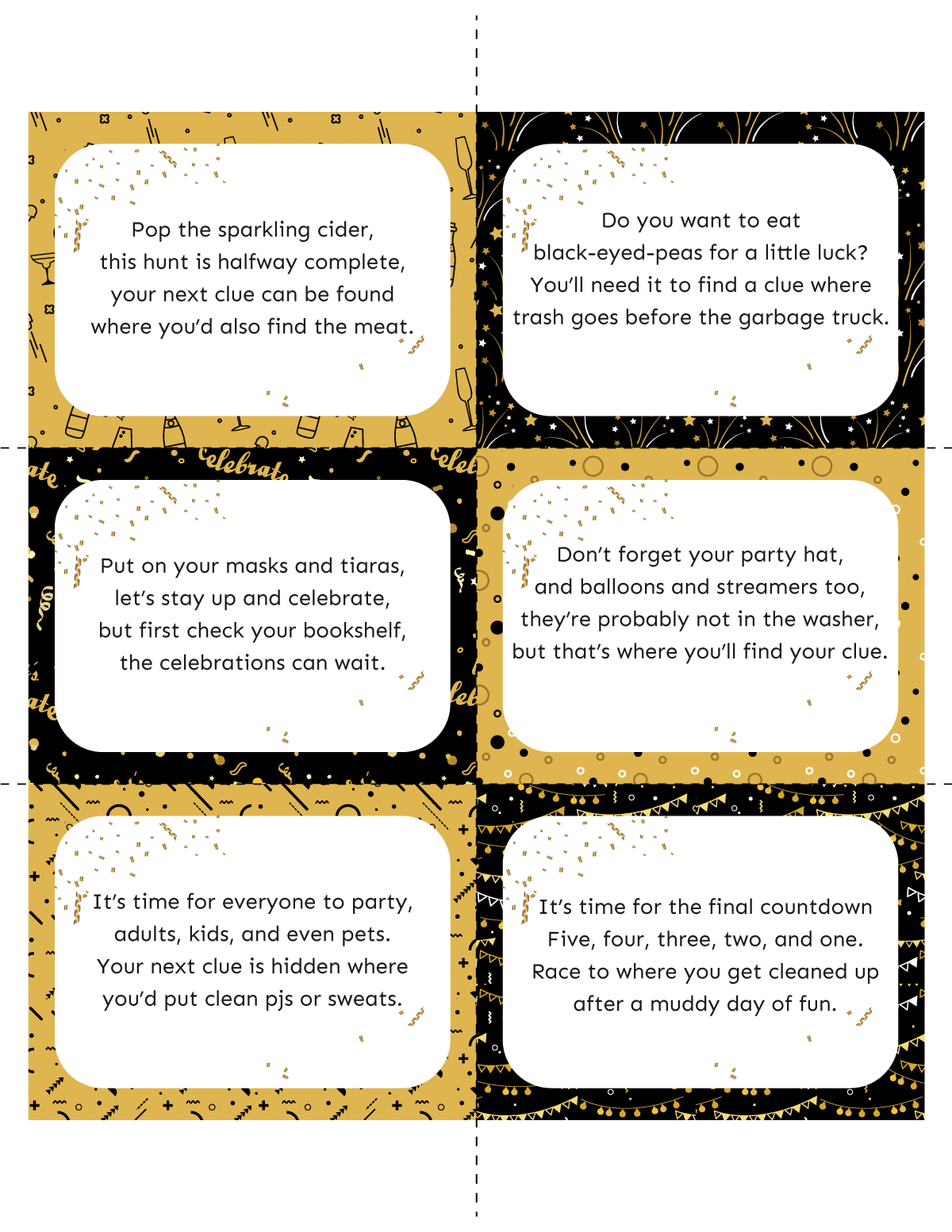 More New Year's Eve Activities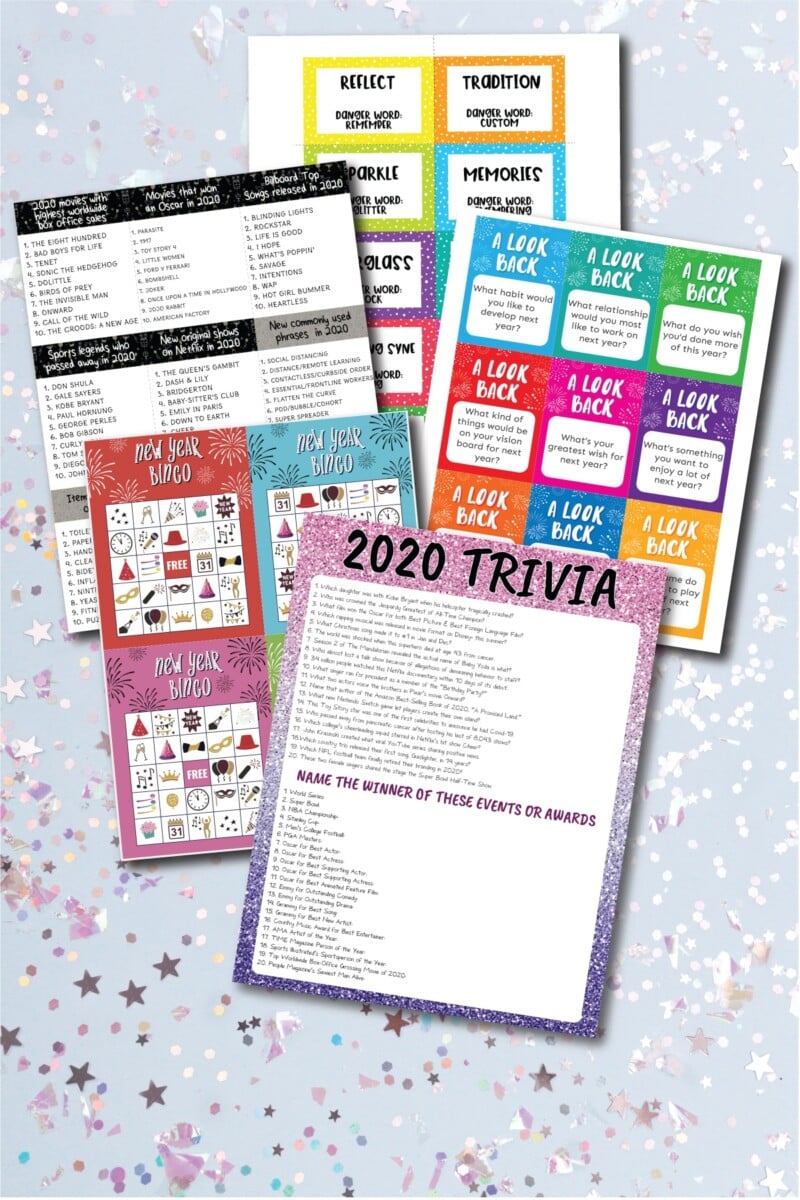 want more New Year's Eve Games?
Download the Printable
Enter your first name and email address in the form below to get the printable PDF. You will receive a link to download the PDF to your email within minutes.
If you do not see the form below, click here to get to it.
If you would not fill out the form, you can get a copy in my shop here.
The PDF will include:
Instructions
Two pages with six clues each, 12 clues total
If you do not immediately receive the email, make sure to check your promotions, spam, and junk folders!