These are some of the best New Year's Eve party ideas for adults! Tons of great New Year's game ideas, decoration ideas, and even tips for hosting a New Year's Eve party!
This post contains affiliate links to products for your convenience. If you purchase via my links, I may receive a small commission at no additional cost to you.
New Year's Eve Decoration Ideas
This was the very first New Year's Eve party I hosted back in 2011! Tons of great New Years Eve games and party ideas that are perfect for adults and kids alike! If you're looking for updated trivia game ideas, make sure to head to my printable New Year's Eve games!
I tried to keep the decorations simple but unexpected. The noisemakers were really cheap at the party store and the stars were leftover from our Black and White Party last year.
I saw this balloon chandelier on Pinterest a while back and knew I was going to try it at our next party. It was so simple to make (put pennies or marbles in the balloons
to weight them down) and it was a hit.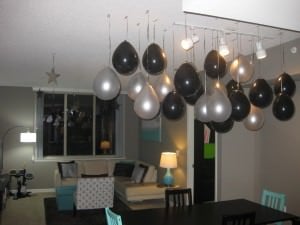 New Year's Eve Games & Ideas
Another idea I saw on Pinterest was a mom that made countdown bags for her kids to help them stay awake until midnight. Her bags were full of cheap treats and goodies. I thought the idea was fun and came up with the idea of doing countdown boxes with games and prizes for each hour of our party.
We didn't actually end up opening the boxes right at 9:00, 10:00, and 11:00 but it was somewhere in that hour that seemed like a good stopping point for the group. Each box was based on a theme and contained three different things – the theme, a game/activity, and a prize.
New Year's Eve Countdown Box: We Were There
The 9:00 box was all about the past year with the theme "We Were There." The game was events and pop culture trivia and the prize was movie tickets. It was pretty entertaining to see how frustrated people got when they couldn't remember things like who won the Super Bowl.
I was pretty impressed, out of 31 total points possible the winner got 21 correctly. Head to this post to download this and all of my New Year's Eve trivia games for this year!
New Year's Eve Countdown Box #2: Look Forward
The 10:00 box theme was New Year's Resolutions and looking forward to the next year. The game was to match celebrities to their New Year's resolutions. Luckily enough there were a number of articles with resolutions for the stars.
This one was pretty fun because it was really just everyone guessing to see if they could come up with the right answers AND some of the stars' resolutions were hilarious.
My favorite was Rob Kardashian's resolution to launch his new dress-sock line successfully in 2012. What was even better was that the winner of this game got 8 out of 11 resolutions correct by sheer guessing. He won a Panera gift card for his efforts. Head here for all of my updated New Year's Eve trivia games!
New Year's Eve Countdown Box 11:00 – Celebrate
The final 11:00 box's theme was celebrate. It was filled with noisemakers
and toys for celebrating the new year. There wasn't really a game associated with the theme other than one of the noisemakers had a lucky sticker on it (I didn't tell anyone while they were choosing).
The person who picked the lucky noisemaker won a Target gift card because who doesn't love Target. The best noisemaker of the night, however, was the conch shell
brought by our friend Ryan.
And finally for the midnight celebration we broke out the sparkling juice
– red grape, white grape, and apple cider – with fake plastic champagne cups. Because plastic champagne cups make drinking sparkling juice way more fun.
Other Great New Year's Eve Games
These are some more New Year's games I've put together over the past few years. There's bound to be something for everyone!
New Year's Eve Party Food
We tried to keep the food as simple as possible. We made most of the savory dishes and our co-hosts brought some beautiful looking desserts. Most of our savory dishes were better hot so we prepped three batches of each and just kept throwing things in the oven for a few minutes when they started to run low. It worked beautifully and I don't think anyone was ever hungry.
For the first time I ever I made fun labels for the food. It was easy and amazing how much cuter it made the whole setup. It's funny how things change over the course of six years, now I always do labels!
We also had this really good cowboy chip dip, buffalo chicken dip (so easy), and everyone else brought either a sweet or salty snack to share. So yes, we had plenty of food.
Oh and of course we had to have drinks – citrus water, lemonade, and diet coke.
I've also down a full black and white New Year's Eve party before that was amazing! Just pick a theme for the food – your favorites, things from the year, or even just black and white and you'll go golden!
New Year's Eve Party Favors
One of the first things I decided when starting to plan the party was that I really wanted to send people home with something. We ended up sending everyone home with plates of food so we didn't have to keep it all, but I wanted to send them home with something else.
When I searched the internet the only ideas I could find were breakfast and hangover remedies, neither of which really seemed appropriate.
I decided to make a CD, not of the top Billboard songs from 2011 that most people have heard on the radio a million times this year, but of our favorites songs from 2011. It definitely included some of the biggest hits (Rolling in the Deep
, Party Rock Anthem
, Last Friday Night
), but it also included some of our favorites that people probably have never heard (Bulletproof Weeks
by Matt Nathanson, Eyes Like Static
by Rocky Votolato). It's still one of my favorite CDs six years later!
And I know people don't really listen to CDs anymore but I figure they can put it on their computer on iTunes and listen to it however they listen to music. And they were a simple way to say happy new year as people were leaving.
You could always just create a Spotify playlist or something along those lines now as well! Or try out these New Year's Eve party favors instead!
And that's it. The party was completely planned, shopped for, setup, thrown, and cleaned up in less than 48 hours. Everything was fairly simple, and that's how I think parties should be, but it all came together really well and everyone had a blast (I hope).
And don't forget all of the other supplies you need for your New Year's Eve party! These are some of my favorites:
Don't forget to pin these New Year's Eve Party Ideas for Later