These easy pretzel hearts are so easy to make using the Simply Homemade Pretzel Creations kit
! They're the perfect Mother's Day treat to make together with your kids. This post contains affiliate links for your convenience. 

Tomorrow is Mother's Day. And I'm going to tell you a little secret, I've been a mom for just over two years now, but this week I had a moment that I realized I was a good mom for maybe the first time, a moment that I felt my life turning around and I knew that even though things have been a little tough with my depression, everything was going to be okay.
Earlier this week my husband told me that he had to go to New York for a couple of days for work, meaning I would be home alone with my two-year-old for 48 hours. To someone else, that might seem like a piece of cake, but to me, that scared me to death. Most of the time when my husband goes out of town, I hop on an airplane and go stay with family so that I don't have to be alone. This week that wasn't an option.
I'm not going to tell you that the two days went perfectly. We watched too much TV, ate more junk food than we should've, and neither one of us got as much sleep as I'd like. But the difference is that for the first time, I didn't get annoyed. I didn't yell when he dumped the rice out of our dinosaur dig bucket or get frustrated when he wanted to climb on my lap when I was trying to do something else. It felt for the first time in a long time like a weight had been lifted from my shoulders and like I could be and was the mom I'd always wanted to be. Not the mom I've been while struggling with the exhaustion, guilt, and moodiness that's been such a huge part of the past two years. We not only survived the two days, we thrived, and I thoroughly enjoyed having this time with my little boy.
One of my favorite moments of the two days was baking homemade heart-shaped pretzels together. I had a Simply Homemade Pretzel Creations kit in my pantry and knew it would be the perfect activity + snack since K absolutely loves pretzels. I'd never made homemade pretzels before but the kit came with everything we needed (other than water and oil) and made it so simple. Just mix the ingredients together, let the dough rise, shape your pretzels, dip your pretzels, and bake.
Or at least it should've been that simple.
K had other ideas and thought the pretzel dough needed to be driven over, cut out with cookie cutters, rolled out, and taken around the entire house. And we both loved every minute of it. While we may have only ended up with five heart-shaped pretzels
and not the nine that the box said the mix would make, those pretzels are ones that I'll always remember. And not just because they tasted so good. I'm thinking Mother's Day baking may just be a new family tradition.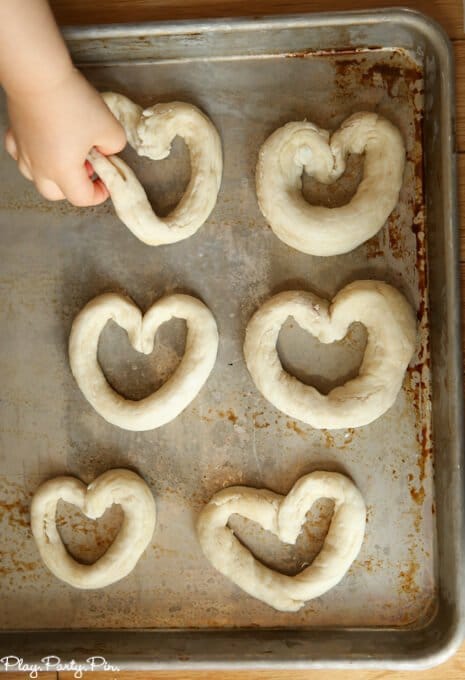 We just sprinkled our pretzel hearts with salt, but you could easily turn them into chocolate covered sweet pretzel hearts as well. Or use the Simply Homemade Pretzel Creations kit
for one of these other amazing pretzel recipes. Knowing that I was baking with a two-year-old meant keeping the recipe simple, but the possibilities for how to use the kits are pretty much endless. These pizza pretzel sticks are next on my list. Or maybe the waffle pretzel bites or one of these other creative twists.
Pretzel Hearts
Ingredients
1

package Simply Homemade® Pretzel Creations™

3/4

cup

very warm water

(120º to 130ºF)

1

tablespoon

olive oil
Instructions
Combine pretzel mix and yeast in a large mixing bowl. Stir in water and olive oil until thoroughly combined. You can start with a spoon but will likely need to mix with your hands as the dough will be stiff.

Cover dough and let rise 25 minutes in a warm, draft-free place. (Dough will not double in size.)

Place dough on a clean, dry surface and divide into equal pieces. Cover with a towel to prevent dough from drying. Roll each piece into a long skinny rope, about 12 inches. Bring ends of each rope together and form a heart, pinching the ends together.

Cover formed pretzel hearts with a towel.

Preheat oven to 400°F. Spray 2 baking sheets with cooking spray.

Combine 6 cups water with baking soda in a large pot until water boils. Using a slotted spoon, dip one pretzel heart at a time into the boiling water allowing pretzel to gently slide off spoon into the water. Boil for 10 to 15 seconds, then remove the pretzel heart and place on baking sheet. If pretzel heart comes apart, just pinch the ends back together and reform. Sprinkle with provided salt.

Bake for 10 to 12 minutes or until golden brown. Remove from pan and let cool on wire rack then enjoy!
You might also like these other great Valentine's Day ideas!