This printable roll a unicorn game is the perfect activity for a unicorn birthday party or an afternoon full of unicorn fun! Kids will love creating their own magical creature with the roll of the die!
As the mom of boys, you won't find many unicorns in our house.
We've got about a million dinosaurs, Legos, cars, and tiny little animals all over the house.
I honestly can't think of a single unicorn off the top of my head – maybe in my blog photo props.
But I know a whole lot of little girls, okay all girls, that love them.
So I've decided to share a couple of unicorn themed posts in the next few days so those of you who have kids who do love unicorns and more of the girly things will have options too! Everything from unicorn games to unicorn party ideas!
And if you are a boy mom like me and this won't work for your boys, try this roll a dinosaur game instead!
Roll A Unicorn Game Supplies
The beauty of this game is that you really only need three things.
Printable roll a unicorn game – you can get the printable PDF at the bottom of this post
Scissors – you'll need these to cut out the pieces
Six sided dice – one die per person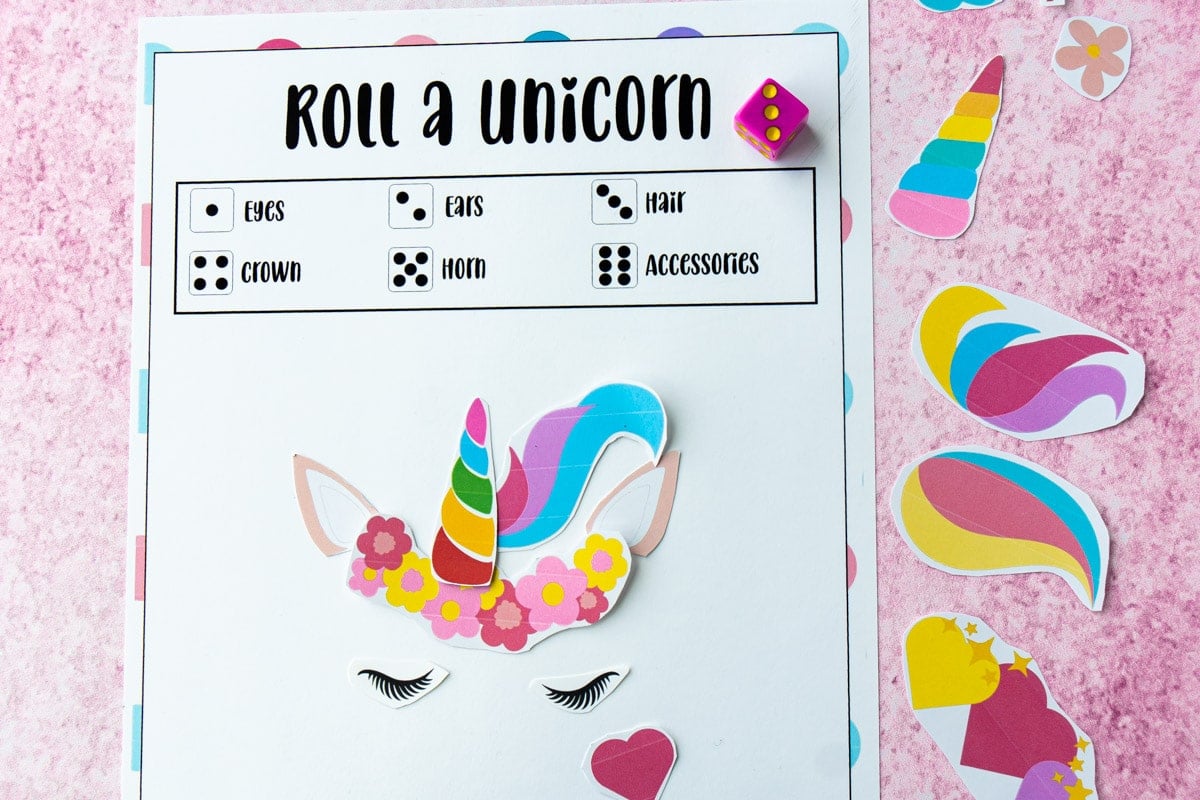 Game Prep
The first thing you need to do is print out the game. If you're doing this with one kid, it's easy – print out one full PDF with the playing card and all the sheets of playing pieces.
If you're doing this with multiple kids, you have a couple of different options.
You can print out one playing card for each kid and then just one set of the playing pieces/accessories and let them just choose from what's available to create their unicorn. There are at least five different options per item (hair, eyes, ears, etc.) so as long as you don't have more than five kids playing, they should have something to add to their unicorn.
Or you can print out a full pack for everyone so they have the full gamut of choices available to them for their unicorn. This is probably the better option if you have more than two kids or think they might fight about a particular horn, set of eyes, etc.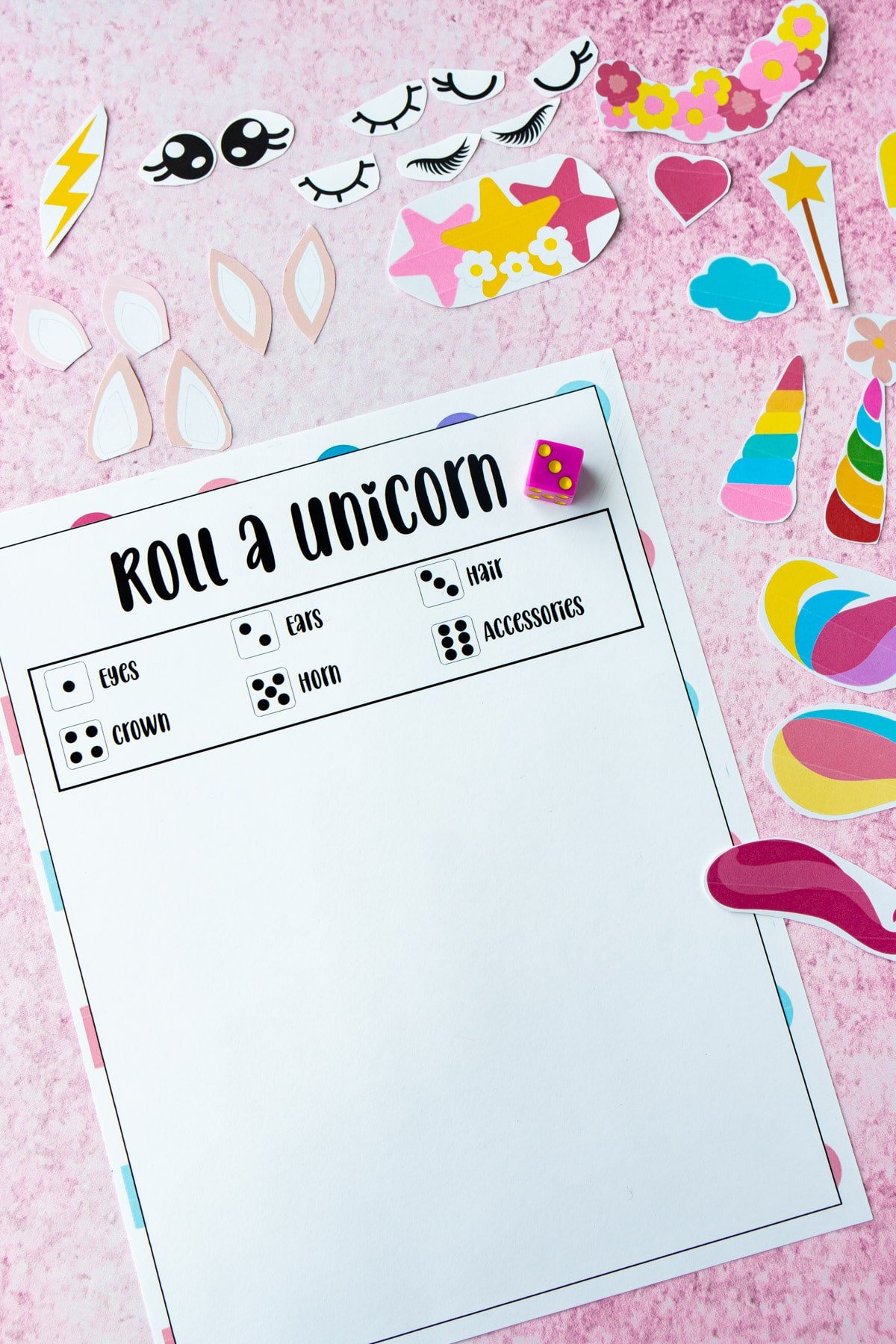 How to Play Roll a Unicorn
Once you have everything cut out, give each kid playing a six-sided die, a playing card, and their share of the cutouts for the game.
Then they start rolling.
Depending on what they roll, they add a corresponding piece to their unicorn card.
1 – Eyes
2 – Ears
3 – Hair
4 – Crown
5 – Horn
6 – Accessories
You can either make it so that they have to roll the numbers in order and add them onto their unicorn (i.e., roll until they get a 1 to add the eyes then can move onto the 2 for ears) or they can just add whatever they roll to the card as soon as they roll it.
If you go with the latter and let them roll whatever they want, encourage them to space things out a bit so they don't have to totally move everything as they add additional pieces.
In either case, if they roll a number that doesn't allow them to put something on (because they already rolled that number and put it on), then they would just keep rolling.
Roll a Unicorn Speed Version
If your kids are competitive and can handle a little competition, it's also fun to see who can roll the full unicorn first using either method mentioned above.
If you do this, you can either have everyone roll all at once but at the same time/speed (like 1, 2, 3 roll) or you can just let them go for it and roll as quickly as they can.
That's how we play this roll a rainbow game, and it's a lot of fun!
Download the Roll a Unicorn Game
Enter your first name and email address in the form below to get the printable game. You'll receive an email with a link to download a PDF with a game sheet and a sheet of each of the add-ons (eyes, ears, etc.).
If you do not see the form below, click here to get to it.
More Fun Dice Games
Don't forget to pin this roll a unicorn game for later!