This romantic movie bingo game is perfect for an at home date night, girls night, or even a fun movie night idea for teens! Print out the free printable movie bingo cards, watch together, and see who can get a rom-com bingo first!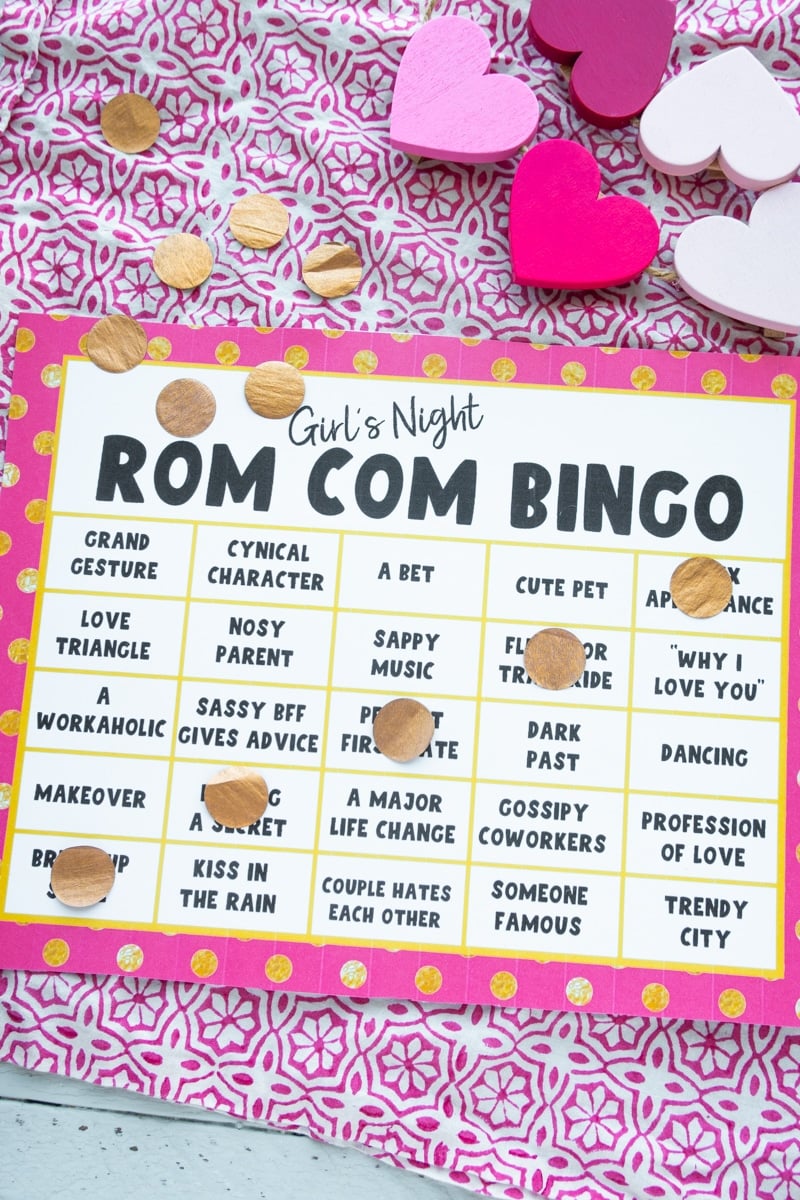 Romantic Comedy Movie Bingo
Okay let's be honest, how many movies have you watched in the past two weeks? If you're anything like me, you've binge watched movies, had movie nights, and are already planning what to watch next.
I'm a huge fan of romantic comedies (and books like romantic comedies). There's just something about the cliches, the predictability, and the humor that makes for some of the best movie nights.
This fun printable rom-com bingo game combines my love of bingo with my love of romantic comedies, all in one easy printable game!
How to Play Movie Bingo
Okay so let's be honest, you could totally play this game by yourself. Just print out a bingo board, grab some chocolate to use to cover up the spaces, pick one of the best romantic comedies, and watch away!
BUT it's way more fun if you play it with someone else. Maybe even a whole group of girlfriends.
Netflix now has the option to do a watch party where you can watch a movie together. This would be perfect for that, and here's a list of the best romantic comedies on Netflix here to help you pick one!
Have everyone print out a bingo card – just make sure everyone gets a different one of the six included in the printable – and play together as you watch!
Just like regular bingo, cover up the space when that item comes up during the movie. It could be shown actually on screen or just alluded to (e.g., a nosy parent on a phone call that isn't actually shown).
First player to get five in a row wins!
This would also make a fun date night idea, perfect for keeping your significant engaged in a movie that he otherwise may not want to watch! Or if this doesn't float your boat, try one of these other date night ideas instead!
Other Movie Bingo Notes
A couple of other things to keep in mind as you're planning to play this game!
Don't tell people what movie you're watching ahead of time. If they've seen it beforehand, they may pick a bingo card based on their knowledge of the movie and that's no fun. Or you could just send people random bingo cards rather than letting them choose their own.
If someone is going to to cover up a space, make sure they announce it so everyone knows. That way you have a running tally of what's actually been called, making it easier to keep track.
Prizes are always fun for a bingo game. It's a romantic comedy movie night so something like a Fandango gift card, a Nicholas Sparks book, or some chocolate would be a good fit!
Movie Night Food
Don't stop with bingo, add some of these other things into your movie night to snack on while you watch!
Download the Movie Bingo Cards
Enter your first name and email address to get the free movie bingo cards. You'll be taken directly to a PDF with six different versions of the card (same words, mixed around in a different order) so you can play for date night, a girls night, or all by yourself! You'll also receive a link to the cards sent to your email for later!
If you do not see the form, click here to get to it.
Don't forget to pin this romantic movie bingo game for later!