When people think of fall they almost always jump straight to pumpkin. Not me. When I think of fall, I think of apples and then eventually get around to pumpkin. So I thought it would be fun to throw a party to celebrate fall with apples! So get ready for some awesome apple party ideas including a full caramel apple nacho bar and iron chef competition: secret ingredient, apples!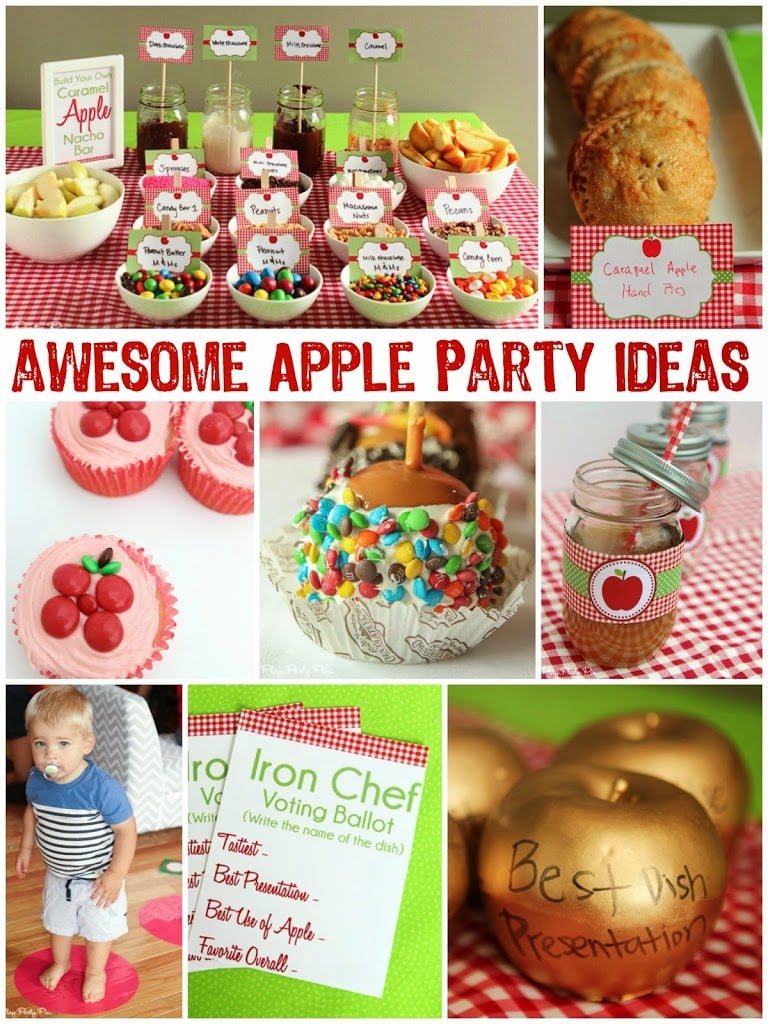 Easy Apple Party Ideas
I kept my party table fairly simple to make room for all of the yummy food people brought (more on that later). I just used a green tablecloth with a red gingham runner to match the Forever Your Prints apple printable design package that I used throughout the party. And behind the table, I created an apple-like backdrop by folding green and red scrapbook paper and stringing it together. Such an easy way to add some color to our boring gray wall.
Apple Party Ideas: Caramel Apple Nacho Bar
One of my favorite ways to eat an apple is drenched in caramel, chocolate, nuts, and all sorts of other goodies, but honestly I hate eating the whole apple on a stick. I've seen caramel apple nacho recipes popping up all over the place, and I knew they would be perfect for my party. Since people tend to have an opinion about what goes on their caramel apples, I created the perfect build your own caramel apple nacho bar so that everyone could choose their favorite toppings.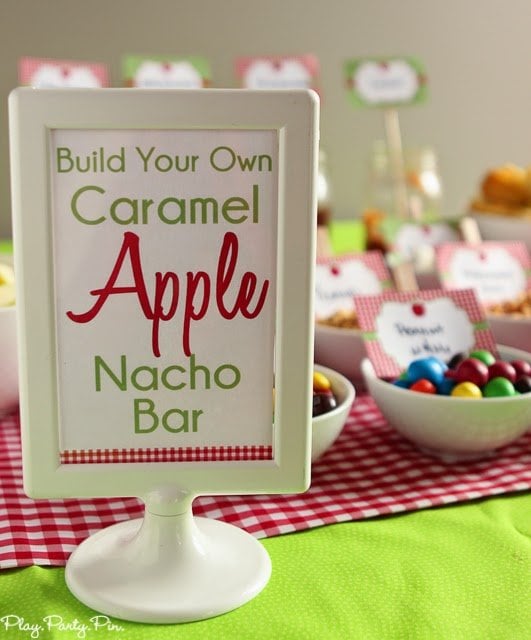 I included all of the toppings I could think of that go well with caramel apples including four different varieties of M&M's® (milk chocolate, peanut, peanut butter, and white chocolate candy corn), nuts, chocolate, marshmallow, and of course, sprinkles.
Mine were topped with caramel, chocolate, nuts, and the brand new Candy Apple M&M's
®
, these are the perfect anytime snack. Seriously, I don't have any idea why we mostly eat caramel apples in the fall. They are just as delicious all year round.
Just like my mini pie bar, this was a big hit with everyone, especially the kids. They've all gotten just tall enough that they could reach the first row of toppings, which just happened to be four flavors of delicious M&M's® . My house is quickly becoming the kids' favorite since they always seem to get treats that they typically don't get at home.
Apple Party Ideas: Food and Drinks
On the other side of the table, I put out some Mott's
®
Applesauce for the kids. I personally have a big 48 oz jar in my fridge that I use for things like making the apple cupcakes, but the smaller containers just seem to work well for parties. Behind the applesauce, I served my candy apple cupcakes, apple fritters, and green apple taffy to match the gorgeous printable designs from Forever Your Prints. And finally, I served Mott's
®
Apple Juice in small mason jars with cute daisy cut lids and red gingham straws. If you know anything about
my straw collection
, you'll understand why I was so excited to find those straws that matched so perfectly! And make sure you buy the 64oz bottle of apple juice because it goes really fast.
Apple Party Ideas: Games & Activities
I left the other side of the food table open for the big activity of the day – our Iron Chef, secret ingredient apple competition. Basically I asked all of my girl friends to bring their favorite apple dish for a friendly little competition. I created little voting ballots and had everyone vote on their favorite dish in four categories – tastiest, best presentation, best use of apple, and favorite overall – to win fun apple-themed prizes like gift cards, board games, etc. And of course, all of the winners also went home with a coveted golden apple.
The girls went all out, and we had some delicious entries including these cute little mini hand pies, caramel apple cupcakes, and whole wheat apple muffins. I was only able to try a bit of each, but they were all insanely delicious.
After everyone was full of apple goodness, I broke out a stack of apple themed books for the kids. If you ever need something to entertain kids, bring out a stack of books they've never read. They loved it, and I loved giving them something fun (and educational) to do while us moms chatted.
After the kids were bored of reading, we all gathered together for my favorite activity of the party – a caramel apple walk. Pretty much just a cake walk, except instead of using numbers on circles, I actually wrote down names of apple varieties such as gala, golden delicious, and fuji. Everyone walked around the circles while I played the song "I like to eat apples and bananas," and when the music stopped, I picked an apple out of a hat. Whoever was standing on the matching apple won a delicious caramel apple. The kids loved it, and it was something really easy for kids even as young as nine months to enjoy.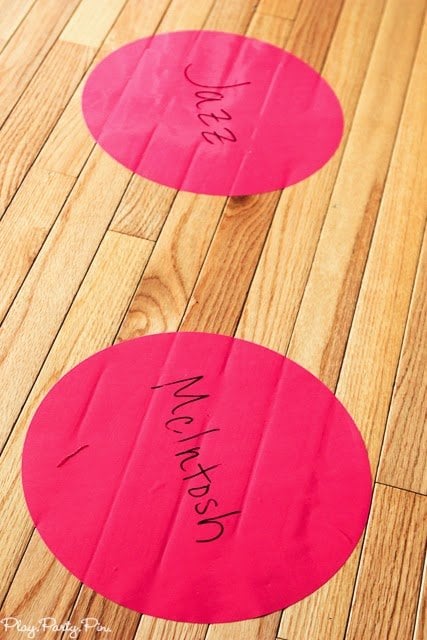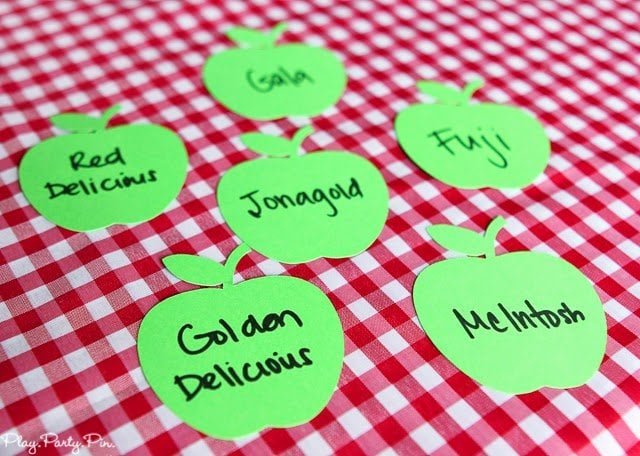 Apple Party Ideas: Party Favors
After the caramel apple walk, the kids got tired (it was nap time), and we finished out the party with just some simple party favors I put together. I gave everyone these cute little tin jars that they could fill with their favorite flavor of M&M's® . On top, I added a cute little apple cupcake topper from the printable designs.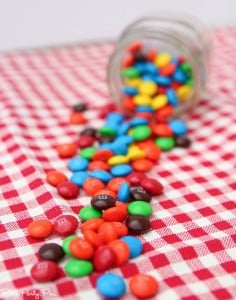 I also wanted people to be able to take home the candy apple cupcakes, so I made these fun little apple boxes using my Silhouette CAMEO. I have definitely been the person who puts a cupcake on a plate in the passenger side seat next to me only to forget and have it get all over the car when I turned too quickly. Cute apple boxes = cupcakes that make it home in one piece. And I spent a lot of time, okay like a few minutes, decorating those cupcakes to look like apples so I wanted them to get home still looking like apples. To decorate the cupcakes, I used the Candy Apple M&M'
®
s
®
for the apple portion because they're all red in the bag (yay for not having to sort M&M's
®
like I did for my Captain America party) and then just used little Mini M&M's
®
in green and brown for the leaves and apple stem. Such an easy way to incorporate an apple design into any dessert really.
This was such a fun party theme and one I think is going to become a tradition. Next time maybe I'll try and host the party in an apple orchard. Wouldn't that be so fun to go apple picking as part of the activities? Maybe next year.