Hosting an apple party is easier than slicing an apple with these fun apple party ideas! With everything from apple party decorations to a caramel apple bar, you'll have everything you need for an amazing apple extravaganza.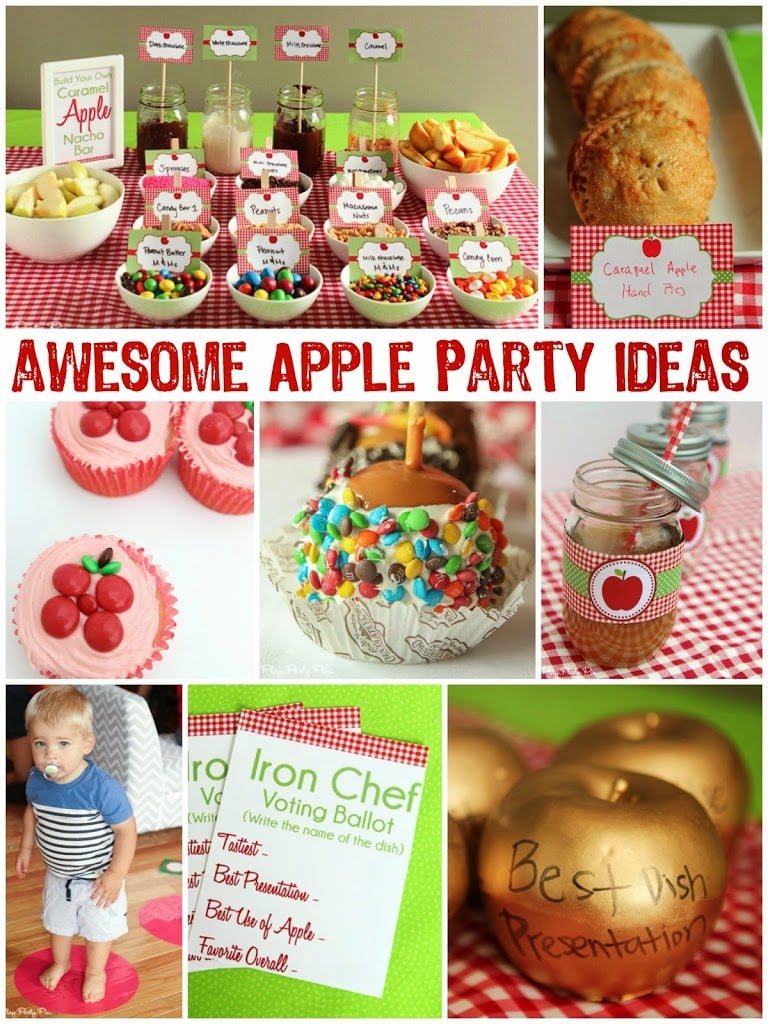 Easy Fall Party Theme
When people think of fall they almost always jump straight to pumpkin. Not me. When I think of fall, I think of apples and then eventually get around to pumpkin.
And pumpkin crunch cake, but that's a whole different discussion.
So I thought it would be fun to throw a party to celebrate fall with apples! And now it's one of my favorite fall party ideas!
Make sure to keep an eye out for some of these highlights kids and adults will both love:
Caramel apple nacho bar
Caramel apple walk
Iron Chef: Secret Ingredient Apple
Super cute apple party favors
Delicious apple themed menu
Apple Party decorations
I kept my party table fairly simple to make room for all of the yummy food people brought. I just used a green tablecloth with a red gingham runner to match the printable apple party pack I used in the party!
And behind the table, I created an apple-like backdrop by folding green and red scrapbook paper and stringing it together. Such an easy way to add some color to our boring gray wall.
You could also skip making them yourselves and just use switch between red and green tissue paper fans.
I added a cohesive design throughout the party by using a set of apple party printables. Signs, food labels, water bottle labels, and more.
Apple Party Food
The food at this party was all about apples, obviously. This party was for kids and adults so we did applesauces, applesauce pouches, and caramel apple taffy to start.
But that was just a start.
Caramel Apple Nacho Bar
One of my favorite ways to eat an apple is drenched in caramel, chocolate, nuts, and all sorts of other goodies, but honestly I hate eating the whole apple on a stick. If you won't cut it to for in the store, I'm not buying it.
I'm a huge fan of caramel apple nachos and DIY bars (hello DIY s'mores bar and DIY nacho bar), so I knew a caramel apple nacho bar would be perfect for my party.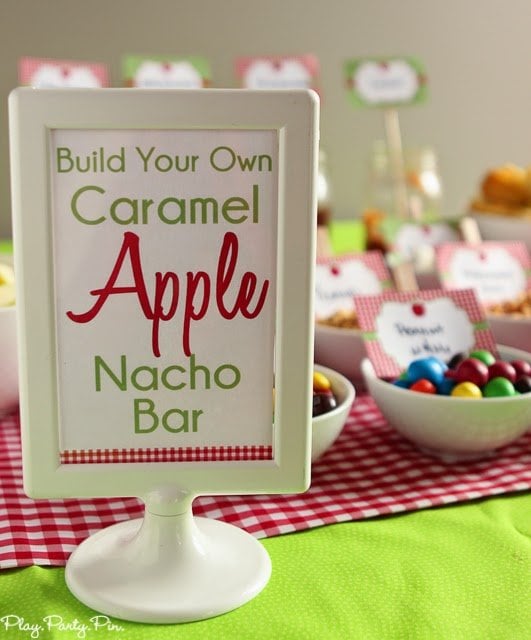 I included all of the toppings I could think of that go well with caramel apples including four different varieties of M&M's® (milk chocolate, peanut, peanut butter, and white chocolate candy corn), nuts, chocolate, marshmallow, and of course, sprinkles.
Tip!
Unlike with actual caramel apples, toppings on caramel apple nachos don't actually have to stay on the apple – just go on top. That means you can have some bigger topping options like full M&Ms, candy corn, etc. You can chop them up if you want but it's not as necessary as if you were dipping caramel apples.
I just set out a big bowl of apples, a bowl of chocolate, a bowl of caramel sauce (kept warm in mini slow cookers) and let people choose their caramel apple toppings and make their own caramel apple nachos. It was definitely the highlight of the menu!
Just like my mini pie bar, this was a big hit with everyone, especially the kids. And all the parents were just excited to get kids eating apples!
Apple Iron Chef Competition
Instead of having a regular potluck where I asked family and friends to bring a dish to share, I decided to do kind of an Iron Chef competition where the ingredient was apple.
Really I just asked my friends to bring apple themed dishes for a little competition and gave them the judging criteria for the party so they knew what they were up against.
Here's the criteria we used.
After everyone had arrived, I put all of the dishes with their food cards on the table and had everyone try some of each. My friends sure brought their A game for this one!
Then everyone voted on their favorites, and I tallied the votes!
These caramel apple hand pies were the clear winner overall! They were not only darling but so yummy! The caramel apple cupcakes came in a close second.
Winners took home golden apples labeled with their winning category. Any of these would also make great prize ideas!
Other Apple Recipe Ideas
In addition to the caramel apple nacho bar and the items my friends brought for the apple competition, here are some other ideas that would've been yummy!
I used red, green, and brown M&Ms on top of my candy apple cupcakes to make this apples. I thought they turned out pretty cute!
I also grabbed a couple of these cute apple gingham straws that I added into mason jars with some apple juice. It's all about the details right?
Apple Party Games & Activities
One of the main activities we did during the party was the Iron Chef competition, voting, and award ceremony.
Other than that, we did a couple of other things that turned out super fun! And while we didn't play them, these fall party games (with lots of apple games) would be great too!
The first was to read some of these apple themed books with the kids.
If you need more ideas, here are a ton of apple themed books!
Caramel Apple Walk
After the kids were bored of reading, we all gathered together for my favorite activity of the party – a caramel apple walk.
Pretty much just a cake walk, except instead of using numbers on circles, I actually wrote down names of apple varieties such as gala, golden delicious, and fuji.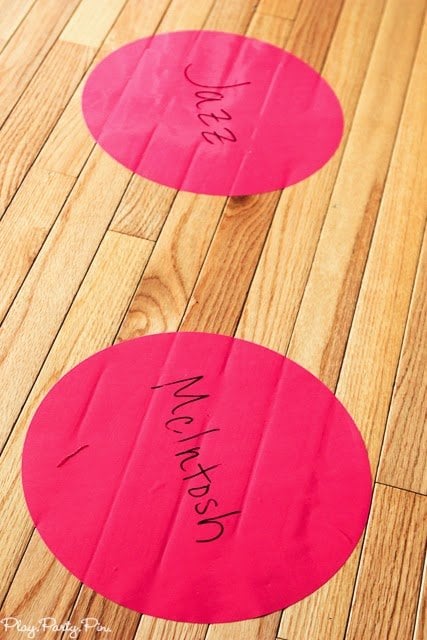 Everyone walked around the circles while I played the song "I like to eat apples and bananas," and when the music stopped, I picked an apple out of a hat.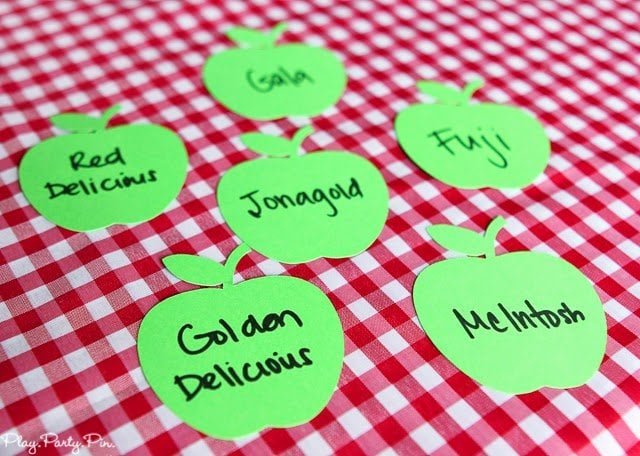 Whoever was standing on the matching apple won a delicious caramel apple. The kids loved it, and it was something really easy for kids even as young as nine months to enjoy.
And for kids who weren't walking yet, parents could help!
Tip!
Have a parent be in charge of picking out the "winners" so that they can make sure that different people win each time!
Apple Party Favors
After the caramel apple walk, the kids got tired (it was nap time), and we finished out the party with just some simple party favors I put together.
I gave everyone these cute little tin jars that they could fill with their favorite flavor of M&M's or other candy (I used leftovers from the caramel apple nacho bar) .
On top, I added a cute little apple cupcake topper from the printable designs.
I also wanted people to be able to take home the candy apple cupcakes, so I made these fun little apple boxes using my Cricut Explore.
I also sent people home with caramel apples with these apple gift tags!
This was such a fun party theme and one I think is going to become a tradition. Next time maybe I'll try and host the party in an apple orchard. Wouldn't that be so fun to go apple picking as part of the activities? Maybe next year.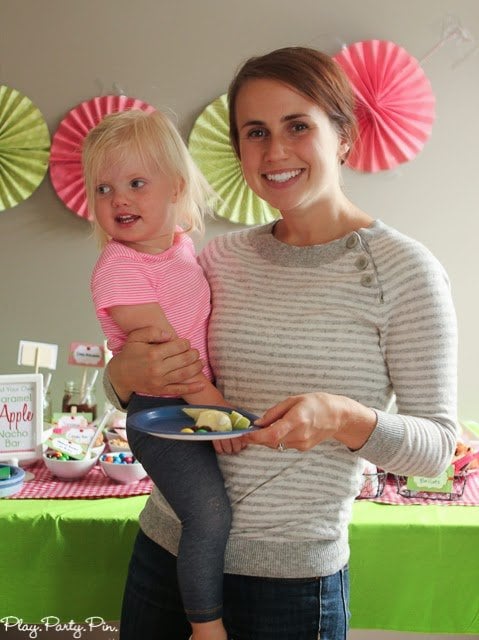 More Fall Party Ideas
Want apple party printables?