This Snickers poke cake combines the the flavors of a Snickers candy bar all in one delicious cake! If you love chocolate, caramel, and Snickers, you're going to love this cake!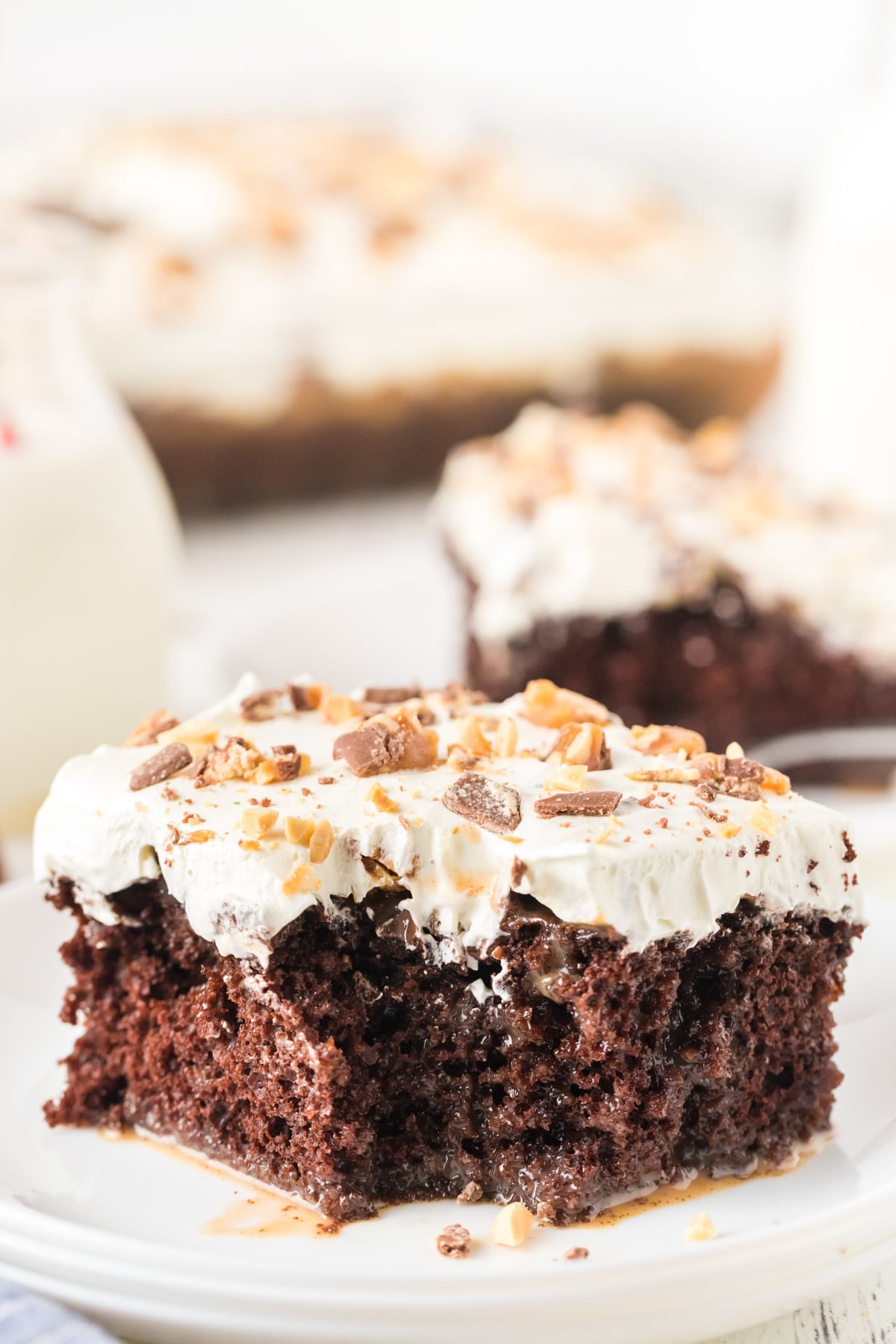 Easy Snickers Poke Cake
Two years ago I hosted one of my favorite parties ever to celebrate the start of football season – a chocolate is better than football party.
Basically girls enjoying chocolate while the guys enjoyed football and the kids played football bingo.
Since it was a chocolate party, I decided to turn one of my favorite candy bars into one of my favorite cakes and this Snickers poke cake recipe was born.
And bonus, it was inspired by a cake one of my volleyball teammate's made years ago so thought it was fitting to serve at a sports themed party!
If you don't like chocolate, you could always try this strawberry poke cake instead. It's another family favorite!
Snickers Poke Cake Ingredients
This Snickers poke cake is simple with only five ingredients but tastes like a cross between a chocolate poke cake and a tres leches. If you like chocolate, tres leches cake, or Snickers, well you're going to love this cake.
Here's everything you'll need for this cake!
1 box Devil's food cake mix
20 oz caramel ice cream topping
14 oz sweetened condensed milk
4 Snickers bars
8 oz whipped topping like Cool Whip
Peanuts (optional)
I originally made this into one 9″ cake and small individual size cakes for that party but since then, I prefer to make a full size 9×13 cake and just serve it in squares!
How to Make Snickers Poke Cake
Just like there are only five ingredients in this cake, there are only five steps to making the cake as well and they're all a piece of cake! Pun intended.
You can also watch the video in this post to see how quick this cake comes together!
1 – Bake your cake
Bake your cake according to the directions on the package. Once the cake is baked, let it cool.
2 – Poke your cake
Once the cake is cooled, use chopsticks to poke holes throughout the top of the cake, spaced an inch apart. Make sure to go throughout the cake so the liquids can get into every portion of the cake.
3 – Pour caramel and condensed milk over cake
Before you do this step, make sure your cake is totally cool. You don't want everything just melting as soon as it hits the top of the cake.
Pour your caramel and condensed milk over the cake and let it soak into the holes. This will saturate the cake mix with amazing flavor!
Once this is done, put your cake into the fridge to chill and let it chill for at least an hour. Or if you'd prefer you can finish steps four and five below before chilling if you're short for time when you're planning to serve the cake, but I prefer to chill here and top later.
4 – Add a layer of Snickers
Chop up your Snickers bars into small pieces and spread about five of those candy bars in an even layer of the candy bar on top of the cake.
5 – Top with whipped cream and other toppings
Top all of those Snickers pieces with a layer of whipped topping and spread it around evenly. Then garnish the cake with more chopped up Snickers plus chopped up peanuts if you'd like.
Keep in the refrigerator until ready to serve.
Snickers Poke Cake Tips
Here are a couple of additional notes that may help with making this cake!
Can I use homemade caramel sauce?
Yes! As long as the caramel is pourable, you can use it. I just use caramel ice cream topping because it's ready to go and makes this cake quick to put together.
Can I use homemade whipped cream instead of whipped topping?
While the answer is yes, know that it may not spread quite as well as the whipped topping. But yes, you can replace it with homemade whipped cream instead since you're just topping the cake – not mixing it together like you do in this Striped Delight recipe.
How long can Snickers poke cake be refrigerated?
Snickers poke cake needs to be refrigerated and can be refrigerated for up to five days in an airtight container.
I don't recommend freezing this cake as it changes the consistency of the moist cake part completely. If you want a dessert that freezes well, this Reese's peanut butter pie is also delicious!
Can this poke cake be made ahead of time?
You can definitely make this poke cake ahead of time – hours or even the night before. The cake needs to chill anyway and it's even better after the flavors have all mingled together with the chocolate cake so go ahead and bake ahead!
Snickers Poke Cake Recipe
This Snickers poke cake combines the the flavors of a Snickers candy bar all in one delicious cake! If you love chocolate, caramel, and Snickers, you're going to love this cake!
Print
Pin
Rate
Ingredients
1

box

devil's food cake mix

20

oz

caramel ice cream topping

14

oz

sweetened condensed milk

4

SNICKERS® bars

8

oz

whipped topping.

Peanuts

(optional)
Instructions
Bake the devil's food cake according to the package instructions in a 9x13 pan.

Poke holes in the cake (I used chopsticks).

Pour caramel topping and sweetened and condensed milk over the holes.

Top with chopped up SNICKERS® bars and chill.

Top with the whipped topping, additional chopped Snickers bars, and peanuts. Refrigerate and serve chilled.
Nutrition
Calories:
501
kcal
|
Carbohydrates:
92
g
|
Protein:
7
g
|
Fat:
14
g
|
Saturated Fat:
5
g
|
Cholesterol:
17
mg
|
Sodium:
563
mg
|
Potassium:
363
mg
|
Fiber:
2
g
|
Sugar:
44
g
|
Vitamin A:
194
IU
|
Vitamin C:
1
mg
|
Calcium:
211
mg
|
Iron:
2
mg
More Chocolate Desserts
Don't forget to pin this Snickers poke cake for later!