Have I mentioned before how much my family, okay my husband, loves football? We had our first of I'm sure many football parties last week during the college play-off games. While the guys watched the game, us girls, well we played football bingo. These are perfect not only for college football parties but also for Super Bowl party games because you know most of the time the girls would rather play Super Bowl bingo than watch the game. This post includes affiliate links for your convenience.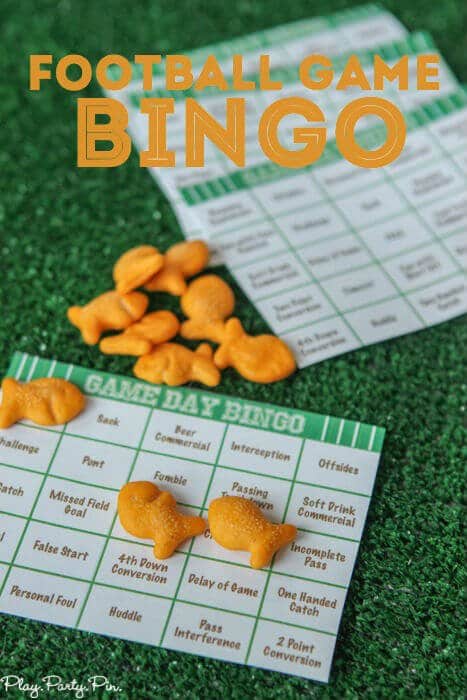 Last year I created Super Bowl commercial bingo cards for the people who watch the game just for commercials, so this year I thought it would be fun to do something a little different and fill the bingo card with things that happen during the actual game. Each of the cards is filled with things that you'll either see players do (interception), typical football penalties (offsides, holding), and things that you'd see while watching a college or pro football game (soft drink commercial, cheerleaders). See it during the game, mark it off with goldfish or the markers of your choice, and the first one to get a bingo wins! Just make sure to have plenty of "markers" because if you're like me, you'll eat all of your goldfish before you get a bingo.
Make sure to have plenty of football themed prizes on hand like the ones I shared in my Super Bowl commercial bingo post last year.
Super Bowl Bingo Cards
Enter your first name and email address in the form below to get the printable. If the form isn't showing up below, click here to get to the form to download the printable files.
<<Download the entire set of free football bingo card printables>>
The download includes 12 different bingo cards. If you need more, you can download the PowerPoint version and create additional ones using the blank bingo cards provided. Below is the list of words to put into the cards.
Interception
Passing Touchdown
Field goal
Extra point
Sack
Cheerleaders
Holding
Pass Interference
Offsides
2-pt conversion
Punt
Incomplete Pass
Fair Catch
Fumble
Personal Foul
False Start
Injury
Timeout
Huddle
Fan with Shirt Off
Fan with Face Painted
Delay of Game
One Handed Catch
Running Touchdown
Missed field goal
Challenge
4th Down Conversion
Fast Food Commercial
Beer Commercial
Soft Drink Commercial
And don't forget to stop by tomorrow for more great Super Bowl party games including some great options to keep the kids entertained!
Super Bowl Bingo Prize Ideas
Football Cards

Gift Cards
Jerky
or other snack foods
NFL Merchandise
Toy Football
Popcorn containers filled with treats
Foam finger filled with snacks
Other Super Bowl Party Activities (you can buy)
100 Squares Super Bowl Pool Cards 
Super Bowl Photo Booth Props
Football Pinata
Pin the Ball Football Game
Inflatable Goal Post Ring Toss
Finger Flick Football Game
Other Super Bowl Party Supplies:
Inflatable Football Goal Post Cooler
Game Day Football Field Flags (great for cupcake toppers, burger picks, etc.)
Football Field Table Cover (such a fun way to decorate inexpensively)
Fanci Football Confetti
Hanging Football Paper Lanterns
Want to try something a little different this year? How about Super Bowl commercial bingo?