This post is written in partnership with Delta Faucet and Southern Living Magazine. While I've been compensated for the post, everything about it is my own opinion and completely honest.
This fried chicken recipe and sweet corn puree recipe are the perfect summer comfort foods, great for a summer dinner party or Southern Living inspired dinner.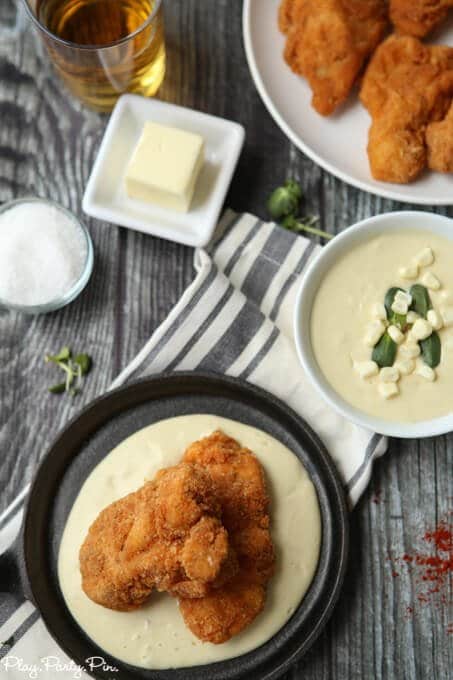 When I toured the Southern Living Test Kitchen a couple of months ago, one of the other bloggers on the trip asked the Test Kitchen Director, Robby Melvin, how they continue to come up with new recipes month after month. His answer really resounded with me. He said that it's not about reinventing the wheel and coming up with completely new recipes, it's about taking ideas and recipes that have been around forever and putting a Southern Living spin on it. Just because someone has made fried chicken a million times doesn't mean that there can't be another fried chicken with its own twist.
As part of my amazing trip to Alabama and my partnership with Delta for the #Happimess campaign, we were challenged to come up with a Southern Living inspired recipe. I went home and gave my husband that challenge and he immediately came up with the idea of making fried chicken tenderloins with a sweet corn puree. And you guys, they turned out AMAZING, probably one of the best meals we've had at home in the past few years.
This is the perfect summer dinner when fresh sweet corn is overflowing in the grocery stores and farmer's markets. And you can eat the fried chicken and corn puree separately, but the crisp chicken complements the smooth and creamy puree, so they're definitely better eaten together.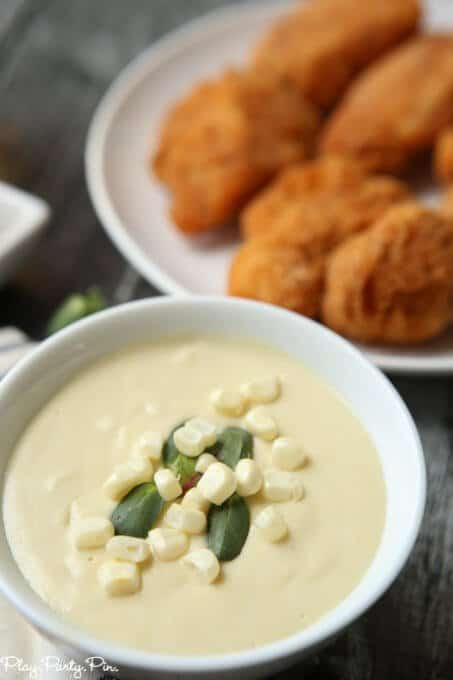 I know some people say that fried chicken isn't good unless it's on the bone but guess what, I don't like eating chicken off a bone, so my husband made it boneless. And it is good. Start by cutting your chicken into small tenderloins then breading it and placing it on a pan with parchment paper. And don't forget to wear gloves and/or wash your hands often since you're dealing with raw chicken.
Speaking of washing your hands, I'm in love with our new Delta Touch2O® faucet! My husband installed it a few weeks ago using the simple instructions provided with the Addison faucet, easy enough for anyone to do it! For meals like this fried chicken where you have to wash your hands often, it's great to be able to touch the faucet anywhere on the handle or faucet with my arm, not my dirty hands, to turn it on and off. It's also perfect when you're making a dessert or pizza loaf where you end up with dough all over your hands you need to wash off. We've always had a Delta faucet, but the Touch2O® really takes a cake for the best faucet we've ever used. And it looks amazing with all of the other stainless steel appliances in our kitchen. Scroll down to the bottom of this post under the recipe for your chance to win a new Delta Touch2O® faucet of your own!
Once you're done breading the chicken, you'll fry it in oil until it's completely cooked inside. Then let it rest until it's cool enough to eat. While the chicken is cooling, make the corn puree then eat the two together with a little sprig of micro greens, for a delicious Southern Living inspired dinner.
Okay, now for the fun part! Who wants to win their very own Delta Faucet with Touch2O technology? Enter to win your choice of faucet, courtesy of Delta Faucets by completing the Rafflecopter form below. Giveaway ends on Friday, July 3rd at midnight EST and winner will be selected randomly and have 48 hours to claim their prize.
Sweet Corn Puree
Ingredients
4

ears sweet corn

¾

cup

low sodium chicken broth

2

tbsp

unsalted butter

1

tbsp

heavy whipping cream

½

tsp

salt

(or to taste)
Instructions
Cut the kernels off the cob and place in a medium pot.

Scrape the cobs with the dull side of your knife to collect the juices.

Add the chicken broth to the pot, cover, and heat until the broth boils.

Reduce heat to medium low and simmer for 15 minutes.

Add the hot corn mixture, butter, cream, and salt to a blender and puree until silky smooth, about 5 minutes.

Remove from blender and serve.

If the puree is too thin, return it to the pot and reduce the puree over medium heat until the desired consistency.