These BBQ pulled pork sliders with red cabbage slaw are the perfect party food! They're sweet, saucy, and simply delicious. Make a batch just for your family or enough to serve an entire crowd all in just minutes.
While this post is sponsored as part of an ambassadorship with Perdue Farms, all opinions are 100% honest and my own.
Easy BBQ Pulled Pork Sliders
It's been way too long since I've had friends over for a game day party. That's one of the realizations I had this week as I was hosting my family for Thanksgiving, and the guys were all watching football all day.
Since we've moved to Kansas we haven't watched a lot of football. Or really much TV at all. We've just been busy with the new baby and when the choice is watch TV or get some sleep, sleep always wins out.
I think the last time I got a full night sleep was when I went to Maryland as a Perdue Farms ambassador to check out chicken farms and meet the Perdue family.
But we finally hit a turning point in the past few days and baby E seems to have figured out this whole sleeping through the night thing. At least most nights.
I feel like a whole new person.
A person who is ready to move on from turkey and onto all the game day recipes. Also known as comfort foods in a bite-sized form.
These pulled pork sliders are so easy and absolutely perfect for a game day party. Play a little football bingo, eat some pulled pork sliders – it's a win for everyone no matter what the score!
The addition of the honey lime red cabbage slaw takes them up a notch so you don't feel like you're just serving comfort food.
While the recipe is super simple, your guests will love it. And one of the best things of all is that they're good hot, warm, or at room temp so you can enjoy them throughout the party without worrying about them about having to reheat.
Pulled Pork Sliders Recipe Ingredients
These pulled pork sliders have just a few ingredients that are readily available in your grocery store.
Niman Ranch Pulled Pork with Barbecue Sauce – The base for these sliders is Niman Ranch Pulled Pork with Barbecue Sauce. It's my secret for these being so easy and tasty without a lot of work. The pulled pork comes pre-made and pre-sauced, and is absolutely delicious.
You just have to open the package and heat it up before adding it to the sliders.
I'm also a huge fan of the Niman Ranch brand because just like all Perdue Farms brands, Niman Ranch animals are fed an all-vegetarian diet, no antibiotics or added hormones ever, and they are raised by U.S. family farmers committed to sustainable and humane animal care.
Plus, there are no nitrites or nitrates added. And the meat is delicious.
Get two 14 oz packages – just trust me on this one. If you don't have them in your local stores, you can buy the meat on the Perdue Farms website here. Use my ambassador link and you'll get 15% off your order PLUS a free package of Harvestland diced chicken breasts.
Hawaiian rolls – Don't get regular dinner rolls for these sliders. The sweetness of the Hawaiian rolls makes a big difference in the taste. You'll want to get two packs of twelve rolls each.
Red cabbage – You can either buy a cabbage and cut it up yourself or just buy the pre-cut cabbage if that's easier for you.
Lime juice – We typically use juice from two fresh limes but store-bought juice works as well.
Honey – We always prefer raw organic honey but whatever you have on hand works.
Kosher salt – Just a little finishing salt to balance out the sweetness of the slaw.
How to Make the BBQ Pulled Pork Sliders
There's really not a lot to making these BBQ pulled pork sliders. There's a bit more to the red cabbage slaw but not much. Easy enough that I just went ahead and included it in these directions.
1 – Heat your meat.
If the pulled pork is frozen, thaw it overnight then heat the meat. If it's refrigerated, heat the meat according to the directions on the package and your preferred cooking method. You can heat in the oven, microwave, or boil.
2 – Make the red cabbage slaw.
While the meat is heating up, make the red cabbage slaw and allow it to marinate while you're making the sliders.
To make the slaw, make a dressing with the lime juice, honey, and salt then dress the shredded cabbage in the marinade. Let the cabbage marinade for at least twenty minutes if you're in a hurry or overnight if you have extra time.
3 – Prepare your pan.
Place a piece of parchment paper in a 9×13 baking dish. Cut your rolls in half hamburger style and place the bottoms of the rolls directly on top of the parchment paper.
4 – Make and bake your sliders.
Once the meat is heated, top the rolls with the bbq pulled pork then put the top halves of the rolls back on top.
Put in the oven and bake at 350 degrees for 7-10 minutes or until the tops have a good crunch but aren't browned or burnt.
While technically you could skip this step and just do the regular rolls with pulled pork and slaw, I think you should trust me on this one – the rolls are better warm and with a little crunch.
5 – Top with slaw and honey.
Once the sliders are done, remove the tops and place a good portion of the slaw on top of all of the pulled pork. Drizzle the slaw and pork with a little bit of extra honey (or skip this step if you prefer them to be less sweet).
6 – Remove the parchment and serve.
Put the tops of the rolls back on the sliders then remove the entire parchment sheet from the pan. Put the entire thing on a serving tray and serve hot with the sliders all together. Let people pull apart their own.
Or if you prefer, you could always break them up into individual sliders and just serve on a serving tray individually as well.
No matter how you serve them, I promise they'll be a big hit!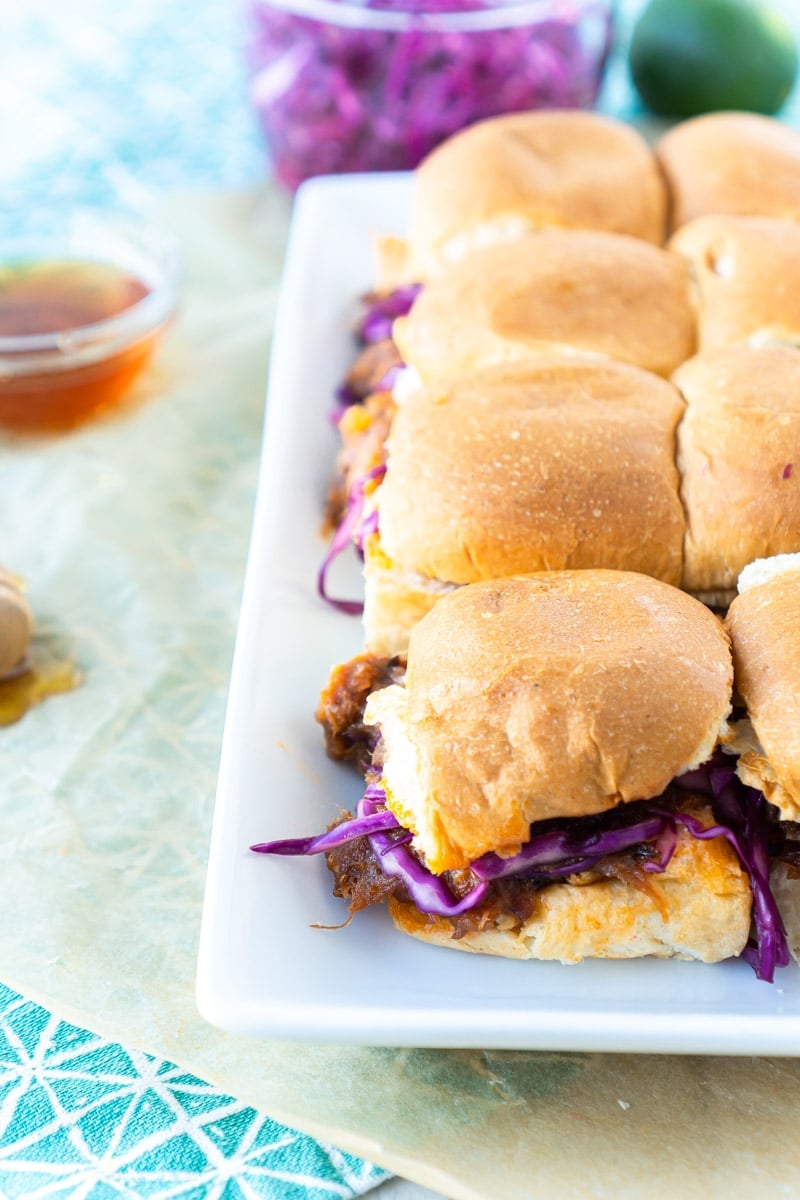 Pulled Pork Sliders FAQs
Just a few notes to answer questions I get regularly from friends about these BBQ pulled pork sliders and the red cabbage slaw recipe.
Can you make these ahead of time?
You can definitely make the slaw ahead of time – we actual prefer to make it the night before to let the cabbage soak in the marinade for as long as possible.
The actual sliders however I recommend making just before you're going to serve them before the sauce soaks into the rolls after a couple of hours, and they just won't be as good if you make them much earlier. You could definitely heat up the meat, especially if it was frozen, and then just rewarm it on the rolls.
How much pulled pork should I use?
I put 14 oz of the Niman Ranch Pulled Pork with Barbecue Sauce on top of twelve Hawaiian rolls, and it was about the perfect amount of pulled pork per slider. This recipe calls for double the pulled pork and double the rolls, but it should still be about perfect if you distribute it evenly.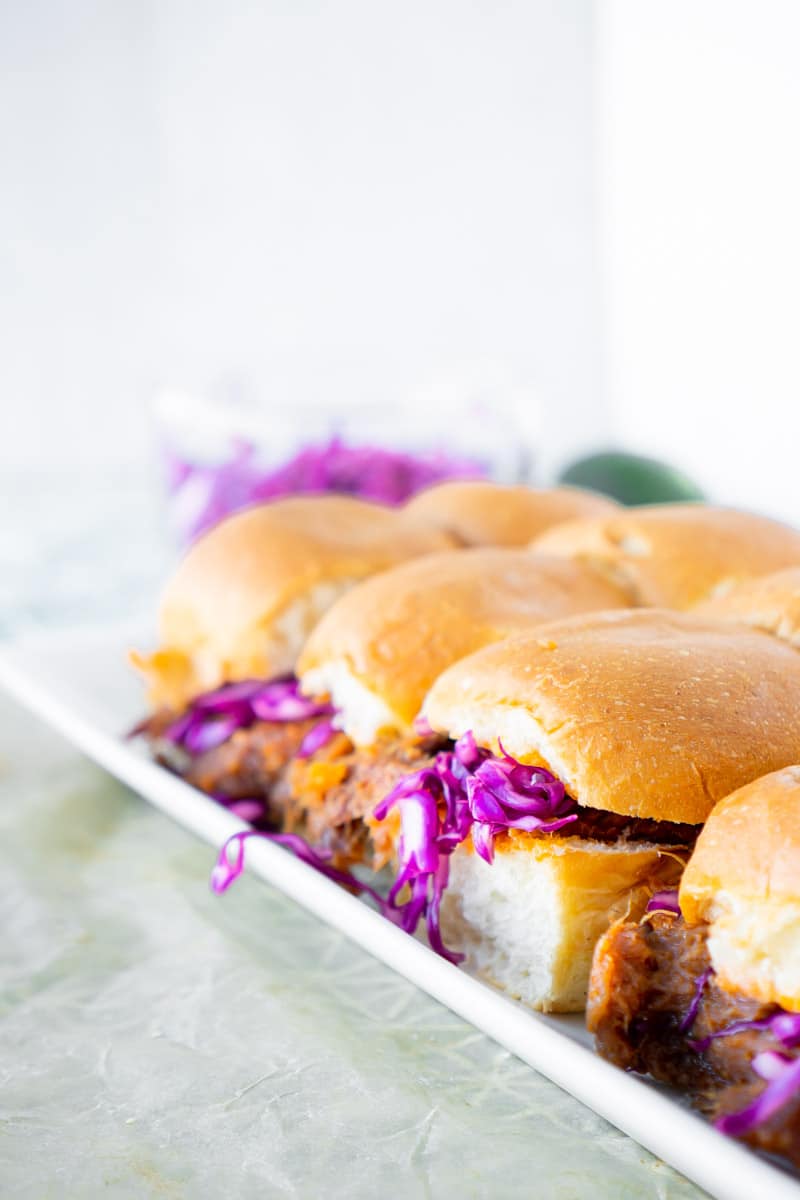 How much slaw should you use?
I recommend going light on the slaw and just putting some extra out on the table for people to add more of their own if they choose simply because some people aren't the biggest cabbage fans. Even if it does add an amazing crunch to the otherwise soft sandwich.
I added a forkful of the cabbage to each slider roughly, but my husband who loves cabbage and slaw added about twice that. Start with a light layer and let people add more.
What should you do with the leftover red cabbage slaw?
The honey and lime red cabbage slaw recipe is good on so many things. The recipe included in this post makes a batch that's probably twice the amount that you actually need for these sliders, so you'll likely have leftovers.
I recommend using the leftovers with any of these dishes.
Other Easy Appetizers
Need more appetizers to serve at your next party? Your guests will love these other finger foods!
BBQ Pulled Pork Sliders
These BBQ pulled pork sliders with red cabbage slaw are the perfect party food! They're sweet, saucy, and simply delicious. Make a batch just for your family or enough to serve an entire crowd all in just minutes.
Ingredients
Red Cabbage Slaw
4 TBSP fresh lime juice juice from two limes
2 TBSP honey
½ tsp kosher salt
½ large red cabbage shredded, 3-4 cups
Instructions
Sliders
Heat pulled pork via preferred method according to package directions.

Preheat oven to 350 degrees.

Line 9x13 baking sheet with parchment paper.

Cut Hawaiian rolls in half and place the bottoms of the rolls on the parchment paper.

Spread the pulled pork evenly over the Hawaiian roll bottoms.

Place the tops of the Hawaiian rolls back on top.

Bake for 7-10 minutes until the rolls are slightly toasted but not browned.

Remove tops and add slaw and drizzle of honey on top of pulled pork.

Put the tops back on and serve pulled pork sliders warm or at room temperature.
Red Cabbage Slaw
Combine the lime juice, honey, and salt in a large bowl and whisk until the honey and salt have dissolved into the lime juice.

Add the shredded cabbage to the dressing and toss to coat. Make sure all of the cabbage has been covered in the dressing.

Allow the cabbage to sit and marinate in the dressing for at least 20 minutes, but up to 24 hours. The longer time will allow the flavors to intensify.
Nutrition Info
Calories: 163kcal, Carbohydrates: 24g, Protein: 7g, Fat: 4g, Saturated Fat: 2g, Cholesterol: 24mg, Sodium: 334mg, Potassium: 45mg, Fiber: 1g, Sugar: 11g, Vitamin A: 245IU, Vitamin C: 11mg, Calcium: 24mg, Iron: 1mg
Don't forget to pin these BBQ pulled pork sliders with red cabbage slaw for later!