These party ideas inspired by The Nutcracker are sure to keep everyone on their toes and enjoying a wonderful event full of delicious food and music. These would also be perfect for a movie night before going to see Disney's The Nutcracker and the Four Realms. 
This post contains affiliate links to products for your convenience. If you purchase via my links, I may receive a small commission at no additional cost to you.
The Nutcracker Party Ideas
If you haven't heard yet, Disney is releasing a brand movie next November inspired by the classic Nutcracker ballet that follows along with Clara, the soldier, and the Sugar Plum Fairy! Scroll down to the very bottom of this post for all the details about the cast, plot, and release info!
With the release of Disney's new The Nutcracker and the Four Realms in November 2018, I have a feeling that we will see more Christmas and winter parties for kids inspired by The Nutcracker ballet and the new movie. These are some of the best Nutcracker party ideas including everything from drinks to party games!
The Nutcracker Inspired Food
While it's simple to just put a nutcracker or ballerina on top of something, most of these idea take it on step above and create creative food and drink items to go with the Nutcracker party theme! Click on the links to go directly to where you can find more out about the idea!
Keep things sweet with these Mouse King Marshmallow Pops from Party Pinching.
Make these darling Nutcracker Cookies from Disney Family.
Add a bit of savory in with these Mouse King Cheese Bites from Wonderland Recipes.
Serve cupcakes with these cute cupcake toppers from Confetti Bash.
Drink melted snowflakes with cute striped paper straws.
The Nutcracker Party Decorations
Stick with pretty colors, fluffy fabrics, and sweet treats for one amazing Nutcracker party! Click on the links to go directly to where you can find more out about the idea!
Send any of these gorgeous Nutcracker inspired party invitations (boy and girl versions available).
Set your table with these cute Nutcracker paper goods (love the bright colors!).
Make this Nutcracker Silhouette Art from The Crafted Sparrow for your party backdrop.
Make an entire Land of Sweets dessert table.
Create this DIY tutu table skirt to add that ballet effect to your table like I did in my once upon a summer party.
Have one of these darling tutus on each of the chairs for your guests.
Send kids home with these DIY Sugar Plum gift jars from Hostess with the Mostess.
The Nutcracker Party Games & Activities
Other than dancing, watching the movie, and listening to The Nutcracker soundtrack, these are some other great ways to have fun at your Nutcracker party! Click on the links to go directly to where you can find more out about the idea!
Build gingerbread houses like these ones from Disney Family.
Do one of these 12 Nutcracker crafts for kids from Rainy Day Mum.
Have a Nutcracker inspired photo booth with these printable photo both props.
Setup a coloring station with any of these 20 free printable Nutcracker coloring pages.
Swing nutcrackers at a mouse king pinata like this one.
Set up a table with supplies to make these cute felt Nutcracker ornaments from Make & Takes.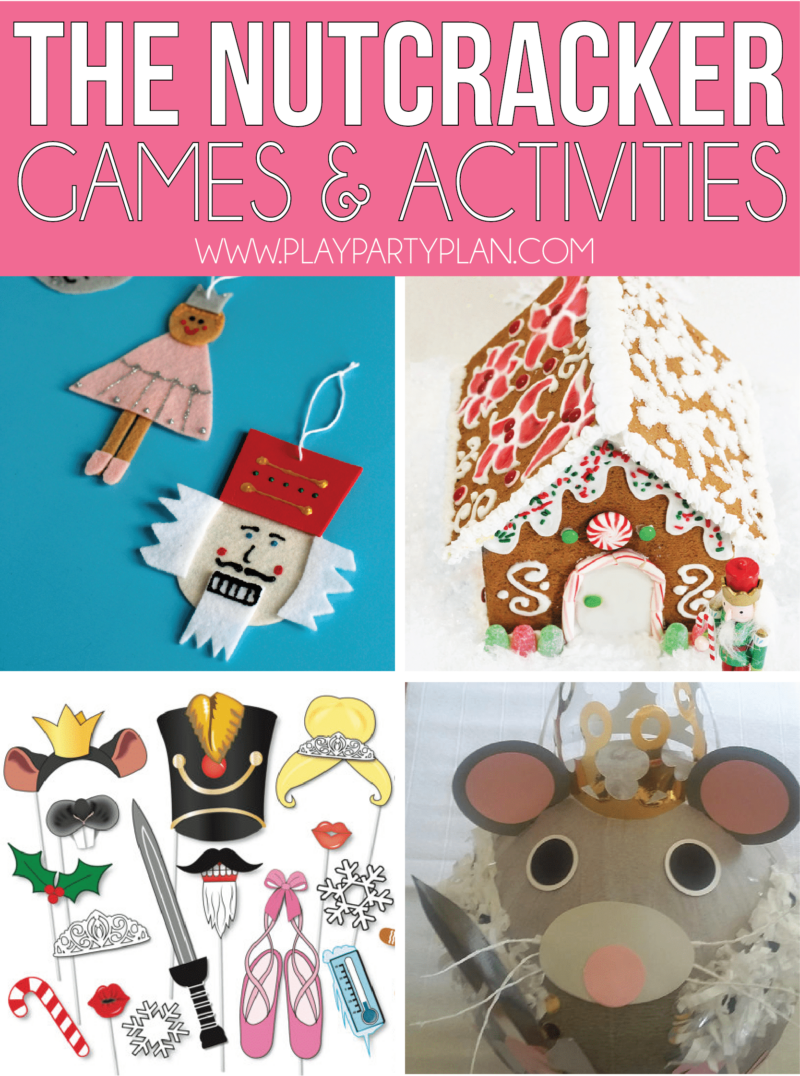 About The Nutcracker and the Four Realms
In "The Nutcracker and the Four Realms," Clara (Mackenzie Foy) is given a one-of-a-kind key that will unlock a box that holds a gift from her late mother. She's given a golden thread by her godfather (Morgan Freeman) at the annual holiday party, which leads her to the key – sort of. As soon as she sees the key, it disappears into a parallel world where Clara meets soldier Phillip (Jayden Fowora-Knight) and a gang of mice.
Clara and Phillip must head into the scary Fourth Realm and face the tyrant Mother Ginger (Helen Mirren) to find Clara's Key and bring peace to the unstable world. The movie also stars Keira Knightly as the Sugar Plum Fairy and includes a special performance by Misty Copeland. You can watch the brand new trailer below to get a look into the four realms and this beautiful new world.
Like THE NUTCRACKER AND THE FOUR REALMS on Facebook: https://www.facebook.com/DisneysTheNutcracker/
Follow Disney Studios on Twitter: https://twitter.com/DisneyStudios
Follow THE NUTCRACKER AND THE FOUR REALMS on Instagram: https://www.instagram.com/disneysnutcracker/
Release Date: November 2, 2018 
Don't forget to pin these The Nutcracker party ideas for later!