Tell your Elf on the Shelf goodbye with these fun Elf on the Shelf ideas complete with an Elf on the Shelf goodbye breakfast, Elf on the Shelf party games, food ideas, and even decorations!
This party was originally sponsored by Pottery Barn Kids and posted in 2015. While it was sponsored, all ideas are 100% honest and my own. Since the collection of Elf on the Shelf items from Pottery Barn Kids is no longer available, so I've linked elsewhere to get something similar. This post also contains affiliate links directly to products for your convenience. If you purchase via these links, I may receive a small commission at no additional cost to you.
Our Elf on the Shelf Goodbye Party
This post was originally written back in 2015 when my son was just a little guy. I love looking back at the photos because it's still one of my absolute favorite Christmas parties I've put together.
It's kind of hilarious though because this is an Elf on the Shelf goodbye party, and this is the one and only year we ever did Elf on the Shelf.
So apparently it was a permanent Elf on the Shelf goodbye party! I used an old Pottery Barn Kids collection for this Elf on the Shelf party that is no longer available, but I've included links throughout the post to similar items elsewhere on the internet that you can use instead.
Elf on the Shelf Party Ideas
I've put together info on all of the party ideas that we used for this party along with links to where you can get most of them. I basically tied everything together with the color scheme and then some North Pole type ideas.
Elf on the Shelf Goodbye Letter
We had a little help from one of my favorite printable designers, Elena from WorldWide Party, who created the cutest set of free matching printables for the party.
You can download all of the free printables at the very bottom of this post.
Like any other party, I started it off with cute invites! Or in the case of this party, not really invites but instead an Elf on the Shelf goodbye letter.
Instead of finding Elf in a hiding spot, my son found an envelope with his name on it with some cute Elf on the Shelf pajamas.
Inside the envelope was a letter inside from his elf telling him goodbye and that he should still search the house for a fun surprise (aka the party).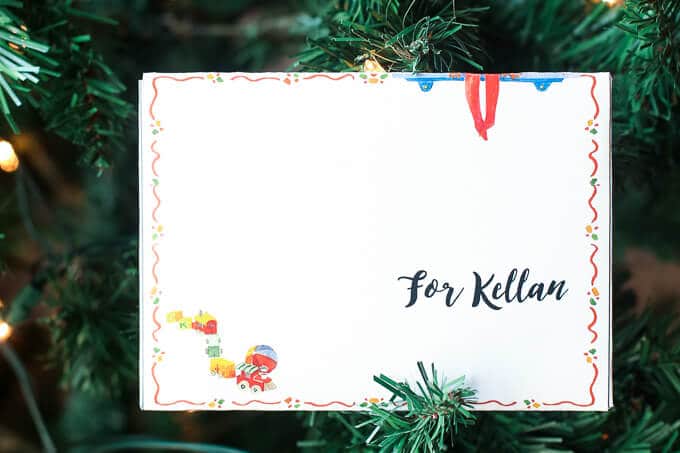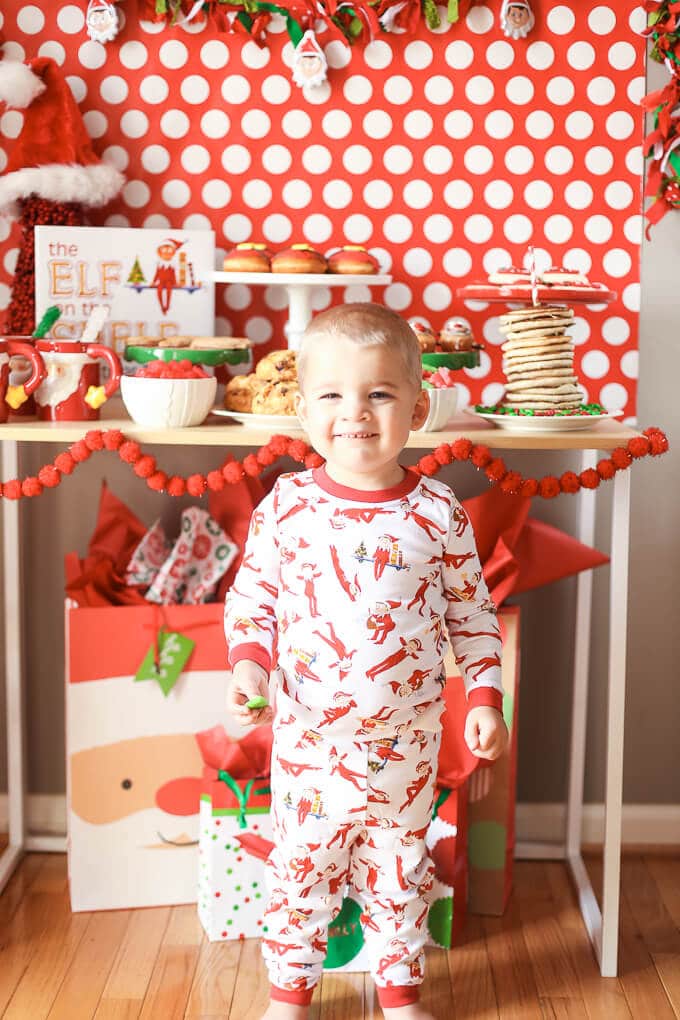 Elf on the Shelf Party Food
I had a fantastic time coming up with the food for this Elf on the Shelf party because what's more magical than a Christmas morning party?
I stuck with a red and green color scheme to match the traditional Elf on the Shelf feel and used white accents like my absolute favorite white milk glass cake stand from Sugar Confetti Shop for the table. Don't need milk glass? You can get a similar one (for cheaper) on Amazon here.
I designed the party for the three of us (mom, dad, and K) to enjoy together and on the menu I included:
North Pole pancakes
Reindeer rolls – just add eyes, red noses, and chocolate covered pretzels for reindeers
Mrs. Claus cocoa (with rock candy stirrers)
Gummy Christmas trees
Christmas donuts
Cut out Christmas toast
Christmas cookies
Cranberry orange scones (kind of like my cranberry orange bread – so good!)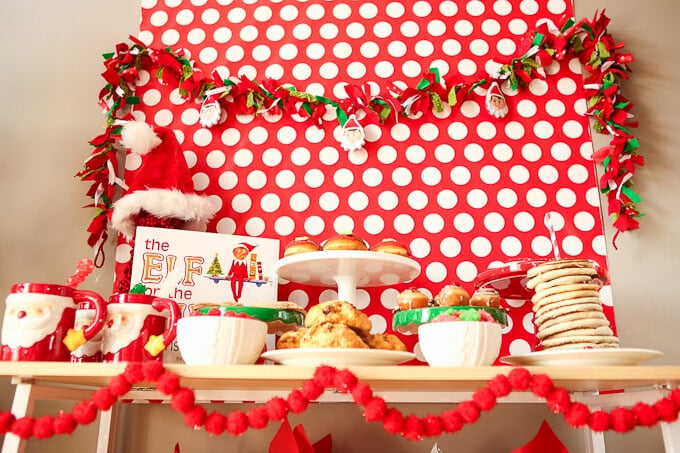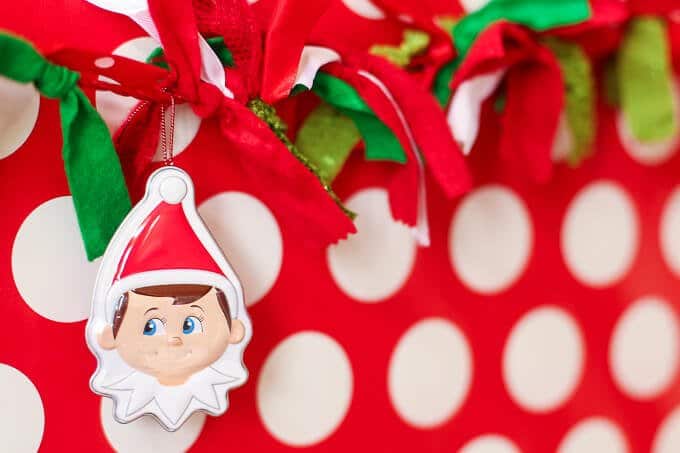 Elf on the Shelf Goodbye Party Tablescape
You can't have a party without a party table! A kid-sized table was perfect for this party.
I added a little personalization to the seats with mini stockings and name cards from the free printable collection, then used Elf on the Shelf plates and cups to set the table.
As a bonus little treat, I also included an elf basket (the same one we used for this Santa's helper gift exchange game) with my favorite Christmas tree candy kabobs from Sweets Indeed.
Out of everything, those may just have been his favorite treat of the day and that's saying a lot when the other options were things like Santa Belly donuts.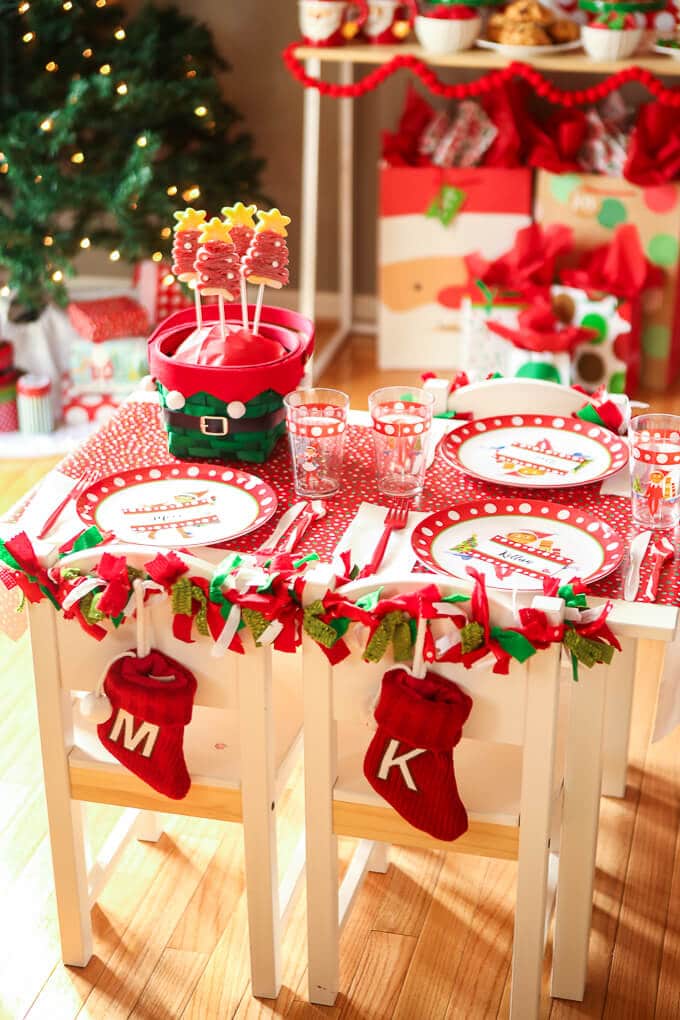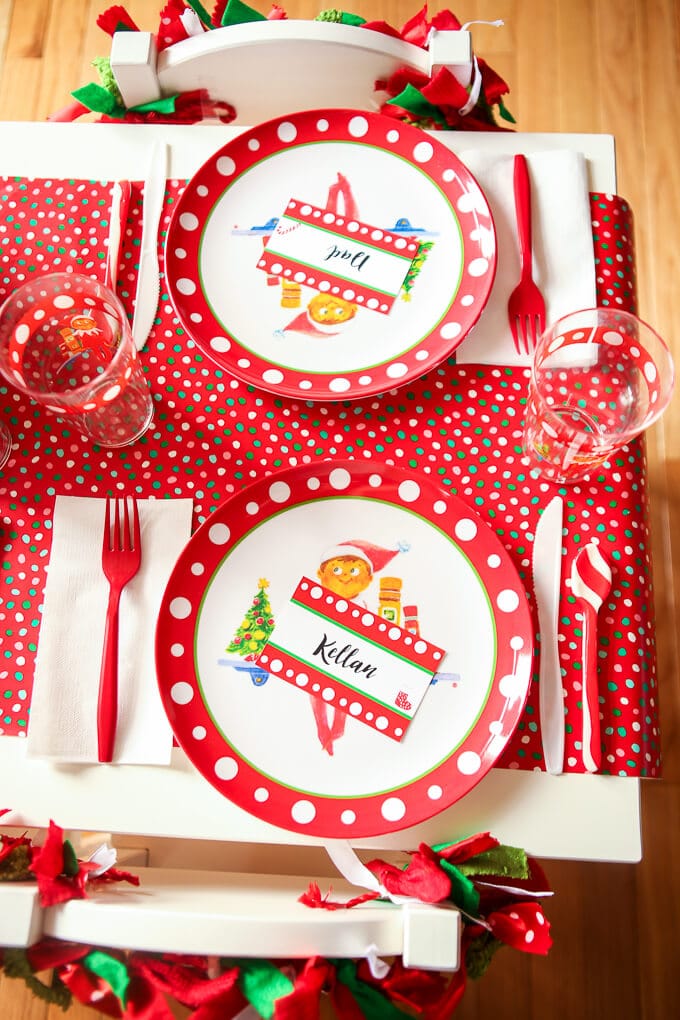 Elf on the Shelf Games
After breakfast we played Elf on the Shelf minute to win it games!
Minute to win it games are perfect for kids because they're inexpensive, easy to setup, and good for short-attention spans.
If you've never played minute to win it games before, start with this guide to minute to win it games first!
These Christmas minute to win it games or these 12 days of Christmas games would also be a fun way to start your day!
1 – Marshmallow Munch
Eat an entire bowl of marshmallows in a minute (or race to be the first).
2 – Candy Cane Catch
Hold a piece of ribbon or twine and catch a certain number (we did five) of candy canes on it.
3 – Toy Touchdown
Pass small toys under your legs like you're hiking a football and have a teammate catch them in a small bucket or bowl.
4 – Elf Toss
Players have a minute to try and toss mini plastic elves into a line of buckets (one 5″ away, one 7″ away, and one 10 feet away). Player has to make elves into each of the buckets in the time to win.
5 – Snowman Shake
Decorate white ping pong balls to look like snowman faces. Fill an empty tissue box with the snowmen ping pong balls and tape the tissue box (or use a velcro belt glued to the box) to someone's backside and the player has to shake all of the snowmen out of the tissue box before the time runs out.
It's played similar to one of our favorite Thanksgiving games.
6 – North Pole Pop
Player has to pop 10 balloons using just their hands with winter gloves on.
We did this as part of our superhero games with Hulk gloves on, even tougher, but so much fun!
7 – Jingle Bell Jam
Player has to shake wrapped presents filled with jingle bells to determine how many jingle bells is in each, putting them in order of the most jingle bells to the least.
8 – Naughty or Nice
Players must quickly go through a bowl of red and green candies and divide the candies (one candy at a time) into separate bowls across the room labeled naughty or nice. Red candies go into the naughty bowl and green candies go into the nice bowl.
10 – Reindeer Wrap
Players have to wrap a teammate from head to toe with brown crepe paper and top with reindeer headband to finish the challenge. It's a Christmas version of the best Halloween games.
11 – Snowball Fight
Player has to bounce (or toss) white ping pong balls into an empty fish bowl (or other bowl if you don't have a fish bowl) at the other end of the table while other players are throwing ping pong balls (from the sides of the table) at the ping pong balls the player is bouncing. Player must make one to win.
Elf on the Shelf Party Favors
After the minute to win it games, we took a little break and we each opened one goodbye present from Elf – elf socks and slippers for everyone to finish off the morning, perfect to match K's Elf on the Shelf PJs, that he wouldn't take off all day.
It was the best elf on the shelf party favor ever and a great way to remember our one year with Elf!
Enter your first name and email address below to get the free Elf on the Shelf printables.
The PDF will be sent directly to your email inbox and will include:
Menu cards
Envelopes
Elf on the Shelf goodbye letter
Game signs
and more!
If you cannot see the form, click here to get to it.
More Great Christmas Party Ideas
Don't forget to pin these Elf on the Shelf party ideas for later!