If you're headed to Ruidoso on vacation, make sure to try out one of these delicious Ruidoso restaurants while you're there! They're each a bit different and each very delicious – definitely restaurants in Ruidoso NM you're going to try!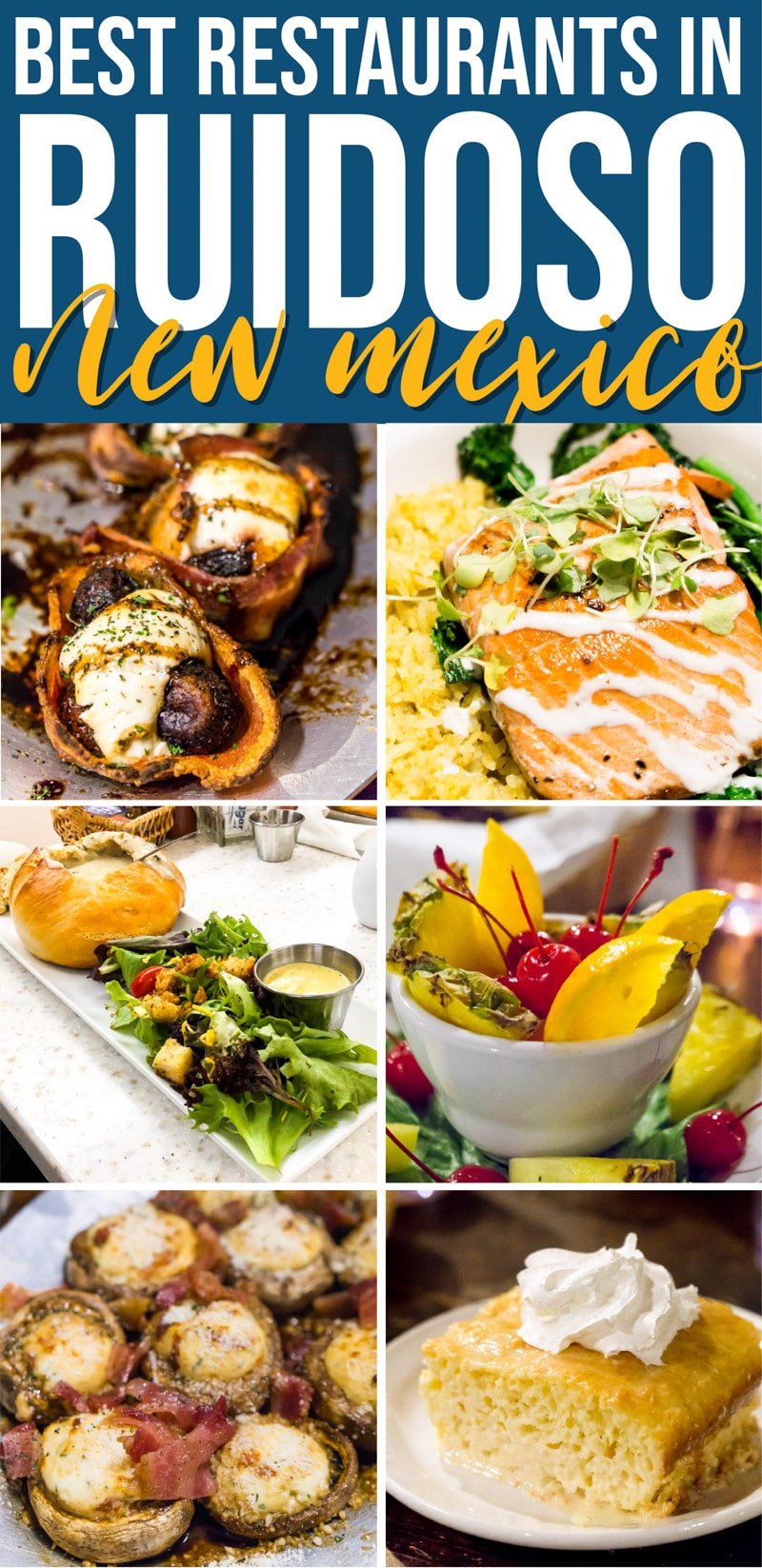 I received free from some of the companies mentioned in this post. All opinions and ideas are 100% honest and my own.
Best Ruidoso Restaurants
Last year I took a trip down to Roswell, New Mexico to visit my great-grandparents with my brothers and while we were there, we decided to take a quick weekend trip to check out some of the most fun things to do in Ruidoso.
We quickly realized that one of those fun things was trying all of the local food and flavors. I was pregnant at the time so some of the things like skiing and tubing were out for me, but I was able to eat with the best of them.
While we didn't get the chance to try all the restaurants in Ruidoso, these were our favorites among the ones we did try. And they're totally worth checking out!
1 – Casa Blanca
Casa Blanca serves delicious homemade Mexican food in a warm and family-friendly setting. Honestly when I looked at the menu, I wasn't expecting much other than your typical Mexican restaurant. And I'm not normally a huge fan of Mexican unless of course it starts with this homemade taco meat.
But Casa Blanca does things differently than traditional Mexican restaurants. For starters, the guacamole was rich and delicious without a bunch of extra stuff mixed in. And it came out looking like avocado ice cream, a huge scoop that was plenty for our family to share.
They also brought out plenty of chips and salsa about two minutes after we sat down and kept those bowls filled all night long.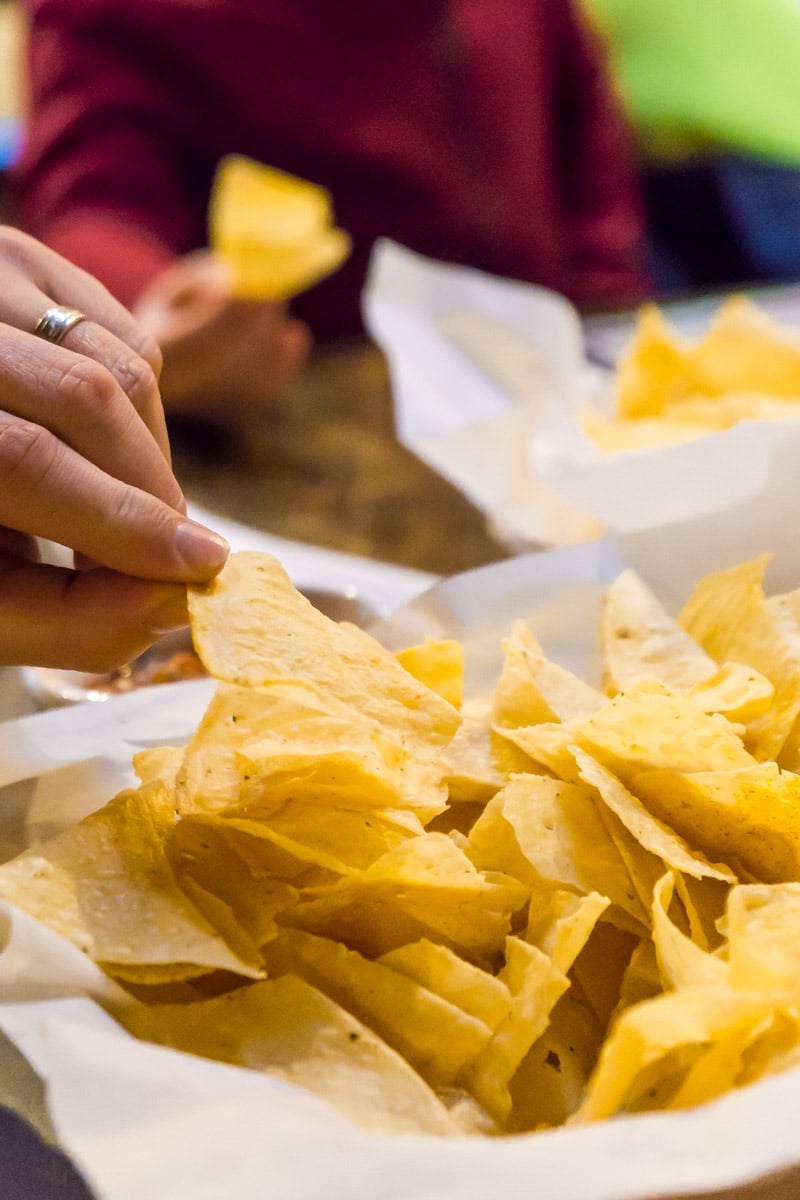 For our appetizer, we tried their sampler trio of pepper jack cheese sticks, their infamous fried green chili strips, and bacon wrapped jalapeno poppers. This pregnant mama can't do anything spicy right now, so I skipped the appetizers but all of the boys at the table said everything was delicious. And the serving size was huge – the three of them couldn't get through everything and had to take home leftovers.
The entrees were just as big and flavorful. My brothers both tried the carne asada – steak covered in salsa, cheese, and guacamole, aka Mexican steak. And both of them who claimed to not be hungry finished every little bite because they didn't want to waste any of the deliciousness.
My husband had the salmon tacos – one word of caution, if you don't want fried salmon, ask for the salmon grilled. He ended up with fried salmon tacos, which were good but not quite what he was expecting! I tried the compuestas that were exactly what I was craving along with maybe the best fruit cup I've ever had.
Not sure if the handfuls of maraschino cherries really come with the regular fruit cup, but they were a sweet surprise. I only wish I had a little bit of this fruit dip to go with it.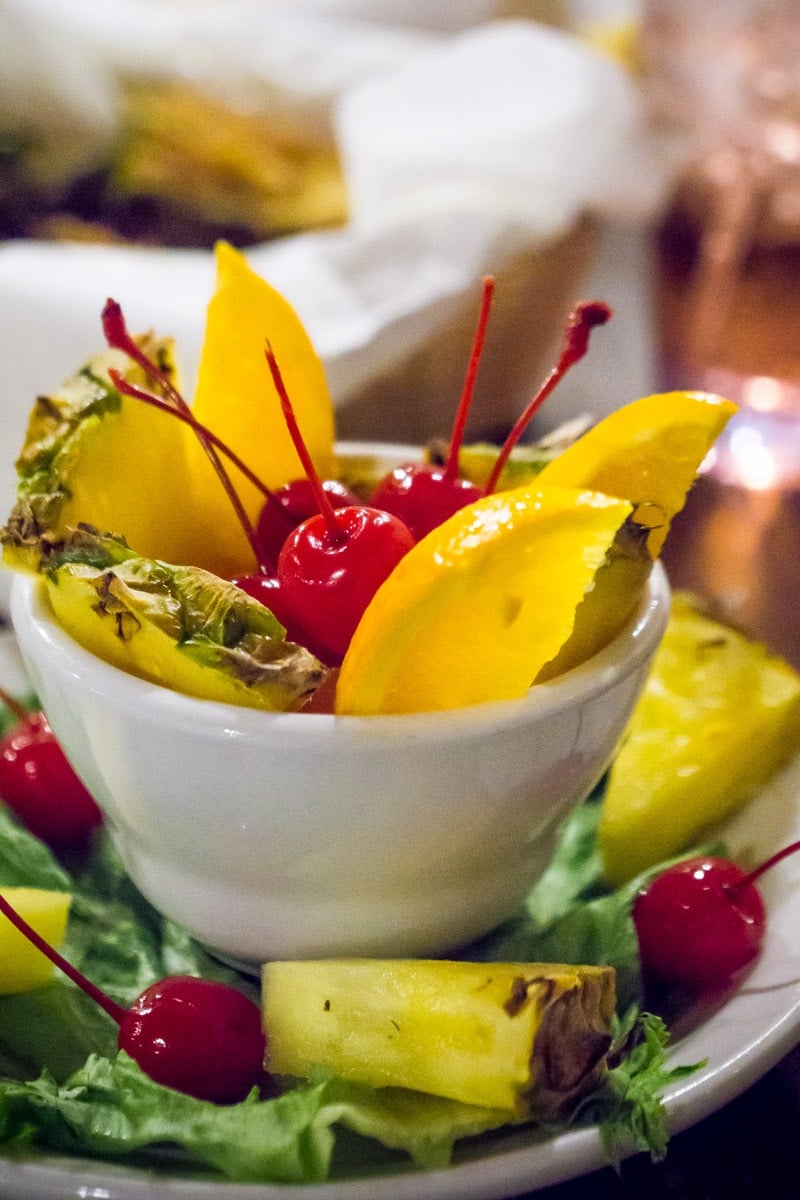 Last but in Casa Blanca's case definitely not least – dessert! I was pleasantly surprised by how good the tres leches and dulce de leche cheesecake (the special dessert of the day). If you have to skip one, skip the ice cream sopapilla. It sounds amazing but was just okay.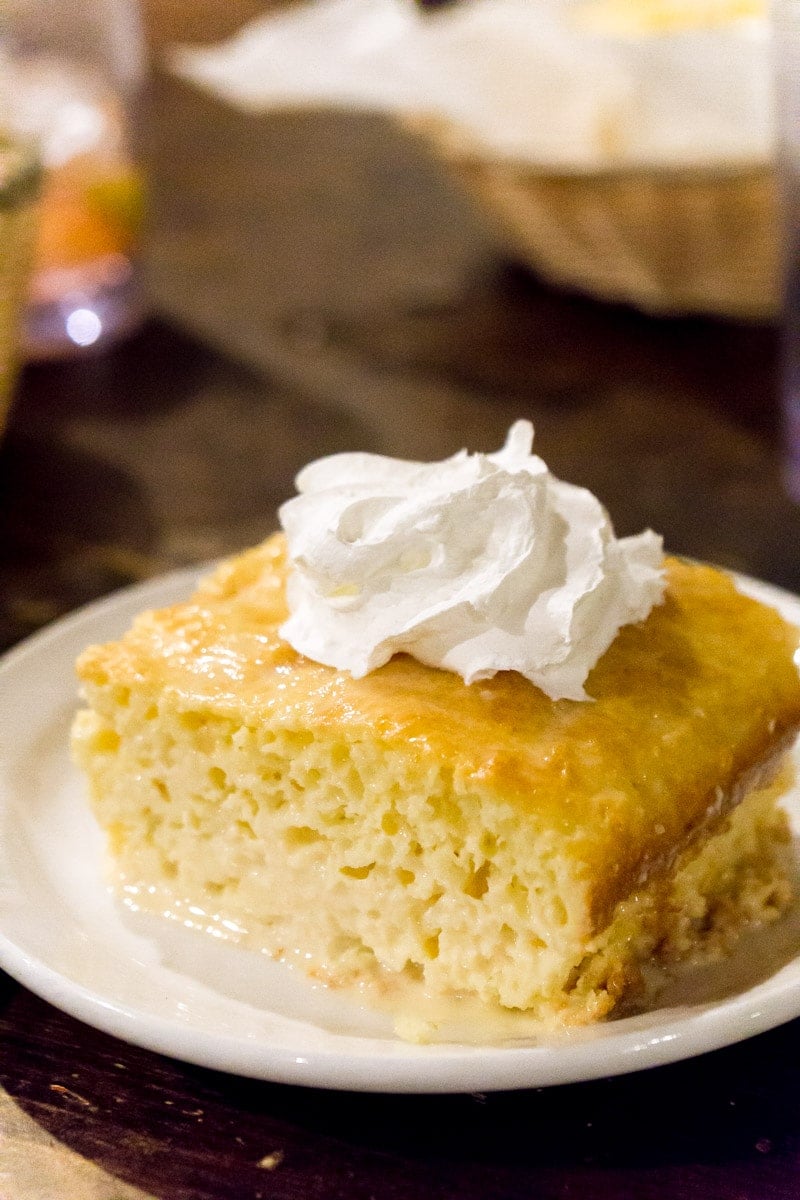 2 – Cornerstone Bakery and Cafe
This is the place to go for breakfast or lunch. We actually ended up going twice during our quick trip – once for lunch after the OTV tour and once just to grab some more of their bread and pastries.
Cornerstone Bakery and Cafe has both an actual cafe and a grab and go counter where you can choose from pre-made pastries and bakery items. Even if you don't have time to stop and eat, make time to stop in for some pastries and the cheese bread. Amazing!
The cafe serves typical cafe food – soup, sandwiches, and salads. If you get a soup, get one on in a bread bowl. The bread is seriously delicious. I almost asked if I could have some delivered so I could make this zuppa toscana soup and eat it in a bread bowl!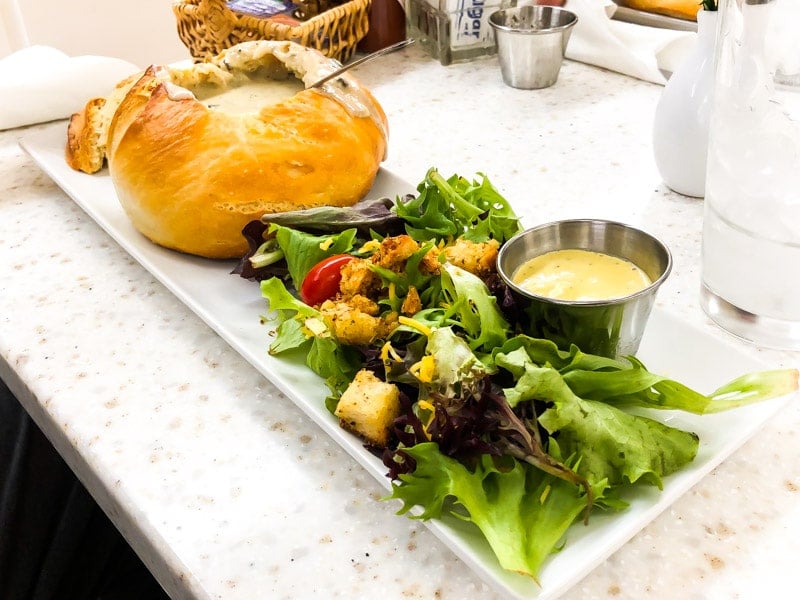 3 – Hunt & Harvest
Out of all of the Ruidoso restaurants we tried, Hunt & Harvest is the one we would go back to again and again. It's a farm to fork restaurant right in downtown Ruidoso combined with the cutest shop and absolutely delicious.
From the bacon wrapped figs (still dreaming about them!) to my cornmeal crusted chicken, this was definitely the highlight meal of the weekend.
They even had gourmet options for my kiddo who just wanted mac and cheese! Instead of standard mac and cheese, he could choose from mac and cheese with bacon, green chili mac and cheese, or even ghost pepper mac and cheese.
He opted for the bacon mac and cheese and even as an adult, I thought it was fantastic!
The only miss for us were the brownies for dessert. They were just meh but the ginormous snickerdoodle my son had was spectacular. Soft, chewy, and did I mention huge?? Even better than these 7-layer bars.
If you still want the amazing food but in a more lively atmosphere, The Hidden Tap underneath Hunt & Harvest serves almost the same menu and has games, activities, and a bar!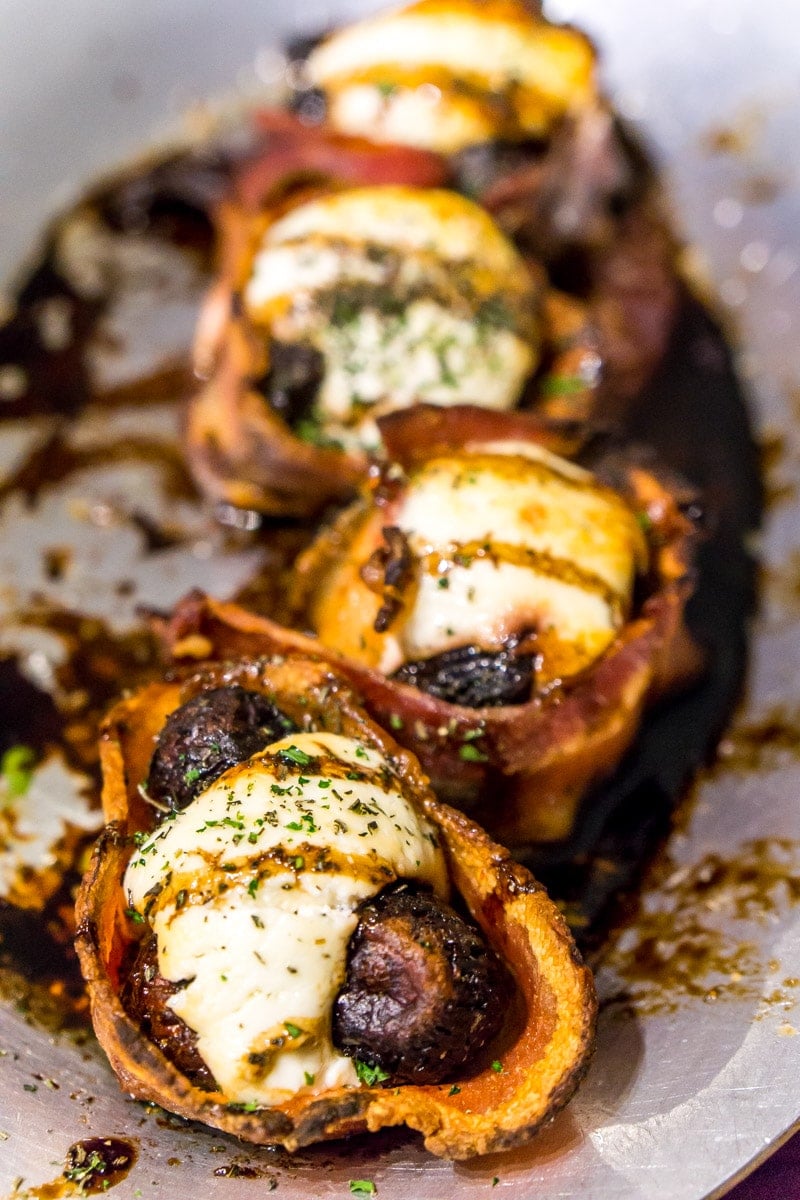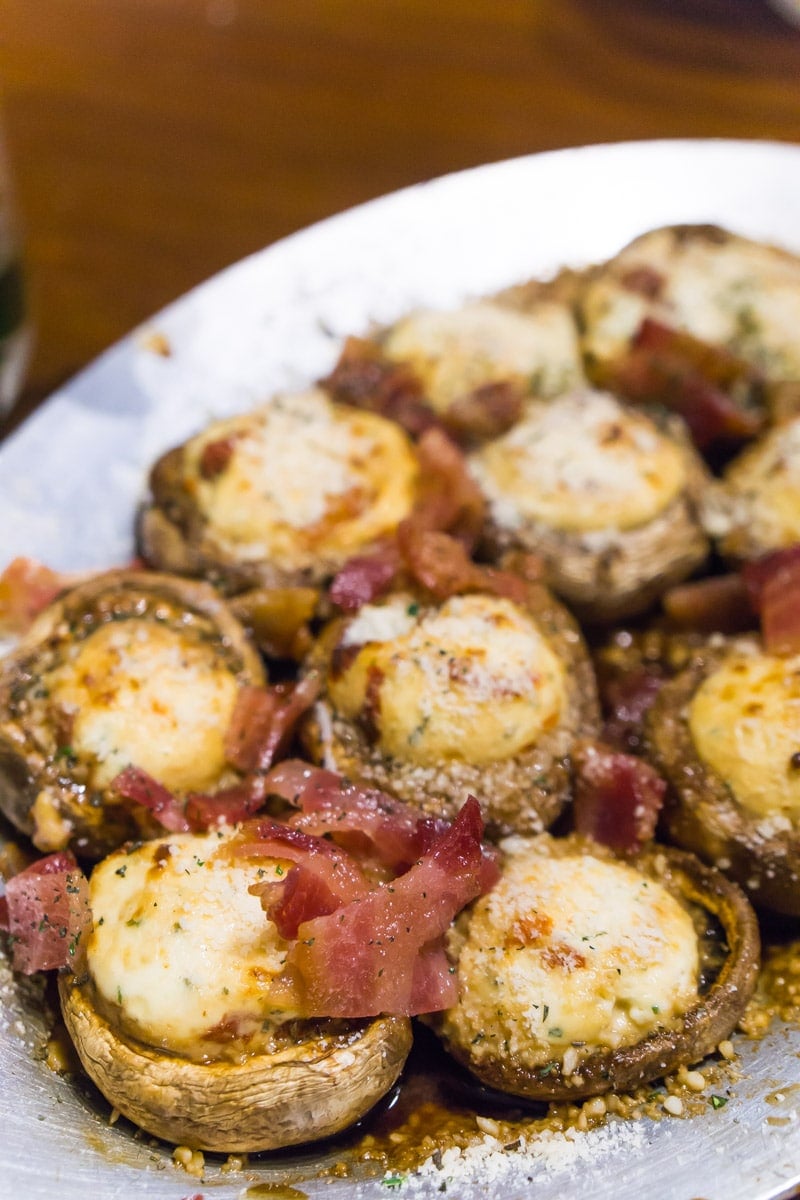 4 – Inn of the Mountain Gods Buffet
Let me preface this by saying this is a buffet and it is not a Vegas caliber buffet. My great-grandpa actually recommended the buffet to us so we headed up for lunch and some spectacular views from the resort.
I'm including it in my post because the buffet is unique as buffets go and because if you go during lunch on the weekdays, it's only $10.99. If you're feeding a family, $10.99 for an all you can eat buffet is an amazing deal.
So what makes the buffet unique?
It's actually set up kind of like a food court with different areas with their own type of food – Asian, Italian, home-cooking, etc. There really was a little bit of everything and even the pickiest eater will be able to find something. The highlights for us were the made to order pasta and omelet bar and the fresh sopapillas (ask for honey!).
What restaurants would you add to the list?
More Travel Food Guides