Completing a Whole 30 challenge is a big deal not only because it's tough but because it can do wonders for your body and mind! Check out these Whole 30 results from four different people to see why it's not just about weight loss, Whole 30 is about much more than that. And make sure to check out the great Whole 30 tips, Whole 30 meal plans, and Whole 30 must-have list after the results!
I've had a number of people ask me how Whole 30 went for our family this summer. I'd always planned on writing about it and then life and summer trips happened.
And now I'm actually glad I waited an entire month to write about it because I feel like having a month "off" to look back has helped me clarify some of my results and opinions on Whole 30.
And while it may not have been life-changing yet, I can see how it definitely could be if we keep up the habits!
Our Whole 30 Results – Weight + Inches
All four adults in our household did Whole 30 in July 2017 – my sister, my brother-in-law, my husband, and me. And while I went off the plan a bit (more below) the other three didn't cheat a single time in the thirty days. Since I'm sure most people want to know if we lost weight or inches, I'll start there first.
My sister – 8 lbs and 12 1/2 inches lost total combined all over the body (and she's already little)
My brother-in-law – 21 lbs and 12 inches lost
My husband – 10 lbs and no idea on inches (he's the one who looks the slimmest after Whole 30)
Me – 9 lbs and 11 inches lost
For me, one of the biggest achievements was to finally break out of a yo-yo weight zone. I've been right about the same weight, give or take 2-3 lbs for the past year and Whole 30 finally helped me break out of that yo-yo and feel like I can actually lose weight again.
Technically on Whole 30 you're not supposed to step on a scale for the entire 30 days, and I totally cheated and weighed myself every few days. For me, it was a huge boost to see the scale constantly going down, even if just slightly, and that helped me make it through the full 30 days. But if you can do it, definitely skip the weighing!
Cheating on Whole 30
Speaking of cheating, I wish I could say I went the entire 30 days without cheating once like the rest of my family did, but I didn't. We went on a family trip to Universal Studios right in the middle of our Whole 30, and I took a day off. I still made better decisions, but I definitely enjoyed the breakfast buffet at Loews Portofino Bay Hotel and a milkshake at Toothsome Emporium. When we got home, I jumped right back on the bandwagon and didn't cheat again.
The thing no one tells you about Whole 30 is that it's actually Whole 40. You do 30 days of Whole 30 and then you take 10 days to reintroduce ingredients back into your body that you cut out. That's a huge part of the program, and I didn't have the chance to do that because of my schedule.
The day after we finished the Whole 30, I hopped on a plane to attend the Cricut Maker launch event and eating at a conference where you have few options is an entirely different ball game. I again ate better but didn't do the reintroduction period like I'd hoped. Forty days is a long time.
More Important Whole 30 Results
Everyone tells you that Whole 30 isn't just about losing weight, it's about feeling better. I didn't really believe people who told me that, but I do now. When I compare the past 30 days to the previous 30 days on Whole 30, these were some of my biggest results and takeaways from my experience. And these are even bigger than losing 10 lbs for me.
1 – Eating real food gives me energy. On Whole 30, I could make it through the entire day without crashing or needing a nap. Carbs apparently make me really sleepy and fast, like almost immediately after eating them. I thought it was lack of sleep before, but I didn't sleep any more on Whole 30 than normal.
2 – I need to eat regular meals to keep my metabolism up. One of my biggest recommendations before you start Whole 30 is to read this book that explains the actual scientific reasons why Whole 30 works and what's going on inside your body. Over the past five years, I've been eating very sporadically and not very healthy.
Sometimes I go until 4 or 5PM without eating anything, and my metabolism has totally shut down. Whole 30 forces you to eat three solid meals and think about what you're eating. It was the first time I've actually felt hungry and wanted to eat something in a good 4+ years.
3 – I need to eat regular meals + eat better to regulate my hormones. This may be TMI, so feel free to skip it if you'd like. I went to a OBGYN about 18 months ago to talk about the possibility of getting pregnant again.
One of the main conversations we had was about the fertility treatments and options I had because I haven't had a regular period since I got pregnant five years ago. I'm talking going like nine months between periods. Having my hormones and systems all out of whack can make it extremely difficult to get pregnant.
I kind of knew my eating + living habits had something to do with it (though I'd never admit it before), but it wasn't until I did Whole 30 that it actually sunk in. Since finishing Whole 30, I have had two regular periods exactly one month apart for the first time since 2012. That's huge for me, especially as we begin talking about adding to our family in the next year or two.
4 – I am more confident when I feel "skinny." No, Whole 30 did not make me skinny but Whole 30 took away the bloat and the bulges that I often feel after I eat crap. I could look in the mirror and actually feel good about myself for the first time in years. And a lot of that was simply just because I was making good choices about my health.
Even with just a bit of added confidence, I found myself talking to more new people, being more bold in pitching my company to brands, and even taking photos during our family trip to Universal Studios. I normally hide behind the camera, and I felt like being in front of it for once.
At some point before doing Whole 30, I remember thinking to myself – I've settled. I've settled for this new person I don't actually want to be. Whole 30 helped me realize that I don't have to settle, not until I'm actually the person I want to be and even then, I can always be trying to be a little bit better.
Other Things I Learned on the Whole 30 Challenge
Whole 30 isn't hard, when you're at home. Whole 30 on vacation is a nightmare unless you're renting a vacation home, planning to spend a good amount of time cooking, and okay with not eating the local specialties. And eating out on Whole 30 pretty much sucks. I do not recommend doing Whole 30 if you're planning to be on vacation for a good portion of it, it's tough.
Whole 30 takes a lot of time. There are no microwave meals, frozen pizzas, or shortcuts on Whole 30. You can spend your time either at the beginning of the week doing meal planning and prep or each day prepping your meals; no matter when you do it, Whole 30 takes time.
I realized that I really enjoyed cooking and loved spending time cooking each day. That is until I realized at the end of July that I'd done pretty much nothing but cook all month long. I wrote like four posts all month and didn't get any of the work done I'd planned.
If you're okay with eating the same thing all week long (like my husband makes a variation of these breakfast muffins to eat all week), it's a lot easier. I can't stomach that, so for me the trick was to create this Whole 30 meal plan, order my groceries online, and stick with the meal plan. The one week I didn't do a meal plan was a mess. Oh and make sure to take advantage of pre-chopped veggies – such a huge time saver!
Whole 30 messes with your taste buds, in a good way. By the end of our Whole 30, I was actually craving roasted vegetables instead of ice cream. When you strip out the sugar and processed things, you start craving the good stuff instead. Things become sweeter. I remember a point about 20 days in when we made this roasted cauliflower dish with dates (approved in moderation), and we couldn't finish the dish because the dates were just way too sweet for our adjusted taste buds.
I have more willpower than I thought I did. A lot of Whole 30 is willpower. Willpower to get yourself out of bed to cook breakfast in the morning. Willpower to not stop at Sonic on the way home from the store. Willpower to leave the frozen cookie dough in the fridge. And willpower to eat yet another grilled chicken breast when you're on vacation. I had no idea my willpower was so strong until it was tested for 30 days.
10 Whole 30 Must-Haves
These are some of the things we used most during our Whole 30 and honestly, I think at times some of these things made it so we could actually finish! So do yourself a favor and stock up on these items before you get started, you can thank me later!
1 – Almond Butter – Almond butter is great in a pinch when you need a bit of fat + protein to amp up a meal. We love Justin's Classic Almond butter (and it seems to be the most affordable) but you can choose whatever brand you want. Try it in an almond butter Asian sauce, spread on a banana, or anywhere else you would normally eat peanut butter.
2 – Infuser Water Bottles – These were huge for me, not so much for the rest of my family. I mentioned it above but before Whole 30, I drank a lot of my calories, so going cold turkey to straight water for 30 days was rough. Being able to infuse my water with citrus made it so I didn't feel like I was always drinking water.
3 – It Starts with Food by Melissa Hartwig – I made the mistake of reading this book on day 27 when we were just about done. I recommend reading it now before you start your Whole 30 or at the very beginning. There's so much essential information about why you're making the changes you're making. There were so many things in the book that made sense about my body, hormone imbalance, etc. that was super helpful to learn.
4 – Whole 30: A 30-Day Guide by Melissa Hartwig – By the same author as the book above, this one is mostly full of tips, tricks, and recipes for getting through the 30 days. I especially appreciated all of the Whole 30 compliant sauce recipes because sauce can make a chicken dish go from bland to delicious in minutes!
5 – Ghee – Ghee is clarified butter, and it's basically a butter flavor amplified. Butter is not whole 30 compliant because of the dairy, but ghee is, and ghee is delicious. It's also a bit expensive, so go easy on the ghee or get it at Trader Joe's where it's the cheapest we found.
6 – Sweet Potatoes – Sweet potatoes were my saving grace through Whole 30. I ate them for breakfast, lunch, and dinner (though not on the same days so I didn't get sick of them). They're versatile, filling, and can add a hint of sweetness to any meal when you season them with cinnamon and nutmeg. Check out this Whole 30 meal plan for interesting ways to use them!
7 – Salad Dressing Mixer – There are very few salad dressings that are Whole 30 compliant, so you're going to want a salad dressing mixer to make your own mixes at home. I like this one from Pampered Chef (got it for my wedding!) because it actually has the little whisk thing in the jar to really mix, not just shake, the dressing. Make dressing at the beginning of the week, store it in the fridge, and enjoy all week long.
8 – Meal Prep Containers – Save yourself time throughout the week by prepping things on the weekend. You're going to want airtight food storage containers to put all that prepped food in, and even better if you can put it in containers like these ones to divide by meal.
9 – Instant Pot Pressure Cooker – Alright, so this isn't quite a must-have, but it's a time saver and something we used all the time. We used the instant pot on a regular basis to make bulk shredded chicken, hard boiled eggs, Whole 30 chilis, pulled pork, and more. You can probably make all of those things outside of the Instant Pot, but in our house, we're in the business of doing things as quickly and efficiently as possible, and the Instant Pot helps.
10 – Whole 30 Meal Plan – I put together this Week 1 Whole 30 Meal Plan the very first week of Whole 30, and it really showed me that I could do the entire 30 days. It's full of delicious meals, a variety of things to eat, and even some snacks to help you through the first week transition.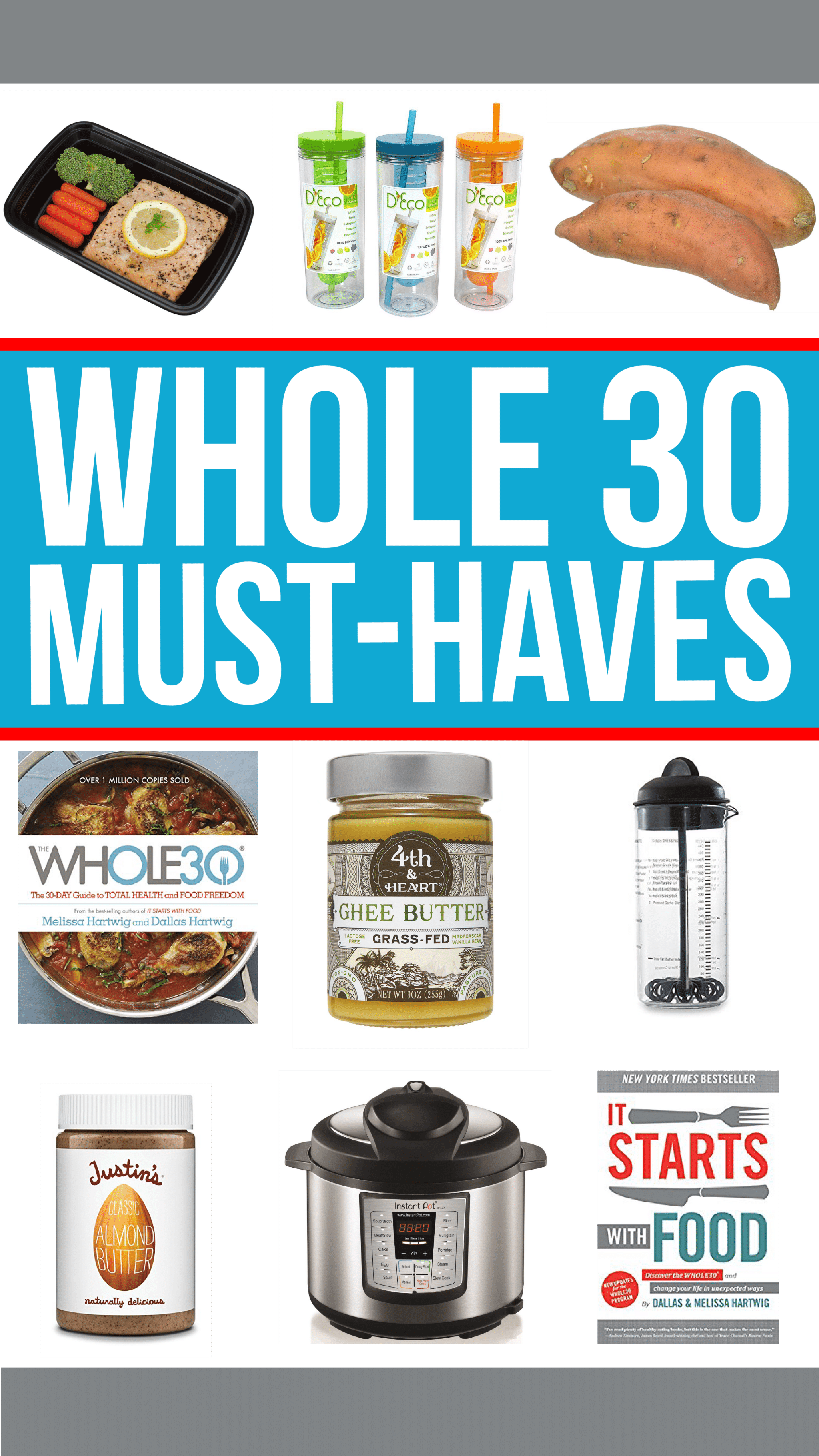 Will I Continue Whole 30?
Yes, and no. I'll probably do an entire Whole 30 again from the end of September until the beginning of November in conjunction with training for the RunDisney Thor 10K, mostly because I know it makes me feel better. And I want to feel awesome when I head to Disneyland to run my first race in years.
And no, I'll likely not do a full Whole 30 again for a while other than the one this fall. It's kind of like training for a marathon, it needs a heavy time commitment, and I just don't have the time to commit to it right now. I will and already have, however, change my eating habits to match quite a few of the Whole 30 recommendations. Some of the changes I've already incorporated into my everyday diet that I'll stick with include:
Drinking water instead of juice, sports drinks, and soda. I used to drink a lot of my calories and am changing that
Not giving into nostalgic cravings like when I see a bag of chips in the checkout line at Target and think in my head, oh I remember a time those chips tasted good, so I'm going to buy them because they'll taste good again. (Explained way better in the Whole 30 book!). I'm going to be more careful about figuring out what my cravings really are and why they're triggered before giving into them.
Eating a full breakfast, not just a piece of toast with some butter, and eating it within an hour of waking up if at all possible.
Incorporating more veggies into every single meal, even breakfast. I've become a huge sweet potato junkie for all my meals.
Weekly meal planning my breakfasts, lunches, and dinners so I don't run into the no food = no eating problem. I typically use this weekly meal planner (also includes some great meal planning tips!).
Thinking about what I'm eating and if it's worth it before I eat it. Sometimes things are worth it and sometimes they're not.
Limiting my sugar and processed carb intake. I don't have enough time in the day to be exhausted all the time, and sugars and processed carbs suck my energy immediately.
And there you go, I highly recommend doing a Whole 30 to anyone who wants to jumpstart their metabolism, get their hormones back in check, lose a little bloat (and maybe even pounds), and form a better relationship with food.
I may not have lost some ridiculous amount of weight, but a month later I have kept the 9 pounds off I did lose, and I feel like I can keep it off and continue toward my goal of getting to a healthier place in my life.
Whole 30 Recipes
These are some of my favorite Whole 30 recipes, ones we ate throughout our Whole 30 journey! I've already added them to my DIY menu board for this month!
Publish Date: This post was originally published in September 2017 and has since been slightly updated with different links, recipes, etc.