This Whole 30 meal plan is perfect for anyone who is following the Whole 30 diet and looking for great Whole 30 recipes. With a meal plan full of delicious Whole 30 breakfasts, dinners, and even lunches – this Whole 30 food plan will make doing the Whole 30 program easy!
I recently finished the Whole 30 program with my family. If you know nothing about Whole 30, this book has a ton of great info and this website has even more! The basis idea is that for 30 days you cut out a ton of things and then start adding them back in once you've finished the 30 days.
No sugar. No dairy. No grains. And so on. It's not necessarily known to be the biggest weight loss diet but more about retraining your body and feeling better. And for me, that's huge. Weight loss would be awesome but I'm really going for retraining my body how to eat and how to feel better.
You can check out my family's Whole 30 results (4 adults) here. The results were eye-opening and life-changing!
Since I was already putting together my own meal plans, I figured I might as well share them with you. This Whole 30 meal plan has tons of different options for meals, enough that you could really just use it for the entire 30 days!
I'm weird when it comes to dieting and eating. I can't eat the exact same thing every day. I know a lot of people (like my husband) can make muffin cups on Sunday and eat them all week long. I can't. I need variety or I don't eat anything. This meal plan is based on that preference and also so we vary the meat we eat.
If you like to eat the same thing multiple times, feel free to change it up and just eat the same thing every morning or multiple times a week. This is also based on not really having leftovers.
Whole 30 Weekly Meal Plans
I've put together two weeks worth of full meal plans – breakfast, lunch, and dinner! Do this twice and you've got pretty much the entire 30 days covered, without really repeating things often at all!
Plus, there's a free printable menu at the end of this post to just print and put on your fridge!
Week 1 Recipes
Monday
Breakfast – Hard boiled eggs (or any kind of eggs), skillet sweet potatoes, and fresh fruit. I've made these sweet potatoes SO many times, they're great!
Lunch – Aidell's chicken and apple sausage, baby carrots, an apple, and a handful of almonds
Dinner – Taco topped sweet potatoes using this homemade taco meat using bone broth instead of chicken broth, lots of veggies, fresh guac, and salsa
Tuesday
Breakfast – Sweet potato toast with various toppings (eggs and bacon, almond butter and banana, avocado)
Lunch – Spaghetti squash with creamy pesto (skip the parmesan in the pesto) and fried eggs
Dinner – These lemon chicken thighs with Greek lemon potatoes (so good!)
Wednesday
Breakfast – Homemade breakfast sausage with a banana and almond butter. Double the breakfast sausage to use with breakfast on Wednesday.
Lunch – Shish kebabs (just grill up some meat and veggies together) and use these shish kebab recipe instructions
Dinner – Sheet pan smoked sausage and these roasted root vegetables (both cook on sheet pans, you'll just need to bake the veggies a little longer).
Thursday
Breakfast – Sausage gravy over potato hash using the extra breakfast sausage you made on Wednesday. This is like biscuits and gravy except with potatoes instead!
Lunch – Chicken Cobb Salad with buffalo ranch dressing. This isn't your ordinary grilled chicken salad – so much flavor, plus a homemade Whole 30 ranch dressing!
Dinner – Orange chicken with cauliflower rice and steamed veggies. This was our go-to recipe during Whole 30. If you're not doing Whole 30, this orange chicken recipe is yummy too!
Friday
Breakfast – This Plantain, apple, and bacon breakfast hash is super easy to make, hard to mess up, and delicious! one of my go-to breakfasts while we were doing Whole 30!
Lunch – Cauliflower fried rice (make double rice for dinner on Thursday night) with chicken. Or you could also just do this ham fried rice with cauliflower instead, just switch out the butter with ghee.
Dinner – Copycat zuppa toscana with coconut milk instead of cream. One of my most favorite winter recipes!
Saturday
Breakfast – This sweet potato and apple breakfast bake is a little more time consuming than some of the others but so good! You could even make it and enjoy for a couple of days over the course of the next week!
Lunch – Plantain nachos with shredded chicken, veggies, and guac. If you've never had homemade plantain chips, you're totally missing out!
Dinner – Pretend you're not doing Whole 30 with this amazing almond chicken recipe. The outside if crunchy and crisp while the inside is nice and moist! Pair it with this cauliflower puree for one amazing meal!
Sunday
Breakfast – Since Sundays are a little more laid back, try this Brussels, bacon, and sausage breakfast quiche on a sweet potato crust. It's a little more gourmet for when you have more time!
Lunch – Brussels sprouts salad with citrus dressing and grilled chicken (wash and cut extra brussels at breakfast)
Dinner – Cincinnati chili (replace beef broth with bone broth) over potatoes or sweet potatoes.
Week 2 Meal Plan
Alright you made it through the first week (typically the toughest)! Here's one more week full of recipes to get you through the second week – then just repeat any recipes you liked to finish out the 30 days!
Monday
Breakfast – I'm a big fan of hashses, especially for Whole 30. This Paleo sweet potato hash with fried eggs is a great one!
Lunch – Spaghetti squash with Cinncinati chili (use leftover chili from previous week's menu).
Dinner – Grilled balsamic chicken with crispy smashed potatoes (swap butter with ghee) and a side of air fryer brussels sprouts (can't forget the veggies). Any leftover balsamic chicken makes great lunches!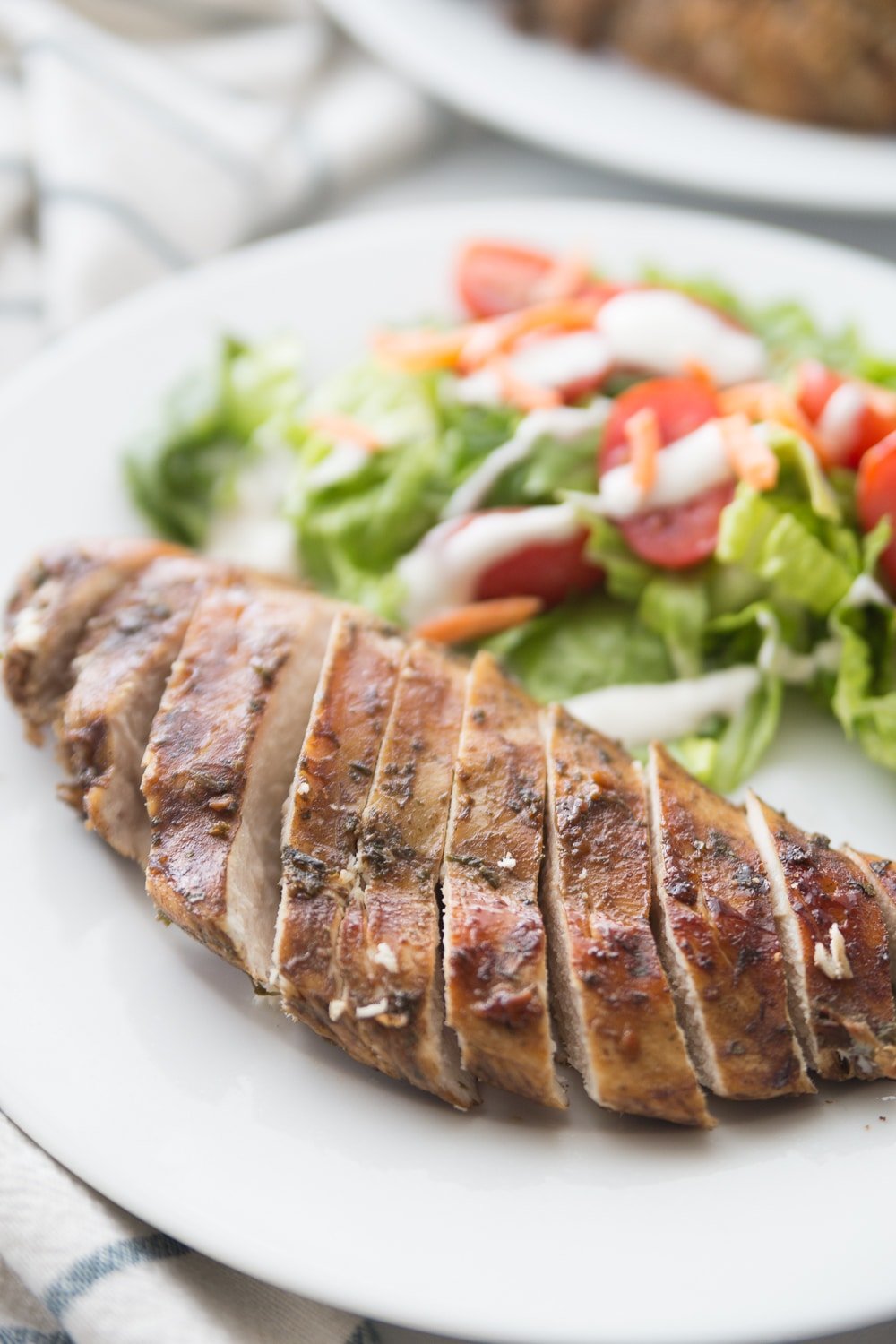 Tuesday
Breakfast – Monkey Salad (make sure your almond butter is compliant) – this is actually great to double and enjoy for breakfast other days as well!
Lunch – Chicken lettuce wraps with almond butter dressing (double the almond butter dressing!)
Dinner – Lettuce wrapped burgers, grilled asparagus, and roasted potato wedges or air fryer fries.
Wednesday
Breakfast – Bake sweet potatoes the night before then make these twice baked breakfast sweet potatoes for a quick breakfast in the morning!
Lunch – Bake up some garlic parmesan wings (switch butter with ghee) and serve with a pre-packaged salad to make things quick and easy.
Dinner – Baked turkey meatballs (omit the bread crumbs) with cauliflower rice. If you want to use the teriyaki sauce listed in the recipe, just omit the brown sugar and switch the soy sauce with coconut aminos.
Thursday
Breakfast – Spiralized sweet potatoes, chorizo, and scrambled egg breakfast tacos in jicama taco shells.
Lunch – Roasted butternut squash soup with chili roasted pumpkin seeds + add your favorite protein (grilled chicken, tuna, etc.) with it.
Dinner – Cauliflower rice jambalaya (use Whole 30 compliant smoked sausage, use cauliflower instead of rice, and omit the chicken broth)
Friday Whole 30 Recipes
Breakfast – with hard boiled eggs with and fresh fruit
Lunch -Taco salad using this taco meat recipe, romaine lettuce, and tons of veggies.
Dinner – Sweet potato turkey burgers with fresh watermelon and green beans with almonds. I could've eaten these for days!
Saturday
Breakfast – Turkey and egg breakfast casserole (eat leftovers during week 3)
Lunch – Sausage, shrimp, and veggie skillet meal. I like to use Aidell's or Pederson's sausage.
Dinner – Sheet pan teriyaki chicken with cauliflower rice is a super easy one to make! Just omit the brown sugar and honey and replace the flour with tapioca flour to make it Whole 30 compliant and no less delicious.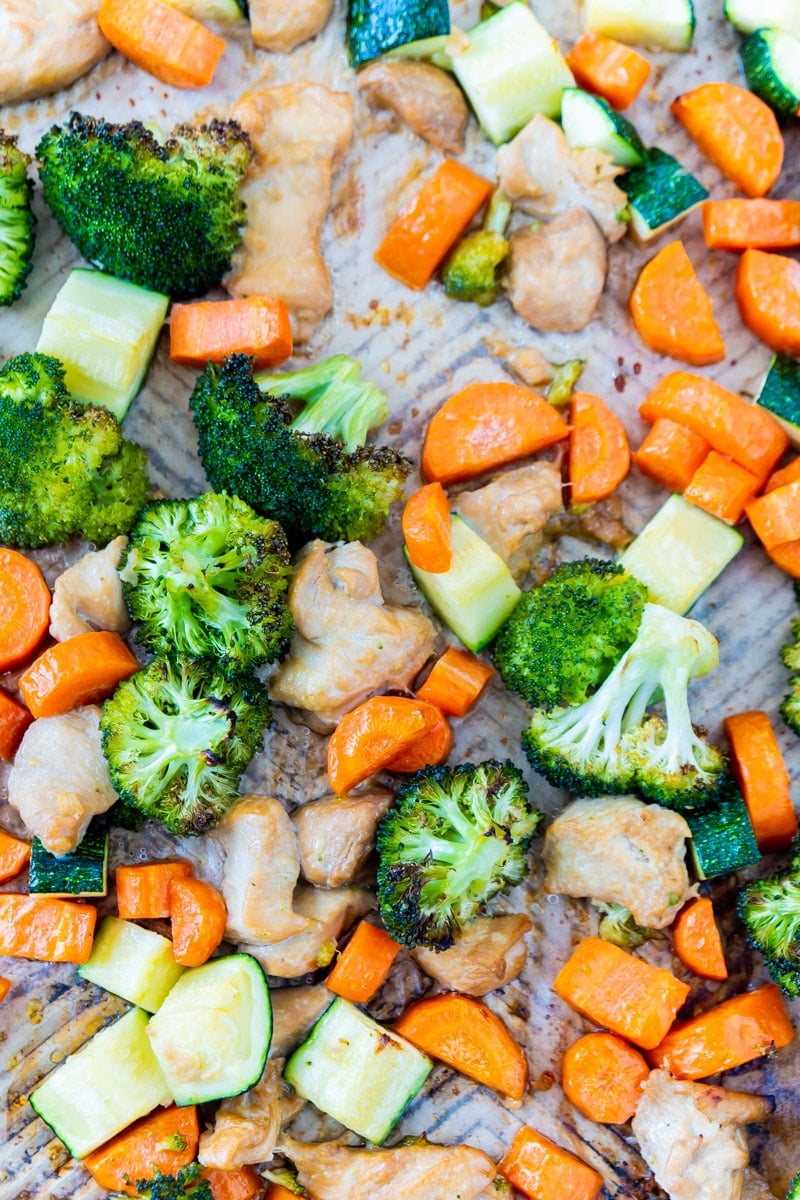 Sunday
Breakfast – It's Sunday again, so I always recommend something a bit heartier for breakfast so you can enjoy leftovers throughout the week! This sweet potato and apple breakfast bake (with tons of eggs) was a big hit with my family!
Lunch – Bake up some baking potatoes then enjoy them as twice baked buffalo chicken potatoes by adding a little shredded chicken and buffalo sauce (hold the cheese).
Dinner – Make a big Southwestern chicken salad (minus the tortilla strips) and serve it up with your favorite Whole 30 dressing for dinner AND for the rest of the week!
Other Healthy Living Tips
Best running songs – over 50 songs that will actually make you want to run!
Ball games – great tips for making sports fun for kids PLUS fun active games they'll want to play!
Collagen peptide uses – easy ways to add more collagen peptide proteins into your everyday meals!
Whole 30 must haves – my list of essentials for doing Whole 30!
Self-care gifts – 20 great self-care gifts to give to yourself this year!